Uniquely Adirondack hiking
The Adirondack Hub is the hiking hub of the Adirondack Mountains, with options for all levels of outdoor adventurers! Whatever the season, the views of endless wilderness and towering peaks are awe-inspiring. The trails don't remain dormant during the winter, and neither should you! Bring or rent snowshoes, and continue to climb mountains even after the snow has begun to fall. In summer, the shade from the canopy will cool you as you make your way to the views on a rocky outcropping, or a swim at a backcountry pond.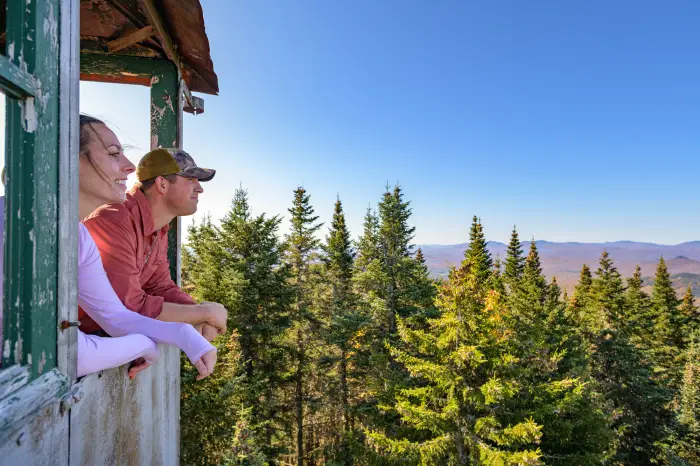 Find a hike that fits
Try the Rankin and Little Rankin Ponds loop for a gentle 2.2 miles of hiking, or the 5 mile Grizzle Ocean Loop for some added distance. If you're looking for a bit more of a challenge, hike to Pharaoh Mountains airy summit. With an elevation of 2,557 feet, it offers the area's highest viewpoint, and sweeping views of the surrounding wilderness from the top.
State-protected wilderness areas such as Pharaoh Lake and Hoffman Notch together boast over 90 miles of trails, 47 bodies of water, and almost 85,000 acres — providing plenty of room to get outside and explore. Both areas boast day hikes that will take you past numerous small lakes and ponds, and even several geological and historical sites. If you're up for a challenge, the Experience Newcomb patches can be earned by completing several scenic and storied hikes in the region. 
The historic side of hiking
To get a glimpse of area history, head to Rock Pond Mine and explore the remains of a former graphite mine site, or take the trek to Adirondack Great Camp Santanoni near Newcomb Lake. Upper Works, the southern access point to the High Peak Wilderness Area, is located in Newcomb, and has a signed interpretive trail telling the history of the former mining village and its connection with Teddy Roosevelt.  
Hike safely during hunting season 
Hiking during the fall season is a magical time to catch colorful foliage and enjoy the trails. However, fall also brings with it hunting season in the Adirondacks. During this time, hunters may also be out and about in our shared outdoors. It's important to stay alert and know who you're on the trails with. Always prioritize safety during hunting season to enjoy your hike without incidents. For safety tips, visit the travel updates page. For hunting season dates, zones, and more information, click here.
Leave No Trace and Love Your ADK
The magic of the Adirondacks is the result of previous generations taking a long view and protecting the mountains, lakes, and rivers within the Blue Line. That tradition continues today as we support and encourage everyone to practice Leave No Trace ethics, which help protect the lands and waters of the Adirondacks. If you are looking to get into hiking, don't hesitate to reach out to one of the areas guide services.