Whether expert or beginner — choose from over 50 miles of trails
A wonderful way to enjoy the scenic wilderness of the Adirondacks is on horseback. Horseback riding is a celebrated tradition in the Adirondack Hub, which offers a range of options for equine lovers of all levels. Try a guided riding tour on a horse chosen to fit your skill level and personality! Or, embark on your own adventure on over 50 miles of equestrian trails through woods, backcountry, and along waterways with stunning mountain backdrops. The Frontier Town Campground, which offers 33 equestrian camping sites, can accommodate multi-day trips.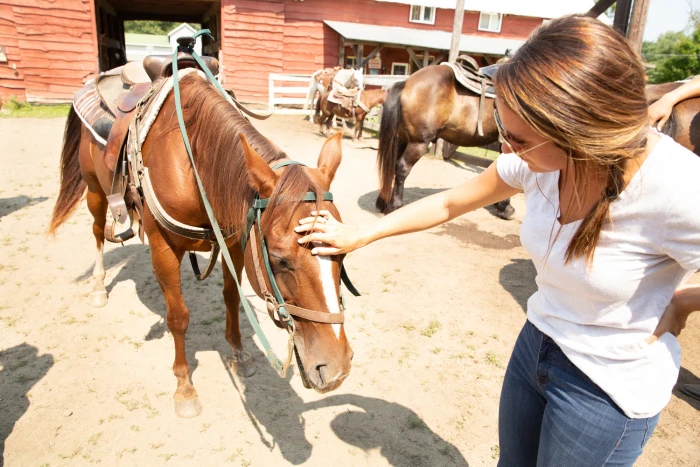 Guided tours
Circle B Ranch, located in Chestertown, just outside of Schroon Lake, offers four seasons of riding. You can take a guided tour or venture out on your own. In summer and fall — when the foliage is bursting with color — you have over 500 acres to choose from. Circle B also offers nostalgic hayrides in fall. In the winter, they offer horse-drawn carriage rides or a romantic sleigh ride. Sit back as the horse takes you on an unforgettable sightseeing trip through the beautiful Adirondacks. No previous riding experience is needed here!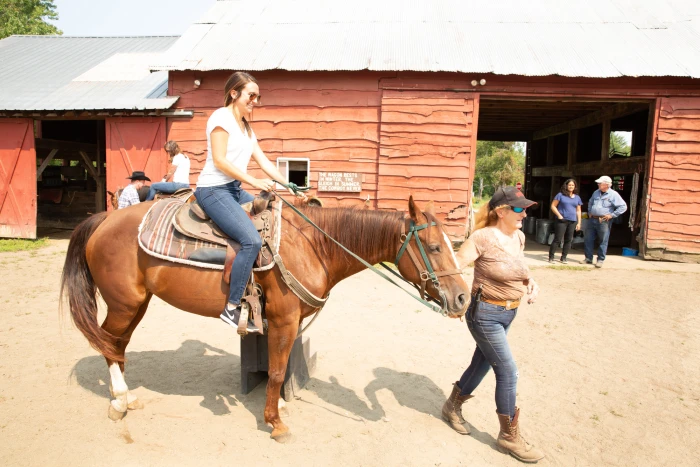 Choose your own adventure and equestrian camping
Choose from over 50 miles of equestrian trails, accessible from or near the brand new Frontier Town Campground, Equestrian and Day Use Area in North Hudson. Frontier Town makes a great basecamp for all your riding throughout the area. Trails lead to several scenic overlooks including the Schroon River. Check out this list and map of trails to craft the perfect ride.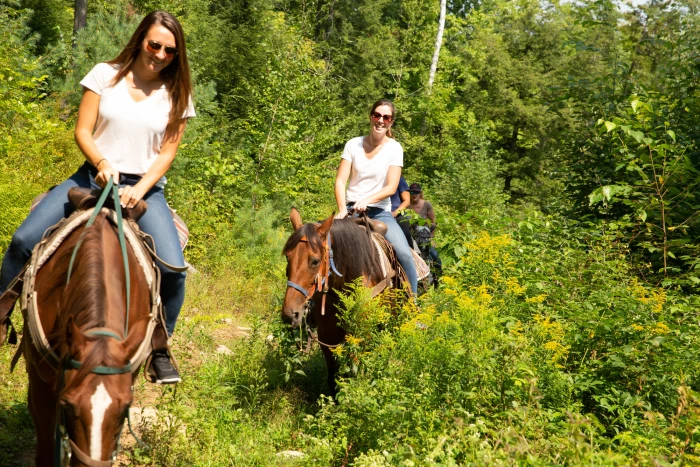 Wagon rides
Get historic and scenic with a horse and wagon ride to the famed Great Camp Santanoni, a landmark estate where some of the wealthiest New Yorkers vacationed during the Gilded Age. Wagon rides are provided by Newcombe Farm. Call ahead for reservations. This is a great way to truly experience a Great Camp the way the original owners did — by arriving in a horse drawn wagon! 
Leave No Trace and Love Your ADK
The magic of the Adirondacks is the result of previous generations taking a long view and protecting the mountains, lakes, and rivers within the Blue Line. That tradition continues today as we support and encourage everyone to practice Leave No Trace ethics, which help protect the lands and waters of the Adirondacks.