Ah, the wilderness, those wild lands set aside to be forever natural and free from permanent human intervention. The wild world here is front and center. For years, people have been traveling to the Adirondacks to experience these incredibly unique and wild places. Whether it was hunting, transcendental relaxation, or just leisurely enjoyment, wilderness areas in the Adirondacks are still today hubs for all things natural.
For those seeking an outdoor challenge, a meditative walk in the woods, or ample opportunities for solitude, the Adirondack Hub has enough designated wilderness areas for all to enjoy. The low hanging fruit is, of course, the High Peaks Wilderness. This vast tract of rugged terrain has been calling aspiring 46ers for decades. It's important to remember, though, that these lands are indeed rugged, at times very difficult to navigate, and not for the faint of heart. But if you're new to the game and just dipping your toes into the proverbial wilderness waters, don't worry - there are options for you that are just as serene.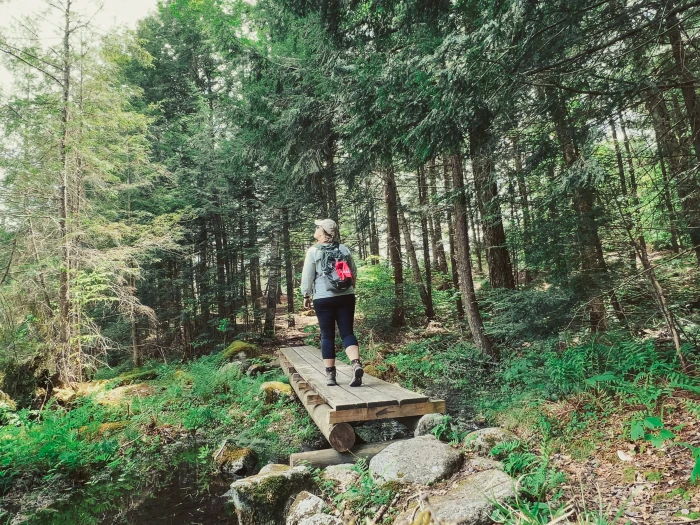 Getting started
Each year, millions of people visit the Adirondacks, many of them venturing into wilderness areas. Whether you're here to hike into the wilderness or relax on a park bench in town, it's important to remember that the natural world here presents opportunities for all explorers of all ages and all experience levels. You should always keep the 7 Principles of Leave No Trace front of mind in order to enhance your own experience outdoors, and to help protect and preserve the unparalleled wonders of the Adirondacks for generations to come.
When preparing for a hike, be sure to pack your 10 Essentials, including:
Map and compass (that you know how to use!)
First-Aid supplies
Layers of clothing (be sure to wear non-cotton items and have waterproof/windproof layers because you never know what the weather will do)
Headlamp or flashlight (with extra batteries)
An emergency kit (whistle, signal mirror, etc.)
A waterproof container with matches or fire starters
Adequate food
Plenty of water
Protection from the sun and insects (I cannot stress this enough - a hat, sunglasses, bug spray, sunscreen, and a bug net can make a trip much more enjoyable, especially in late spring)
Emergency shelter (tent, tarp, sleeping bag) and a plan for possible worst-case scenarios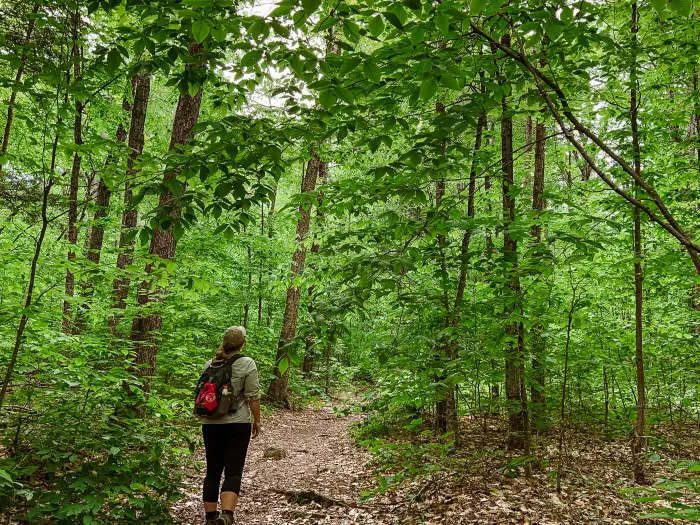 If you need a checklist, this one can help you plan. Being responsible and preparing for time outdoors not only increases your chances of having a good time, but it also could save your life.
Next steps
So, now you're packed and ready to hit the trail. But maybe you aren't ready for a 20+ mile climb in the High Peaks. Good news! I have selected two wonderfully wild, perfectly peaceful hikes that can help get you started. Did you know there are three different Wilderness Areas in the Adirondack Hub? That's right! Alongside the High Peaks is the Hoffman Notch Wilderness and the Pharaoh Lake Wilderness, where we will begin our journey.
Gull Pond
Gull Pond is not far from a road by any means, but it lies within the boundary of the Pharaoh Lake Wilderness, meaning that you can't drive to the shore of this quiet pond. It's all walking! The good news is that the trail is short, direct, and a perfect option to get you started on wilderness hiking. The DEC sign at the road says it's 0.6-miles to the pond; I GPS'd it at 0.53-miles. Either way, it's not far on a mostly level, wide path.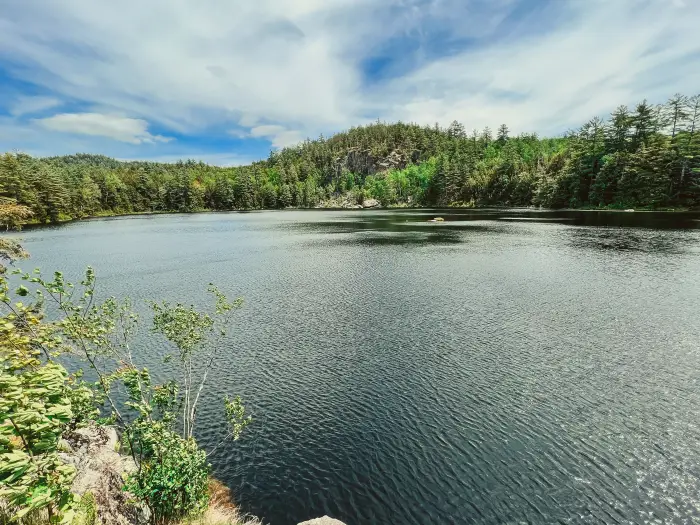 Little legs (if you have kids in tow) might need a hand crossing some of the water bars and stones, but otherwise, there is nothing challenging about this hike. Arriving at Gull Pond is a spectacle. The trail drops you off on a very small cliff with amazing views across the water. The hardest part about hiking to Gull Pond is getting there in your vehicle. Parking is on a back road, off the beaten path, and the lot has some substantial ruts. If you have a high clearance vehicle, great; if not, just take it slow. From the parking lot, though, it's an easy hike to a beautiful pond in the wilderness. A hike here will definitely leave you wanting more.
Bailey Pond
Next on our list is Bailey Pond. This is a real mud-on-your-boots, wind-in-your-face wilderness hike. Located in the mostly trail-less Hoffman Notch Wilderness, the trail to Bailey Pond starts at the Loch Muller Trailhead, which is at the end of a dead end road that looks like a driveway. Trust me, just follow Loch Muller Road to a snowplow turnaround and then keep going. You'll eventually come to a split; a driveway goes straight, if you turn right, the parking is just up the road. From here, it's all wilderness. Unfortunately, all the signs indicating that Bailey Pond exists are gone as of May 2022 (where they went is a mystery), but I promise the trail is open! Head into the woods on the trail at the far end of the parking lot and turn left at the very first junction and follow the blue trail markers all the way to Bailey Pond. The trail is not hard to follow and is very well defined.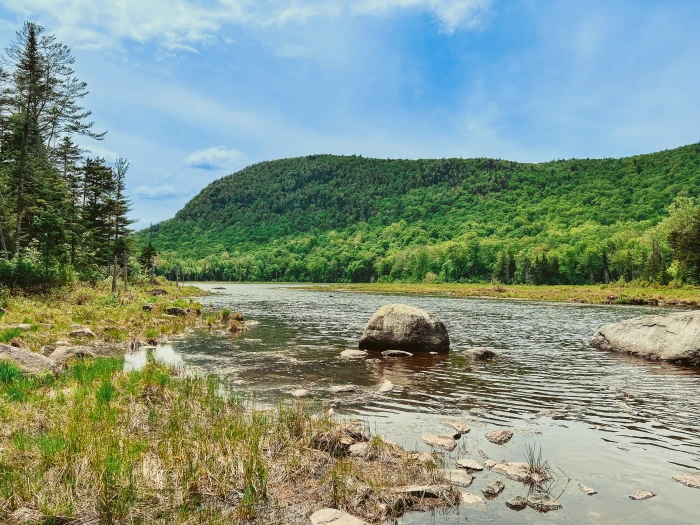 The trail to Bailey Pond is just under 1-mile long, and not overly challenging, but it does not have the same ease as Gull Pond. The first 0.2-miles are slightly inclined and bypass private property. It can be a little muddy, so please stay on the trail to avoid trail widening and erosion. Once you reach the height of a hill, turn right and you'll be on an old woods road. When I last hiked it, the trail was covered in violets and other wildflowers. Multiple bridges along the way help you cross brooks and, before you know it, you'll find yourself looking at a spot that seems like it deserves another bridge, but there is none in sight. Here you can continue straight to check out West Branch Trout Brook or turn left to reach the shore of Bailey Pond in a few hundred yards.
I saw TONS of moose tracks on my last hike. Keep your eyes open! You never know who is sharing the trail with you.
Next up: more wilderness
If you want to continue on your wilderness journey, try the hike to Boreas Ponds! This exquisite area was only recently opened to the public, so the road is very new (gravel, but new and drivable). The walk to the ponds is on the same gravel road, so it's not as "wild" as other hikes, but it's still a great experience in the High Peaks Wilderness (and a gorgeous view).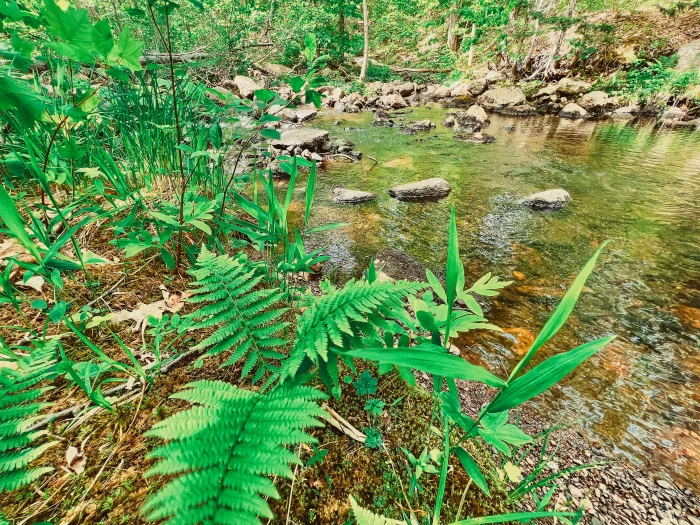 If you want to extend your wilderness stay, check out backcountry campsites in the area! But if you would like a comfy bed and restaurant meal at the end of the day, there are options for every palate and taste right in town.
Enjoy everything that the Adirondack Hub has to offer, from pristine wilderness areas to buffalo, warm coffee to historical interpretive sites. Stay wild!