The Adirondack Hub is for everyone
The Adirondack Park was created in 1892 to protect large expanses of the Adirondack Park, including mountains, lakes, and rivers, and to ensure that those lands would be available for "the free use of all the people for their health and pleasure." The Adirondacks aren't just for everybody, they're for every body. That means spaces that are accessible and welcoming for people of all ages, races, and physical abilities. We want everyone, particularly those with accessibility needs, to feel welcome here and that they may enjoy a vacation in the gorgeous Adirondack Hub, an ideal basecamp for adventure. We've put together some key places to go that are ADA-accessible to help you and your friends and family plan a fun vacation or day trip that everyone will enjoy.
Accessible attractions
The Schroon Lake area is known throughout the Adirondacks and the Northeast as being an arts destination. Every summer since 1915, the Seagle Festival (formerly known as Seagle Music Colony) has provided training for the best up and coming vocal artists in the nation, treating locals and visitors to exceptional performances of opera, musical theatre, standards, and more. Seagle's performances take place in its primary theater, expansive rehearsal studio, and the Boathouse Theater in downtown Schroon Lake. All three locations offer accessible seating, parking, and bathrooms. If you have a love of fine music, you won't want to miss a Seagle performance.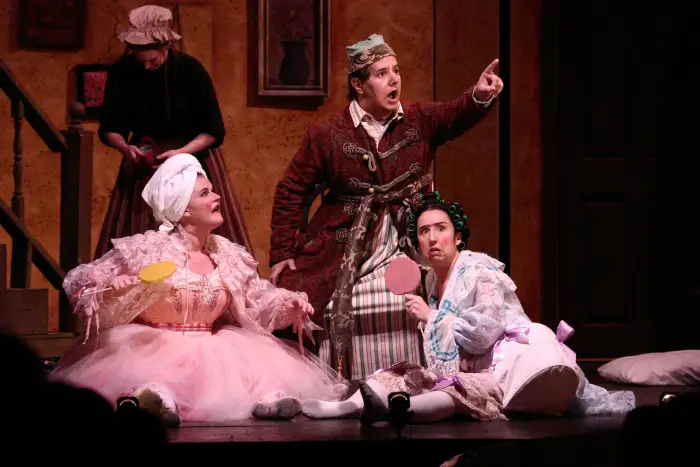 Overlooking Schroon Lake (the lake), the Boathouse Theater is the home of the Schroon Lake Arts Council, which hosts a vibrant array of events, including live music, jam sessions, and the ever-popular Adirondack Folk Music Festival. Built in 1824, the theater has been updated and features wheelchair-accessible seating, bathrooms, and parking. Outdoor concerts are accessible too, as there are sidewalks and areas that manual wheelchairs may traverse easily.
Both Seagle Festival and Schroon Lake Arts Council will gladly provide orientation for guests with visual impairments to ensure a safe and enjoyable visit. Feel free to call ahead with any questions or concerns!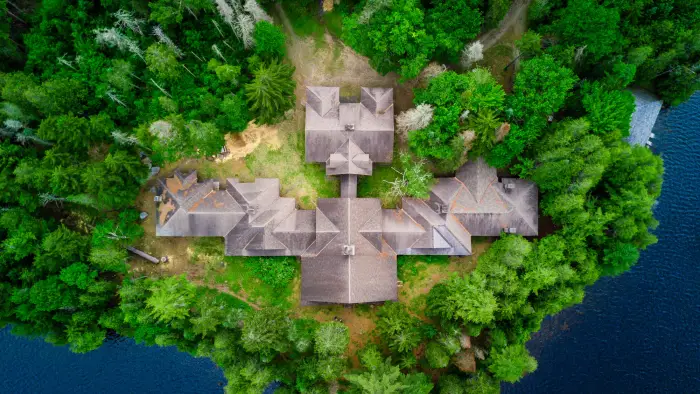 The Adirondacks are well known for being the home of the Great Camp: second homes for the rich that were built in the 1800s in a distinctive style of rustic luxuriousness. Today, some of those camps are long gone, while others are now historic sites where visitors can learn about Adirondack history and enjoy the fine craftsmanship of the camps. In Newcomb, Great Camp Santanoni is an expansive site that should not be missed. At the camp, learn about the history of the camp and the family that built it, view the farm area that supported the camp every summer, and enjoy views of Newcomb Lake. Many of the large, wide porches are wheelchair-accessible by ramp and there are accessible vault toilets on site.
Santanoni sits at the end of a 5-mile carriage road that does not permit motorized vehicles. For those with accessibility concerns, a horse and accessible wagon may be reserved to travel to the Main Complex. Qualified persons with disabilities can ride for free. This service is provided by Newcomb Farms and makes for a serene, relaxing way to travel!
Lodging
From plush beds to classic camping, the Adirondack Hub has all sorts of options and wheelchair accessible options, at that! If you're looking for a stress-free home away from home, where your family can gather around a table and share a meal, or watch the sunset from a grassy lawn, try the Inn at Santanoni. This historic home features charming furnishings, plenty of space, amenities, and a ground floor bedroom and bathroom that are fully accessible. A ramp provides easy entry to the home, and the parking is no problem!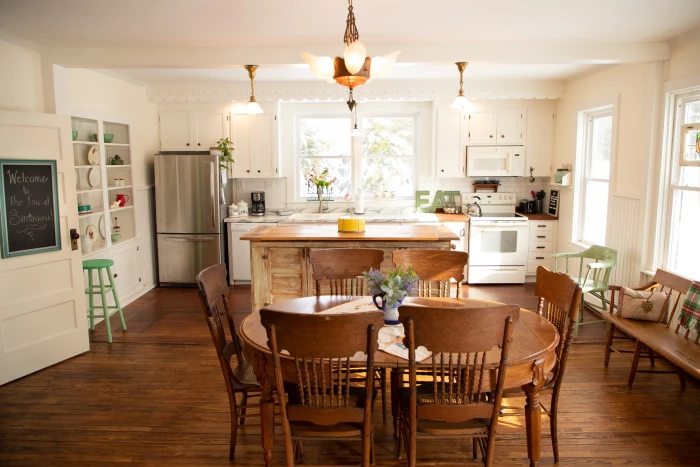 If you're more interested in roughing it, the unique Frontier Town Campground, Equestrian and Day Use Area is a new campground in North Hudson which offers plenty of opportunity for fun. Built near the former site of a legendary children's amusement park with a western theme, all of the sites, showers, and restrooms at this campground are accessible. Even better, picnic tables and fireplaces were built to be accessible to everyone, too! There are facilities here for horseback riding and there are two ADA-compliant mounting blocks/ramps for riders.
For a camping destination close to a beautiful freshwater lake, check out Scaroon Manor, once the site of a luxury resort that was popular in the early 20th century. This state-run campground was completed in 2011 to be universally accessible (yay!). This means every site is accessible, from the fire ring to the smooth, hardened surfaces to make mobility easier for everyone. The boat docks and fishing pier are accessible, as well! The campground is located on Schroon Lake, where there is plenty of fun to be had, including a beautiful sandy beach and is not far from the restaurants and shops of Main Street.
Outdoor activities
A trip to the Adirondacks isn't a trip at all if you don't sample the vast acres of wilderness, including forest preserves, lakes, and streams. The Adirondack Interpretive Center in Newcomb is a beautiful spot to get close to nature and learn about what makes the Adirondacks so ecologically fascinating! Inside the visitor center, view displays on wildlife, plants, and much more. The AIC often hosts free talks with naturalists, which are always worth attending. The visitor center has an ADA-compliant bathroom and while the main entrance does not have an automatic door, the friendly staff are happy to help out!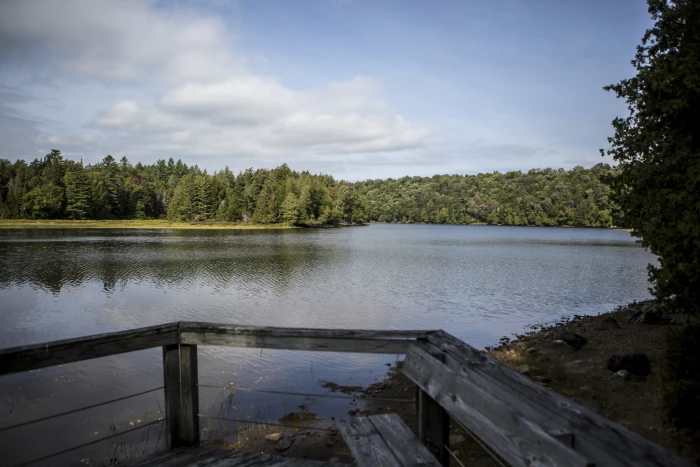 One of the highlights of a trip to the AIC is exploring the network of trails that wind through forest, over boardwalks, and past scenic lakes. Visitors with a power wheelchair have no problems on most of the trails (the Peninsula Trail does have stairs). A good place to start is the Rich Lake Trail, a 0.6 mile loop. You'll find the staff at AIC very knowledgeable and can help you plan the best visit!
Without a doubt, one of the can't miss stops in the Adirondack Hub is the Newcomb Overlook, where views of the High Peaks are incredible. Here you'll find a neat monument that explains what mountains in the High Peaks you're viewing, to better acquaint yourself with the Adirondacks. There are also picnic tables, a shady pavilion, clean restrooms, and plenty of space to spread out and enjoy the views! 
As you travel through the area, you'll likely be amazed and delighted by the sparkling lakes and ponds that pepper the landscape. Why not explore more and get out on the water? The Schroon Lake Marina offers a variety of boat rentals, including pontoon boats with a wheelchair-accessible door. The marina has a dock along their launch ramp that is used for making loading and unloading these pontoons easy and safe and the staff are friendly and very helpful. Just be sure to let them know you'll need one of those specific boats when making your reservation! Once you're out on the water, enjoy some fishing or simply feeling the sweet Adirondack breeze in your hair.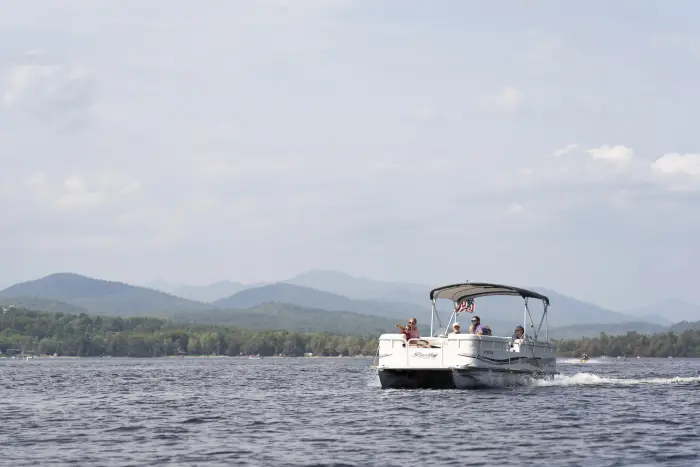 While you're here...
Be sure to check out fantastic restaurants and breweries, shops, and beaches!
Additional travel tips
Questions? Please feel free to call ahead to chat directly with a hotel, restaurant, or attraction.
If you have special needs, please mention them at the time of reservation, and call the provider 24 to 48 hours before your arrival to confirm that proper accommodations have been made. Don't hesitate to ask for specifics such as door and bathroom measurements if you question whether or not your wheelchair will fit.
Please be specific and clear when describing a disability. Not all service providers know the "lingo" of accessible travel but they do want to help make sure you have a wonderful experience when you visit. Give as many details as you can about your needs. The more information a service provider has, the better they will be able to accommodate you and make your visit as easy and comfortable as possible.