As many environmental philosophers have asked before us, "what do we think about when we think about wilderness?" By definition, wilderness in the Adirondacks "is in contrast with those areas where man and his own works dominate the landscape, is an area where the earth and its community of life are untrammeled by man - where man himself is a visitor who does not remain." That juxtaposition, between man and nature, is what has shaped the wilderness identity in the Adirondacks. And perhaps no better example of that positioning exists than the Hoffman Notch Wilderness.
Bound on the east by the Northway, the Hoffman Notch Wilderness abruptly stops on one side at a 4-lane highway. This means that each year, thousands of travelers heading north or south pass very close to this tract of land, most likely not even realizing how close they are to wilderness. The same story goes for those travel east or west on Blue Ridge Road.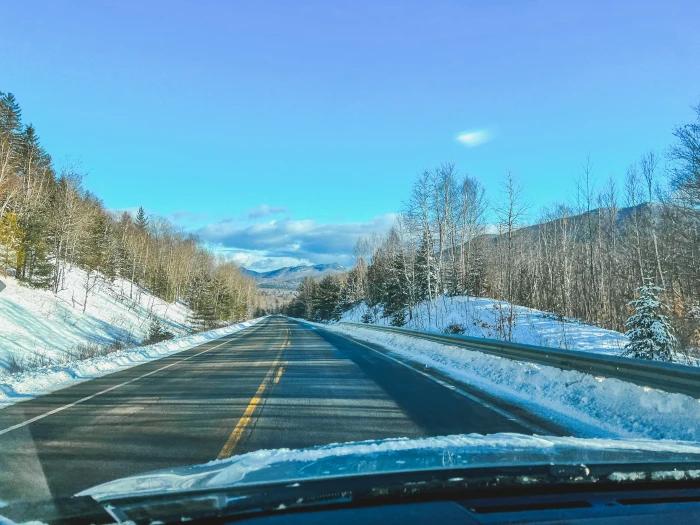 If you want to experience the Hoffman Notch Wilderness beyond a fleeting glance from a car window, there are a few easy ways!
But first! Get to know the land
The Hoffman Notch Wilderness is not the biggest wilderness area in the Adirondacks, but what it lacks in size, it makes up for in fascinating history, incredible forests, and outstanding opportunities for exploration. In total, it's 38,234-acres. That seems like a lot, but it's only a fraction of the size of the nearby High Peaks Wilderness. To really drive home how wild this place is, there are only 15-miles of established trails in the entire Hoffman Notch Wilderness.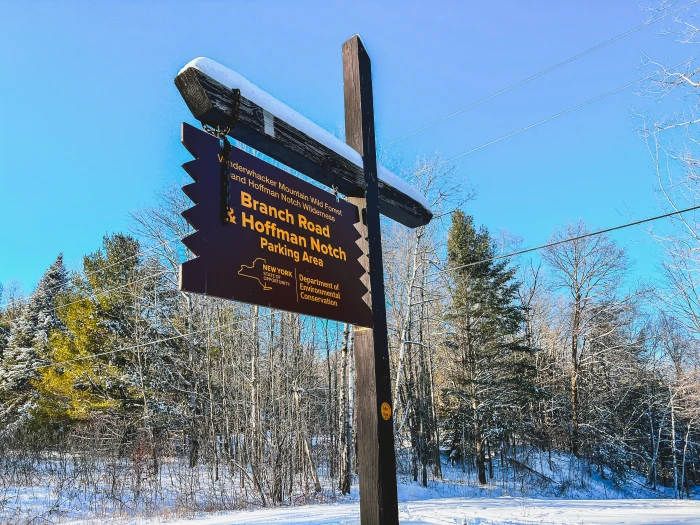 Human history
For better or worse, we can't tell the story of a wilderness without studying human interaction with the land. Here are some short stories:
In the late 1890s, Warren's Inn (originally known as the Bailey Pond Inn) was built at the end of the road at Loch Muller. The Inn was popular with outdoor enthusiasts. Unfortunately, Warren's Inn was destroyed in a fire.
Several tanneries were located in the vicinity of the present-day Hoffman Notch Wilderness. It's suspected that they took hemlock trees from the forests here. One tannery was estimated to consume hemlock bark at five thousand cords per year.
The Durgin family had property in the northwest portion of the Hoffman Unit and today Durgin Brook bears their name.
In 1967, a ski mountain was proposed on Hoffman Mountain after amendments to the NYS Constitution allowed for the construction of Whiteface and Gore. By a margin of 3-to-1 NYS voters voiced opposition to this proposal and the ski mountain never came to fruition.
Hudson River School painter Thomas Cole painted View of Schroon Mountain, Essex County, New York, After a Storm likely from a location in the present-day Hoffman Notch Wilderness. (Schroon Mountain to Cole is what we know today as Hoffman Mountain.)
Logging (and fires) played an important role in this area, and evidence of that is readily found.

Naturally interesting
Perhaps even more compelling are short stories of the natural history here:
The area is named for the valley (or "notch") between the Blue Ridge Range and the Washburn Ridge.
Elevation in the Hoffman Notch Wilderness ranges from around 900-ft above Mean Sea Level on the parcels near Schroon Lake up to 3,693-ft above Mean Sea Level on Hoffman Mountain.
Several areas, including the area around Big Pond, sustained severe blowdown damage during Hurricane Irene in 2011.
Due to several factors, native self-sustaining populations of brook trout have been all but eliminated in the Hoffman Notch Wilderness.
Most of the waterbodies are located within a mile from the road.
There are not any major rivers within the Wilderness, except for a small section of the Boreas River, which is only within the wilderness boundary for a small distance in the northwest corner.
Hiking, snowshoeing, and cross-country skiing
So now that you have a better grasp of the history here, it's time to get out and explore! With relatively short trail-miles available, there are plenty of options for bushwhacking or off-trail travel, but those types of adventures are best left to those with map/compass experience and can confidently navigate the backcountry without marked trails. That said, the established trails here offer a range of destinations that can please everyone.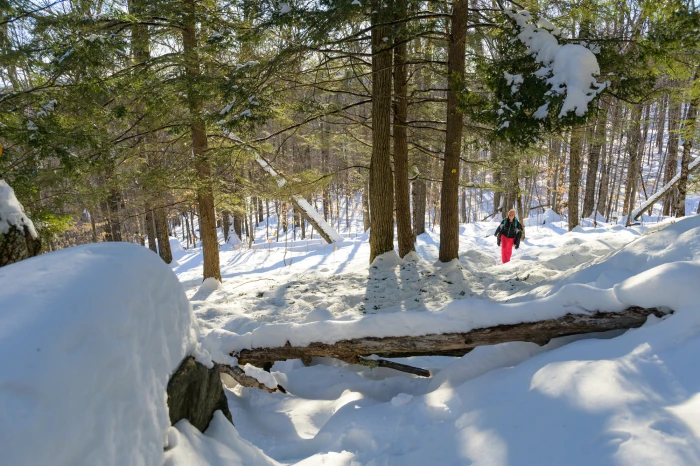 Mount Severance
This relatively short and easy climb leads to great views of Schroon Lake and the neighboring Pharaoh Lake Wilderness. To access this mountain and the Hoffman Notch Wilderness, you have to hike through a tunnel under the Northway!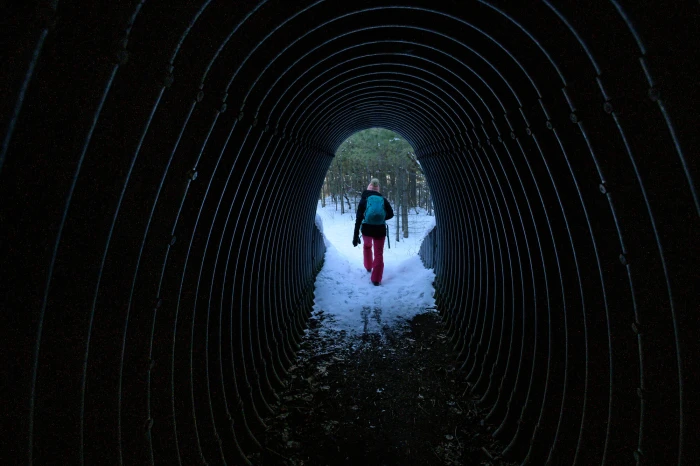 Bailey Pond
Coming in at less than 1-mile to the pond, this is a great outing for someone looking to dip their toes in wilderness hiking. Plus, the view at Bailey Pond is incredible. If you are up for off-travel navigation, a herd path continues to Marion Pond.
Hoffman Notch Trail
The Hoffman Notch Trail extends 7.4 miles between north and south trailheads. This trail leads through the notch and is not widely traveled, leaving you ample opportunities to find solitude. In winter, it would be a great end-to-end cross-country ski tour if you have two vehicles.
Big Pond
Extending almost 6-miles to an intersection, the Big Pond Trail can be used to facilitate a longer trip or for a shorter ramble just to the namesake pond. Just a mellow jaunt to Big Pond is great for hiking, cross-country skiing, or snowshoeing.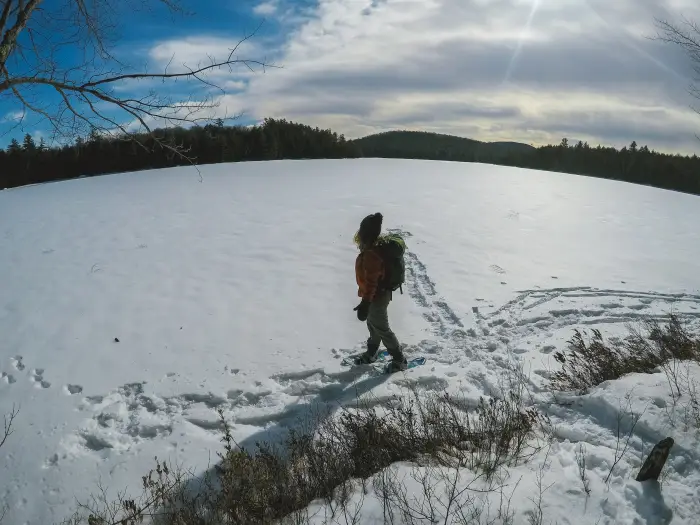 North Country Scenic Trail
While still in the works, the planned North Country Scenic Trail will have 12.5-miles in the Hoffman Notch Wilderness.
Get wild!
No matter what season you visit the Adirondack Hub, the Hoffman Notch Wilderness is ready for exploration! Outdoor expertise is welcome in wilderness, but not required for enjoyment. Wilderness is a place to make unforgettable memories with family and friends or find solitude for yourself. However, preparation is key. Whether you're out hiking, snowshoeing, rock climbing, cross-country skiing, or fishing, remember to Love Your ADK and pledge to protect the Adirondacks so that future generations can continue to enjoy the wild places found here. There's a lot of wilderness to explore in the Adirondack Hub, so stay for a few days to fill your trip with adventure. Just don't forget to grab a bite to eat along the way. You don't want to go into the wild hungry!