Easy access snowmobile trails
If you like snowmobiling, you'll love the trails in the Adirondack Hub. Located between Lake George and the Adirondack High Peaks, snowmobilers can find thousands of miles of scenic trails that connect the historic hamlets of the region.
The area is perfectly situated to be a basecamp for a wide array of snowmobiling adventures. There's a mix of groomed and un-groomed trails to follow, and since many of them connect to each other, riders can create their own loops. Stay out for an afternoon, or take several days to hop from town to town. Whatever you choose, you'll enjoy seeing the beauty of the Adirondacks in winter — quiet forests, ice-covered lakes, and snowy mountains all await. And if you decide to stay, you'll find options for lodging, dining, gassing up, getting repairs, and buying or renting gear. 
A couple popular snowmobile routes include Schroon Lake Trail 6, which connects important stops in town and Paradox Lake, and Newcomb to Long Lake via C8A to C7B. 
New York snowmobile clubs are another great way to find safety tips and updated trail information. For more information, contact the Schroon Lake - North Hudson Snowmobile Club, the Newcomb Snowmobile Club, or the Minerva Snow Travelers.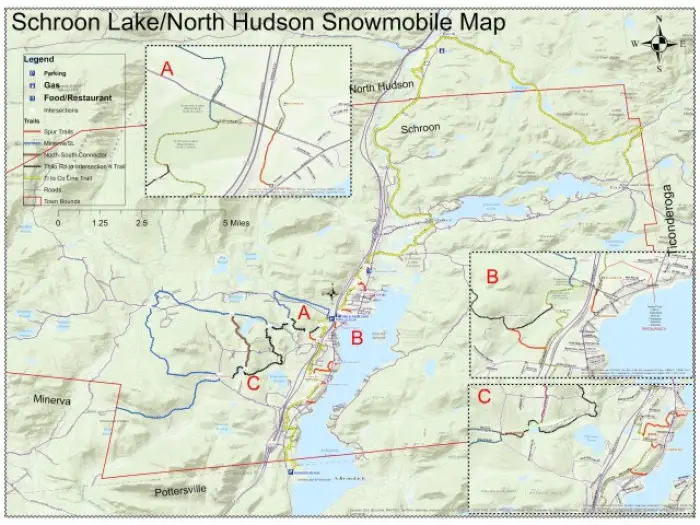 Snowmobile App
To better help you plan your trips, download the Adirondacks, USA Snowmobile App. With an interactive map and all the information you need to know to navigate snowy trails and find gas stations, stores, restaurants, and lodging properties, this app is your "one-stop shop" for all things snowmobile! Download today on the App Store or get it on Google Play.
Leave No Trace and Love Your ADK
The magic of the Adirondacks is the result of previous generations taking a long view and protecting the mountains, lakes, and rivers within the Blue Line. That tradition continues today as we support and encourage everyone to practice Leave No Trace ethics, which help protect the lands and waters of the Adirondacks.