A restaurant roundup, that is
Once upon a time, the Adirondacks were alive with the sound of neighing, galloping hooves, and perhaps, just maybe, the occasional "giddyup!" Amid the rugged greenery of forested mountainsides and winding river valleys, an array of dude ranches, overnight horseback riding camps, and Western-themed attractions called this part of the Adirondacks home. You could lock your dad in the stocks at Frontier Town before a stagecoach thundered past pulled by horses, sleep under the stars and ride every day, or meet a real, honest-to-goodness cowboy or cowgirl.
I am not the best rider, but I do fancy myself a bit of a cowgirl and I'm kind of sad that there aren't as many ranches around as there used to be. Let's be honest: eating beans off of a tin plate sounds quaint, but is that really the life you want every day when you're on vacation? Wouldn't you like to pair your barbeque with a cool, crisp craft beer? I thought so. Fortunately, the Adirondack Hub still has plenty of equestrian atmosphere, along with an array of cowgirl-worthy restaurants designed to make your boots dance with joy. So let's say goodbye to the chuck wagon, and say hello to decadent flavor!
9 Mile Coffee
Forget diamonds, coffee is a cowgirl's best friend. Whether it's a perk up before an early trail ride or an icy treat after visiting the herd at the Adirondack Buffalo Company, the goods at 9 Mile Coffee in Schroon Lake are there for you. There's a latte to love here (I can't take credit for that line, sorry), including a food menu that's a big step up from standard fare. Think: nutella croissants, lavish breakfast sandwiches, and bagels slathered in maple cream. Cinnamon rolls are synonymous with ranch house food, and the cinnamon rolls at 9 Mile are a testament to that frosted, sweet goodness.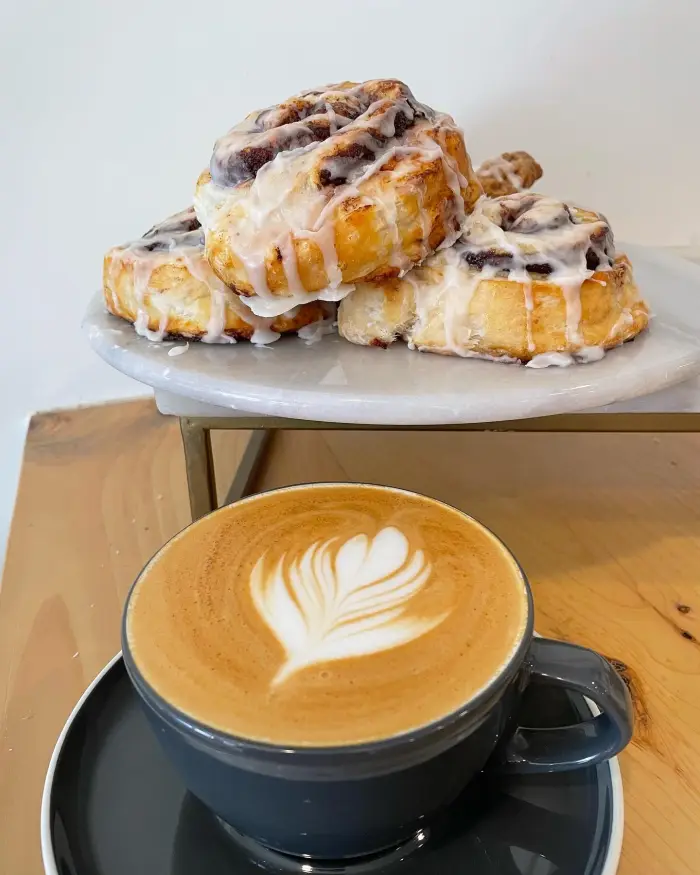 Paradox Brewery
From brewing for friends and family to a popular 25,000 square foot brewery, Paradox Brewery has always been about crisp, distinctive flavor. Founder Paul Mrocka and his team focus on exceptional ingredients, careful craftsmanship, and pure goodness. The Paradox Pilsner is a refreshing pour, while lovers of maltyness need to try the Get Off My Lawn (bonus points for a great name!). Pair your cool ones with elevated pub-style food. We're partial to the bratwurst on a German bun with a side of sauerkraut, along with the decadent charcuterie board. With such dreamy food and drink, you'll find it hard to tear yourself away and get back in the saddle!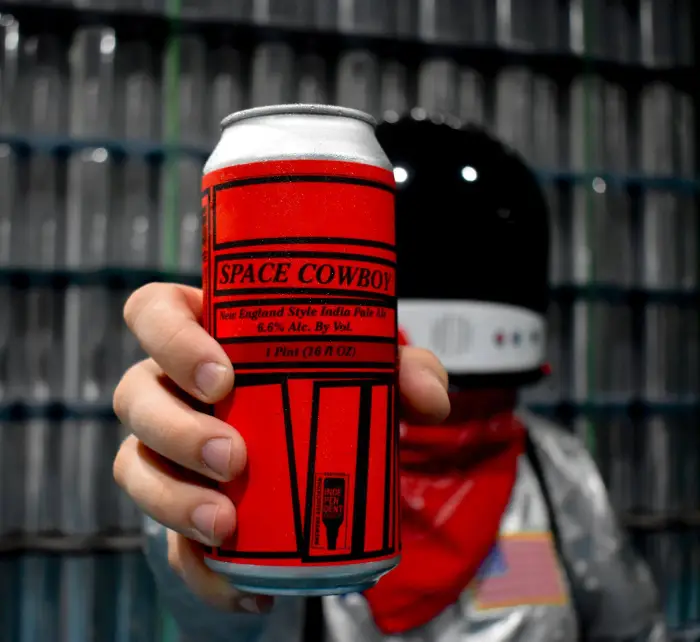 Frontier Town Gateway
If you visited the Adirondacks in 1950s and 1960s in the summer, you might have spotted a lot of kids wearing cowboy hats, silver sheriff's badges, or neckerchiefs. Chances are, they'd been to Frontier Town, a popular Wild West theme park in North Hudson. Every day was full of stagecoach robberies, shootouts, and horseback riding shows. Ads for Frontier Town, which closed many years ago, claimed it offered "The Best of the West in the East," but now a new owner has rejuvenated part of the original park property and, with diverse food options and the Adirondacks' most popular Indian and Pakistani food, the Frontier Town Gateway offers what we would say is the best of the east in the west. Hot, fresh food is available every day at the 1895 Grill, while Saturdays are extra flavorful with the Taste of Lahore nights. Frontier Town Gateway celebrates the equestrian-themed past of the area with decor, souvenirs, and memorabilia. Lasso up a rodeo burger or our favorite samosas and enjoy!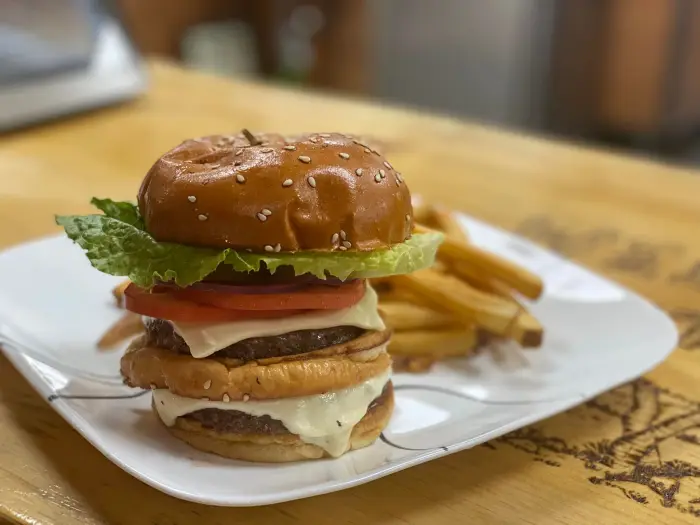 Trail Break at Schroon Lake
Okay, with a name like that, how could we not love this restaurant? More than just the name, however, Trail Break is an excellent spot to sit back, rest your booted feet, and savor the rustic, wood-paneled atmosphere over a great meal. Pay homage to the reason we're cowgirls in the first place and tuck into the NY strip steak, or fancify your plate with the roast duck. After all, you're on vacation so you might as well treat yourself! Trail Break also carries a lengthy menu of craft beer and cider, so you can have fun selecting just the right stout, IPA, or ale to accompany your meal.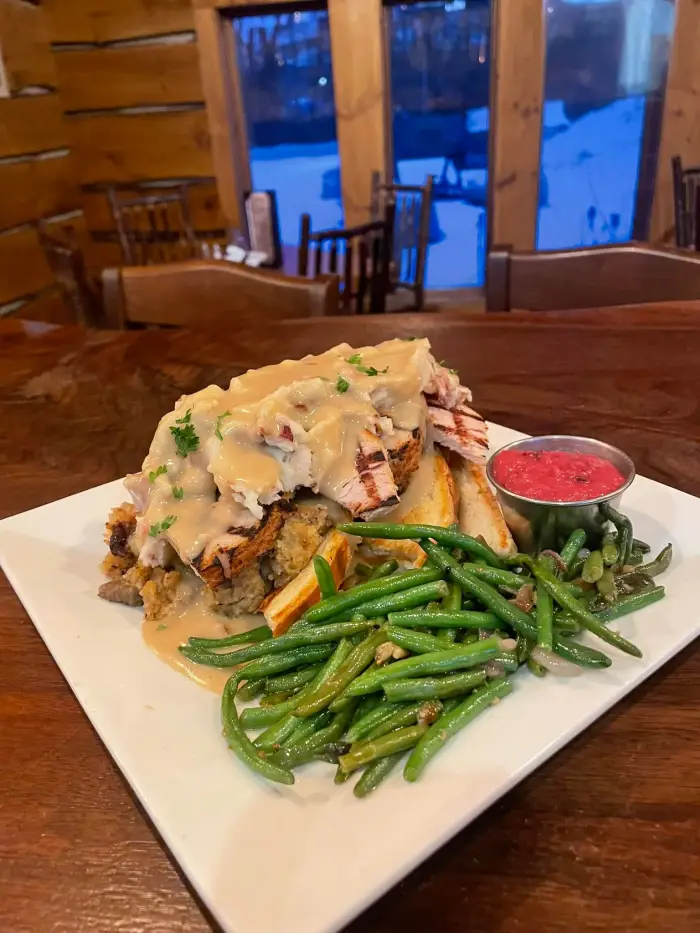 Just like any roundup, there are a few dogies that escaped our eagle eye! Learn more about all of the Adirondack Hub's dining options, from pizza to poutine! While you're here, find a great lodge to soak your feet and hang your hat!