A new take on a familiar place
It's fall in the Adirondacks! The Adirondack Hub is always a special place, and becomes even more enchanting during the season of autumn. The well-known and iconic spots for leaf peeping and photo taking never disappoint, but just off the beaten path are some rather spectacular spots that you might not have heard of. Immerse yourself in fall color from a new perspective – you might just find something extra to love in the heart of autumn! Here are a few of our favorites: 
Blue Ridge Road - wheeled adventure
For an absolutely spectacular scenic fall ride, you won't want to miss Blue Ridge Road, stretching for approximately 20 miles between Newcomb and North Hudson. You'll enjoy views, views, and more views along this beautiful, winding Adirondack road. Blue Ridge Road is part of what is known as the Grand Loop that connects the small towns and wilderness of the Schroon Lake Region. You won't want to miss a stop at Blue Ridge Falls, located just outside of North Hudson in the small hamlet of Blue Ridge. Visible from a small pull-off at the road, Blue Ridge Falls is a picture-perfect spot to stop for a rest. Or, take the short hike down to the water's edge to picnic or sit on the rocks and listen to the water flow.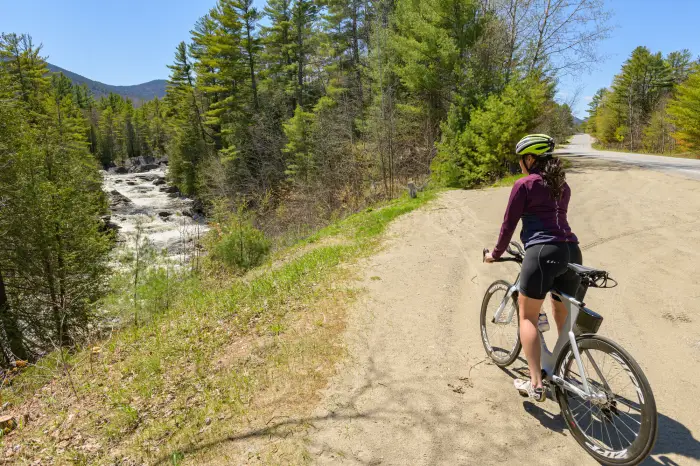 Moxham Mountain - hiking & mountain climbing
If you're up for a moderate hiking challenge and have a few hours to spare, you'll want to put Moxham Mountain in Minerva at the top of your list! Immerse yourself in the autumn woods along a beautiful trail that winds its way through different forest types, an impressive wetland, and has no fewer than a dozen overlooks, each with its own interesting and stunning view. You'll find tons of photo opportunities on the way to the top, with overlooks of Gore Mountain and the wetlands and ponds of the Siamese Ponds Wilderness, and views from the peak offer some unique and amazing views of the Hudson River. This round-trip hike is approximately 5.5 miles with an elevation gain of 1152 feet, giving you lots of opportunity to enjoy the trail and leaving you plenty of time for another outdoor adventure or a trip back to town for a little shopping. Plus, you get bragging rights for climbing a mountain!
Mt Severance - hiking & lake views
Looking for something sensational but don't have a ton of time (or energy)? For a shorter, quicker climb with less elevation gain and awesome views, visit Mt Severance in Schroon Lake. WIth a round-trip distance of just under 2.5 miles, an elevation gain of 725 feet, and amazing views of Schroon Lake, Pharoah Mountain and Paradox Lake from the top, Mt Severance is a can't miss experience for every hiker and elevation seeker. This is also a great snowshoe hike, so enjoy the climb this fall among the brilliant changing leaves and plan for a return excursion during the winter months!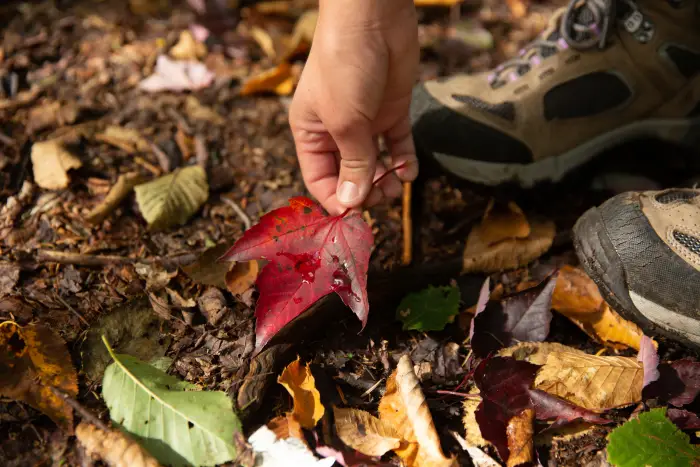 Pharaoh Lake - hiking and fishing
If hiking to a remote lake and fishing the day away sounds like the perfect fall adventure, you'll be delighted with a visit to Pharaoh Lake in the Pharaoh Lake Wilderness area, and even more delighted with the brookies and lake trout you'll find there! At 442 acres, this lake is one of the largest lakes in the Adirondacks that is completely surrounded by Forest Preserve lands, and the approximately 4-mile hike in (depending on your route) is extraordinarily beautiful in the fall. The lake is accessible from several different trailheads in the area - check out the DEC website for additional details and directions. If you're up for even more of a challenge, you can carry an inflatable boat or lightweight canoe in and paddle the lake! 
Upper Works - historic site & interpretive trail
For a unique leaf peeping experience, head to Upper Works. The drive out is spectacularly beautiful, especially in the fall, and the entire area is rich with Adirondack history! As you make your way to the parking area at Upper Works, you'll pass by an old blast furnace, a remnant of the area's mining history. Stop to view the impressive old structure and informational displays at the site, then continue on to the parking area at the site of the old town of Adirondac. This is where you'll find the old MacNaughton Cottage, best known as the place where Teddy Roosevelt began his midnight ride after learning that President McKinley's death was imminent. Just beyond the cottage lies an interpretive trail that guides visitors along the site of many of the old structures that were a part of this mining hub. Upper Works is also the southern access point into the High Peaks Wilderness, and a jump off point to many other adventures.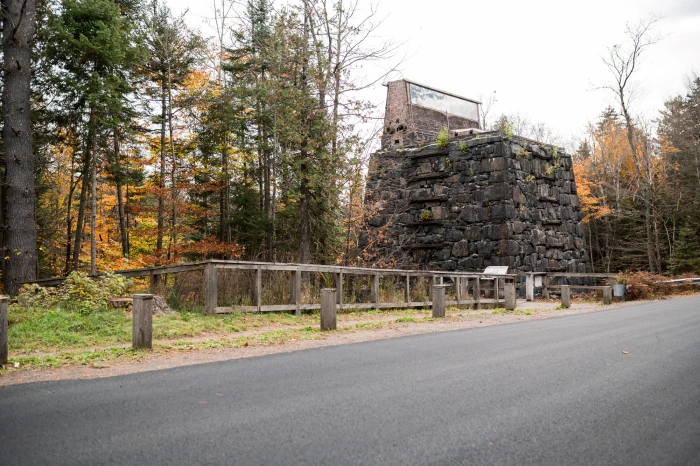 Henderson Lake - paddling
From the parking area at Upper Works, a short 0.3 mile carry will get your non-motorized boat on the glistening waters of Henderson Lake in the High Peaks Wilderness. The portage is a slight climb but cart friendly, and totally worth the effort. Henderson Lake is wonderfully calm and quiet for paddling and enjoying everything about the splendor of a fall day, and feels delightfully wild, given its relatively easy access and close proximity to the popular nearby hiking trails. The waters of Henderson Lake are often described as "glassy", "mesmerizing" and even "dizzying", when viewing the reflections of the surrounding mountains. 
Donnelly Beach - hiking and paddling
You might be familiar with Minerva Lake and Donnelly Beach in the summer season, and it's also a spectacular autumn destination. Aside from being easy to get to and blissfully picturesque, it's a fantastic spot for photographing reflections in the water. You can also hike and boat here – there are some easy hiking trails, and a boat launch where you can get your non-motorized boat onto the water and enjoy paddling the quiet setting and exploring the lake's three small islands.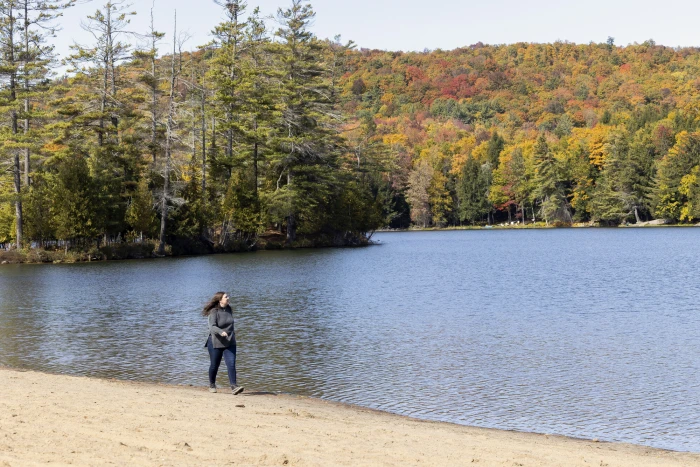 Gore Mountain - scenic gondola ride
For a unique experience with options for a wide range of autumn adventurers, Gore Mountain in North Creek is a dream come true! Sweeping views of the High Peaks and southern Adirondacks are in store from the mountaintop, and how you get up there half the fun! Gore Mountain's scenic Skyride offers a great way for families with small children or folks who are a bit uncomfortable with heights to get to the spectacular views at elevation safely and comfortably. The 8-passenger gondola cabins can fit strollers, wheelchairs, walkers, and even mountain bikes. From the top, choose to hike, picnic, or bike down. Spend an hour or all day playing on the mountain or just relax and take in the sights.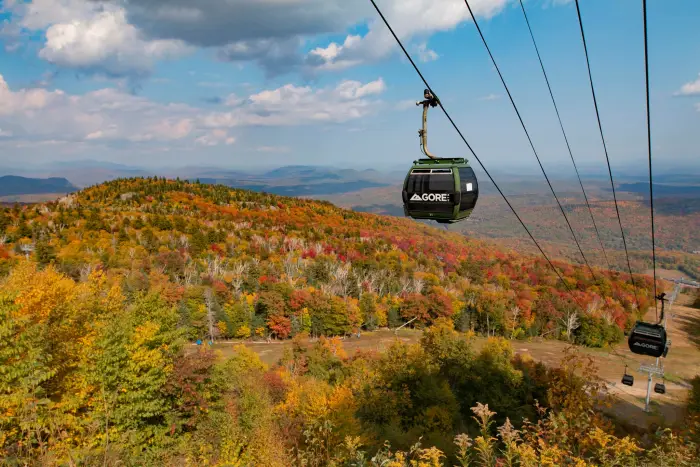 No matter how you choose to experience fall in the Adirondack Hub, you'll love the time you spend here. Cozy lodging, comforting meals and big adventure await. Plan your visit today – the leaves are calling!