Theodore Roosevelt was not only one of the few presidents of the United States that many feel were born to do the job, but a true activist for the Adirondacks and wilderness. Roosevelt's love of wilderness and the Adirondack Park would take an unforeseen turn in 1901, which no one had dreamed of and would put him in the front seat for a wilderness campaign.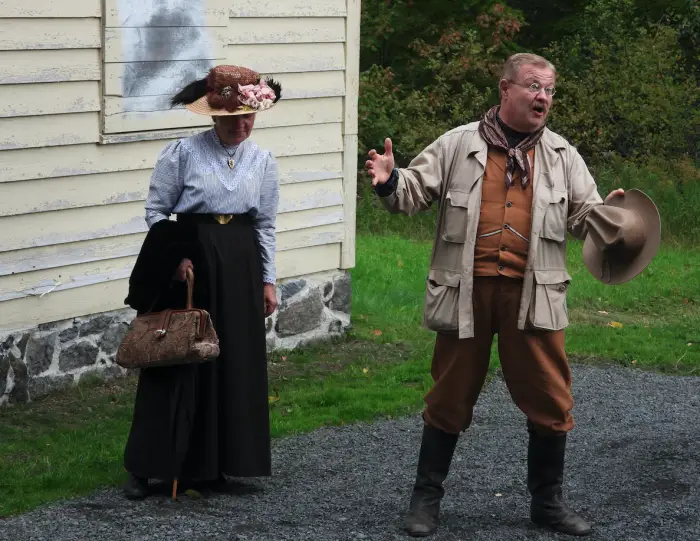 On September 6, 1901, President McKinley was be shot while visiting Buffalo, New York. Roosevelt made an urgent trip to the bedside of the president from a luncheon on Lake Champlain. Within a few days, McKinley made a turn for the better and looked to be in the clear; Roosevelt would continue to be McKinley's Vice President to the United States. Knowing everything was going to fine and to show good faith to the public, Roosevelt left Buffalo and headed to Tahawus, a mining company town deep in the Adirondack wilds. On the outskirts of Newcomb, Tahawus (originally named Adirondac) was booming with activity in Roosevelt's time. (Fun fact: Tahawus - the entire town - that was literally moved.)
Roosevelt met up with his wife, Edith, and their children in this rural village. He then made arrangements to be guided up to the top of New York's tallest mountain, Mount Marcy, by Noah LaCasse. On September 12, 1901 they set off on their hike from Upper Tahawus. They walked past Flowed Lands and Lake Colden, and past the Opalescent River and eventually to Lake Tear of the Clouds. They were beneath the mammoth slopes of Marcy, eating lunch, when nature guide Harrison Hall relayed a telegraph message that strongly urged Roosevelt to come back to Buffalo. Roosevelt wasted no time in descending the peak - which he did in presumably three and a half hours - much faster than a large majority of all current day hikers, and under poor conditions of rain and foul weather.
The midnight ride
Returning to Tahawus, Roosevelt decided to wait until day break before he made the 40-mile journey by stagecoach to the North Creek Railroad Station. It wasn't long before a second telegraph came through. In the pitch black night, Roosevelt was advised to leave immediately to McKinley's bedside, for he was getting much worse. It would be 10:30 in the evening of September 12th that Roosevelt would step foot onto a one-seated coach, called a buckboard wagon, and start his "midnight ride." These smaller, lighter wagons would move faster over the wet and slippery carriage roads and would waste no time in him getting to the train. The trip was made at such a rapid rate that there had to be several stops along the way to switch wagons. The trip would wear heavily on the drivers and horses that he would end up changing about every 10-12 miles. The first stop would be at the post office before departing Tahawus and a few hours later at the famous Aiden Lair Lodge near Minerva.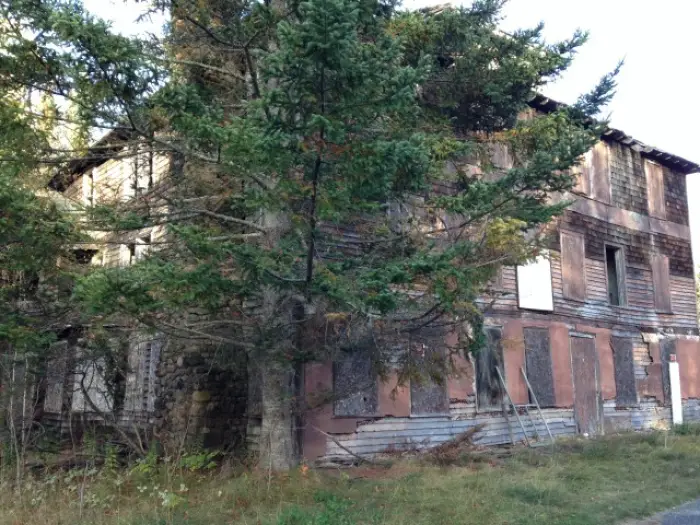 The Aiden Lair Lodge rests along Route 28N between Newcomb and Minerva, a memorial sits out front of the building. Near the lodge rests a small land mass commemorating his midnight stop, Roosevelt Hill. This small knoll, quite insignificant as you drive by, has no trail or even a view, but is a piece of history no less.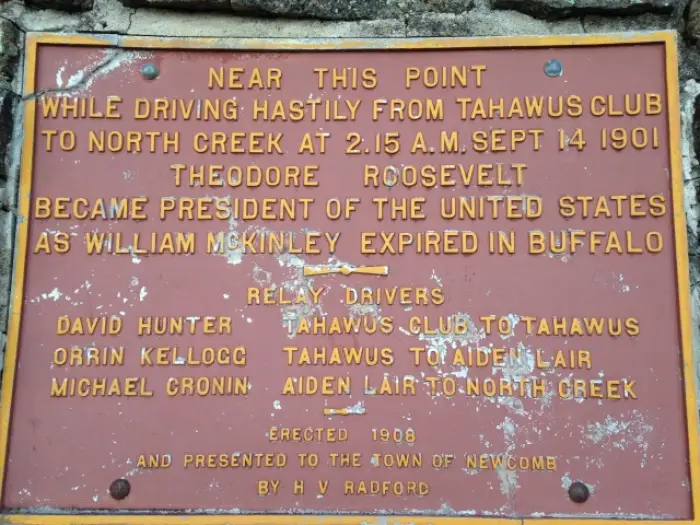 From here he would make the final push with the proprietor of the lodge, Mike Cronin. Around 4:45 a.m., at the station in North Creek, Secretary William Loeb would relay the news of McKinley's passing at 2:15 a.m. that morning; Roosevelt had already become president well over an hour prior at that point.
Roosevelt, as the man he was, wasted no time in continuing his journey aboard a locomotive of the Delaware & Hudson Railroad, which took him to Albany. After switching trains in Albany, Roosevelt headed toward Buffalo, arriving at 1:34 p.m. on September 14. At this time, Roosevelt was still in his muddy clothes from the shoulder of Mount Marcy! He freshened up, payed his respects to McKinley and his widow, and at 3:30 p.m. that day, Teddy Roosevelt was officially sworn in as the 26th President of the United States.

In commemoration of Theodore Roosevelt
TR Mountain, a 3800' peak near Tabletop Mountain and Indian Falls is also called Theodore Roosevelt Mountain. This formerly unnamed mountain was given a proper name in honor of the President in 1999. Standing as one of the 100-highest mountains in the Adirondacks it towers above many, but sits unexplored by the crowds of the High Peaks. A faint herd-path from the Van Hoevenberg Trail will lead one to this wooded summit. (Please keep in mind, this hike is a bushwhack and requires the use of map and compass to safely complete.)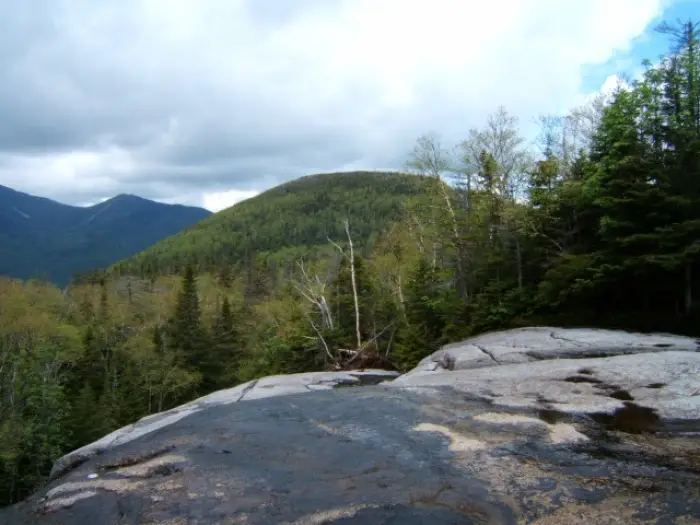 More on the beaten path, Route 28N from Long Lake to North Creek has been marked as the Roosevelt-Marcy Trail in commemoration of Roosevelt's midnight ride to the presidency. The once narrow, dangerous route is now a scenic byway for all to explore and experience in a much safer fashion.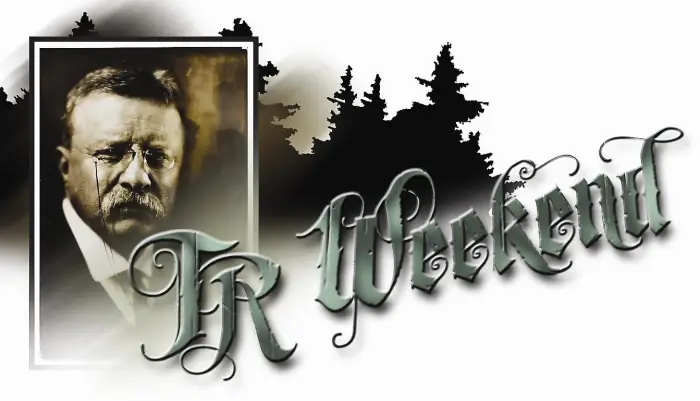 For more information and historical reading about Theodore Roosevelt, check out titles by Edmund Morris at a local Adirondack store. Interested in doing a historical hike to Mount Marcy or seeing Lake Tear of the Clouds? See what a local guide can do to set that up for you. And, of course, mark your calendars now for the annual Teddy Roosevelt Weekend held in Newcomb each September.