Submitted by guest blogger Erin Davis
I took a sip of my morning coffee, aka "Adirondack Rocket Fuel" (1 part hot chocolate, 3 parts coffee) from the General Store, while driving away from Lake Placid. The original plan on this gorgeous fall day was to hike Noonmark from Keene Valley en route to my parent's camp in the northern Lake George area. I made a quick new plan to avoid the crowds getting in their high peaks…a sensible one where I could still accomplish what I was looking to do, which was roughly a hike under ten miles, no crowds, and great views. A hidden gem in the Adirondack Mountains. It had been a while since I hiked the mountains on the east side of I-87.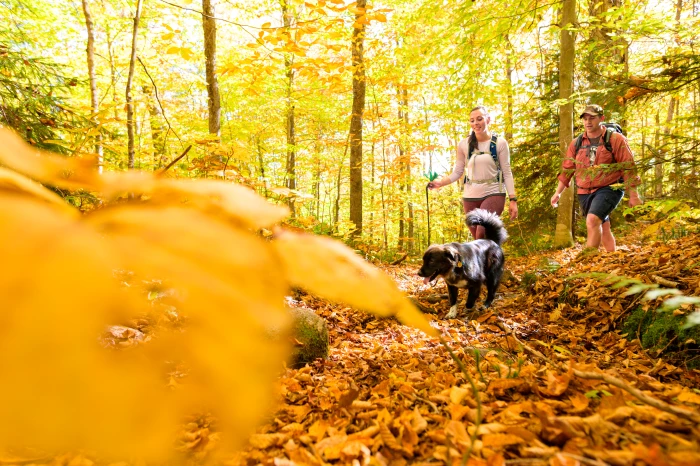 "Why didn't I think of this before?" I almost said to myself out loud, thinking of my master plan. The Pharaoh Lake Wilderness Area is easily accessible from the I-87 Ticonderoga exit off Route 22. For lack of better description, it seems like it's own park within the Adirondacks on the East side of I-87. I had hiked Treadway Mountain from the Putnam Pond Campground boat launch Memorial Day weekend, which was roughly seven miles round trip. Today, Pharaoh Mountain, a bit lengthier at about 9 miles with a not too crazy elevation gain of around 1,800ft ,came to mind. It is the tallest within the given area at 2,556 ft. The trailhead starts at the Crane Pond Campground at the end of Crane Pond Road, which is just off I-87 with a quick turn onto Route 9 south, then taking Alder Meadow Road until you get to Crane Pond Road, approximately 15 minutes or less from the highway. 
Crane Pond Road started to narrow as it wound its way through the forest into the campsite area. The dirt road became a bit "rugged" in some areas, and my all wheel drive served me well. Only two vehicles were parked in the campsite area on this beautiful Sunday in early fall. No bugs, no crowds, no problems. Not one person in sight. The hike began with a bridge crossing and wound its way through the shaded forest passing to a trail sign in. Soon after, the trail split with the option to hike to Pharaoh Lake or take the right turn up to the mountain. The gradual build-up was much like a logging road with good footing and wide enough for two people hiking side by side. The last mile and a half began to climb and a good portion was on some smooth rock. With a few lookout points along the way, I could sense the views from the top would be worth it.
I rounded a corner by a steep cliff and could sense I was near the summit as I heard someone's dog up above. The final ascent was a short path through a valley between what looked like two summits. There were signs for camp sites in the woods between offering a natural canopy to escape any wind. I found the summit marker on the lookout point to the left. From this point views ranged into the high peaks and south all the over to Schroon Lake. I continued on a path through the campsites to the two other lookout points from where you could see Pharaoh Lake, Crane Pond, and, being a clear day, all the way to the Green Mountains in our neighbor Vermont. The other side of Pharaoh Mountain has a trail down to Pharaoh Lake about three miles from the summit. I have read this side is steeper. I did not have time to do this today; however it seemed like a great idea for a camping trip or an extra long loop hike.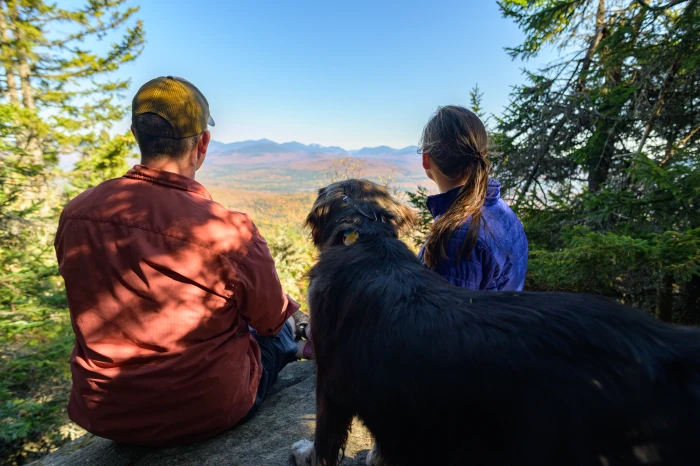 I made my way back down to the car taking my time, noticing the old markings of the survey tower and small storage shed that once had been used. My feet and knees no longer allow me to go at speed and it usually takes me longer to descend a mountain these days! I stuck to my plan and got to my parents' home by dinner. Any other day I would have ventured into nearby Schroon Lake to eat at Sticks & Stones Bistro or head to Paradox Brewery, as I was craving a beer and a giant pretzel. There is plenty left to explore in the Pharaoh Wilderness as it boasts 70 miles of hiking trails within its 46,283 acres. It certainly did feel like it's own park within the Adirondacks.
When you're exploring the Adirondacks, be sure to practice the principles of Leave No Trace. The principles are easy to follow and incorporate into your adventures. They including planning ahead, taking out your trash, not disturbing wildlife, and leaving plants and stones where they are. If we all work together we can keep the Adirondacks a beautiful, clean wilderness for everyone to explore.