Winter in the mountains is spectacular. Evergreens cradle white tufts of snow while lakes, ponds, and waterfalls freeze over, creating crystalline ice sculptures that are tucked among the boulders and trees. Snowshoeing is a fabulous way to see the beauty up close, and we've picked four of our favorite trails to get you started. Before heading out, be sure you have plenty of extra layers, food and water, and get an early start — evening comes early in the mountains!
1. Newcomb AIC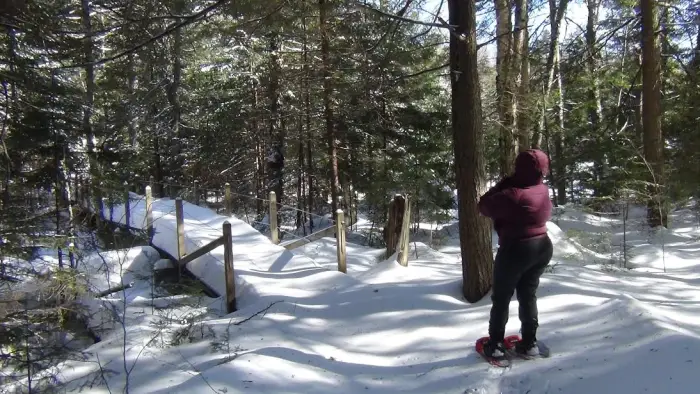 Wide, easy trails and scenic overlooks are what snowshoeing at the Newcomb AIC is all about. AIC stands for Adirondack Interpretive Center, and that's exactly what this place sets out to accomplish. Strap into some snowshoes and prepare to embark on a network of 3.6 miles of trail that wind through 236 acres of woods and waterways. The trails are open daily from dawn to dusk, even when the main building is not. The trails are all really mellow so seeing the entire AIC in a day isn't a problem for most hikers. For current hours of operation and up-to-date info, please visit the AIC's website.
If you are pressed for time, don't miss the Rich Lake and Peninsula trails. A lovely bridge gets visitors out onto the large peninsula, where there are great views of Rich Lake and Goodnow Mountain. Side note: Goodnow has a restored fire tower on its summit and is a great hike if you're looking for a bigger challenge. See the description below!
Getting there
Take Exit 29 off of Interstate 87 and turn left on Blue Ridge Road to head toward Newcomb, then turn right on Route 28N. The AIC is on the right, about 25 miles from the interstate.
2. Mount Severance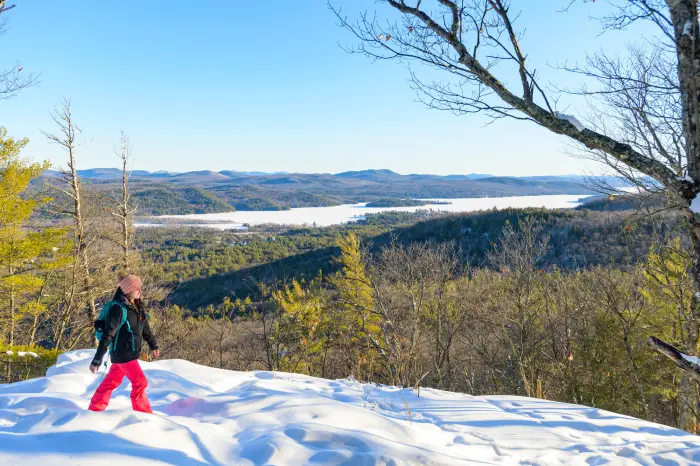 Gaining elevation is the best way to see the beauty of winter's snowy grip on the mountains. Luckily, some peaks are easier to climb than others, so killer vistas are still attainable even if vertigo-inducing scrambles aren't your thing. At a manageable 1,693 feet in elevation, a trip up Mount Severance shouldn't take the entire day, but do take your time ascending — snow and ice are fine if you have snowshoes and microspikes, but it's still a good idea to walk slowly.
The trail leaves the parking area by way of two metal tunnels, which go underneath I-87. The path is well-marked and well-maintained as it winds to the base of the mountain, crosses a wooden bridge, then climbs moderately to the summit at the 1.2-mile mark. Explore the top to discover all of its secrets — there's a stunning view of Schroon Lake in one direction and another that encompasses the Pharaoh Lake Wilderness Area.
Stats
Distance: 1.2 miles to the summit
Elevation: 1,693 feet
Elevation gain: 700 feet
Getting there
From Interstate 87, take Exit 28, head toward Schroon Lake, and make a quick right to go south on Route 9. The parking area is in about a half-mile on the right.
3. Goodnow Mountain
Goodnow is a little longer and a little more difficult than Mount Severance, so definitely wear snowshoes and bring microspikes for this one. The view from Goodnow's restored summit fire tower is simply stunning: a series of High Peaks rise to the north while rolling mountains, twisting rivers, and expansive lakes stretch toward the horizon in every other direction.
The trail starts at a mellow grade and never gets too steep as it climbs. A lot of trail work has been done to maintain this popular route; you'll see the result of that in the many wooden bridges, boardwalks, and stairs along the way. Those features will help you cross icy sections, so be sure to take advantage of the trail crew's hard work!
Even though this is a pretty easy trail as far as mountains go, be sure to bring a couple of extra layers, especially for the summit, which is always chillier than the valley below. An insulated bottle filled with a hot drink or soup is also a great thing to bring! Unsure about conditions? Take a look at SUNY ESF's webcam on the fire tower to see real-time updates.
Stats
Distance: 1.9 miles to the summit
Elevation: 2,690 feet
Elevation gain: 1,040 feet
Getting there
Take exit 29 from Interstate 87 and head west on Blue Ridge Road, toward Newcomb. After about 18.5 miles, turn right on Route 28N and follow that for about 9 miles as it goes through Newcomb. The large parking area is on the left, about 1.5 miles after the Adirondack Interpretive Center.
4. Pharaoh Lake Wilderness Area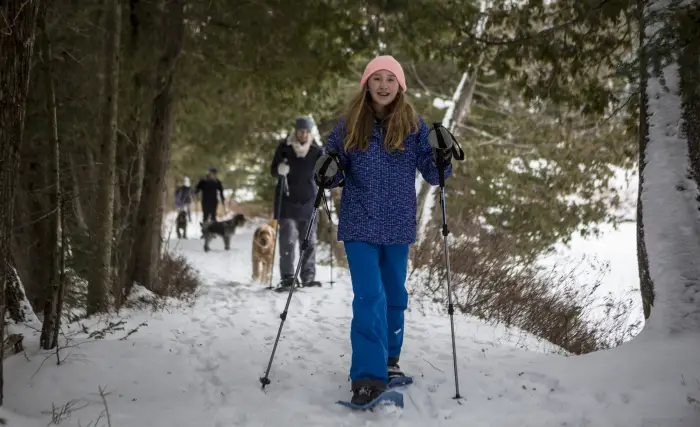 You could spend a week exploring the
Pharaoh Lake Wilderness Area
and still not see it all.
The 46,283-acre region is chock full of trails, lakes, mountains, and wildlife all accessed from 11 parking areas. That's great for people who like to explore, but it can make it difficult for first-time visitors to decide where to go. So here's a handful of options accessible from the Crane Pond Road trailhead.
Crane Pond
This is a relatively easy 1.7-mile hike to a lovely pond, and there's plenty to see along the way. The first part of the path is actually a dirt road, so it's wide and gently graded, making it perfect for snowshoeing and cross-country skiing. The views of the ravine and waterfalls on Alder Creek make this an especially scenic route. The first 1.2 miles rise about 160 feet. Shortly after that, the trail levels off and skirts Alder Pond. Take a right at the three-way intersection and Crane Pond will appear in a few minutes.
Pharaoh Mountain
At 2,556 feet in elevation, Pharaoh Mountain is certainly not the biggest or the hardest hike in the Adirondacks, but the view from its mostly open summit is phenomenal. Like any destination in this area, there are several directions this peak can be approached from. From Crane Pond, it's an ascent of 1,405 feet over 2.6 miles. 
Pharaoh Lake
About 3 miles past Crane Pond is Pharaoh Lake, a large, scenic waterbody that has a truly remote feel. If you're not up for the ups and downs, bypass the Pharaoh Mountain trail and continue past a couple of nice ponds to get to the lakeshore. More intrepid snowshoers can make a loop by going over the mountain. Either way, this is a long hike through the woods, so leave early and bring plenty of food, water, and extra layers!
Getting there
Follow Route 9 north from downtown Schroon Lake and turn right on Alder Meadow Road. After about 2 miles continue straight onto Crane Pond Road and follow that for 1.4 miles to the end.
---
Start planning your snowshoe adventure today. Pick a cozy lodging in the Adirondack Hub and make a weekend of it!