How to Spend a Weekend in the Upper Hudson Recreation Hub
The weather is gorgeous, there's a whisper of fall in the air, and the weekend beckons. What will you do? Escape to the Adirondacks, of course! Less than two hours from New York's capital district, the Adirondack Hub and Upper Hudson Recreation Hub are the perfect spot for 36 hours of unique activities, relaxation, and that wonderful feeling of getting away from it all for a memorable family adventure.
Friday
Adventure
Start your adventure in Pottersville, at Natural Stone Bridge and Caves, a remarkable natural wonder. Nature is the star here, where a nature trail winds through woods and over, around, and into natural caves for adventurous exploration. Kids will be in love with the dino dig, gem mining, climbing wall, and playground. Watch out for the gift shop; there are literal tons of rocks, gemstones, and totally unique finds to take home.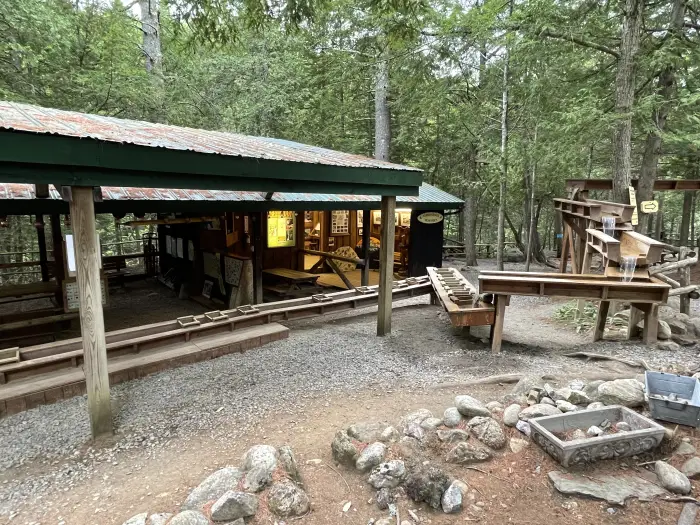 Dinner
Rustic relaxation and great flavor are the perfect way to end the day. Sticks and Stones Wood Fired Bistro & Bar in Schroon Lake is much-loved for its comfortable atmosphere, exceptional food, and friendly local flavor. The "saplings" menu has child-friendly foods like homemade mac and cheese, but the pizza offerings should get their attention, too!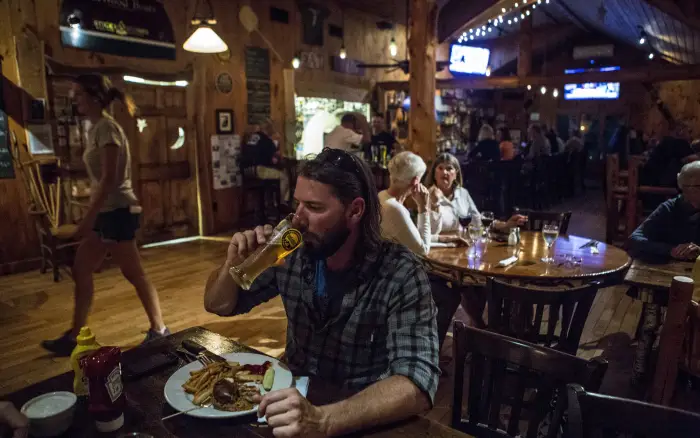 Nighttime
Lay your head at the scenic, updated, and comfy cute Blue Ridge Motel in North Hudson. Ideally located between today's adventures and the promise of more tomorrow, this is a great place to rest after a big start to your family adventure. The rooms are comfortable, it's easily accessible, and there's plenty of room for the kids to run around, too!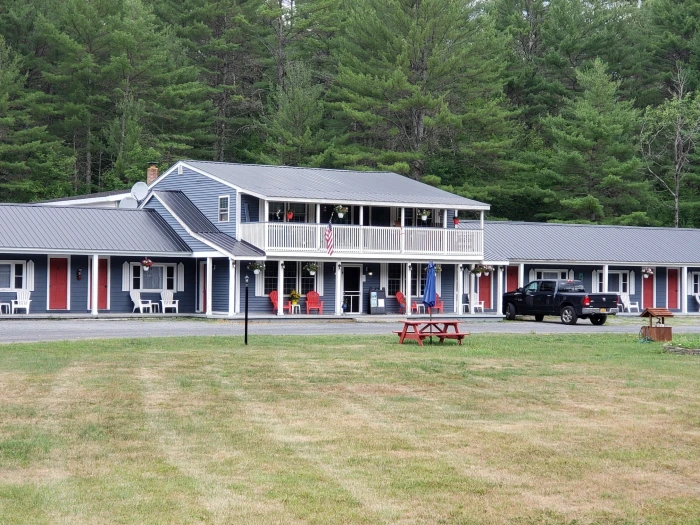 Saturday
Breakfast
Start your full day of fun with breakfast at Pitkin's in Schroon Lake, a family favorite that has been offering hearty breakfasts for over one hundred years. But that age doesn't mean it's old and staid; instead, Pitkin's has been modernized over the years and the menu, while always family-oriented and full of homemade goodness, is updated and filled with great treats.
Adventure
While you're in town, stop by Nine Mile Coffee to grab a lunch, some trail snacks, and fill up your water bottles; it's time for an adventure! Head to the Adirondack Interpretive Center (AIC) in Newcomb for a wonderful family hike and an immersive nature experience. At the AIC, enjoy the interactive learning activities and displays in the visitor center, meet a staff naturalist, then head out on the trail (or trails!).
3.5 miles of trails wind around the AIC's property, through mixed forests, overlooks of Rich Lake, and along Sucker Brook. There is a lot to see on these trails, including old growth trees, very large pines, mountain views, massive boulders dropped by glaciers, and the potential for a range of wildlife, including loons, herons, an array of amphibians, and more. You may even see evidence of the enormous pileated woodpecker if you look carefully.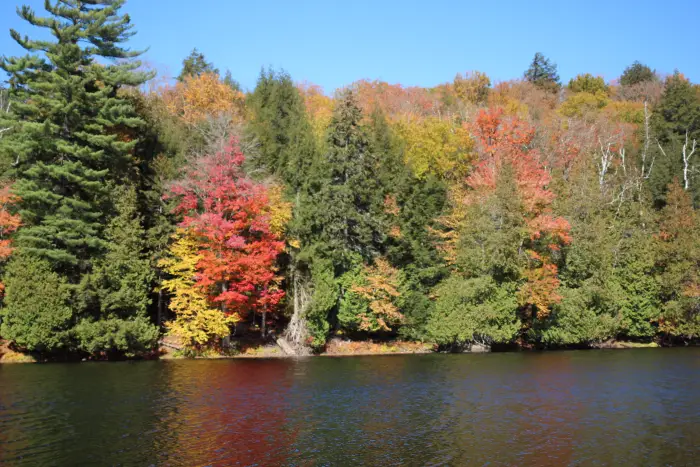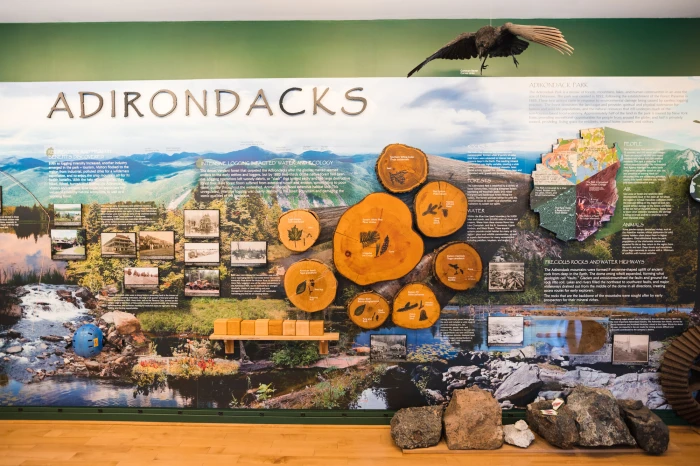 Before the day is done, stop by the nearby Newcomb Overlook Park to enjoy wide views of the High Peaks. Can you name them all? If not, you'll find a helpful guide at the park!
Dinner
A full fall day of hiking, walking, wildlife viewing, and foliage-spotting deserves a hearty, delicious meal that you don't have to cook. Stay right in Newcomb and visit Lake Harris Lodge, a popular lakeside spot known for excellent meals and exceptional views. Eat inside by the fireplace or out — the deck has heating for chilly days! — and savor more family time. Whether you're a family that likes to share, or guard your plates carefully, you'll enjoy a relaxing evening at Lake Harris Lodge.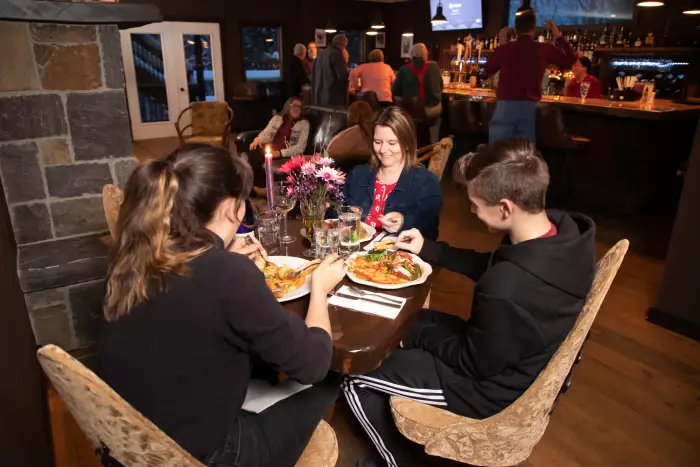 Sunday
Breakfast
Don't wake up sad because it's the end of your weekend getaway; wake up happy because there is so much more to enjoy before you head home! To start, there's a delightful breakfast waiting for you at either (or both!) the Long Lake Diner and the Paradise Cafe. The diner, which is a local favorite, offers big, bountiful breakfasts of fluffy, stuffed omelets, pancakes, French toast, local syrup, and other diner classics. Over at Paradise Cafe, grab a sticky bun (or two or six) for the road! They're famous!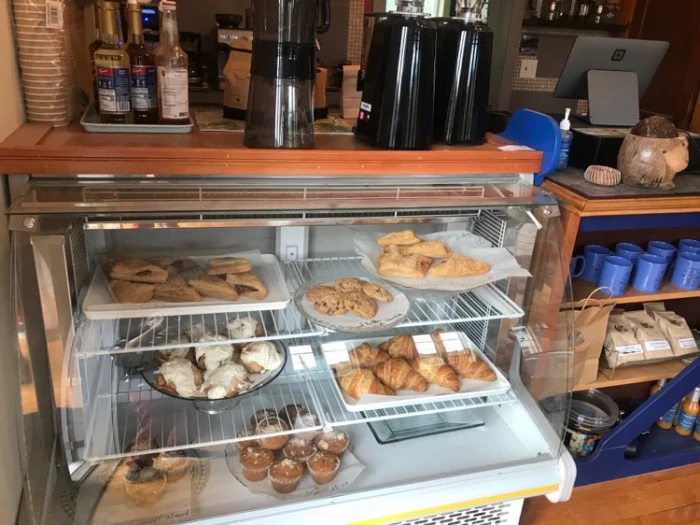 Adventure
As you head south towards I-87, your final stop must be in Blue Mountain Lake, a scenic hamlet and home of the Adirondack Experience, the Museum on Blue Mountain Lake. This isn't just one building, it's an array of historic buildings, exhibit spaces, a historic fire tower, and so much more, all in celebration of the history of the Adirondacks. Take in big views of the lake or try your hand at rowing a guideboat on Minnow Pond. This is the perfect way to cap off your family weekend in the Upper Hudson Recreation Hub!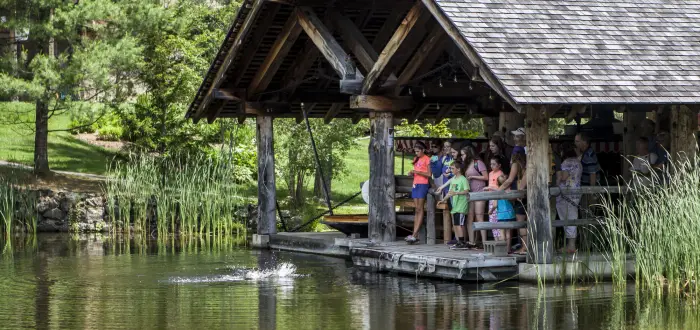 This fall, make the most of fall weekends with the family by playing, dining, and creating memories in the Adirondack Hub!