Three seasons of whitewater rafting near the Adirondack Hub
We have Adirondack river adventures in three flavors. Take to our "water highways" to construct an adventure at your favorite speed. Back in the days of the Erie Canal, waterways were the way to get around. Now that people have alternatives, water travel is all of the enjoyment, with none of the drawbacks. Thanks to Adirondac Rafting Company we have three different seasons of potential rafting fun, each with their own special appeal.
Spring for thrills
This is the kind of rafting most people will think of first, which is whitewater rafting. This is negotiating the rapids on the Hudson River with a paddle and a pounding heart.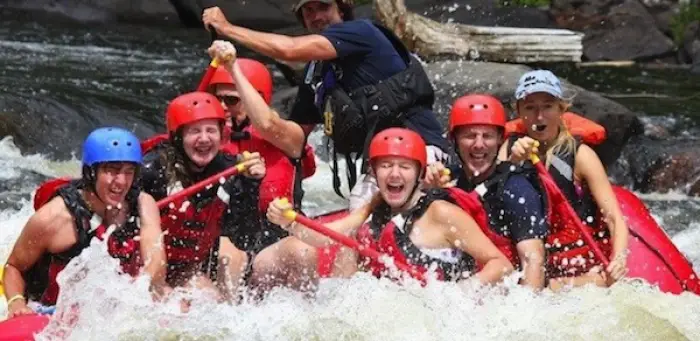 Make no mistake, this is a lot of fun.
Roaring through a roller coaster of water, directing the raft together as a team under the instructions of an expert river guide, and enjoying the calm scenic travel in between. This is great splashy fun that is at its best during the spring thaw season.
For spring, with its cool temperatures and guarantee of getting wet, you'll need wetsuits and helmets - provided by the rafting company. However, you'll want to be prepared with the proper under layers! If you've been stalling on that silk underwear, now is the time to indulge. This quick-drying, warm even when wet, kind of fabric is perfect for wearing under a wetsuit. While silk is the classic, there are now all kinds of high tech fabrics to choose from. Kayak shoes or other waterproof footwear is another good idea.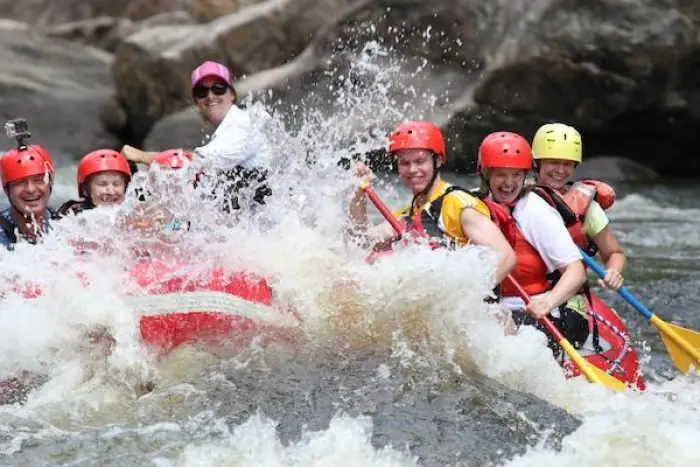 Spring rafting is all about teamwork. It takes every paddler working together to get through the tricky parts. This is seventeen miles of wilderness, but with the swift current it takes less than a full day to experience. No worries, though, there are quiet stretches where you'll be able to enjoy the delicate gold-green of the spring forest waking up. The forest is at its delicate best in spring, with early wildflowers and plenty of sunlight reaching through the not-quite-fully leafed trees.
Summer for exploration
Summertime... when the rafting is easy (y'know, as the song goes). When the spring rush settles into the warmth of sunny weather, slower currents, and full greenery, our summer rafting trip is more like a cruise than a roller coaster.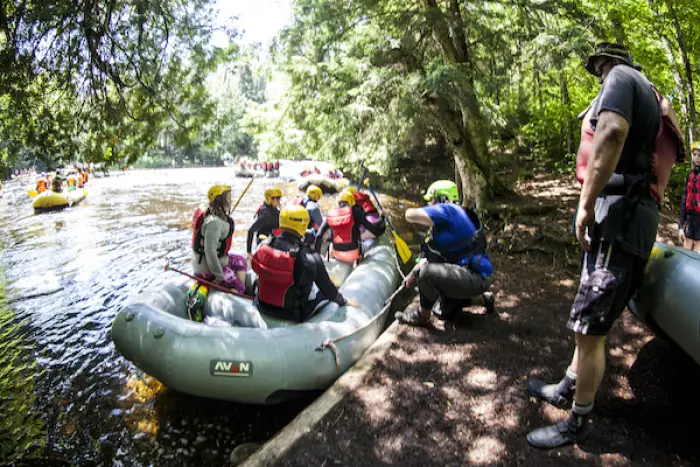 There are still tricky bits to maneuver around, but bathing suits, shorts and tops, and sunscreen are all we need. It's still a good idea to avoid cotton, which gets wet and stays soggy. This can get uncomfortable.
The urgent spring thaws have ceased, and the current slows down. There are more stops for side trips and swimming in the lovely summer weather.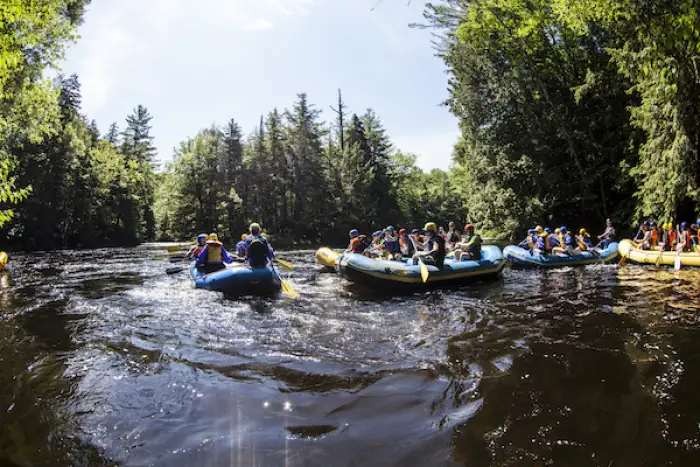 The intense green of the summer forest is full of birdsong and the river sparkles in the sunshine. While you may be dressed and afloat in modern conveniences, there are stretches when it can seem like you've floated back through time. There are so few reminders, either of sound or sight. There is only the splash of the paddles and the murmur of conversation. That's another nice element of summer rafting; more time to chat with your raftmates!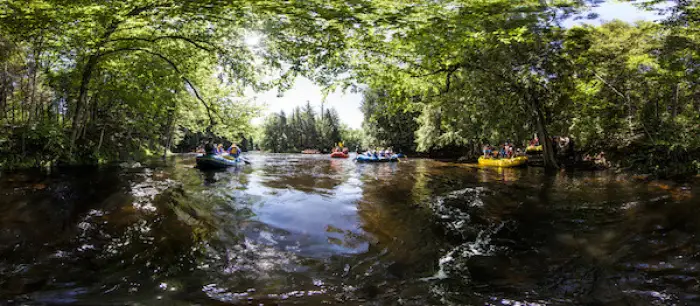 It is a wonderful way of getting away from civilization. Just for a little while.
Fall for spectacular
The third season to enjoy rafting is when you experience a ride through an absolute festival of flaming leaves.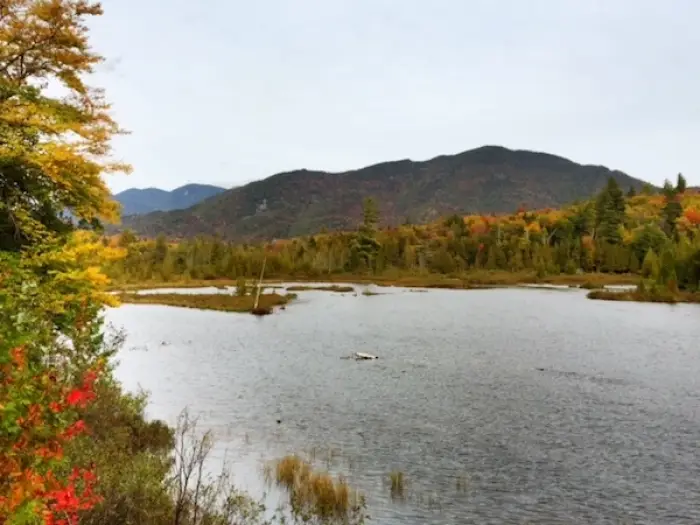 The river in fall is at its quietest, with a scent in the air that is brisk and crunchy, like a fine apple.
It's a bit cooler in fall, so I suggest going back to the wetsuits and longjohns. As you float along, you'll be surrounded by an entire forest in all its autumn glory. This is the best time to bring a camera, even if that means you need to take some precautions. Try either a sport camera, or one secured to your body in a waterproof "shooting bag."
Those long, slow drifts are when you'll have time to take it out and try for some lovely shots to bring home.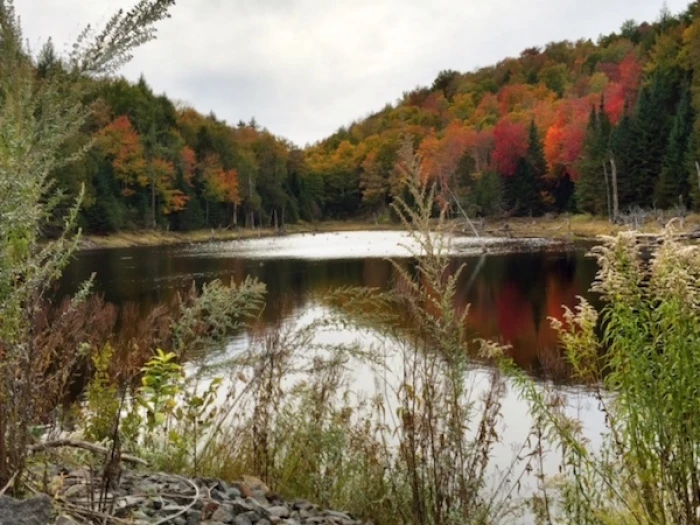 The shoreside excursions are even more photogenic in fall, but remember that even the finest camera work is not the same as actually being there. Be warned, this is something you will tell your friends. "But it was even better in person."
It's the memories that bring it all back.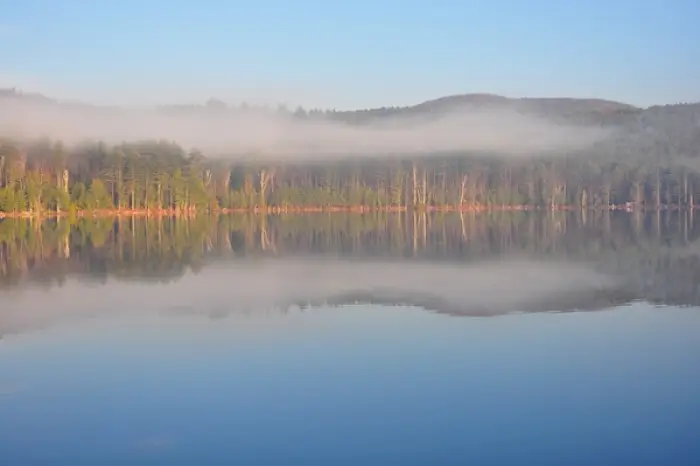 After personally experiencing all that rafting has to offer, I urge you to pick a season and give it a try.
To avoid disappointment, plan ahead and book the trip as part of a getaway. Don't expect to just show up. While you may luck out and be able to book a last-minute trip, for the most part these are not spur-of-the-moment assemblies. The big bus has to be loaded, the gear checked, the guides ready, and the paddlers geared up correctly. This is so much better than theme park ride. This is an Adirondack whitewater rafting ride. This is the real thing.
Find a great place to stay. Enjoy our places to eat. Find more adventure.