'Twas The Month After Christmas…
And I had a new set of skis waiting to hit the slopes! My usual stomping grounds are farther north, but after visiting Gore Mountain for the first time last season I was excited to do some more exploring.
Just an hour-and-a-half north of Albany and two hours south of me, Gore is the perfect mid-point for myself and my downstate friends to meet. So on a particularly chilly -10 degree morning I packed the car and headed out.
Starting the day off right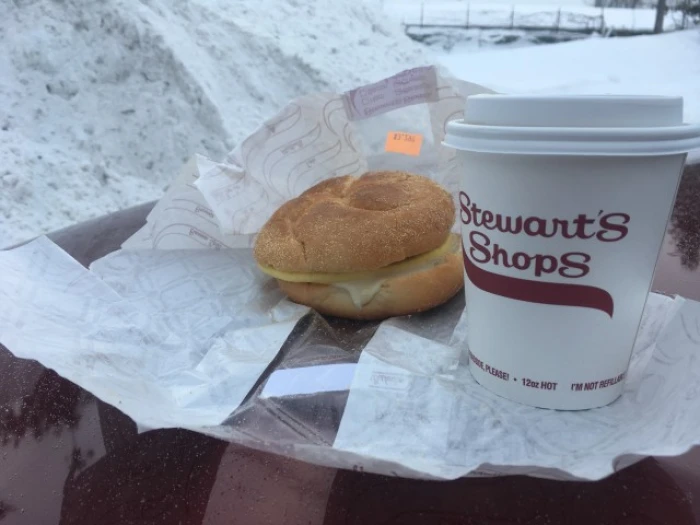 Ask any local ski bum and they'll tell you the best way to start a ski day is with a cup o' Joe and a breakfast sandwich from "Stewie's." Every northern New Yorker's favorite gas station/convenience store, Stewart's offers a hearty store-made breakfast sandwich and a decent cup of coffee. You'll find one in nearly every Adirondack town including North Creek, just a few miles from Gore. Most of us also swear by their ice cream as the best that money can buy, so grab a pint or more for while you're warming up by the fire after a day on the slopes.
Low temps, great skiing at Gore!
I won't lie, -10 on the thermometer when I left home was a bit discouraging, and when I got to the mountain, although the parking lot was crowded, it was a bit less than you might expect for a holiday week.
But, here's the catch: It was a beautiful day with blue skies and barely a wisp of wind on the mountain. Combine that with Gore's often-protected terrain and some smart layering, and it turned out to be a fantastic ski day.

Cold temps weren't going to scare away John, Paige, and Julian. MAX Pass holders from Long Island checking out Gore for the first time.
So far Mother Nature has been exceedingly kind to Upstate New York, with great snowmaking temps and good snowfall up through Christmas. A cold snap right after the holiday left plenty of densely packed snow on the trails. It was a bit sticky in spots, but overall great East Coast snow with almost no ice in sight. I'm a green dot and blue square skier but from what I glimpsed of a few of the glades, the powder was looking pretty good.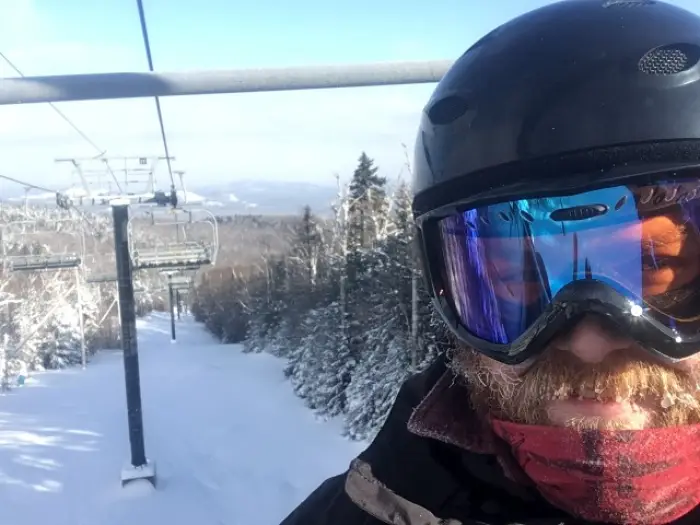 Our first run took us up to what was one of my favorite parts of the mountain on my last visit, the east side of Bear Mountain. The trails over here range from beginner to intermediate and the short runs of varying difficulty gave me a great opportunity to work on my technique without burning myself out with longer runs right off the bat. On this trip. however, the east side of Bear was looking a bit rough and the first run found stretches of mashed potato snow followed by ice sheets.
I'll be back to Pete's Gay, Powder Pass, Sleeping Bear, and Tahawus next time; but the less than stellar conditions on this particular day gave me more time to explore the rest of the mountain, which was in markedly better condition.

Leaving the gondola, looking at the summit of Gore Mountain.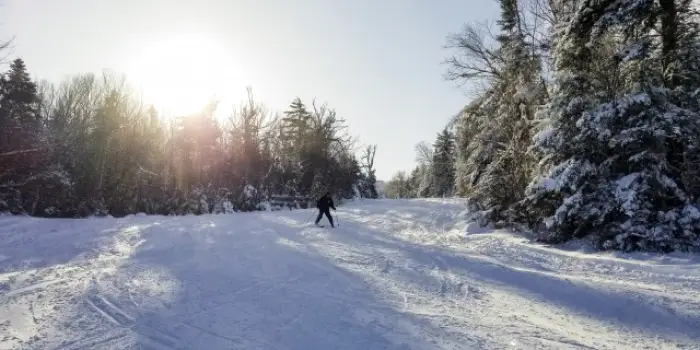 For me, the best run of the day was off of the Gondola and down the center of Bear Mountain — Foxlair to Sunway to Quicksilver, with a finish in the Arena. It's a fun intermediate cruiser with plenty of room most of the way down, and some opportunities to pick up some good speed.
Interestingly, Sunway, which I found to be a disaster area on my last trip, was smooth as butter this go around. This seems to be one of the great features of Gore, with four mountains and nine different faces you're bound to to find great conditions somewhere on the mountain.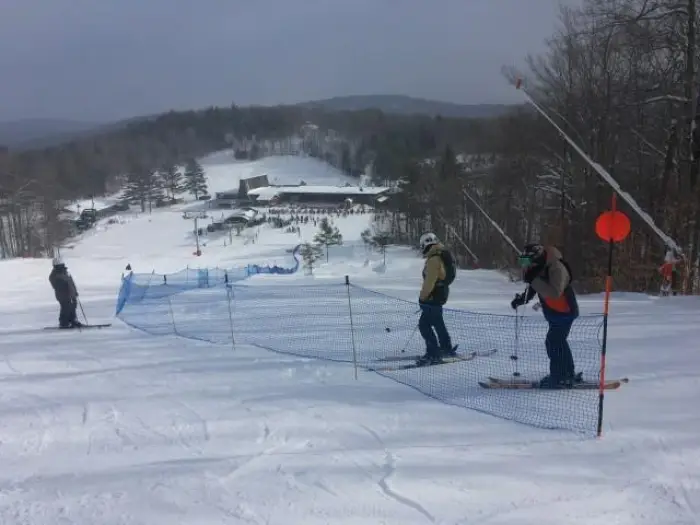 Planning a run through the jumps.
After five or so runs down Bear Mountain, my friend Max convinced me to tackle the summit of Gore Mountain — the highest of the four peaks that make up the ski resort. I hadn't made it this far on my last visit and decided it was time I check it out.
On this day, getting up to the summit was a trip into a true winter wonderland. The cold conditions and lack of wind left the prior snowfall clinging to the trees and the snow glimmering in the sun. At the top we took the opportunity to warm up for a minute and check out the mountain's upgraded Straight Brook Lodge.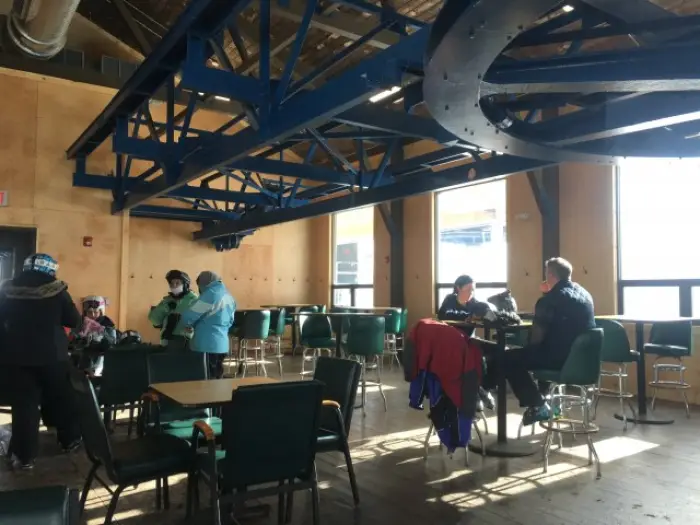 Renovated this year, Straight Brook Lodge is at the top of the original Gore gondola. You can check out the impressive inner workings of the retired gondola while warming up with a coffee or hot cocoa.
At 3,600 feet, Gore's summit is surprisingly well protected and gives you your choice of Gore's 110 alpine trails. There's almost nowhere on the mountain you can't get to in a straight shot from here. And you can do it on anything from double-black glades to blue cruisers. We took Upper Steilhang to Lower Cloud Traverse, a slightly technical but fun drop back down to Bear Mountain.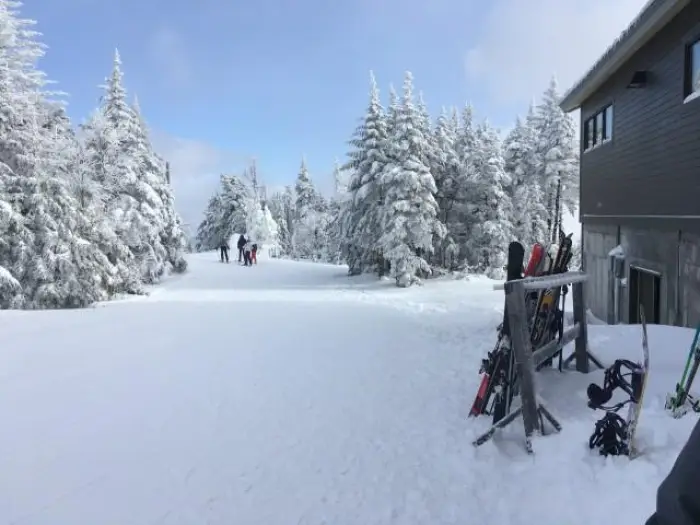 Leaving the lodge at the summit.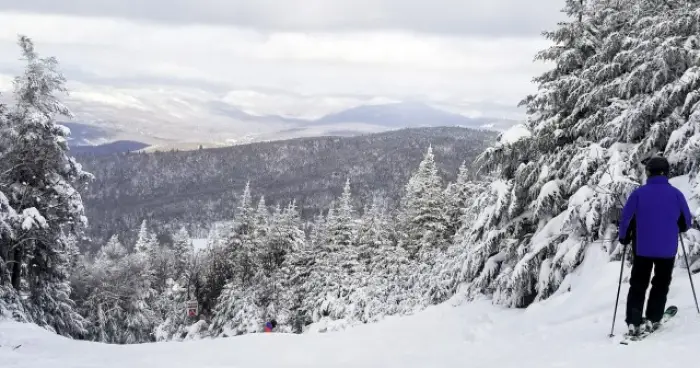 View from Upper Steilhang.
Sticks and Stones may heal your bones
A couple more runs and we wrapped up our day with lunch in the Main Lodge. Our plan was to hit up Paradox Brewery on our way home but they were closed midweek, so we ended up nearby at Sticks and Stones Wood Fired Bistro & Bar. Nothing like a cold beer and some fire-toasted giant pretzels to end a great day of skiing!