Of all the winter sports out there, I think snowshoeing is probably the easiest to learn. Our Adirondack trails simply transform with the seasons. If you can hike there in the summer, you can snowshoe there in the winter, exchanging the bright green for the sparkly white. If you can walk, you can snowshoe.
Snowshoeing doesn't require much more equipment than the actual shoes, though I highly recommend a pair of trekking poles. At first, there's this tendency to step on your own feet, since they are a bit larger than what you are used to. Even after you get the hang of it, having that extra four-point leverage of poles is always a good idea, especially on backcountry trails, or on any descent.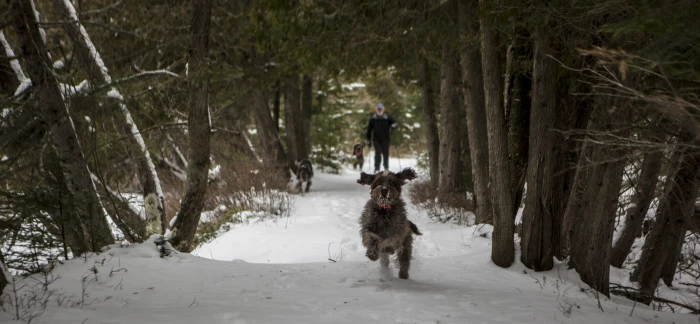 That's one of the reasons dogs do well in snow. They have four on the floor.
Go anywhere
One way to have a great time, even on the first time, is getting some expert help. Cloudsplitter Outfitters in Newcomb rents all kinds of equipment, including snowshoes. Their expert guides will take you out for a trek tailored to your interests and skill level.
They are certified Adirondack Guides who love the area and have everything needed for four-season enjoyment of it. From equipment to accommodation, they can offer a full service experience.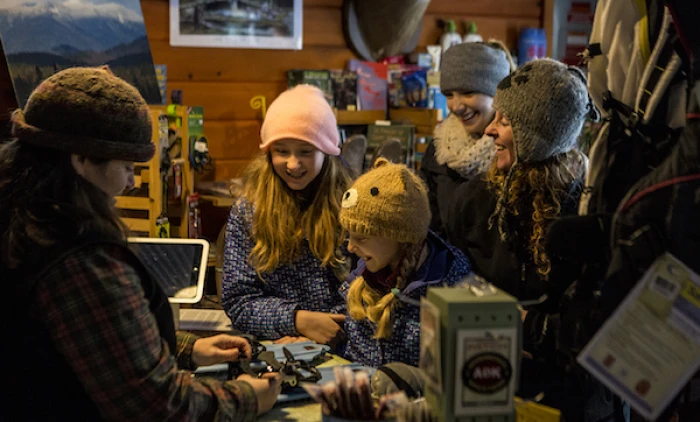 Their store is stocked for all kinds of outdoor needs, and there's an especially fine selection of trail food. Staying fed and hydrated on the trail is an important comfort element.
A recent trek I joined gathered kids and dogs for a festive outing on fresh holiday-season snow.
Make sure to have proper hats, mittens, and socks, because when these sensitive areas are not warm enough, all of you will feel cold. But this day was one of those where the overcast sky actually seemed to keep in the sun's heat, and the lack of wind makes a big difference. On the trail, windbreaks of trees can alternate with the vistas of meadows and lakefronts.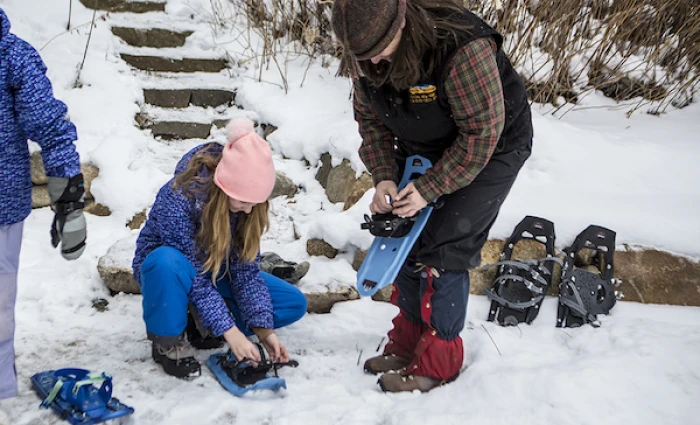 Our guides also have many local stories connected to the history of the area, from the early lumbering days to the mid-century move of the Tahawus mine's "company town" to neighboring Newcomb. Guides also lead trips to Camp Santanoni Preserve, a famous Great Camp that can only be reached using human power.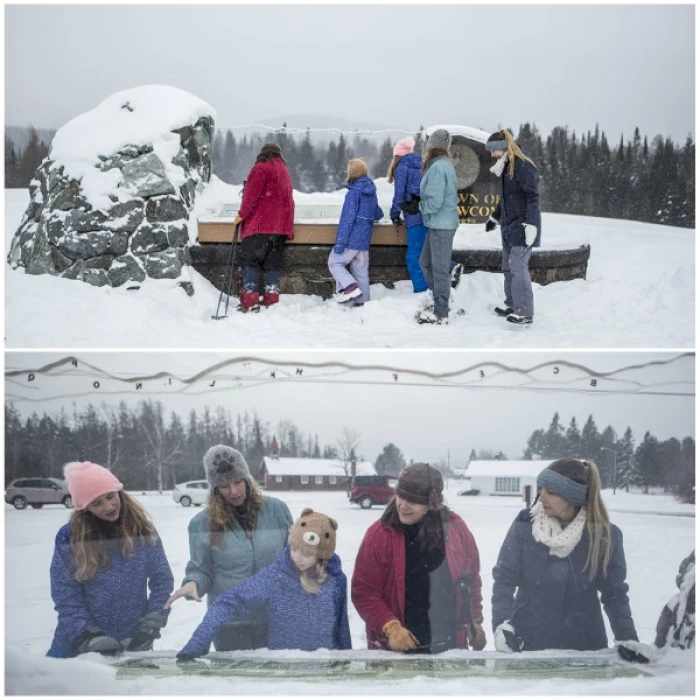 Get out and snowshoe!
With or without a guide, there are a lot of beautiful places to explore in Newcomb.
Newcomb's Overlook Park has the Hudson River running through it. The abundant forest trails here also have a backdrop of Adirondack High Peaks. There's even an informative display that helps visitors identify the distant mountains.
Newcomb is also the home of the Adirondack Interpretive Center. This beautifully sculpted trail system has bridges over many brooks and lake outlets, including a peninsula trail with plenty of dramatic water views.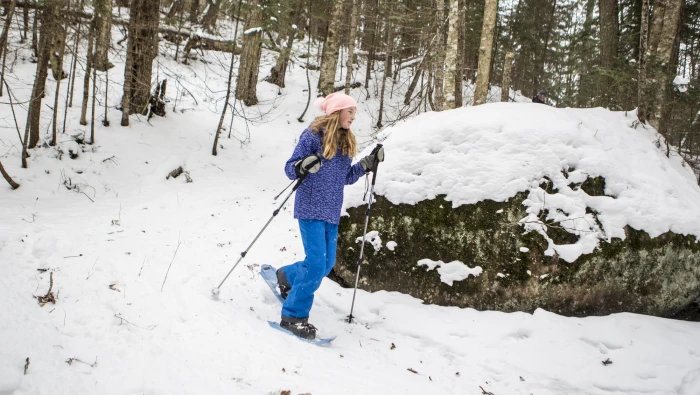 A lot of the trails wind through winter forest landscapes, with abundant tracks from wildlife and benches along the path. I love the sound and sight of half-frozen water tumbling over ice and rocks. The Center is open Friday - Sunday, from 10 a.m. to 4 p.m. Use of snowshoes is included in the admission.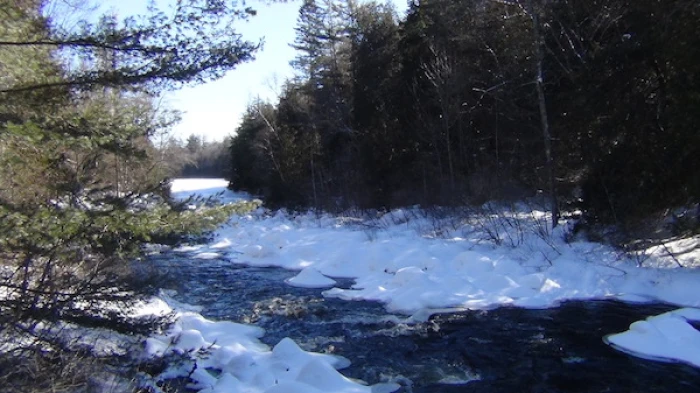 Learn more with Snowshoe glory: Adirondack Interpretive Center.
Don't forget food and rest
Although a break can be as simple as a Thermos of coffee or hot chocolate, when you're ready for a full lunch try the Newcomb House Bar and Grill — a popular Adirondack pub. Plan to take a break here and enjoy the warm atmosphere of this local favorite.
Stay right at Cloudsplitter Cabins in their self-contained cabins with kitchens.
Find some more great trails — especially for birding enthusiasts, in the blog, Boreal Birding in Newcomb and Minerva.
The Schroon Lake Region is as gorgeous in winter as it is in summer. From downhill skiing to a warm fire, this is a wonderland of outdoor recreation and festive relaxation.
Choose some cozy lodging. Warm up with our dining. Find the finest snowshoeing trails.