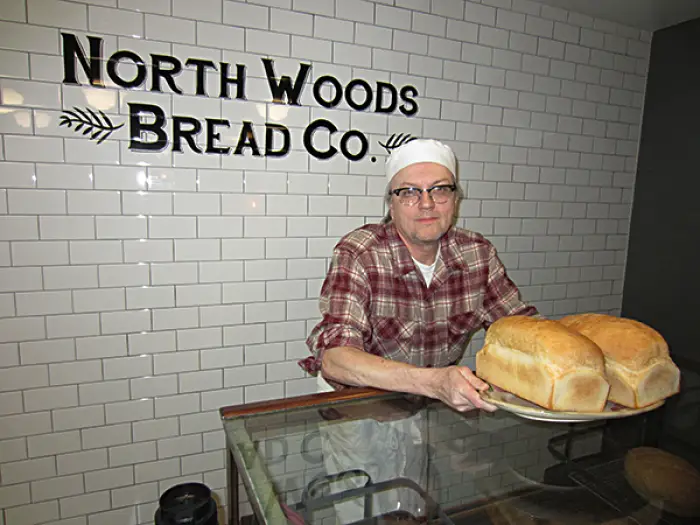 I happened to be in Schroon Lake on a cold March afternoon, traveling through squalls of snow - a sure sign that spring is on the way. When you visit the Adirondacks, I highly recommend making Schroon Lake a stop on your tour. Drop by the Schroon Lake Chamber of Commerce to get the lowdown on all the sights to see. Besides the scenic namesake lake, and beautifully preserved historic architecture, there are many fun shops to explore… and if you happen to be into bread making as much as I am, have I got a treat for you!
A few doors down from the Chamber office is the North Woods Bread Company. They have been providing delicious artisan breads to the region since the summer of 2015. Lisa and Edward Marks run the bakery in the same space as their other endeavor, the Pine Cone Mercantile. When I was there, Lisa was cheerfully welcoming shoppers to their unique home furnishings store while Edward was manning the bread shop, but don't let that fool you, both Lisa and Edward are master bakers. Stop in on the weekends to try Lisa's scones!
Country farmer hearty white, wheat with flax seeds, and multi-grain are all tempting choices. Black pepper and fig? Hmmm, that is simply too intriguing to pass up.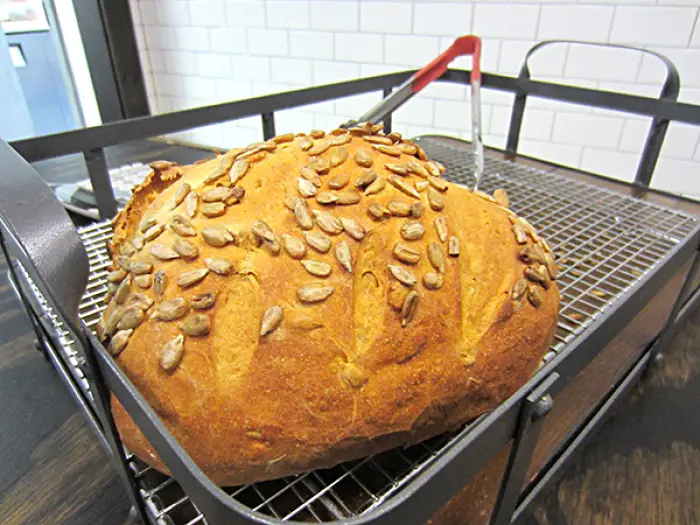 Sunflower seed sourdough! I'll take it!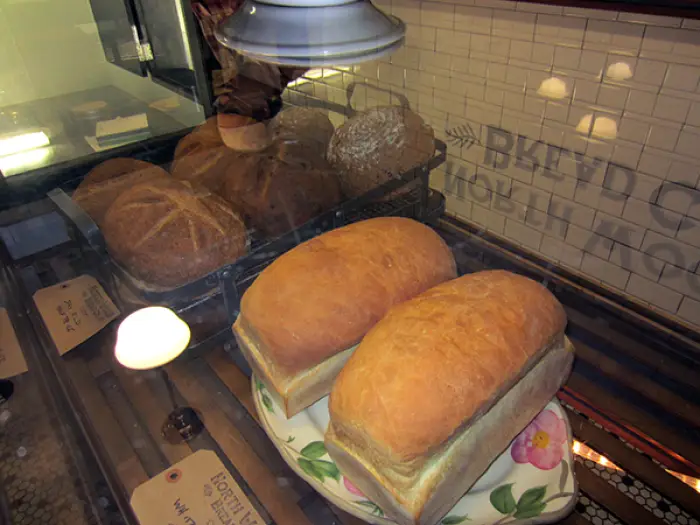 This white bread would make a mighty fine sandwich.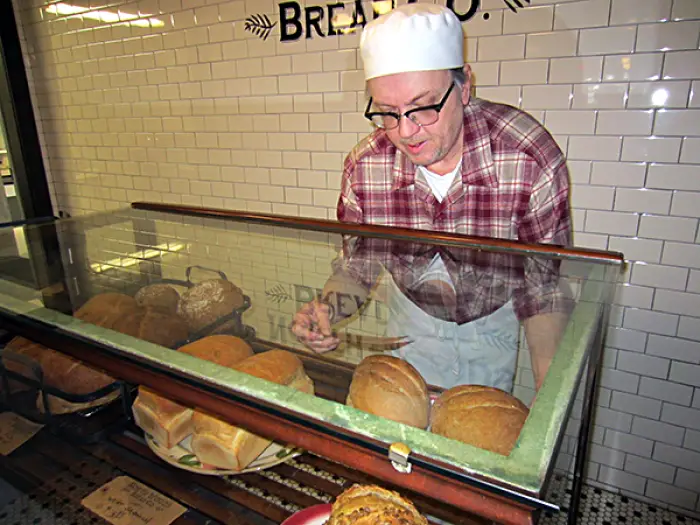 Those loaves of caraway seed rye are just crying out for some pastrami and sauerkraut.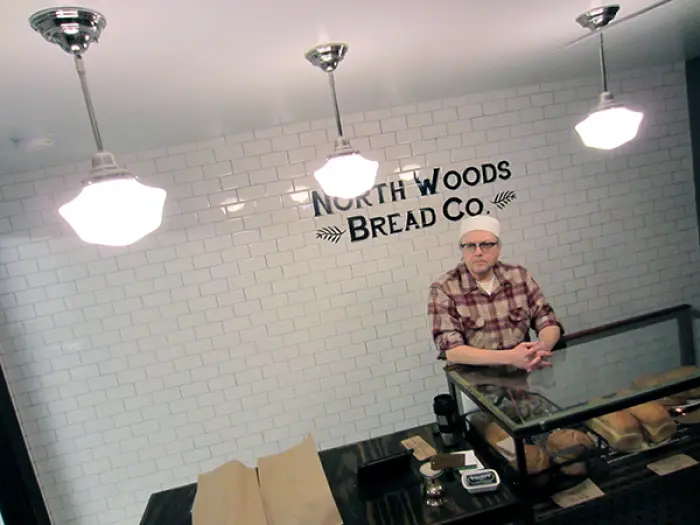 The bread store is a cozy space, smartly appointed with antique display cabinets, subway tiled walls, and small schoolhouse pendant lights that are perfectly proportioned for the room.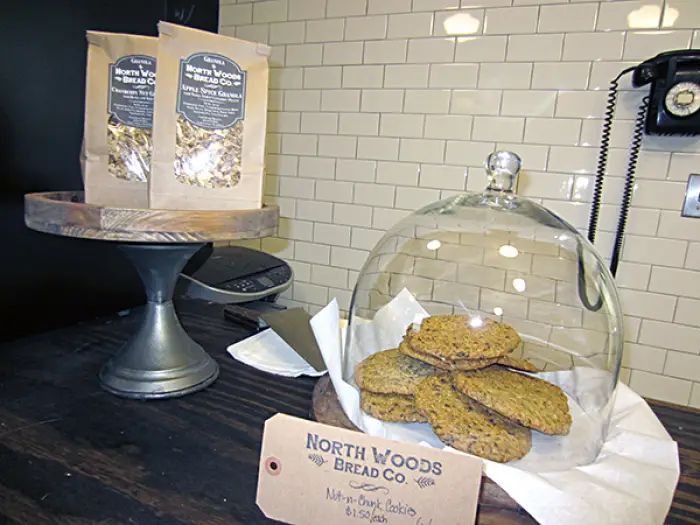 Besides all these wonderful breads, there are also cookies and granola made in-house to consider. How yummy would yogurt and granola be as a quick and healthy breakfast? They also have seasonal selections of local cheese AND are the drop off point for Mace Chasm Farm's CSA.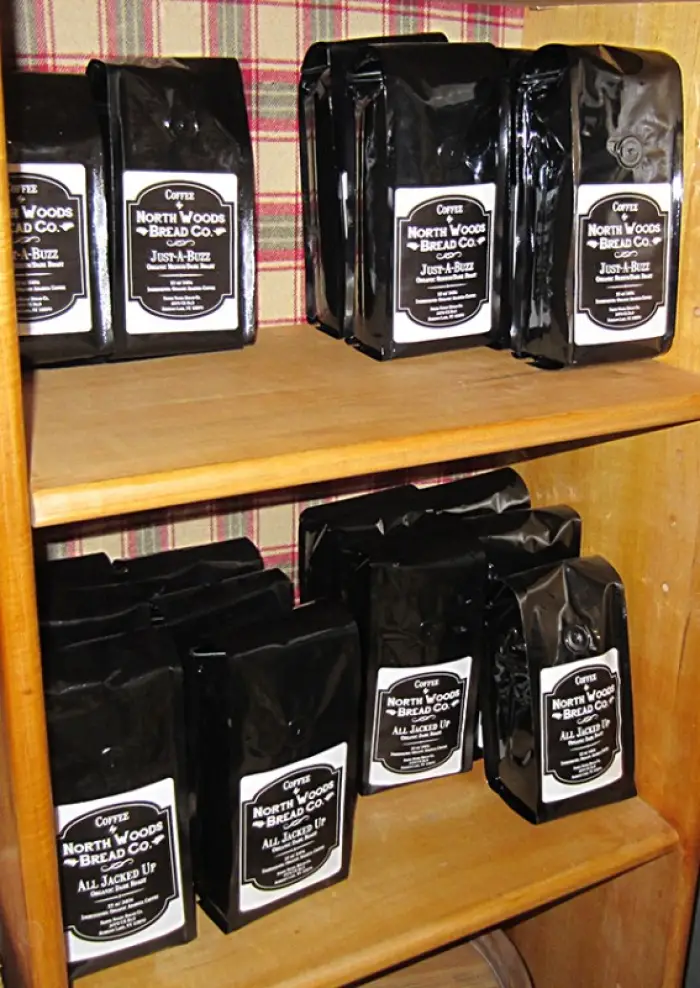 The North Woods Bread Company offers freshly roasted fair trade coffee in three different roasts. OK, now you have my undivided attention.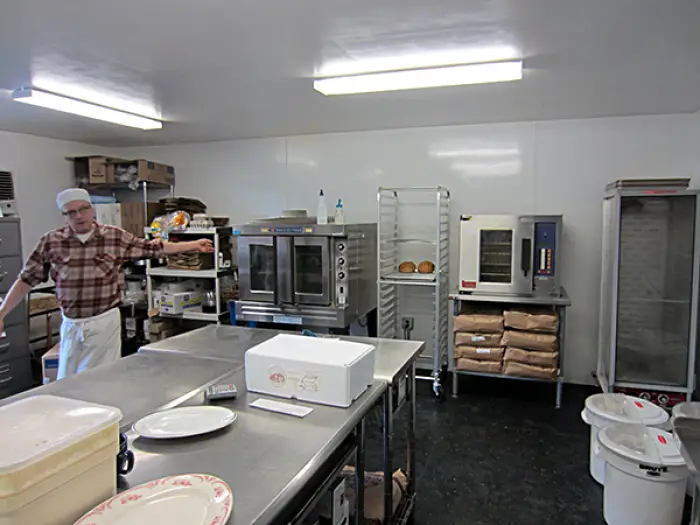 Edward was kind enough to let me have a peek at the kitchen. Clean and spacious with lots of natural light, there is plenty of room here for all the dough that has to rise. Two propane ovens carry the work load now, but there is a third in the plans to keep up with the demand for their bread.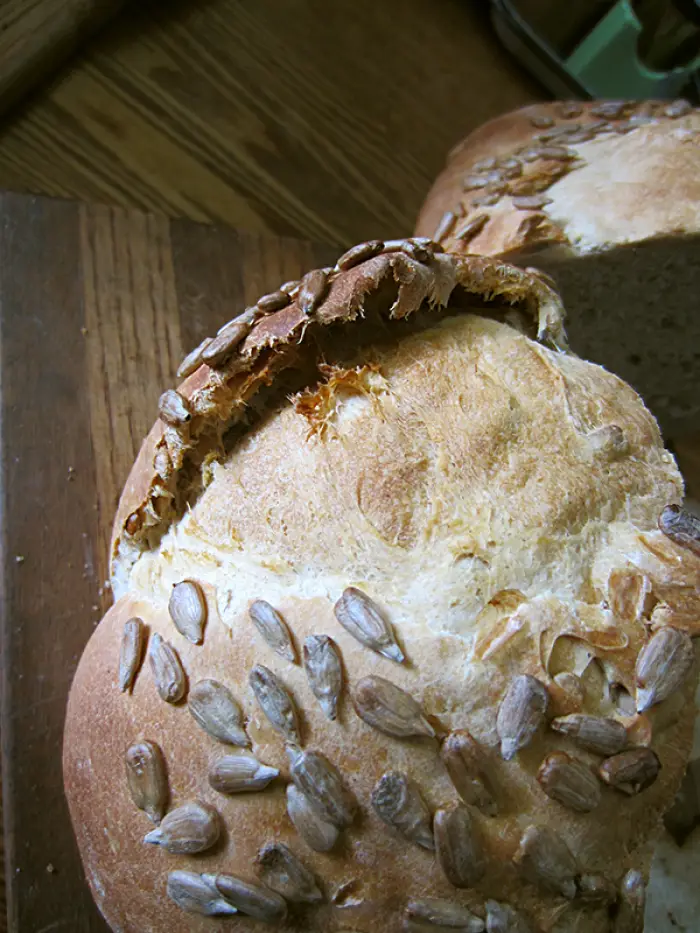 Just look at the magnificent ear on this sourdough loaf. It is a sign of moist dough expanding rapidly in high heat, and also a very good indication that we are in for quite a treat.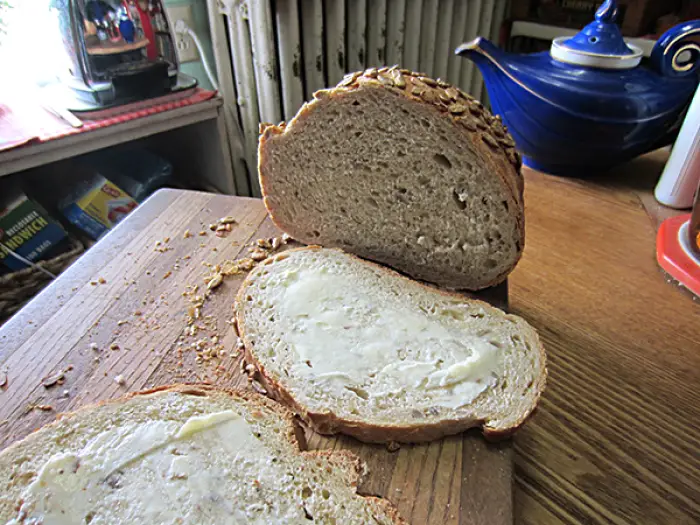 The sunflower sour dough is sliced and ready for sampling. It was tasty and the sunflowers in the bread gave it a mildly nutty flavor and hearty texture.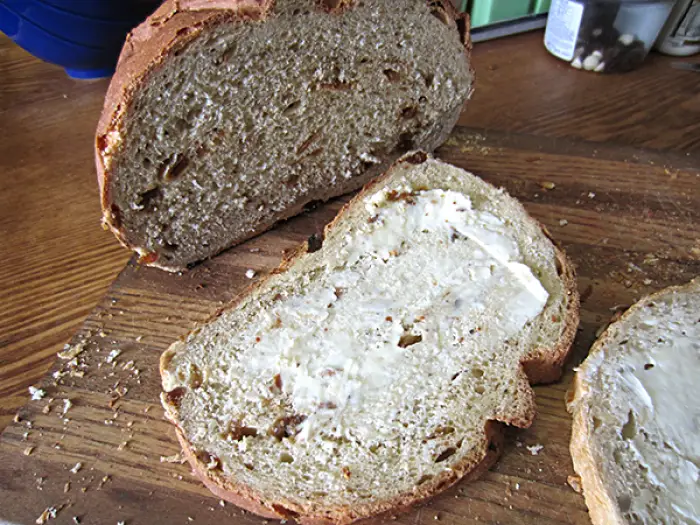 The black pepper and fig was hands down the favorite with its soft texture and the winning sweet and savory combination.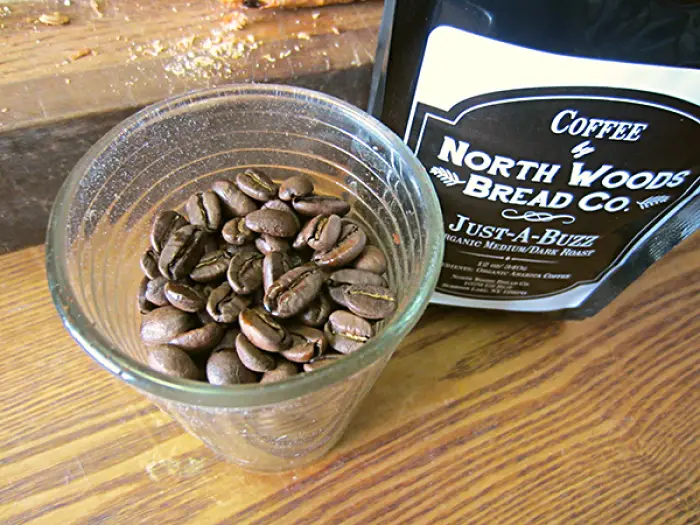 Is there anything in this world better than freshly roasted coffee beans? Opening the bag to a rush of intense aroma, I poured out a serving of beans. After putting the bag immediately into the freezer (these are too good to let sit on the shelf), I examined the roast marks and delicate coating of oil left on the beans by the rolling heat of the roaster. This is going to be a memorable pot of joe.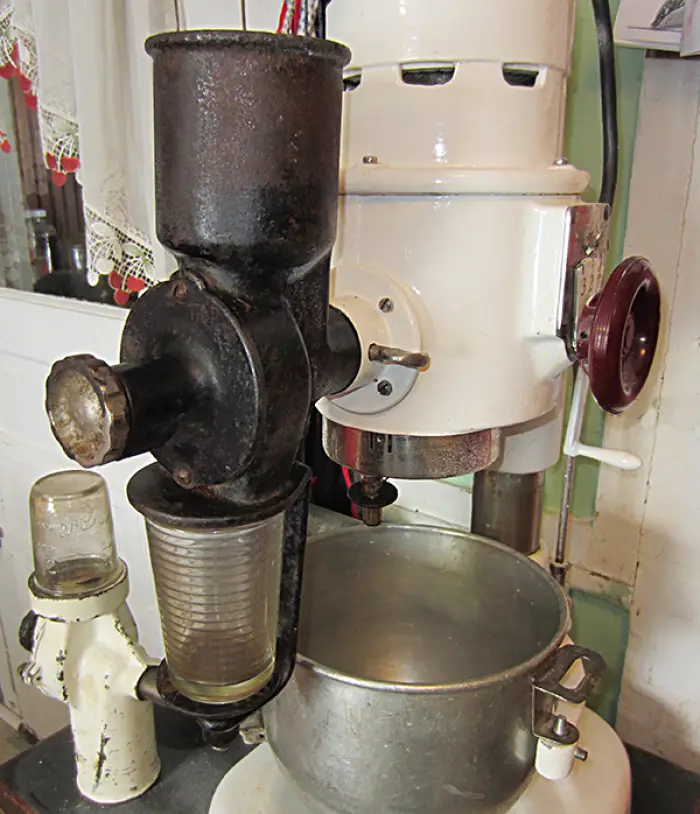 Coffee of this caliber deserves to be brewed in a vacuum coffee pot to draw out all of the flavor. First, hook up the 1921 cast iron grinder to the 1927 mixer. What, you don't have an antique mixer? Have you stopped to ask yourself "why not"? Set the right grind for a vacuum pot, that being coarser than espresso and finer than for percolating. Just slightly coarser than flour. Turn it on and let the machine do all the work needed for the best cup of coffee you can get.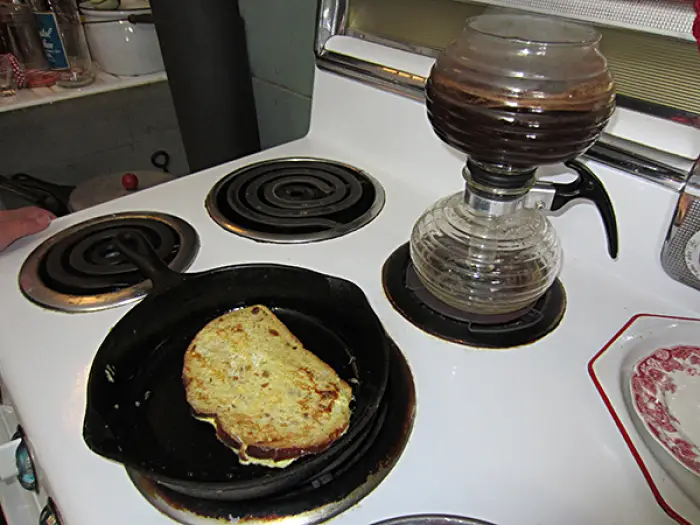 Throw the grounds into the top chamber of your vintage vacuum coffee pot, a device I couldn't live without, and turn on the heat. The hot water will rise to the top chamber automatically when it reaches the right temperature. Some sunflower seed sourdough french toast is cooking nicely in the foreground.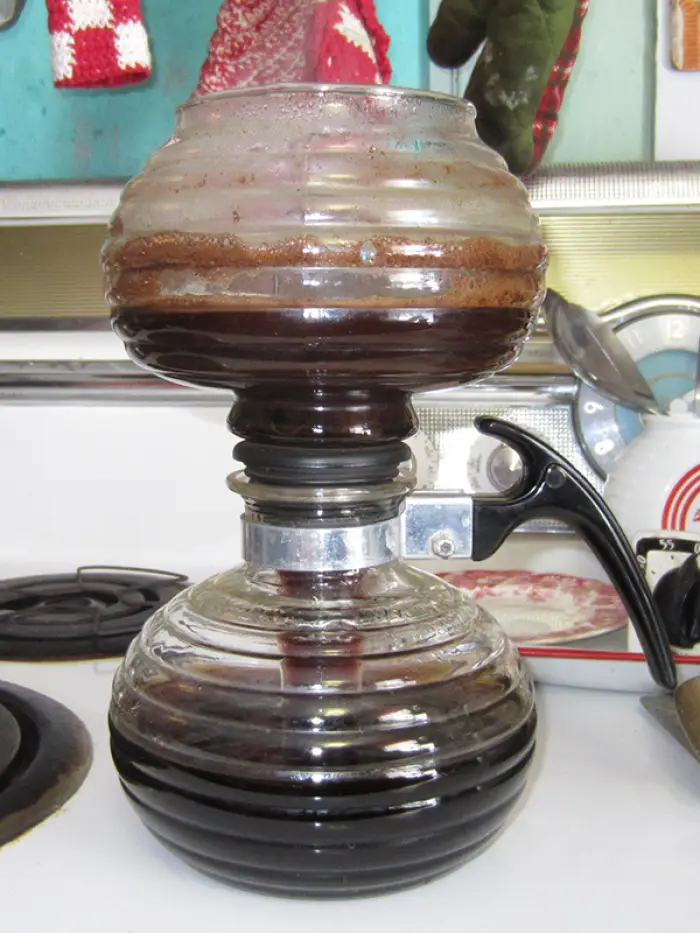 Almost coffee! Once the water is in the top chamber, remove the pot from the heat. As it cools, the brewed coffee is drawn down into the bottom chamber.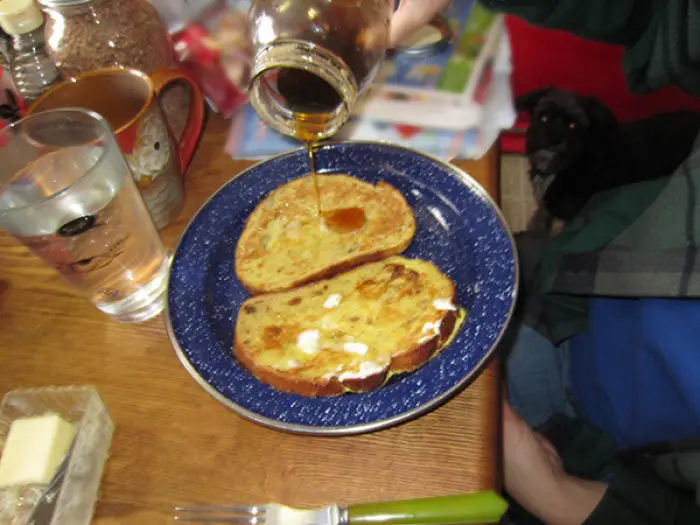 Here is Andrea pouring lots of maple syrup over slabs of buttery french toast made from our loaves from the North Woods Bread Company. When I asked her how they were, she replied, "Nom, nom, nom, can't talk- eating."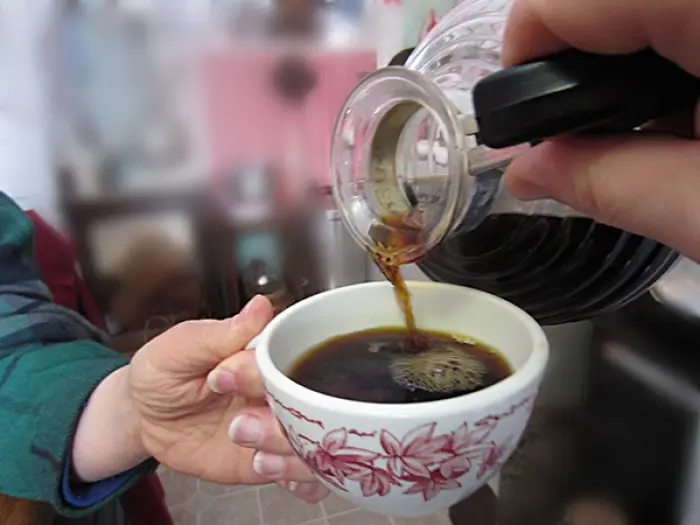 Everybody line up for a hot cuppa!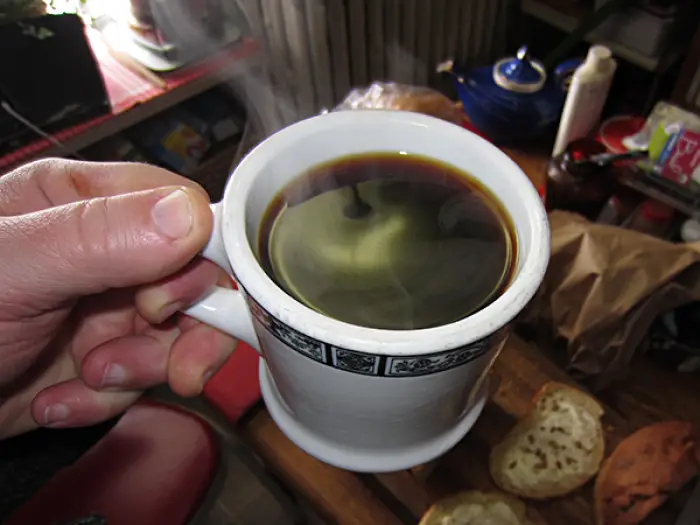 Yes, this deep black cup of java heaven was every bit as delicious as it looks.
All in all, we enjoyed our visit to North Woods Bread Company immensely, and will stop in everytime we are in the neighborhood. I highly recommend you do the same!