Great Camp Santanoni Winter Weekends
If you didn't know, the Adirondacks are littered with Great Camps. Yes, the same Great Camps that sparkled and dazzled the lives of the ultra-rich in the gilded age can be found right here, tucked away along secluded private drives (sometimes miles long) and most found with their own private lake access. While some camps have been the victim of natural deaths (fire is not a friend to wooden palaces) there are still a few that have been generously restored and kept pristine all these years. One of the last standing camps is Great Camp Santanoni. Located in Newcomb, this Great Camp has been open to the public and ready for visitors summer after summer. What about winter? While you can snowshoe and cross-country ski your way through the property on any snowy day, this season Great Camp Santanoni is hosting special Winter Weekends. Offering full tours inside the buildings, hot cocoa and lemonade, and locally provided snowshoes by the AIC, you'll be welcomed to the property to see how an Adirondack Great Camp functioned during the winter months!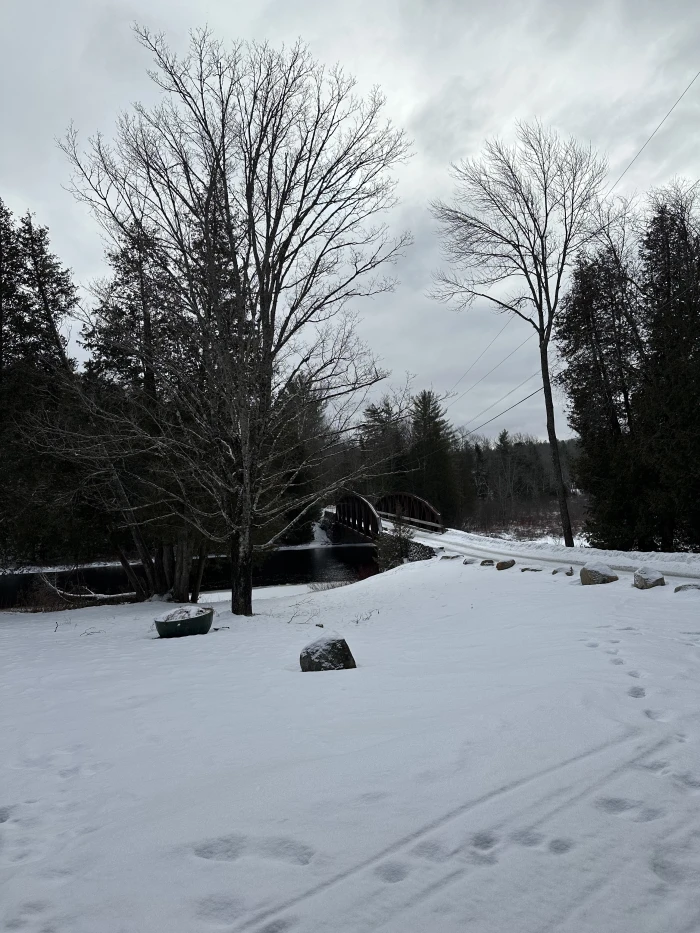 Over the lake and through the woods
To start this blog, I traveled from the equally snowy Vermont to kick off Santanoni's Winter Weekend, bright and early. This included an hour trek down I-87, which happens to be my favorite highway, if you can have a favorite highway. Rolling past snow-capped mountain ranges and stopping for a few snack and bathroom breaks, we made it to Great Camp Santanoni at 11 a.m.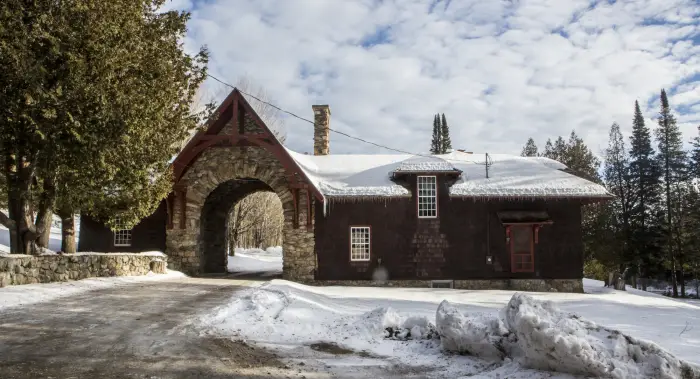 Searching for the gatehouse
I brought along my mom for this excursion, as I'd need as much confidence as I could muster. Snowshoeing was on the agenda for the day. While I lived in the Adirondacks for a good chunk of my life, the only time I've snowshoed was in gym class, and our yearly climb up Coney Mountain in winter. Although I was a bit out of practice, I was excited to make the hike. A chance to walk through a Great Camp and see older historic buildings, I couldn't pass it up! 

Strap in
After parking and layering up, we made our way to the gatehouse, where we'd get our snowshoes. Coming up to the gatehouse, I was a little nervous as it looked like someone's actual home. Knocking on the door, we were greeted by a friendly attendant who had been tending to a small fire inside the front room with music playing. The perfect winter scene in my eyes. He led us back outside and onto the other side of the covered drive to the shed, where we were able to choose our desired size snowshoes. After saying our goodbyes, we helped each other strap in and made our way to the trail.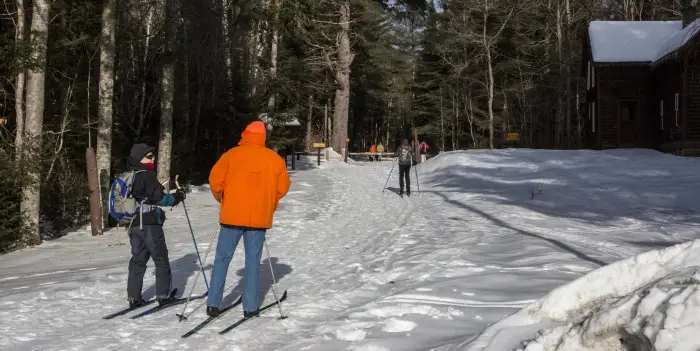 Friendly skiers abound
The trail to the main buildings of the camp is long, but that doesn't stop fellow skiers and snowshoers from getting out there! I have to say I had forgotten the kindness of local ski-junkies, as we made our way (slowly) up the trail, we were greeted by every skier. The perfect conditions and the friendly folks, reminded me that we were supposed to be there, loud crunching snowshoes and all.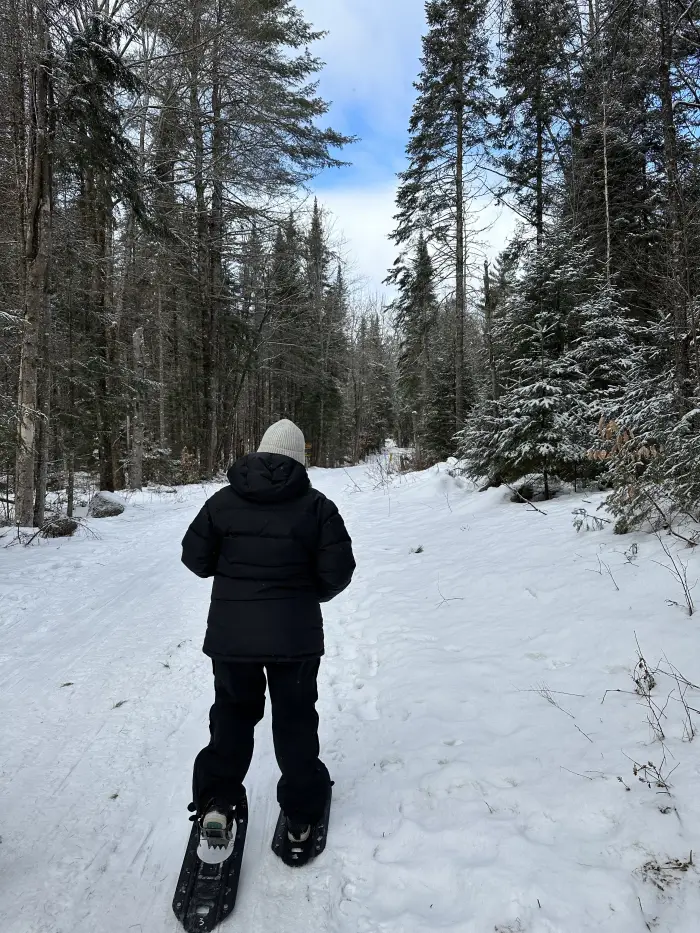 Crunching along the path
While we had planned to get to the main buildings, our course changed as our lack of expertise got the better of us. Both my mom and I were struggling with worn leg muscles, and we were ready to head back by the time we reached the one-mile mark. I will say that this trail is gorgeous, and perfect for conversation. Its sloping character and gentle turns make it easy to get lost in looking up at the tree tops and just gabbing with your snowshoe or ski buddies, before we knew it we were two hours into our trek.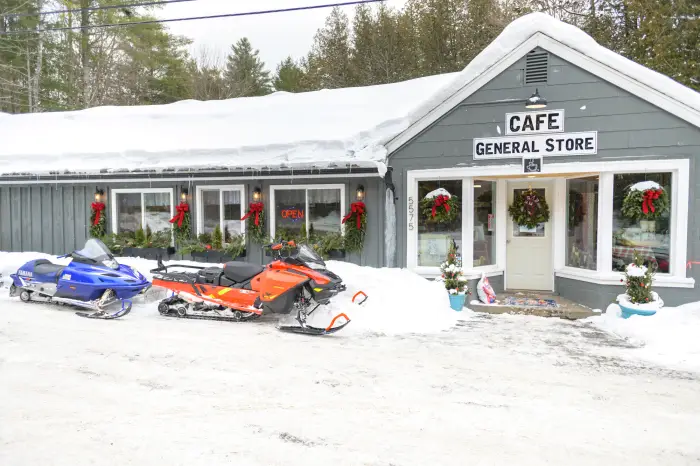 Lunch at the Newcomb Cafe
After dropping off our snowshoes at the lovely gate lodge with our favorite attendant, it was time to head home, but first, lunch! We made our way a half mile down the road to the Newcomb Café. While it was a little late for breakfast, we settled on chili and french fries, the perfect reward for a chilly morning of snowshoeing. Of course the food was delicious, the service was incredible, and the atmosphere was just what we needed to relax after a morning adventure!

A weekend to remember
Our trip to Great Camp Santanoni was one that created amazing memories for my mom and I, and I'm sure it'll sparkle on your list of winter challenges to take on this season. Luckily, there's still a few more special Winter Weekends to get to. Make the trek February 18-20 and March 11-12, 2023. Don't miss it!