Fall flavors
Fall is a magical season for the Adirondack Hub. When our friendly neighborhood giants are blanketed with rich reds and golds, and our valleys prepare for the season's harvest, the region shines with its celebration of autumn. Our noses are also greeted with the sweet smells of delectable restaurants and breweries that can be found in every nook and cranny of the region. If you've been preparing your taste buds for the fall flavor tour of a lifetime, you've come to the right place. 

The Lodge at Schroon Lake 
First, no flavor tour would be complete without booking your stay in one of the premier hotels of the Adirondacks. The Lodge at Schroon Lake is a beautiful 36-acre hotel on the west shore of Schroon Lake, boasting incredible views and a sprawling property, offering everything you could dream of in an Adirondack stay. After a $21-million renovation, The Lodge at Schroon Lake contains 116 rooms, 32 of which are pet friendly, and offers lodging opportunities designed to fit your wants and needs during your stay. Choose from your own hotel room, standalone cabins and chalets, or "rough it" in their upscale glamping sites. There is plenty of space within the resort's recreational amenities to try your hand at pickleball, paddle boarding, or even book a ride on the resort's own Chris Craft boat!

The Brown Swan
A resident of The Lodge at Schroon Lake, the Brown Swan is the resort's artisanal restaurant, serving up unique creations blended with hints of Adirondack comfort food. The Brown Swan is proud to source many of their ingredients locally, and offer many farm-to-table dishes, for those curious about the local harvest here in the Adirondack Hub! Start your dining experience with the Artichoke Spinach Blue Crab Dip, or the Short Rib Poutine. For your main course, break out of your comfort zone with Squid-ink Linguini, or play it safe with their NY Strip. After your meal, wander outside to the stone fire pit, or cozy up inside in the lounge. 

Paradox Brewery 
Paradox Brewery is a certified Veteran-owned, independent craft brewery in North Hudson, serving up delicious craft drinks year-round in a spacious brew house and tasting room. You'll find it hard to choose between all the flavors they offer, including Beaver Bite (or its cousin Beaver Overbite), the Great Kӧlsch Affair Blood Orange, or the One Handed Applesauce Mosaic; my favorite! Pair your favorite drinks while looking out from the property onto the sprawling leaf show around you, or sip away during open mic nights with friends. The brewery also offers delicious goodies in the form of pizzas, sandwiches, a hot IPA pretzel, and poutine. In my personal opinion, there's no better way to celebrate fall than with a craft beer and some good poutine. A staple for its unique brews, the brewery has just rebranded, with their new motto, "RoughlyRefined," and a brand new logo! Their new facade is perfect for photo ops to give your fellow beer lovers some FOMO.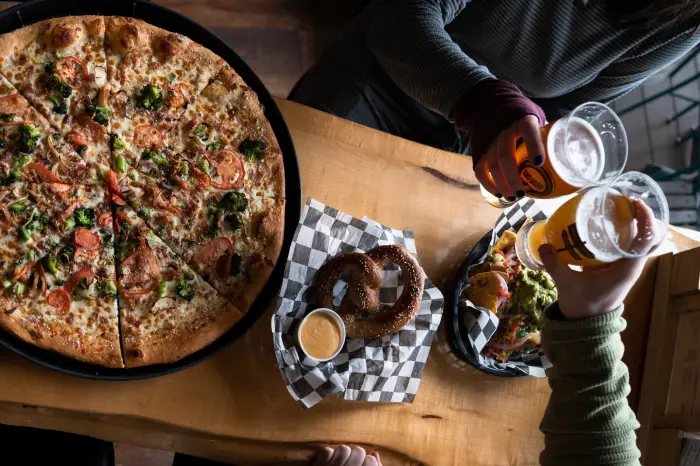 Sticks and Stones Wood Fired Bistro and Bar
If you're in the mood for an authentic Adirondack atmosphere with good food to boot, Sticks and Stones is your place. A casual dining gallery cafe featuring fresh food and a full bar, this restaurant will transport you to the rustic dining experience you've been looking for. Their lunch and dinner menu is stacked with options, so picking from all the delicious choices may be a challenge! Choose from entrees like their lobster ravioli, wood fired pizzas, or burgers served up on a pretzel bun. When you're done munching away, take a seat on the patio, or hang out by the fire inside. 

The Lake Harris Lodge 
For views of an expansive lake, foliage, and nearby mountain ranges, the Lake Harris Lodge in Newcomb is the perfect choice. The lodge features a full bar room, dining room, and lofted dining space. Their two-story patio also offers seating and great views of the surrounding Adirondacks (weather permitting). The lodge prides itself on serving the region with an elevated experience, while sticking to its outdoor roots. With entrees like the Chicken Florentine Pasta, Rainbow Pad Thai, or the Oceanic Medley, you'll find new flavors that are unique to the lodge. For the best experience, aim to book your dinner around sunset for a beautiful show from the deck. 

Experience the flavors of fall
Fall flavors abound in the Adirondack Hub, from impressive lodges and breweries, to rustic Adirondack eateries. Complete your stay with a fall hike, scenic drive, or perhaps a peaceful paddle in between all the delicious dishes you'll try!