Alpine skiing has been part of my life for as long as I can remember. I remember growing up outside of Rochester, NY and learning how to ski on a very small hill with a tow rope. I remember graduating to "the big mountain" - which has half the vertical of Gore Mountain. I remember going back to the small hill to teach lessons when I was in high school and college. I guess you could say I think skiing is pretty great, and I'd happily spend any day on the mountain, enjoying thrilling black diamond trails or helping others learn the art of gliding on snow.
But I know that every person, every body is different. Gore Mountain has taken this to the next level. For more than 20 years, Gore has been providing adaptive ski lessons. What is adaptive skiing, you ask? Adaptive skiing uses specialized equipment to help people with disabilities experience the joys of downhill skiing. There is a certain sense of freedom that comes from being able to ski, and everyone should have the opportunity to try a truly amazing sport.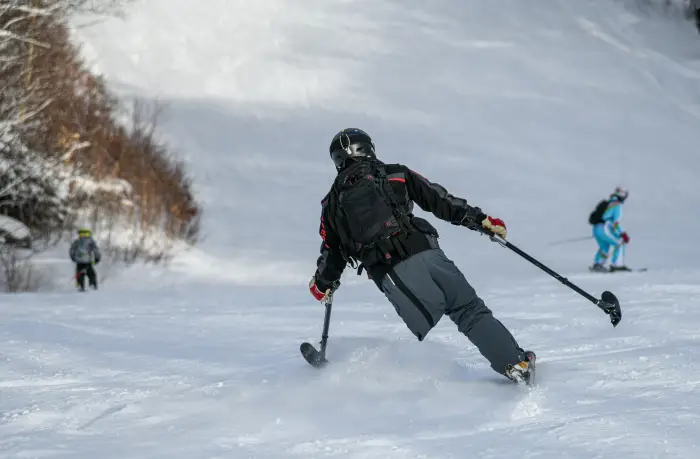 I recently spoke with Bruce Tubbs, a supervisor at the Snowsports School at Gore Mountain who primarily focuses on children's lessons and the adaptive program. Above all else, Bruce said any ski lesson, whether it be adaptive or not, is about developing balance, confidence, and motivation. Simply put, there is nothing quite like skiing.
What is adaptive skiing?
As Bruce told me when we chatted, the goal in any adaptive program is to make modifications for individuals who have limitations so they can safely slide down the mountain. At Gore, trained and certified instructors provide lessons to individuals with physical, cognitive, and/or developmental disabilities. Each lesson is different, but is built on the same principles: meet the specific needs of the student. Bruce said that instructors have worked with individuals who have spine weakness, suffered strokes, or have vision or mobility challenges, or ADHD, among other limitations. Children or adults can partake in a lesson; there is no age limit to learning how to ski or refining skills!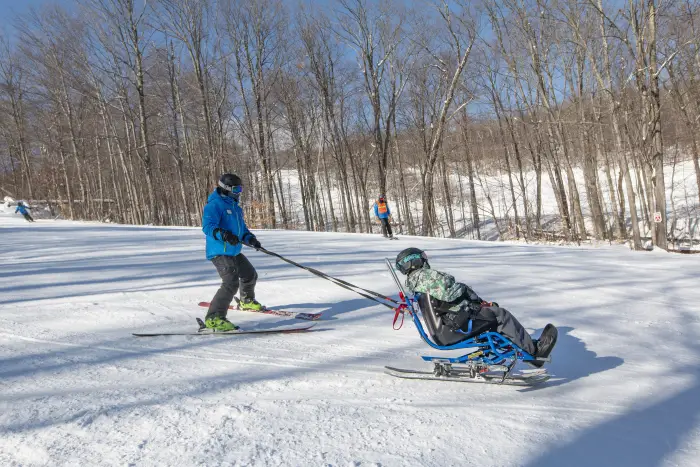 There are six disciplines of adaptive skiing: bi-ski, 3-track, 4-track, mono-ski, developmental, and visually impaired. There is a variety of equipment used in adaptive skiing, including:
Bi-ski: this is a sit-down ski that assists skiers who have balance impairment and/or lower extremity or trunk weakness. It is designed for those who use a wheelchair or have difficulty standing or walking. Bi-skis can be used independently or with the assistance of an instructor.
Mono-ski: a mono-ski is a bucket-style piece of equipment like the bi-ski, but it is only operated by the skier; there is no physical guidance from an instructor and it is used independently.
Two-track skis: these are essentially "normal" skis and boots for people who can stand on two skis but might need a tether for some extra leg support and a spacer for tip retention to help with ski positioning and muscle movements.
Three- or four-track skis: this type of equipment is used for individuals who have the ability to stand on one or two legs, but need the added balance and steering provided by outriggers. The goal is to provide four points of contact with the snow so skiers can remain balanced. Three- or four-track skis are best for individuals with cerebral palsy, leg amputation, spina bifida, or brain injuries.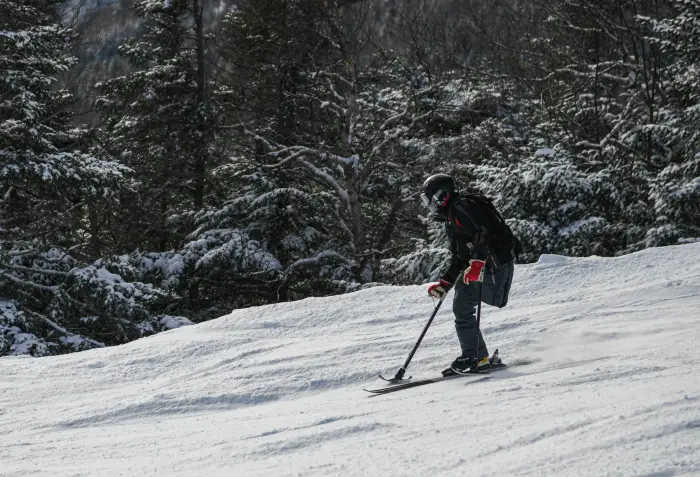 At Gore, adaptive skiers have the ability to use equipment for: three-track skiing with outriggers, bi-skis (two are available), and a mono-ski with outrigger. 
Gore's adaptive program
Do you or someone you know want to join Gore's adaptive ski program? It's as easy as making a phone call! It's recommended you call a week or two in advance so the Snowsports School can make sure an instructor suited to your needs is available. Each lesson is 2-hours long, and there are two instructors per student. Set-up and introduction are included in the first lesson, and since the goal is to create an environment for recurring lessons and strong relationships, everything is saved from lesson to lesson. The certified staff and instructors ensure skiers are properly fit for the equipment they need. Everything is written down and sized during the first lesson so that during follow-up lessons skiers are able to get out on the slopes faster. In the words of Bruce, at the end of the day, Gore's adaptive staff want to get you what you need and make your day fun. 
As any beginning to ski lesson will go, skiers start on the easier trails and work their way up to more challenging terrain. Sunway here you come!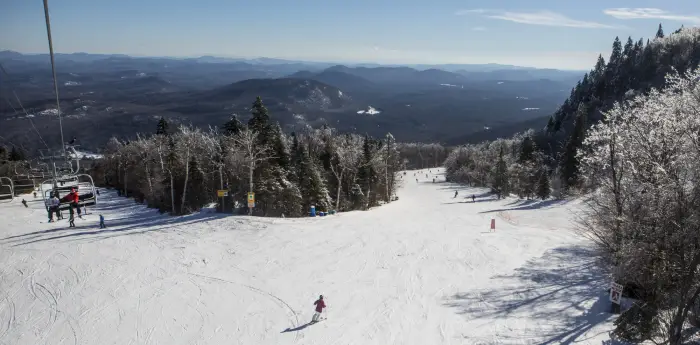 If this all sounds expensive, don't worry! There are tools available to help accommodate the costs. The New York State Access Pass gives people with disabilities free access to state-run parks, historic sites, and recreational facilities (including Gore!). Lift tickets, equipment rentals, and one additional ticket for caregivers are included; the skier only pays for the lesson itself.
Go with the snow
Bruce said the adaptive program has been growing in popularity over the last 20 years, but especially in the last five. The benefits of skiing are enormous - from confidence building to experiencing the refreshing joy of skiing down a mountain - and with adaptive programs, skiing is becoming a sport that entire families can do together regardless of abilities and limitations. Call the Snowsports School at Gore Mountain (518-251-4804) today to make your reservation! There may be new COVID-19 protocols during the 2021-2022 season, so be sure to visit the website for the latest information.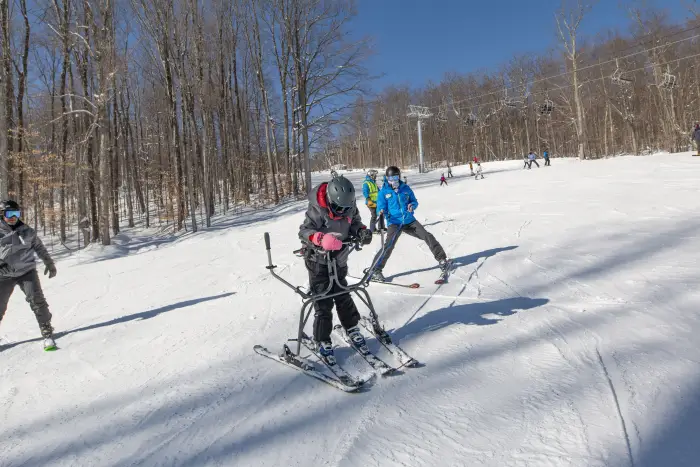 While you're visiting the Adirondack Hub, be sure to also check out other accessible things to do to make the most of your winter! From accessible lodging in Newcomb at The Inn at Santanoni to sampling delicious beer and snacks at Paradox Brewery to taking a scenic drive through the beautiful snow-covered forests of Minerva, the Adirondack Hub is your place for winter adventure. And Gore Mountain is THE place to be for skiing, from Jamboree all the way up to The Rumor. See you on the mountain!
---
Photos of ski lessons courtesy of Gore Mountain.