I don't mean to be blunt, but travel can be hard. It can be stressful and overwhelming. How are you supposed to figure out what to do, when to do it, and how to get from Point A to Point B? And then how are you supposed to find time to relax? If you're anything like me, you find planning a trip exciting but also mentally exhausting as you weigh all the options. What kind of lodging is available? Are there good birding locations near my hotel? Where will my husband find good chicken wings? 
There are a lot of questions, but, thankfully, Newcomb, NY has all the answers.
Located in the heart of the Adirondack Mountains, Newcomb is the perfect place to be close to nature during the day and is a comfortable place to rest your head in the evening. Let's face it: life is busy, and a 48-hour getaway to the Adirondacks might be just what you need! So, why don't you drop everything right now and start planning your next weekend getaway in Newcomb! Don't worry, you can leave the stressful Googling to me. I'm here to help you narrow down your choices and help create a getaway you'll want to recreate again and again.
What to do
The opportunities for outdoor exploration are virtually limitless. Depending on the season, you can cycle, cross-country ski, canoe, snowshoe or hike, go boating, snowmobile, fish (ice or not), or even take a horse drawn sleigh ride once the snow falls.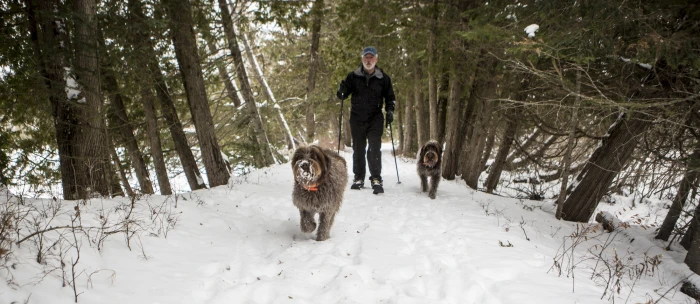 But maybe you're new to the Adirondacks and don't know where to start. That's totally alright. A visit to Cloud Splitter Outfitters can help get you on the right path. This little outdoor mini-mart has it all: camping, paddling, hiking, fishing, and winter gear, plus more knowledge about the woods and waters in Newcomb than anyone. Even if you're unsure what activity you want to do, I suggest stopping in to see what everything is all about. Let Cloud Splitter Outfitters be your guide to any season in Newcomb!
For winter, if you're looking for a little more unstructured adventure, there are trails upon trails upon trails to choose from. The mellowest of the bunch are probably at the Adirondack Interpretive Center. The Goodnow Mountain fire tower is just a little farther down the road. Both these places are great for hiking and snowshoeing. Once the snow hits, the best places to cross-country ski are Great Camp Santanoni and around the Essex Chain. If you're prepared for a rugged adventure, the Southern Access to the High Peaks Wilderness is also in Newcomb.
For snowmobilers, it doesn't get better than Newcomb! You can ride right to one of the area's lodging properties AND cruise down peaceful trails through the woods.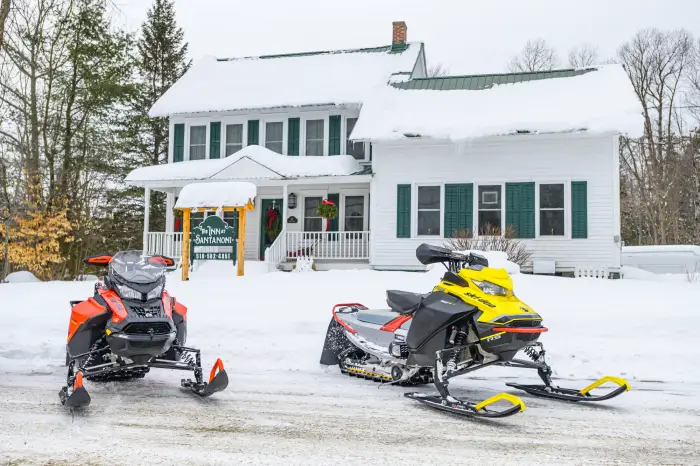 Driving through Newcomb it might not look like there's a lot to do, but, trust me, there is an outdoor adventure, big or small, around every corner. (Hey, there's even an ice rink for skating!)
Where to stay
Winter adventure is tiring! And at the end of the day, you probably just want to crawl into a bed in a charming, rustic lodge that truly embodies the Adirondacks. That's what you'll find here in Newcomb. Don't worry about getting lost in a maze of hotel hallways; each lodging property is cozy and relaxing.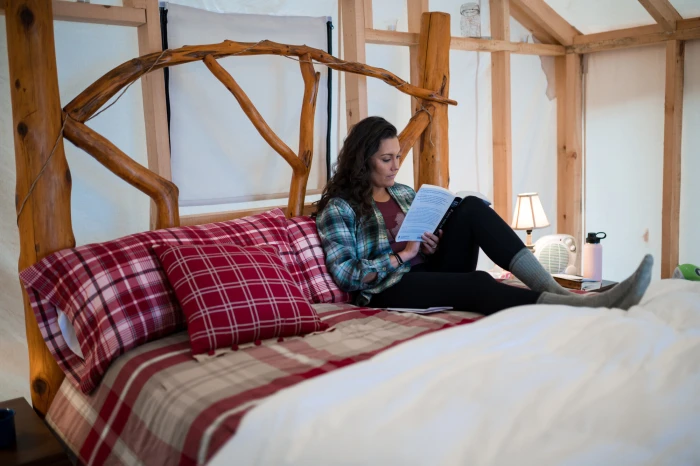 For a more intimate setting with some rustic, Adirondack flair, definitely consider the glamping tent at Lake Harris Lodge. Don't worry about being cold; this tent is heated! Whether it's part of a romantic weekend or even a solo getaway, this is a great choice, surrounded by glamping comforts but still close to nature.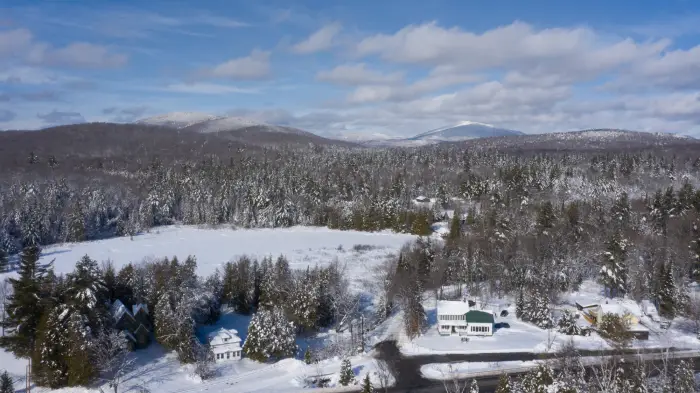 The Inn at Santanoni is Adirondack charm at its finest! The accessible property is comfortable and relaxing, and close to all the outdoor action!
Where to eat
If you're staying at the Lake Harris Lodge's glamping site, you don't have to travel far to dinner, because the Lake Harris Lodge also serves food! Their delicious menu covers all the bases: yes, chicken wings for my husband and eggplant parmesan for me!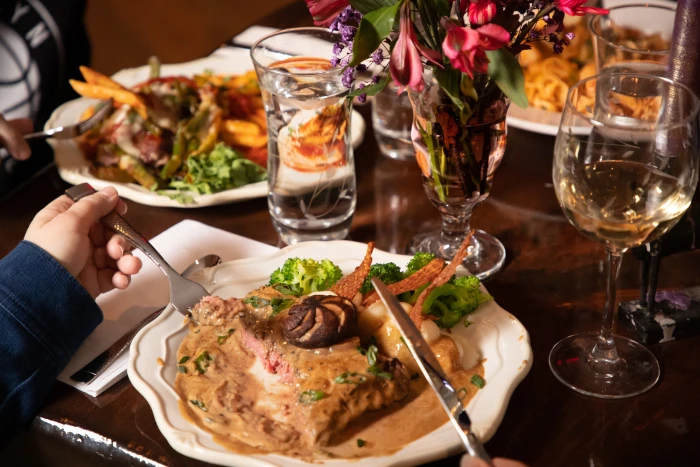 For good ol' down home comfort food, cruise on over to the Newcomb Cafe and Campground. Serving breakfast and lunch, this is the place to fuel up before a day outdoors.
How will you spend your 48 hours in Newcomb?
I'm not saying you have to spend 48 full hours exploring the great outdoors here, but I definitely recommend spending as much time as possible outside! But if you need a break, maybe a little retail therapy, check out Pine Haven Cottage for fun gifts and Adirondack souvenirs! Top any getaway off with a stop at the Newcomb Overlook Park to see one of the best views of the High Peaks before you head out of town.
---
However you choose to spend your time in Newcomb, you will surely enjoy every minute of the adventure.