There is an official scent for autumn and despite what your local coffee shop tells you, it is not pumpkin spice. I'll tell you what is: the earthy, damply peaty scent of fallen leaves, mixed with pine. You'll find it in the woods as leaves crunch underfoot, and as you drive through the Adirondacks on a sunny day with the windows open. I'm a big fan of road trips of all kinds — cross-country, local, short, exceedingly long — and they are one of my favorite ways to explore and see new places. I recently crafted a loop through the Adirondack Hub, and it was a day full of delightful natural beauty, fun, food, and yes, the magical scent of fall.
Breakfast of champion road trippers
I started in Schroon Lake at Pitkin's Restaurant on Main Street. Pitkin's has been in business since 1907, and the menu and walls of the restaurant are decorated with vintage black and white photos of the restaurant and downtown Schroon Lake. It's a sunny, friendly spot to fuel up before hitting the road.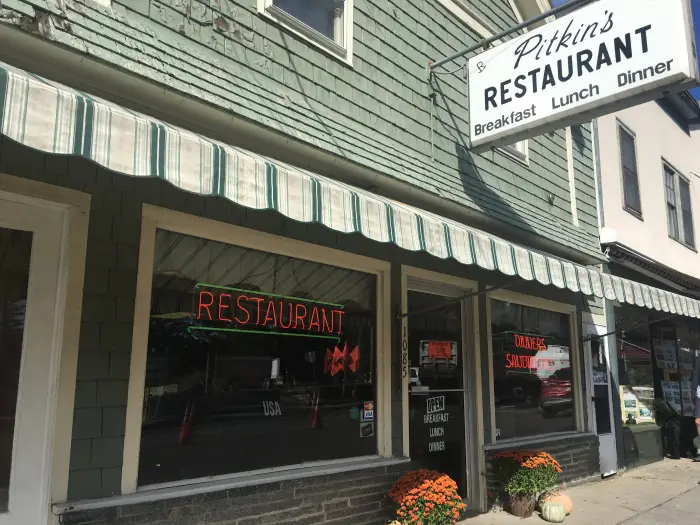 After breakfast, stroll the shops of Main Street, where you'll find freshly baked bread, unique gifts, apparel, and souvenirs.
Over the hills and far away
My next stop was Minerva, and there are a few ways to get there, including via Interstate 87 and Route 9, but I chose Route 24, which some locals call "the back way" and which I cannot say enough good things about. Route 24 in the fall is stunningly scenic and truly delightful, winding through quiet, fragrant woods. The road has many curves and gentle rises; at each curve I thought, "this is the prettiest spot!" only to be met with another, even prettier view of fall foliage around the next bend. As it was a reasonably warm day, I rolled down the windows and enjoyed the cool breeze and scent of the woods all around.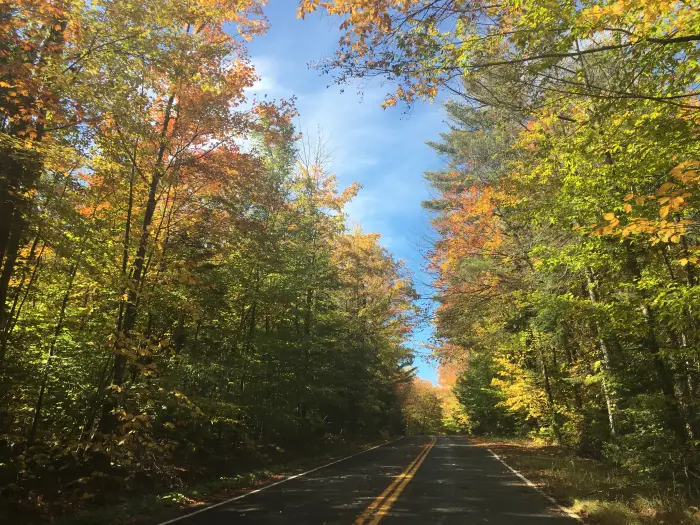 Minerva is a small but pretty town noted for its history — the American painter Winslow Homer vacationed here; it's also the birthplace of free-born former slave Solomon Northrup — and is full of classic Adirondack hospitality. I stopped in at Betty's Funny Farm, which features a sweet, antique-filled bed and breakfast, farmyard, and a charming shop. Betty herself is welcoming, cheerful, and full of infectious energy. She loves to make people feel at home, whether it is introducing her animals, including Dominic the donkey, doling out jam and jelly, or chatting about the wonderful handcrafted items she sells in her shop.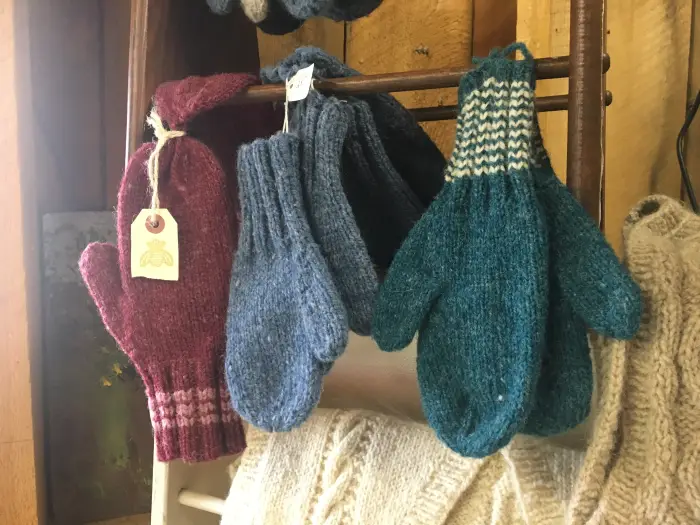 Betty's specialty is her homemade jams and jellies, in flavors ranging from classic blueberry to sour cherry. She sells to local shops and restaurants, but always has a good supply on hand. She learned by watching her aunt make jam when she was young and when she talks about it, her eyes light up. Giving is in her heart, as she notes, "I love to give hospitality. That's what life is all about."
Betty guided me up the road to Maple Knoll Farm, a maple sugar operation run by her son-in-law. Inside the handsome sugar shack, sample bottles full of syrup gleamed in the windows alongside rows of bottled syrup and Betty's maple jelly. She also helps make maple cream, one of the best things you could ever eat in your lifetime. Trust me.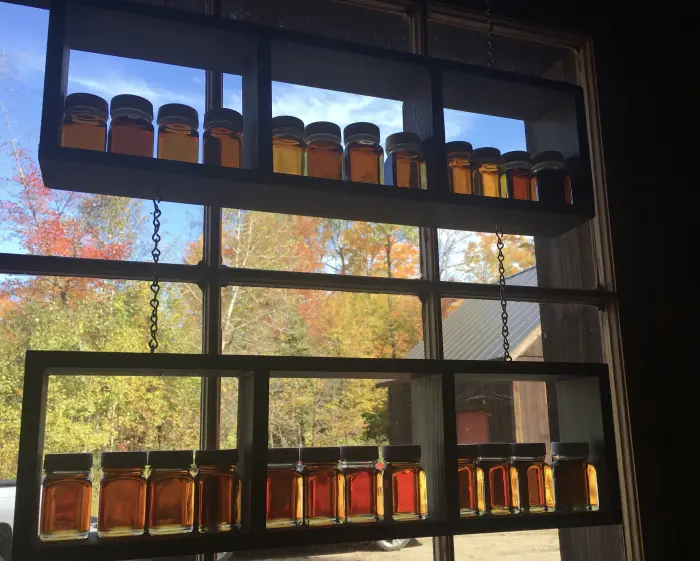 After leaving Betty's, I stopped at the Minerva Town Beach to take in the view of bright foliage reflected on Minerva Lake. It's a pretty place for a picnic or letting the kids burn off some energy on the playground. It's also a popular spot in summer, with swimming, tennis, and camping.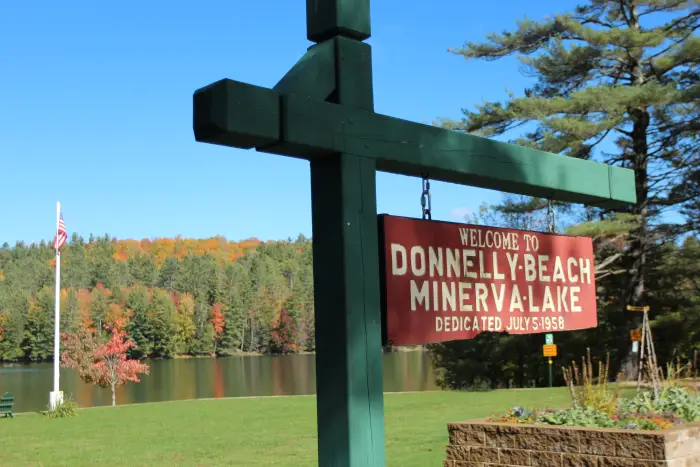 After all the fun at Betty's Funny Farm — she truly is funny and fun to spend time with — I eagerly set off on Route 28N, bound for the town of Newcomb and the Adirondack Interpretive Center. Formerly run by the state of New York, the AIC is now operated by the State University of New York's College of Environmental Science and Forestry. The main building features exhibits on the natural and cultural history of the Adirondacks, and staff naturalists are keen to share their knowledge with visitors. For many, the highlight of the AIC is the trail system and I was quick to set out on foot to explore the 236-acre property and its 3.6 miles of interpretive trails on the shore of Rich and Belden lakes. The woods here are a rich mixture, brimming with birch, cedar, maples, and spruce. The Rich Lake Trail, which leads to the Peninsula Trail, features a wooden boardwalk over a cedar swamp along the lakeshore.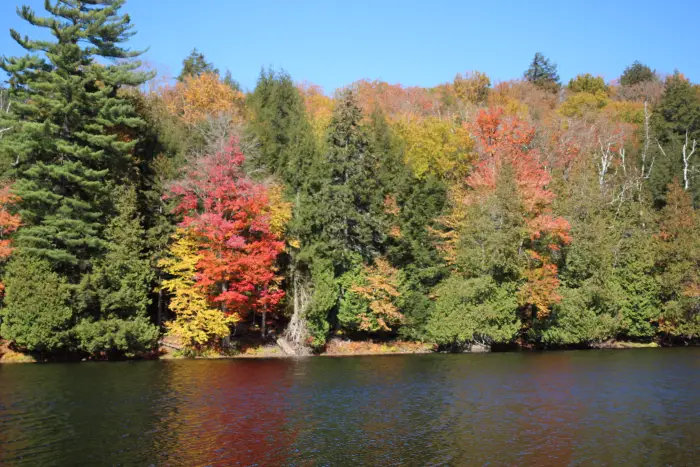 The trails here are wide, even, and easy to walk. Although the longest measures just over one mile in a loop, the trails are so full of life of all shapes and sizes you'll enjoy lingering and taking your time. There is a magnificently huge glacial erratic on the Rich Lake Trail that's covered in moss, ferns, and a small tree growing on the top. The rock was left in this spot about 13,000 years ago, when it was deposited by a moving glacier. Several types of mosses grow here in the cool, damp shade, as well as brightly colored fungi on tree trunks.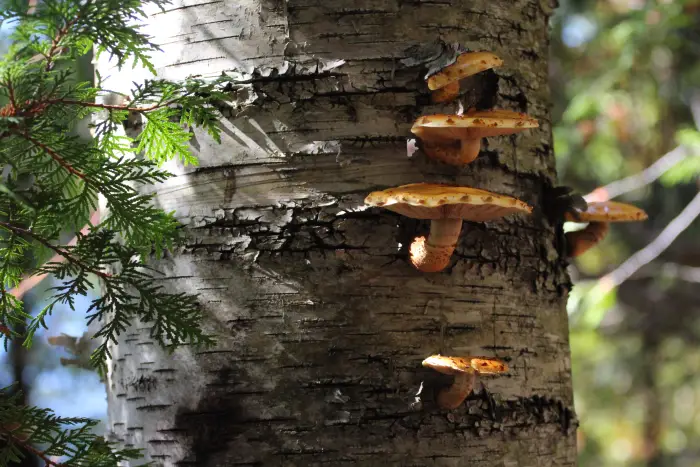 From the AIC, it's time to return to Schroon Lake, but there is one more delight on the way. Leaving the AIC, turn left and travel just over 6 miles on Route 28 to the left-hand turn onto Blue Ridge Road. After about 16.2 miles on Blue Ridge, crossing a number of streams, the Boreas River, and passing scenic ponds, start looking for a pull-off on the right. This is the parking and viewing area for Blue Ridge Falls, a lively series of falls on the waterway known simply as The Branch. The view is postcard-perfect and a lovely way to finish up your road trip.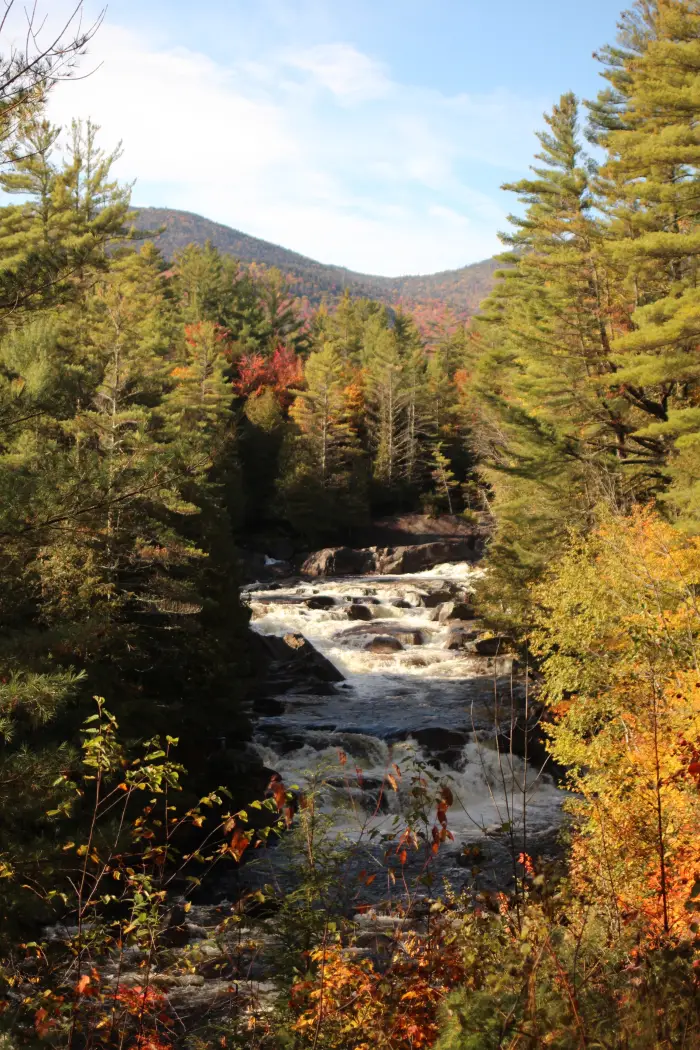 For a quiet, vibrantly-hued Adirondack adventure, enjoy a road trip through the Adirondack Hub, where there are charming inns and bed and breakfasts, restaurants, and colorful events. I hope to see you on the road.