The lake is calling
The Adirondacks may be dotted by lakes and ponds, but the local town beach is the perfect location for your summertime outing - whether you're a local or here for a shorter stay. Each of the four towns in the Adirondack Hub — Newcomb, North Hudson, Minerva, and Schroon Lake — have great beaches, where kids and kids at heart can enjoy some time in the sun and water! All are perfect for swimmers of all ages and abilities.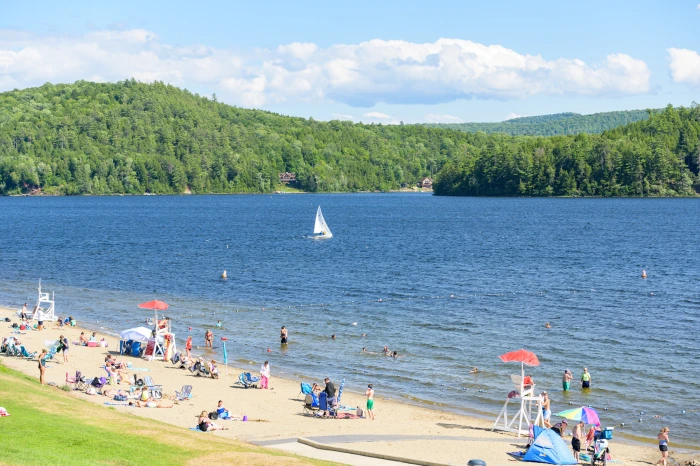 Located just a block from the center of town, the Schroon Lake beach is surrounded by picturesque mountain vistas and is nestled at the base of gently rolling hills. The roped-in swim area is monitored by lifeguards, and the deeper section has a floating dock to lounge on or dive off. Bring a picnic, or purchase your lunch at one of the quaint restaurants in town and enjoy it on the grassy knoll overlooking the beach. If your timing is right, you may even coordinate your food shopping with the local Farmers' Market for fresh and locally-grown yumminess. And it's so close to town that those in your party that enjoy shopping for local goods and artwork can take a quick stroll for souvenirs. Kids can enjoy the town park's playground equipment - which is so close that they will probably go back and forth between the water and the playground. You can also relax on a park bench or in the shade of a tree if that's more your style.
There are also town beaches in the Adirondack Hub communities of Newcomb, Minerva, and North Hudson. All of the beaches offer the chance to cool off and relax in an authentic Adirondack lake, surrounded by great views of forests and mountains. When you visit, you'll enjoy the magic of a day at a beautiful Adirondack beach, with sand, sun, and great fresh water. Don't forget your picnic basket!