An Adirondack retreat
Nestled in the Adirondack Mountains, abundant with natural beauty, unique history, and homegrown flavors, the town of Minerva — including its hamlet of Olmstedville — has a lot to offer. It's a hidden gem full of fun and classic summer activities perfect for a relaxing night or two away from home. From owls at twilight to s'mores by the fire, find 24 hours* in Minerva jam-packed with fun! In fact, you might want to think about extending that adventure by a few hours, or even a few days...
*Give or take a few. That's the traveler's prerogative!
Day one - adventure time!
Welcome to Minerva! You got here, presumably, enjoying the scenic ride, no matter what direction you've come from. The beautiful drive (or ride, if you're on a bike) is a treat in itself, and leads you to one of the sweetest scenic spots in the Adirondacks, that radiates quiet charm. As soon as you get here, why not stretch your legs and enjoy that fresh Adirondack air? Travelers with a lot of ambition, energy, and eagerness can set out on a hike at Moxham Mountain, where the trail winds 2.5 miles along a moderate ridge that offers a lot of big views. Kind of a nice way to introduce yourself to the area, don't you think?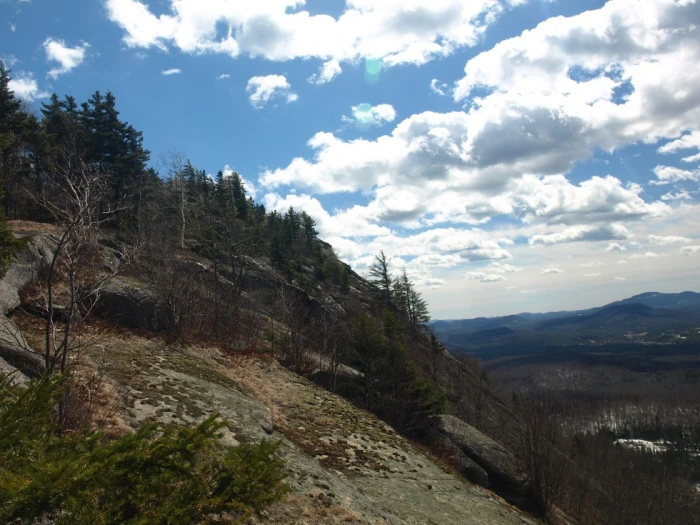 If a hike isn't your speed, or perhaps you'd rather save that adventure for tomorrow, a visit to Donnelly Beach will invigorate you and your kiddos. Spend a few hours splashing around, sunbathing, and enjoying the sunny surroundings, which include views of the sparkling lake and surrounding forest. Beyond the warm sand, Donnelly Beach also features a playground, picnic area, and spots to launch your canoe or kayak. Seeing the area from the water — Minerva Lake is wonderfully paddle-able — is a special experience you shouldn't miss!
While you're at the beach, indulge in a frosty milkshake or churros at the snack bar!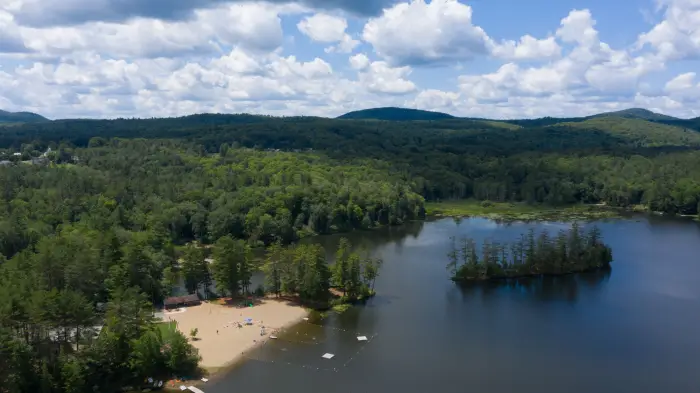 Fun fact: The American artist Winslow Homer visited Minerva. Among the works he painted in the area was one entitled Netting the Fish, depicting a guide fishing on an Adirondack lake!
Day one - dinnertime!
Get closer to the screen. I have a secret to share with you. *Drops typing to a whisper* One of the most interesting fine dining restaurants in the Adirondacks is right here. Yes, here. In sweet little Minerva, and I have to insist that you eat there. Open seasonally, so you'd best visit in summer, The Owl at Twilight is a treasure that everyone needs to try at least once. Think: luxurious, chef-crafted meals. Think: an extensive drinks menu that invites trying a few different things. The Owl at Twilight's menu ranges from fresh mussels from Prince Edward Island, sauteed with saffron, to chipotle-rubbed ribs and super-fresh veggies made with great care. Paired with custom cocktails, New York craft beers, and a wine list from around the world...look, just go and have an amazing meal!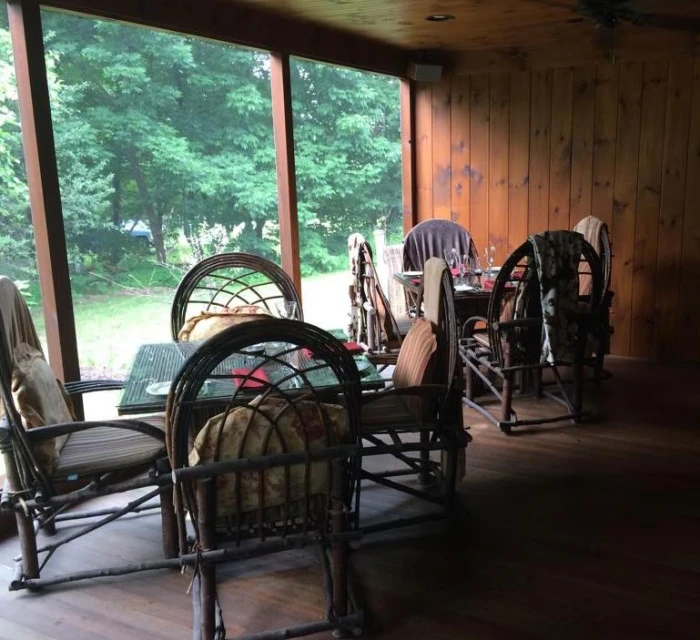 Fun fact: Minerva is a great place to pick up maple syrup, too! Visit Maple Knoll Farm for the sweet stuff and other maple treats!
Good night and good morning!
If you've ever longed for a wee cottage or cabin of your own, with lake views and woods all round, Minerva has that, too! At Morningside, take your pick of sweet lakeside cottages, which range in size from cozy for a couple to a chalet fit for a full-size family. Morningside is the perfect spot to enjoy your morning coffee on your own private deck, listening for loons on the water.
Each cabin rental offers the choice of canoe or kayak for a relaxing paddle, while Morningside also has a private beach for swimming, hiking trails, playing field, fishing, and an expansive tree house for the kids to enjoy. It's so easy to relax and have fun at Morningside that you won't want to leave! With views like this, who would want to?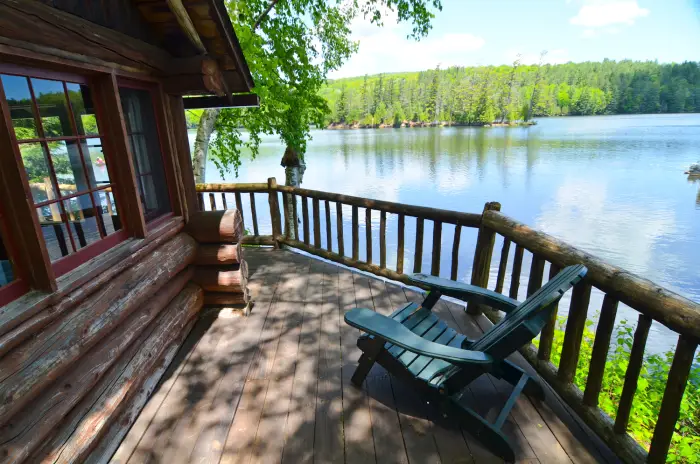 Fun fact: Minerva was first settled in the early 1800s. It was officially a town in 1817, with early settlers being involved in lumbering and farming.
Day two - more to explore
A visit to Minerva — if you can drag yourself away from the relaxing deck at Morningside, that is — isn't complete without a visit to Betty's Funny Farm. There, Betty herself has created a welcoming bed and breakfast and charming farm shop. The array of offerings in the shop are a wonderful and delicious (truly!) array of Adirondack-crafted items, including wool sweaters and mittens, quilts, soap, and Betty's own jams and jellies!
As you're cruising around Minerva, enjoying the fresh air and quiet, Adirondack atmosphere, It's About Thyme Farm and the Thyme Glass Arts shop is another wonderful stop. Summer at the farm means a colorful variety of plants, fresh produce, garden decor, and a glassblowing studio. At the studio shop, browse a stunning array of delicate, intricately designed and handcrafted items. From mutli-colored ornaments to vases, dinnerware, and jewelry, the studio shop is full of beauty; bring home a gift or a little special something for yourself to remember your trip! If you visit the farm in fall, you can pick out your perfect Halloween pumpkin in the pumpkin patch!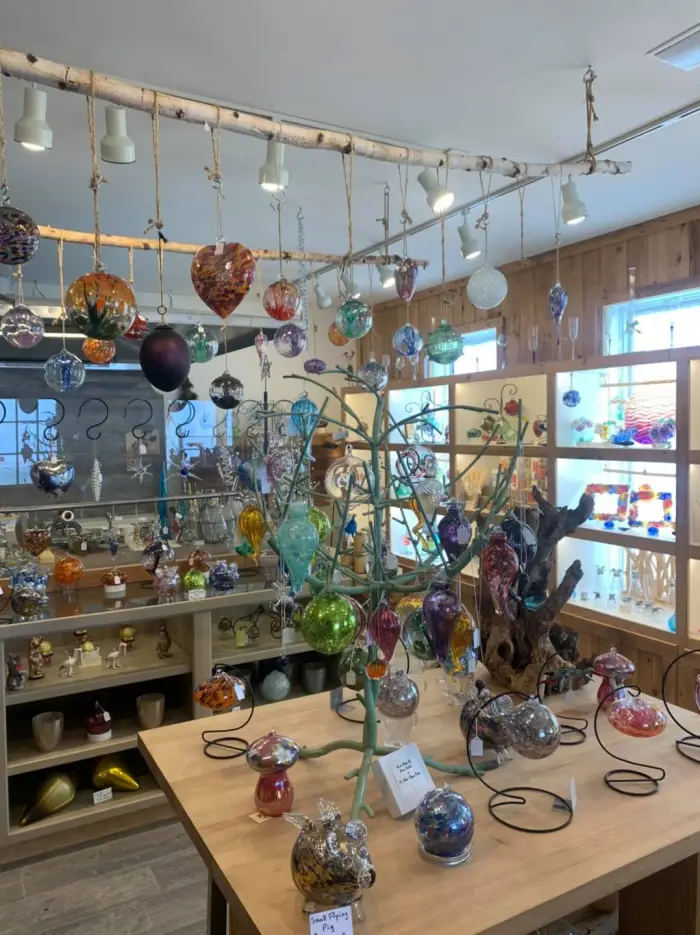 Fun fact: Minerva is the name of the Roman goddess of wisdom and the arts! She might have liked meeting some of Minerva's local crafters and artisans!
Day two - dine more!
So, you've hiked, you've paddled at the beach, shopped, literally smelled the roses, and now it's time to go home. But is it? Before you depart, indulge in one more vacation meal with a lunch or early dinner at Sporty's Iron Duke Saloon. I promise, you don't have to be a biker to enjoy a tasty meal at Sporty's. The atmosphere is fun, the staff are friendly and welcoming, and the food is just what you need to treat yourself before you head home. The menu may not be extensive, but everything is incredibly good, from the famous wings to the 1/2-pound burgers! Don't be afraid to take your leftovers home with you; you might want a snack for the ride home!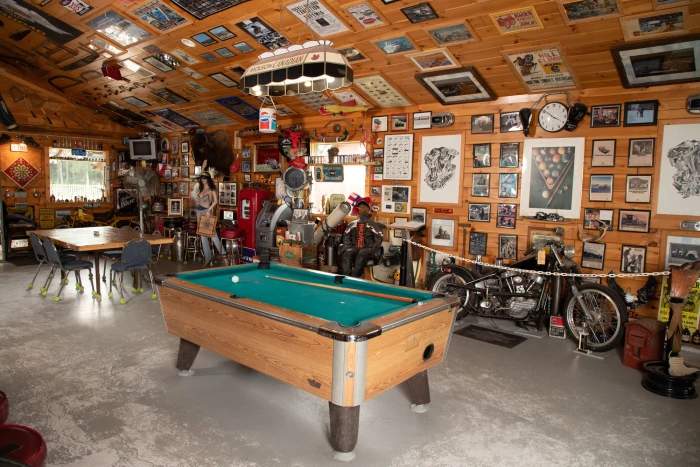 What else can you do in Minerva? Here are a few more ideas:
Enjoy your overnight in Minerva, soak up the Adirondack wilderness views, outdoor adventures, and of course, the local color. While you're planning, learn more about other parts of the Adirondack Hub for travel inspiration, too!