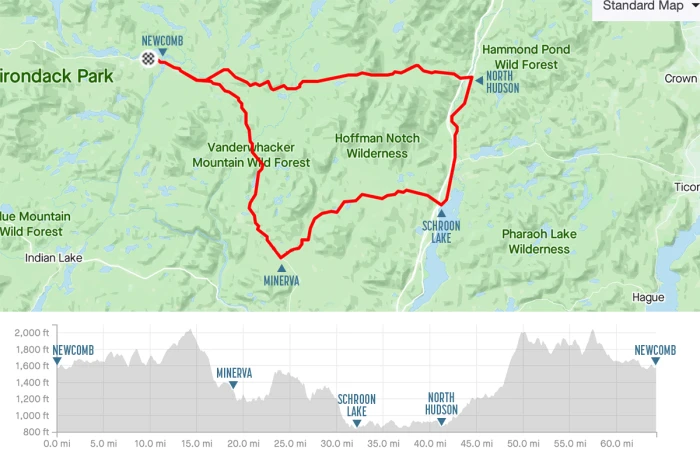 "People who ride a bicycle know that in life nothing is ever flat."
-René Fallet
For the past ten years, cycling in and around the Adirondacks has been a central component of my life. The exploratory nature of cycling is one of its most enticing elements, and the backdrop of an Adirondack exploration provides a uniquely delectable buffet of visual confections. But through all my two-wheeled travels, my routes had never brought me through the Adirondack Hub region. After finally getting to experience these roads, René Fallet's words would make for the perfect greeting card: "Welcome to the Adirondack Hub, where nothing is ever flat."
Indeed, anyone biking through the Hub will be met with rolling hills and sharp climbs (translation: fast descents), but the extra watts are worth their weight in gold. Cyclists will be met with beautiful, winding, lightly trafficked roads while surrounded by the peace and wonder of the Adirondacks. I invite you to the Hub to try any one of the provided routes below, each with the ability to connect to another for a longer adventure.
Minerva: 20 miles, 1,642 ft. elevation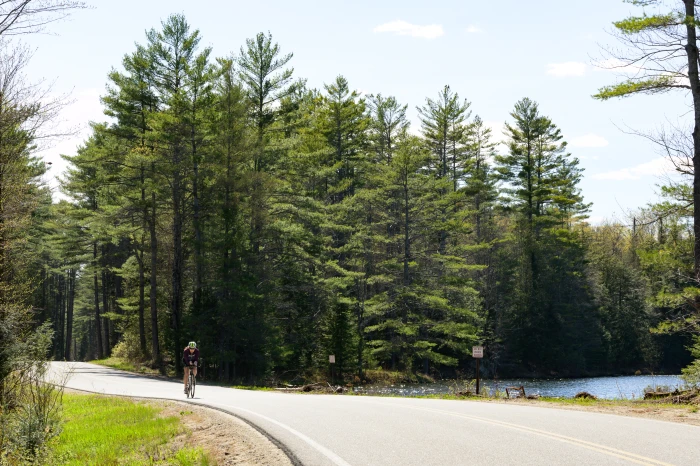 Named after the Roman goddess of wisdom, anyone would be wise to ride this 20-mile loop from Minerva. Trout Road and Hoffman Road offer your big climbs for the day, but you will be rewarded with a 2-mile descent down Hoffman to spin some life back into your legs. With 1,642 feet of elevation, this shorter course will give you a bang for your buck. Want a longer day? Head east on Wamsley Road or Hoffman Road to connect to our Schroon Lake route.  
When you are done with your ride, cool off in the waters of Minverva Lake at Donnelly Beach before heading to grab a bite--and a pint--at Sporty's Iron Duke Saloon. Be sure to visit the Minerva Historical Society Museum and explore the prints of watercolor paintings by Winslow Homer, an artist whose work was largely inspired by his frequent visits to Minerva, NY. 
Route Starting Point: Donnelly Beach (Beach Road; Minerva, NY)
Directions:
(0.0) Head towards Longs Hill Road
(0.5) Turn right, Longs Hill Road
(0.9) Turn left, Route 28N
(2.9) Veer left, Main Street 
(4.5) Veer left, Trout Brook Road 
(11.2) Turn left, Hoffman Road
(17.3) Veer right, O'Neil Road
(17.7) Turn left, Longs Hill Road
(19.3) Turn right, Minerva Beach Road
(20.0) You're done!
Schroon Lake: 26.2 miles, 1,657 ft. elevation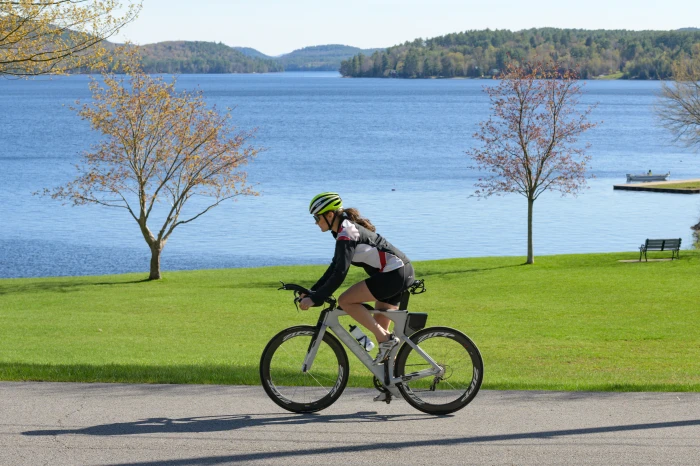 This loop offers beautiful sights from beginning to end as you circumnavigate the 9-mile long Schroon Lake. Those who are looking for a flatter ride should U-turn on East Lake Road upon reaching the turn for Red Wing Road for a 27-mile out-and-back route. But for those who want every day to be #LegDay, a turn onto Red Wing Road is just what the doctor ordered. Be prepared for the 2-mile climb that starts around the 18.5 mile mark, but don't worry--your efforts will be rewarded with a 2-mile descent (with a few punchy climbs thrown in to keep you on your toes).
Before hitting the open road, start your day with a stop at 9 Mile Coffee Co. for a perfectly roasted caffeine kick. Once you've finished looping the lake on your velocipede of choice, take a well-deserved dip at the Schroon Lake Town Beach. While you're in an aquatic state of mind, take a trip to the Schroon Lake Marina for boat rentals--including canoes, rowboats, standup paddle boards, and pontoons--and relax on the water. Have you ever seen the Adirondacks from horseback? If not, the Circle B Ranch is a must during your next Hub adventure. Don't forget to treat yourself at any of the various restaurants and shops Schroon Lake has to offer. 
Route Starting Point: Schroon Lake Town Beach (Dock Street; Schroon Lake, NY)
Directions:
(0.0) Head down Dock Street, turn left onto Route 9
(8.5) Turn left, Glendale Road
(9.2) Turn left, East Shore Road
(13.7) Turn left, Red Wing Road 
(22.1) Turn left, Alder Meadow Road
(24.3) Turn left, Route 9
(26.2) Turn left, Dock Street
(26.2) You're done!
North Hudson: 57.3 miles, 4,894 ft. elevation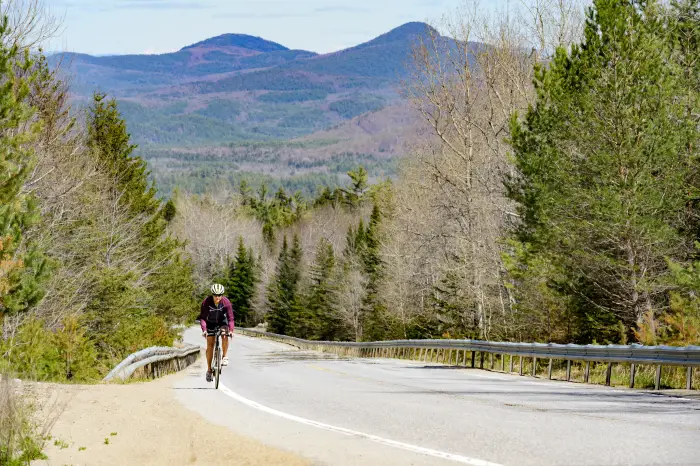 Attention climbers of the world:  North Hudson awaits your arrival. This loop is hilly. Period. 
For those who aren't in the mood to feel the burn, cyclists have the option of an out-and-back trip along Route 9 for a relaxed 19-mile ride. Simply U-turn at the corner of Hoffman Road and enjoy the journey back to the beach. 
As for the rest of you, start playing your favorite climbing mental playlist (cue guitar of Angus Young) and dial in. Hoffman Road consists of two 3-mile climbs separated by a 2-mile descent to catch your breath. The big climbing party starts just before the 23-mile mark and continues for the next 5 miles. To keep our climbing-theme consistent, the next 20 miles includes a series of climbs before the long 10-mile descent to finish your day.  
For those of you paying close attention, you may have noticed the hidden challenge of an already challenging course: the majority of your elevation occurs within a 38-mile stretch. Take it away, Angus…
Once you've completed climb-a-palooza, I invite you to lay down at the North Hudson Town Beach and not move for the foreseeable future. But once you are ready to rally, be sure to visit the Adirondack Buffalo Company to pick up some fresh produce, baked goods, rustic furniture, and other souvenirs before heading out to the deck to enjoy the views of the forty buffalo on-site (yes, you read that right. Buffalo. Real, live buffalo). If you have anything left in your legs, North Hudson provides plenty of options for enjoyable hikes to round out your day.
Route Starting Point: North Hudson Beach Park (Park Road, North Hudson; across the road from the North Hudson Town Offices)
Directions:
(0.0) Turn right, Route 9 (heading south)
(9.6) Turn right, Hoffman Road 
(20.7) Veer right, O'Neil Road
(21.1) Turn left, Long Hills Road
(23.3) Turn right, Route 28N 
(37.4) Veer right, Blue Ridge Road
(37.7) Veer right to stay on Blue Ridge Road
(56.6) Turn left, Route 9
(57.3) You're done!
Newcomb: Route A) 30 miles, 1,858 ft. elevation; Route B) 64.3 miles, 5,264 ft. elevation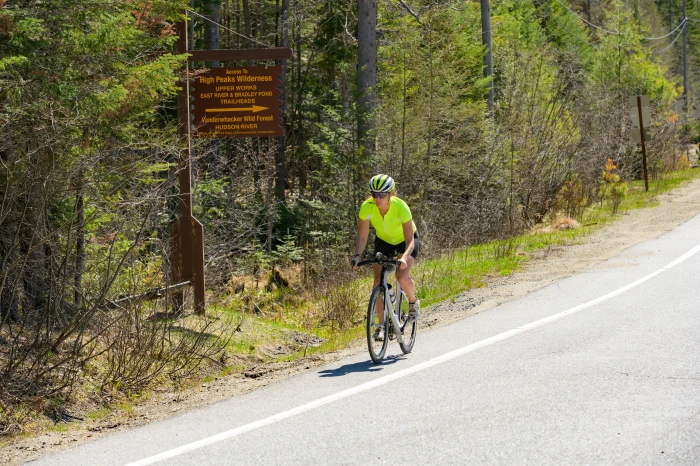 Riding from Newcomb presents you with two options: a mild out-and-back trip connecting with Long Lake or a tour of the Adirondack Hub.  
While there are cyclists who avoid out-and-back routes in order to explore new roads, the route to Long Lake has views so nice, you'll want to see them twice. Simply head west on Route 9 and turn around at the 15-mile mark. But for those who prefer a day of gallivanting, consider the 64-mile Adirondack Hub tour. If you peek at the elevation map at the top of this blog, you will notice sections of mild terrain break up the larger climbs. North Hudson certainly makes you earn those KOM and QOM titles, but you will have the opportunity to celebrate your accomplishment as you coast down the final miles back into Newcomb.
Whether you've seen the sights of Long Lake or completed a tour of the Hub, Newcomb is the perfect place to relax, recover, and recreate. Fuel back up at the Newcomb Cafe before hitting the town. Get some sun at the Newcomb Town Beach or enjoy the stillness of fishing at Balfour Lake or the Boreas River. Visit the Adirondack Interpretive Center for guided naturalist walks or indoor exhibits. The Newcomb Historical Museum is a great option for those wishing to learn more about the area. Up for a round of golf? Enjoy the scenes from greens at the High Peaks Golf Course. Whether I am visiting Newcomb or just passing through, a stop at the Newcomb Overlook Park and picnic area is always on my list. Complete with a viewer's guide to identify each peak, this unique southern vantage point of the High Peaks is a sight to behold.
Route Starting Point: Newcomb Town Beach (Lake Harris Road, Newcomb; used for both routes)
Directions (ADK Hub Tour):
(0.0) Turn left, Route 28N (east)
(3.9) Veer right to stay on Route 28N
(18.4) Turn left, Longs Hill Road
(20.4) Turn right, O'Neil Road
(20.8) Veer left at the fork
(20.9) Turn left, Irishtown Road (becomes Hoffman Road)
(31.9) Turn left, Route 9
(40.9) Turn left, Blue Ridge Road 
(60.2) Turn right, Route 28N
(64.2) You're done!
---
No matter which loop you choose, all paths in the Adirondack Hub lead to a day filled with fun times, great rides, and unforgettable memories.