Tucked away on the edge of Main Street in downtown Schroon Lake, things are brewing at 9 Mile Coffee. The hum of the La Marzocco espresso machine and whir of the grinder greeted me as I walked into the small but cozy coffee shop just five minutes from the Adirondack Northway (I-87). Two customers tucked into a comfortable looking booth seemingly at work and another gentleman sat in front of the window enjoying his morning cup 'o joe. I instantly felt at home surrounded by the oh so familiar sounds of a real coffee shop, just like the one I frequent back home.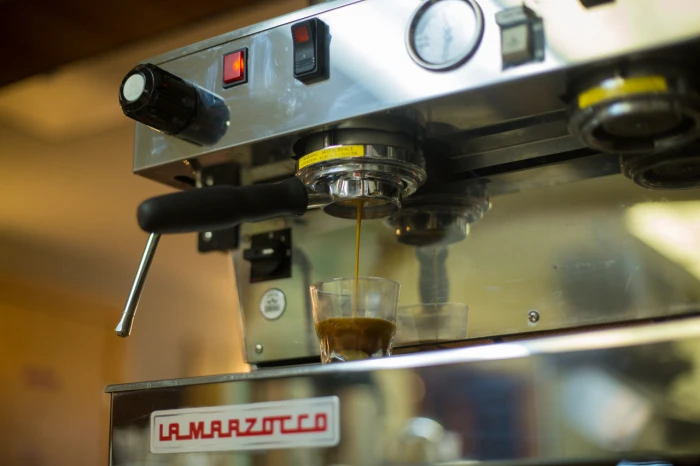 This was a place I could find myself spending some time with friends, or working. But we all know what the real question is, how's the coffee? The menu, handwritten on a chalk board above the counter, features most of the coffee shop staples you'd expect, including several pour over options, cappucino, latte, cortado, nitro brew, fresh chai, and more. A small sandwich menu also caught my eye, but I've got only one thing on my mind. I order my golden standard for coffee shops, a Latte. I'm generally a coffee with cream and sugar kinda guy, no Carmel-Moccha-Frappa-whatever here. But when there's a proper latte to be had, so simple yet so perfect, I can't resist. Served in a convenient to-go cup with their attractive logo on the sleeve, the latte was smooth and strong. A nice well rounded flavor with little need for improvement (I did add just a touch of sugar). Don't worry 9 Mile, you'll see me again!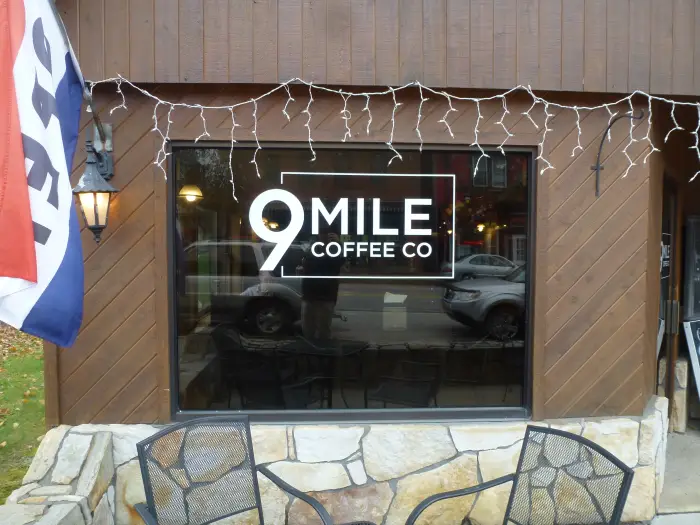 A local dream
9 Mile Coffee Company is the collective work of four young locals who share a vision of creating a place where people and good coffee meet in their hometown. Why '9 Mile'? It refers to the length of the town's namesake Schroon Lake which is a half a block away from their front door. They're not only passionate about their coffee, they're also passionate about their hometown and excited to be able to bring their own flair to Schroon Lake's Main Street. To that end they're also feverishly at work on a new location across the street from where they opened this past summer, which will be completely renovated in the coming months. 
"We hope the pleasant surprise is that you can walk into your small town coffee shop and feel like you're in a big city coffee shop, both in the quality of the drinks and the atmosphere." says owner Brian Hosan.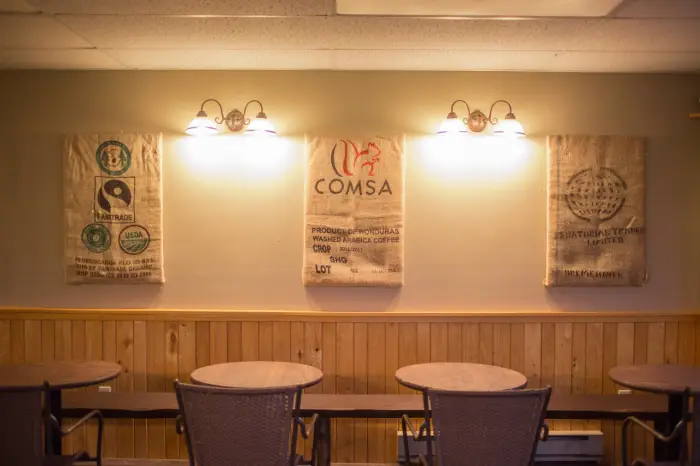 The interior is cozy and friendly. But don't get too attached, there's a brand new shop coming summer 2019!
Small town shop, small farm beans
9 Mile isn't just bringing a fresh new coffee shop to downtown Schroon Lake, they're also bringing locally roasted beans. All the coffee at 9 Mile comes from Kru Coffee Roasters based out of Saratoga Springs. Kru sources all of their beans from farmers around the world who produce the best product and are socially responsible toward their workers. All of their coffee is Fair Trade, Direct Trade, or Rainforest Alliance Certified. 9 Mile also carries several single origin (one region) and 'micro lot' (one farm) beans from Kru, so you can know exactly when and where your cup comes from. A fact that the team at 9 Mile is proud to share.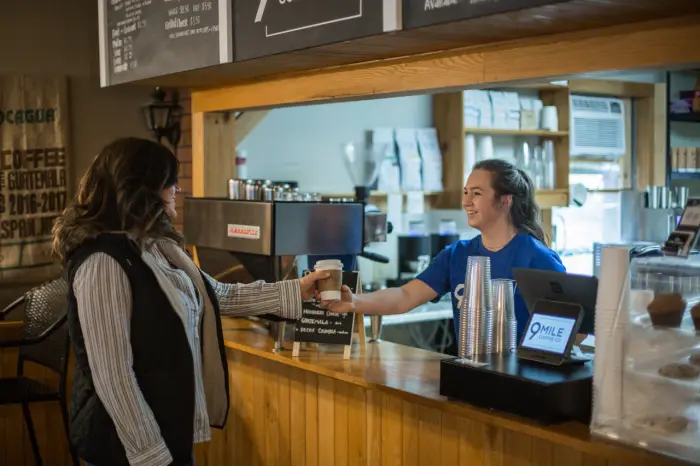 A brewing evolution
9 Mile Coffee is the latest exciting addition to the Schroon Lake scene. It's bringing high end artisanal coffee to their little slice of the southern Adirondacks. There's already a loyal local following developing, so don't miss the train! The next time you're in the Schroon Lake Region, or even driving by on I-87, give it a try! I'm excited to see what the future holds for this little coffee shop in the mountains. 
Interested in seeing what the hype is all about? Start planning your trip to Schroon Lake today!