North Hudson is the smallest of the four villages that comprise the Schroon Lake area of the Adirondacks. They have wonderful hiking paths, including a town system that is a wonderful forest exploration.
While it has traditionally been a quiet village, the cycle is turning. They are currently poised for renewal.
Out of the past
Once upon a time, there was Frontier Town. Before Disneyworld, before Disneyland, children from all over New York and New England would dream of visiting Frontier Town. For almost four decades, North Hudsonites would meet their future mates while working there, playing the gunslingers, saloon denizens, villains, stagecoach drivers, and other legendary wild west characters. They built the stagecoaches, made the costumes, churned the butter, cared for the many horses, and engraved children's names on sheriff's badges.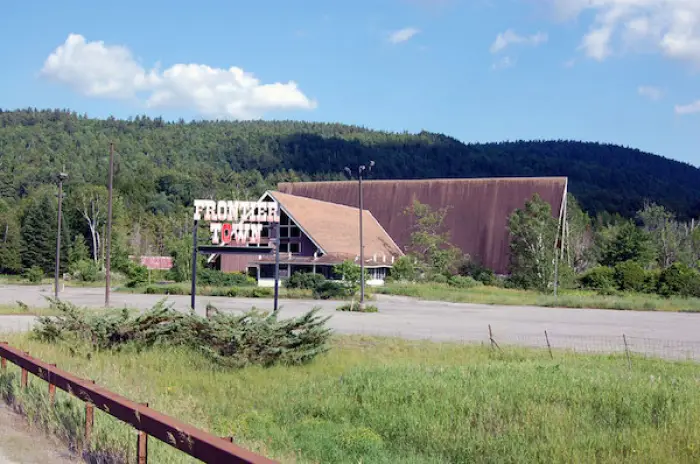 Frontier Town today. (photo courtesy adirondacknorthway.com)
Frontier Town was destroyed by cheaper mass transportation, which let larger attractions and distant continents become available as vacation destinations, and it closed in 1998. Now, it will be the site of a revived "Gateway to the Adirondacks." Redevelopment plans are in progress to create a visitor center, an event center, and interactive exhibits.
There will be a new DEC campground and day use area along the Schroon River, including an equestrian camping and trail riding area. There will be visitor accommodations and facilities for hosting shows and festivals. The exhibit space will be about the past, present, and future of the area, from its pioneer logging and mining industry to its present leadership in the conservation and renewal ethos of the Adirondacks.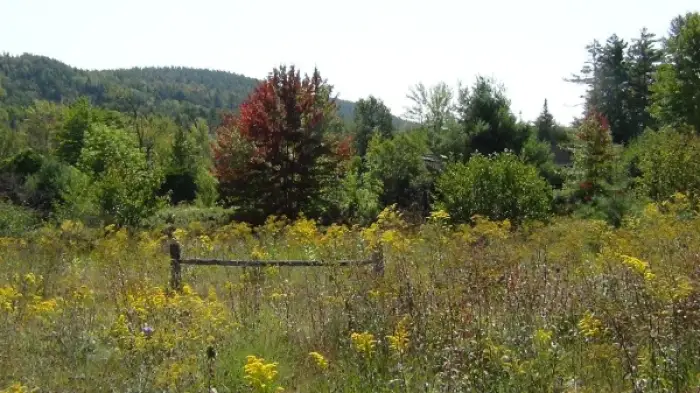 Taken from the roadside during early fall in North Hudson.
One thing has never changed. North Hudson is a gorgeous place. It combines beauty with many easy trails to please all ages and skill levels.
Scenic hiking
Some of my favorite hiking places are in North Hudson. The Sharp Bridge NYS Campground is the site of many hiking trails, including a real gem, the East Mill Flow and related trails.
This easy path is mostly elevated above Schroon Brook, but there are sections where it descends to the shore and you can step down to water level and get a different perspective.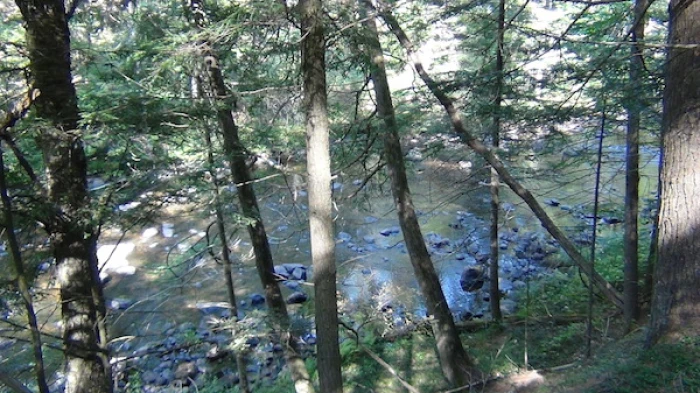 This is a fun trail that is not at all challenging. It's a photography favorite, too. There's lots of tumbled boulders, silvery gray piles of blown down trees, and many beautiful wildflowers.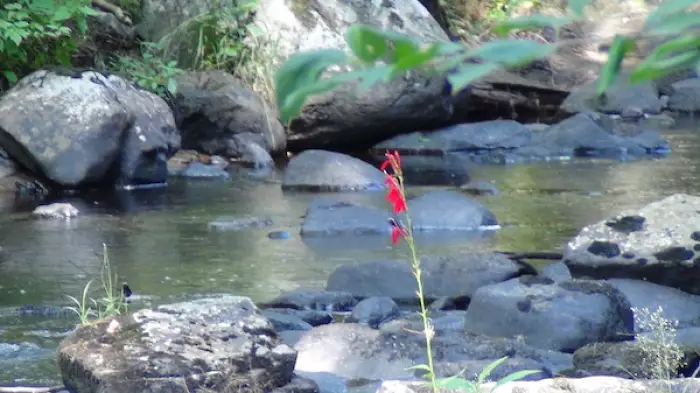 Another fine hike with water features is Blue Ridge Falls, with easy paths and spectacular views. Just further down Blue Ridge Road is the Cheney Pond trail, which is the remains of an old access road and another fine hike to water. Enjoy three ponds in a row with Courtney Pond, Shingletree Pond, and Holiday Pond.
North Hudson hiking trails tend to be short, flat, and scenic, compared to the much more demanding wilderness treks that get all the attention. This area has more gentle terrain, with lots of water in streams and ponds.
Personally, I love semi-level forest trails with lots of interesting shoreline, which explains my fondness for North Hudson trails. This ease of use is a prominent feature of the town of North Hudson's multiple use trail system for hiking, mountain biking, cross-country skiing, and snowshoeing.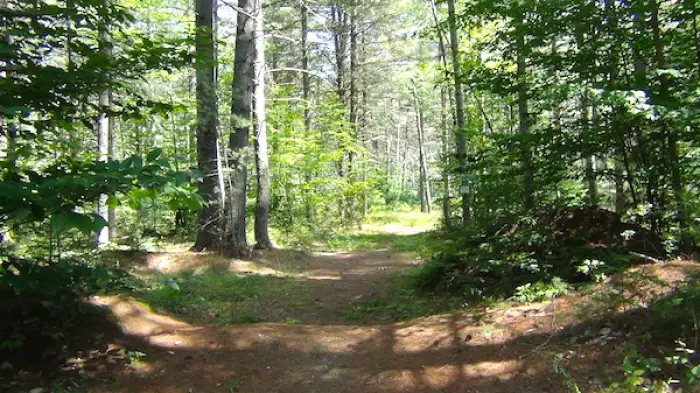 Whatever your hiking choices, North Hudson is a place that encourages us to take our time. Stroll along and absorb the peace of the forest. See and hear the slow approach of a pond through the trees.
The buffalo herd
Fall is a fine time to visit the Adirondack Buffalo Company. Their location in North Hudson is along the very scenic Blue Ridge Road, and their viewing platform is a spectacular place to see the colorful mountains and the pastures of the buffalo. Yes, they are real buffalo.
But then, anytime is a fine time for me to come here. They have a big shop, too, full of crafts and goodies.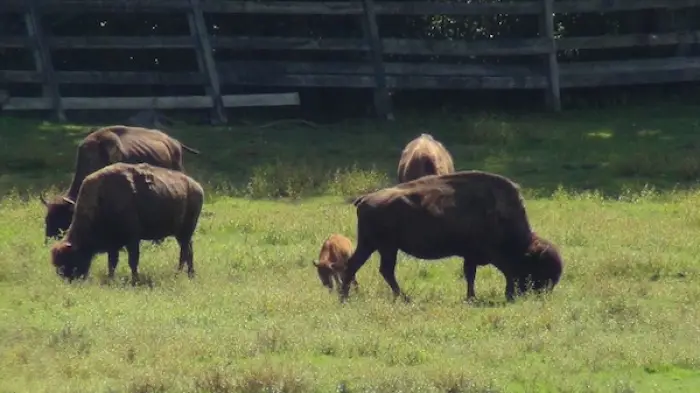 The buffalo are not wild, but they fit in fine with the terrain and essentially take care of themselves.
The shop has a lot of Adirondack crafts, and also many with Native American themes. I have two of their nature-themed throw pillows, and must control myself from picking up a new one each time I visit. There's a good selection of children's and adult's layering items, from woven tunics to Adriondack Buffalo Company sweatshirts, T-shirts, and hoodies.
Yes, I have a sweatshirt. I confess I am a fan. There's a whole food section full of their own condiments, salsa, pickles, and baked goods. There are also snacks, beverages, candy...so many fine road cravings can be fulfilled here.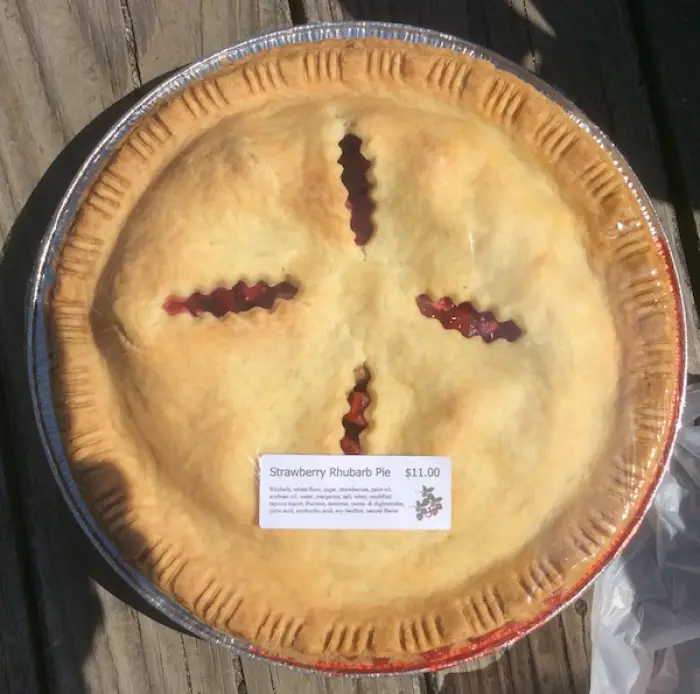 Their pie is a must. You'll thank me later.
Learn more about the Adirondack Buffalo Company with the blog, Where the buffalo roam.
North Hudson is a wonderful day trip that is mere minutes from the lodging and dining in the area. Yet, it can seem like a whole little world of its own.
Choose your place to stay. Pick a dining spot. We have lots of hiking.
---
This week in related ADK news: