You're looking for a winter getaway. Someplace that offers cozy lodging options, striking winter adventures, and the opportunity to relax, indoors and out. What if I told you that I can offer you that very thing, a place where the snows are deep, the woods are beautifully serene, and there's always a fireside waiting for you at the end of the day? This winter, spend your winter weekend in the enchanting towns of Schroon Lake and North Hudson, where the quiet of winter is music to your ears.
Schroon Lake and North Hudson make a great package deal: two unique towns, each with it's own character, located just a few miles apart. Schroon Lake is a classic vacation destination, a place where generations of travelers have spent sweet days making family memories in nostalgic cabins, making memories on scenic snowshoe trails, and indulging in classic Adirondack fare. Just a few miles north on Route 9, North Hudson is surrounded by thick, gorgeous wilderness areas. Life here is all about enjoying the splendor of nature.
To get a fun, can't-wait-to-come-back introduction to the two towns, try a weekend visit. Here's how to spend 48 hours relaxing, enjoying outdoor activities, and toasting winter fun.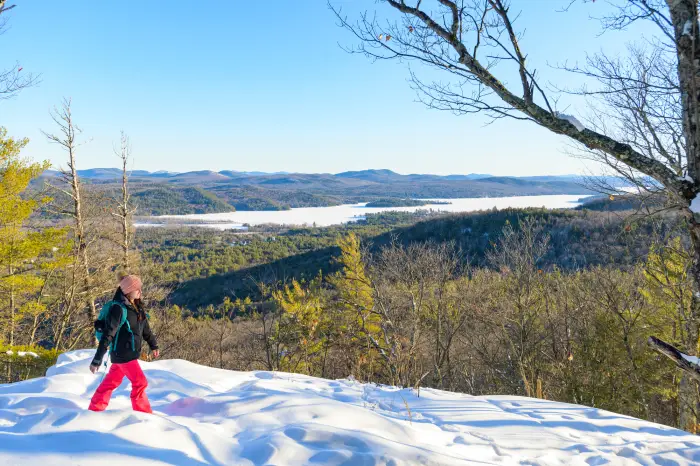 Stay
If you're going to spend the weekend, you want to do it in comfort and at a place that is unlike anything you have at home, right? Fortunately, Schroon Lake and North Hudson are home to sweet spots to stay overnight that offer great amenities alongside relaxed Adirondack charm and hospitality.
Ideally located halfway between North Hudson and Schroon Lake, Blue Ridge Motel is an Adirondack favorite. In 2019, new owners set about giving this classic roadside stop a refresh and it's cuter and better than ever! A woman-owned business, Blue Ridge Motel offers comfortable rooms, easy access to local attractions, and a delightful gift shop. Whether you've forgotten something or just want to get a special gift for the holidays, the friendly shop can help you out.
Blue Ridge Motel also partners with local guides, so if you're looking for an introduction to a new winter adventure or a helping hand taking on a different challenge, the team here can help you make that a reality.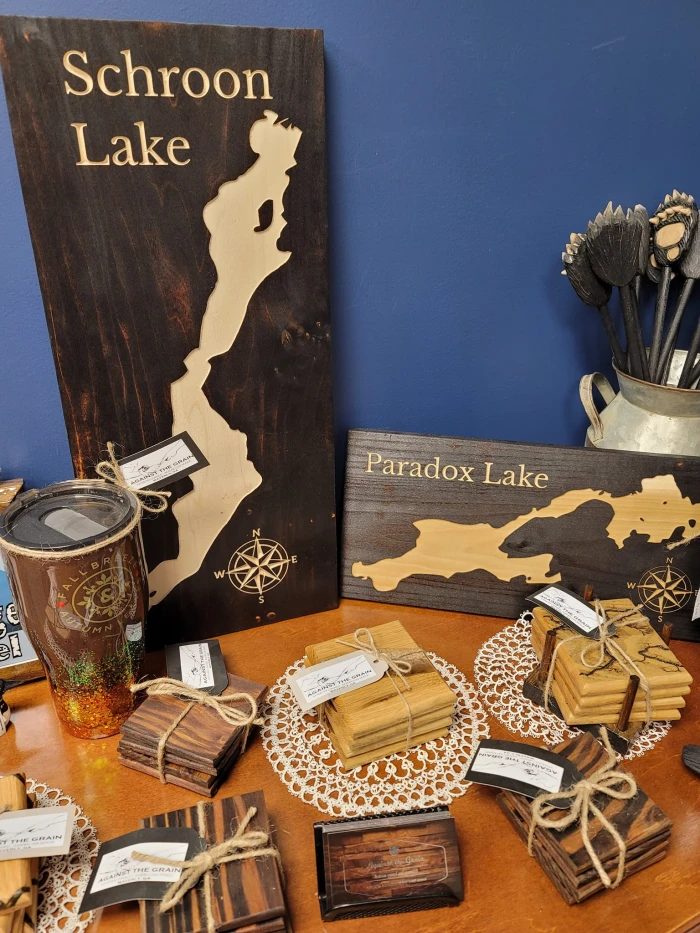 There are also vacation rentals in the area, so be sure to check our lodging pages to find out more!
Outdoor adventures
I promised you amazing outdoor adventures and here, they're in abundance! Cross-country skiing, snowshoeing, tubing, and ice skating are all found in Schroon Lake and North Hudson with a range of difficulty so that there is something for every skill level. The only difficulty is in selecting the right options to fit into your weekend.
Snowshoeing is one of the easiest and most fun ways to explore the Adirondacks. Beautiful pine forests are transformed by snow and ice into a sparkling wonderland. Listen to winter birds sing and chirp, look for wildlife tracks, and savor enchanting views all around. A number of trails that are great hiking in the summer become ideal snowshoeing trails in the winter. Families with small children and beginners love the trail to Big Pond, near Schroon Lake. This is a mostly flat snowshoe that is 1.5 miles to the pond and makes for a pretty, pleasant addition to your weekend.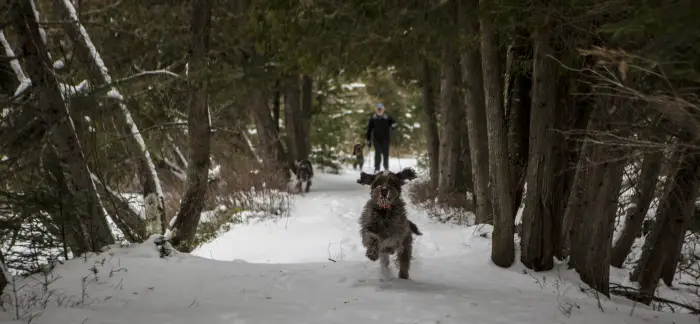 Cross-country skiers will love the opportunities in North Hudson, which includes a fairly new trail, created in 2019. Located near the Frontier Town Gateway, this trail travels through the scenic Hammond Pond Wild Forest, a handsome spot to listen for winter birds and watch for animal tracks in the snow. It's also easy to get to, which is a helpful bonus.
Another option that is easy to get to and features broad, gentle slopes with big views is the Schroon Lake Golf Course. This is an especially good spot for taking kids who might get tired or bored quickly, because there is a tubing hill, too!
Do
In North Hudson and Schroon Lake, you don't have to spend all of your time warming up on the trails. The towns also offer unique shopping and attractions, too!
When you think of "where the buffalo roam," the Adirondacks might not be the first place you think of, but soon it will be! The Adirondack Buffalo Company in North Hudson is an unexpected treat, where you can browse the gift shop, which carries souvenirs, gourmet foods, and handcrafted items. Outside, enjoy the view down onto the meadow, where a herd of bison live. Handy binoculars are on hand to get even better views of this majestic, and surprisingly huge, animal.
For more shopping, and an excellent opportunity to bring home a special reminder of your Adirondack adventure, don't miss Pine Cone Mercantile in Schroon Lake. Here you'll find chic rustic decor that will add a touch of the Adirondacks to your home. From Christmas ornaments to artwork to handcrafted furniture, Pine Cone Mercantile is always fun to browse and select a gift for yourself or someone back home.
Eat and drink
In the midst of snowshoeing and tubing with the kids until you laugh so hard you can't stand up, you need to refuel. But it's not enough to just fill up and move along, you want to enjoy your meals, relax, and savor both the food and the atmosphere.
In Schroon Lake, 9 Mile Coffee is a favorite destination for all-day indulgences in a friendly, modern spot. Pair a latte with a hearty breakfast sandwich, and add in a rich Nutella croissant to share. Or just eat it all yourself. Lunchtime at 9 Mile is great too, with fresh sandwiches and soups on the menu, along with smoothies, teas, and of course, more coffee!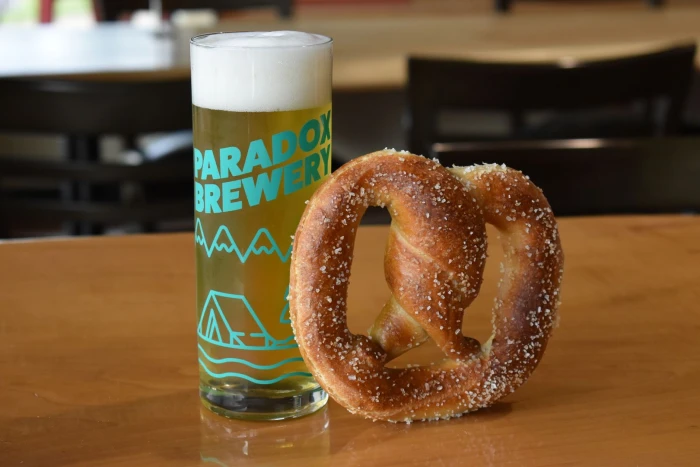 When you're ready for a cold one, and we don't judge when in the day you're ready, take time to visit Paradox Brewery in North Hudson and plan on sitting back and staying a while. The atmosphere at this homegrown and ever-growing brewery is relaxed, fun, and the food and drinks are all fantastic. Go the pizza route — we are totally into the Buffalo Overlook — or treat yourself to hearty brats and wursts. You'll feel as though a German Oma landed in the Adirondacks! Pair your meal with a crisp IPA or Helles and you'll be in hoppy heaven!
Have fun!
Tube, snowshoe, chat with buffalo, eat, drink, and sleep sweetly. That's 48 hours in Schroon Lake and North Hudson! We know you'll have fun, whether you fill every minute with adventure or simply chill out with a cold one for a while. The quiet, amazing natural beauty of this part of the Adirondacks will relax you and ensure that you have a weekend to remember.