It is a truth universally acknowledged that going out to eat is a big part of the fun of going on vacation. You get to try new foods, explore new restaurants, and, since this is the Adirondacks, enjoy great views! Summertime means that the chill of winter has disappeared and sunny days, perfect for dining al fresco, are here. Why sit inside when you can enjoy the fresh breezes and warmth of summer? In the Adirondack Hub, there is a variety of cafes and restaurants with excellent outdoor dining, from coffee shops to the finer dining end of the spectrum. Each one is well worth a visit this sunny summer!
Lake Harris Lodge
Lake Harris Lodge has it all: gorgeous views, cool cocktails, a divine food menu, outdoor dining in the sun or shade, and even glamping tents for a unique overnight getaway! The screened porch and sunny deck at Lake Harris Lodge are ideal spots for enjoying a relaxing, flavorful meal. If you're in the mood for sunshine, try the upper deck! You can soak up some rays (with sunscreen, please!) and the warmth of summer while savoring a cold, deliciously refreshing drink and a summery meal. For a little cool shade with your fresh air, try the screened porch, which feels like a classic Adirondack camp as you enjoy the breeze and the view of Lake Harris.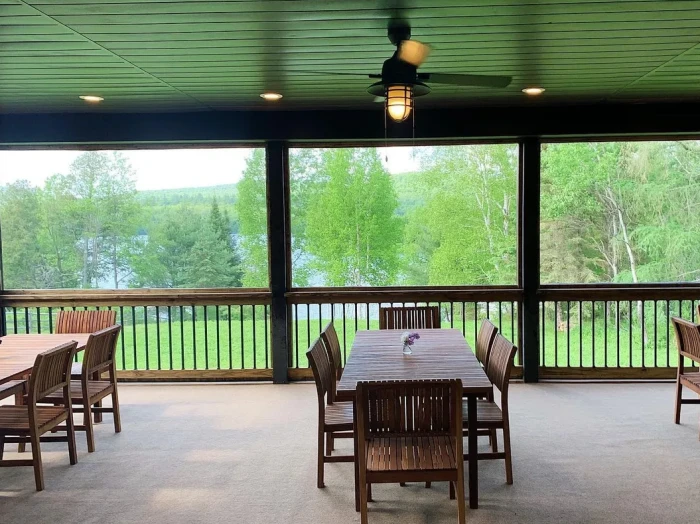 9 Mile Coffee
9 Mile Coffee, located in Schroon Lake, is a sweet (pun intended) spot to grab a coffee to go, or settle in at an outdoor table for a homemade breakfast or lunch before your next adventure. On a hot summer day, a frozen coffee will get your day started in a cool, buzzy way. Maybe you'd rather try a fresh fruit smoothie or frozen lemonade? The non-coffee drinks are a big hit with kids! Settle in at an outside table and dig in to a fresh pastry, bagel, panini, or the popular build-your-own breakfast sandwich! Everything is so tasty, you may just want to stay all day!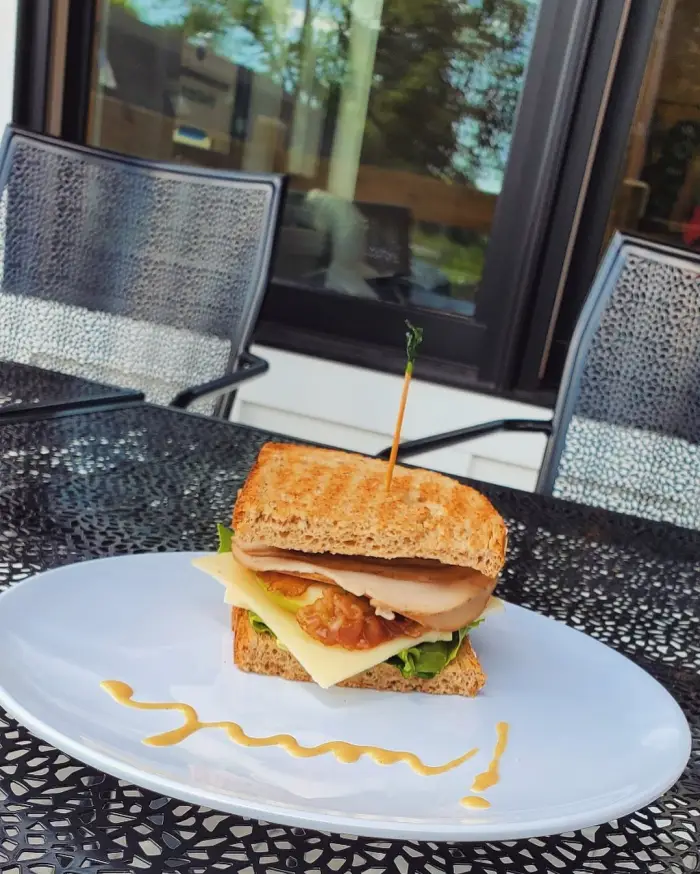 Newcomb Cafe and Campground
Looking for a relaxing spot to savor the scents and sounds of the great outdoors? Stop by the Newcomb Cafe and Campground! You don't have to be a camper to enjoy the cafe, which serves up awesome, hearty diner-style dishes for breakfast and lunch. The staff here pride themselves on making comfort food that will keep you coming back for more. Think: platters of rich, fluffy French toast, homemade sausage gravy, fresh burgers, and special, unlike anything you'll get anywhere else desserts. The cafe and adjacent general store are open Thursday through Monday. Be sure to check out the general store, which sells items made by local artisans!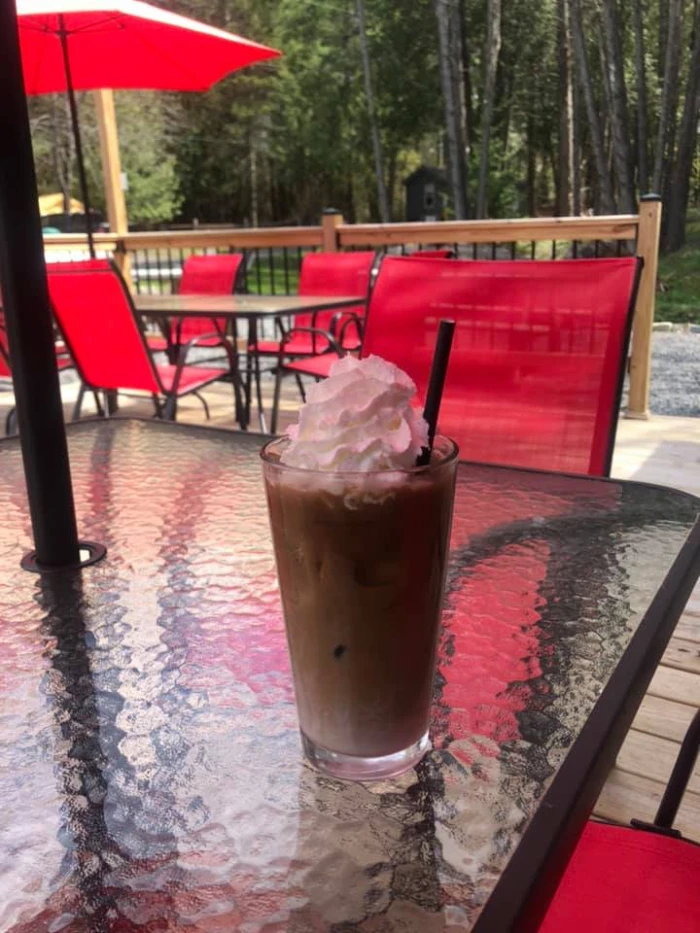 Pitkin's Restaurant
A local legend with a fresh new spin, Pitkin's has been a Schroon Lake staple for decades. Located downtown, within easy walking distance of shops and, of course, the lake, Pitkin's has recently undergone a big refresh under new, enthusiastic young owners. One of the changes was the addition of a patio for outdoor dining. The new patio enables locals and visitors alike to enjoy Pitkin's great, classic American food in the great outdoors. Open every day of the week for breakfast, lunch, and dinner, Pitkin's is the spot to indulge in a stack of buttermilk pancakes, fresh homemade pie, a "Schrooner or Later" sandwich, or a classic turkey dinner. As always, save room for dessert!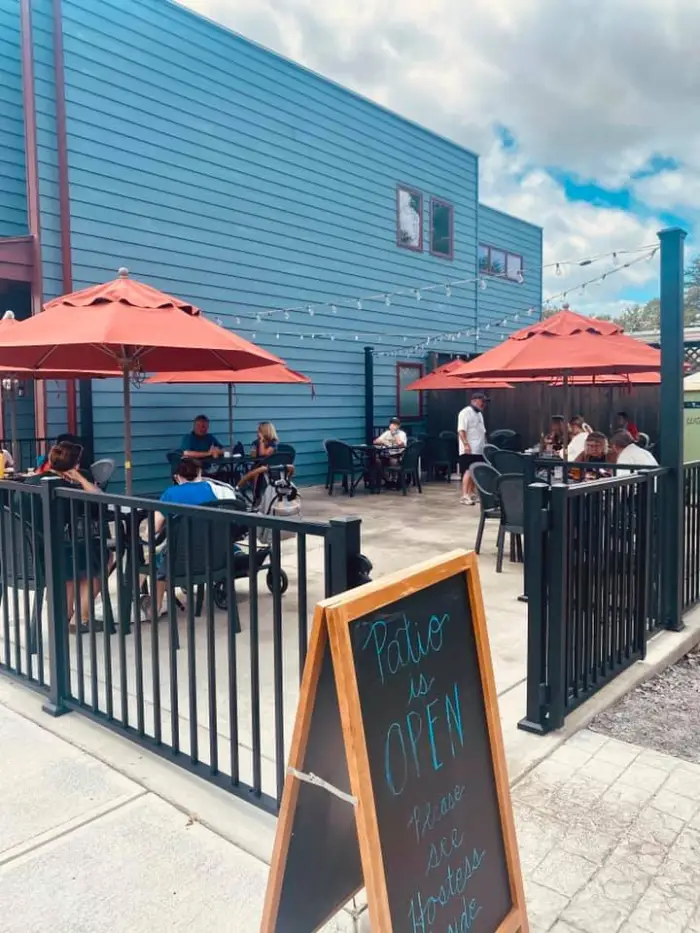 Trail Break at Schroon Lake
When you're ready to take a break from all the fun you've been having on the water, in the shops, and on the trails, grab a seat outdoors at Trail Break at Schroon Lake! Everything here is made in-house and with a lot of time and love behind it. Here, you can eat as lightly or as heartily as you like, selecting from a menu that ranges from fun salads to big, beautifully cooked steaks. The extensive beer and cider menu means that you can enjoy a cold drink or two while you dine, choosing from an array of craft beers from the area and throughout the state. Are you a snowmobiler? While you're here, plan for a winter trip! Trail Break is right next to the trails, of course!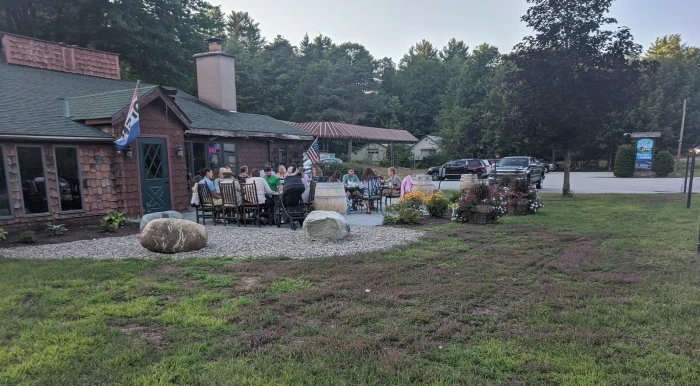 With so many excellent outdoor dining options in this region of big woods and big water, it may take you a few days to try each one. So why not plan a trip and stay a while? We have snuggly lodging options perfect for a sweet summer getaway.