You need a basecamp for your vacation. A place to leave your gear, get a great night's sleep, and put your feet up. You want proximity to outdoor activities, attractions, and maybe even some shopping. The Schroon Lake Region is your perfect basecamp, full of natural wonders, a variety of lodging options, and opportunity for the Adirondack vacation of your dreams.
Home away from home
One of the best things about a vacation in the Schroon Lake Region is the sense of traveling back in time. Maybe you've wondered what it might be like to stay in a cozy, historic cottage, enjoying your morning coffee on a screened-in porch or diving into refreshing waters from your own swimming dock. Perhaps you've daydreamed about finding a classic bed and breakfast, with deep bathtubs, farm fresh food, and a rocking chair-lined porch. Maybe your style is more secluded, a cabin in fragrant woods, with no phones, no television, no neighbors. Well, except maybe the local wildlife. The Schroon Lake Region — comprising the towns of Minerva, North Hudson, Newcomb, and Schroon Lake — has all of these options, letting you take your vacation in a scenic wonderland that gets you away from the bustle of modern life to a quieter, more relaxed way of life.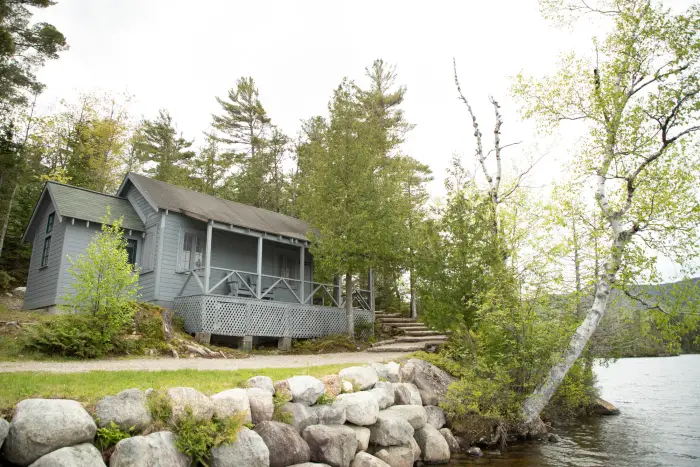 On foot
Bring your hiking boots or sneakers, because in the Schroon Lake Region, you'll want to put them to work. The towns of the Schroon Lake Region are notable for their proximity to the High Peaks and scores of great hiking trails.
The trailhead for Dix Mountain, the state's sixth highest peak, is only 17 miles from Schroon Lake and less than 10 from North Hudson. Dix is a challenging peak and its 13.6 mile round-trip trail is best suited for hikers who are prepared for a long and often steep haul. Hikers who do make the summit are rewarded with excellent views not only of the Adirondacks, but the Green Mountains of Vermont, as well.
For an adventure with a little less intensity, but just as much fun and scenery, there are many flatter hikes in the area, including more than 60 miles of trails in the Pharaoh Lake Wilderness Area, a protected space of more than 46,000 acres of forest, ponds, mountains, and hills. Trails are accessible from both the north, near Paradox Lake, and the south near Brant Lake, although the northern access is easier to get to and closer to Schroon and other towns in the area.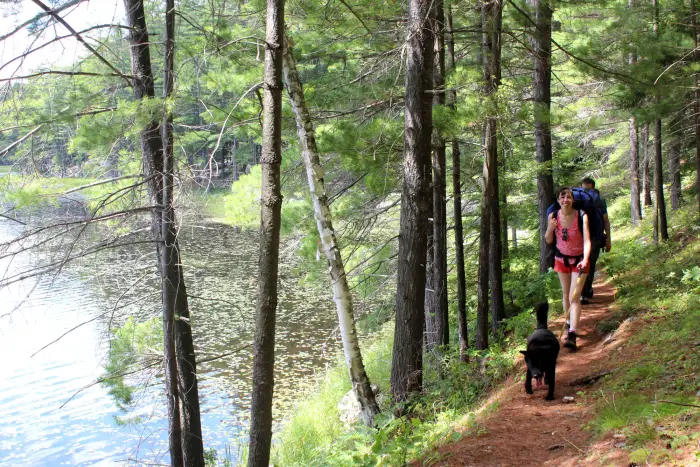 On the water
It's not summer in the Adirondacks without lakes, ponds, and a good old-fashioned day on the water swimming, playing, boating, and fishing.
The Schroon Lake town beach is a wide, sandy stretch of fun that's good for vacationers of all ages. A roped-off swimming area monitored by lifeguards is great for little ones, while older swimmers can enjoy the float in deeper water. The views from the beach and the lawn above are fantastic. Even if you brought a brand new beach read, you might find yourself simply enjoying the view of gentle waters, sailboats drifting by, and the mountains beyond. A playground is an extra bonus, as is the beach's proximity to downtown, restaurants, and lodging.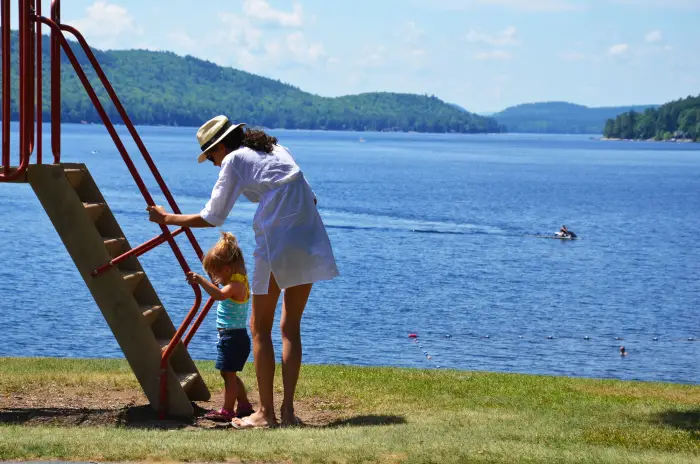 Did you know that the source of the Hudson River lies in the Adirondacks? Here, the river features some excellent whitewater and a number of local outfitters offer guided rafting trips. These trips are great for both experienced paddlers and those who have never tried it, but have a keen sense of fun. You'll be in good hands and the trips, particularly in summer, are kid-friendly. Just be prepared to get wet!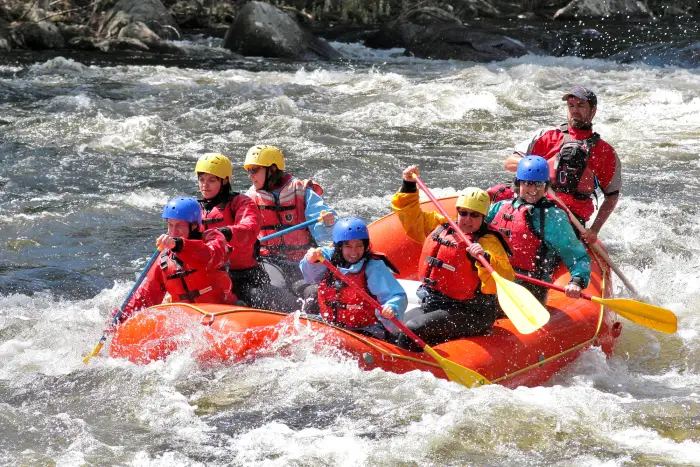 If your dream Adirondack vacation includes catching your own breakfast, you'll enjoy the abundant fishing opportunities offered in the area. Many of the area's ponds, rivers, and streams are surrounded by wilderness and offer the eager angler plenty of opportunities for quiet fishing. Throughout the area, you'll find brook and rainbow trout, panfish, bass, and landlocked salmon. If you want some tips on the secret hotspots, check in with a licensed guide for advice.
Into the past
The Adirondack Mountains are steeped — pun intended — in history. The thick wilderness of the Schroon Lake Region is home to numerous treasures of historic interest.
While the mountains of the Adirondacks are now known for rugged hikes and soaring views, once upon a time they were also known for what lies beneath the surface. Mining has played an important role in Adirondack history and at Tahawus, you can see some of the remains of that industry in the ghost town of Adirondac. Located near Newcomb, Adirondac was once the site of the busy Adirondack Iron Works. Today, you can see the remains of several buildings and a large blast furnace. Interpretive signs share history of the area, describe the mining done, and a unique link to presidential history.
Fun bonus: The nearby Upper Works trailhead and parking area provides access to excellent hiking trails in the High Peaks Wilderness, including the highest peak in the state, Mount Marcy.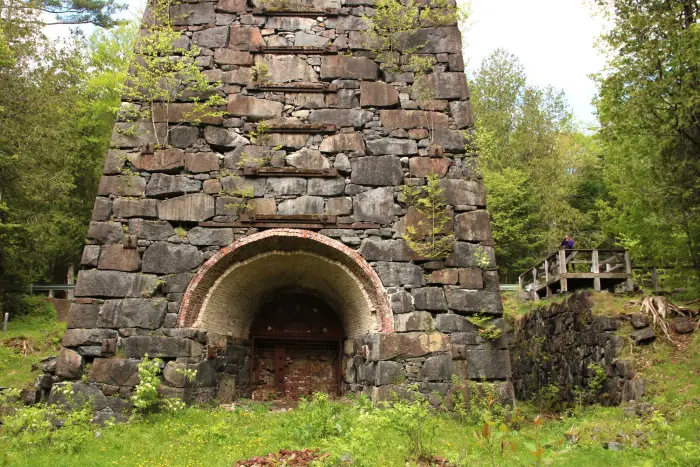 For something completely different, head to the Camp Santanoni Historic Area, a preserved Adirondack Great Camp complex on Newcomb Lake. Santanoni was built in 1892-93 as a vacation home and remains an excellent example of Great Camp architecture, considered by many to be one of the finest in all of the Adirondacks. Many of the camp's features, from the immense main lodge to the extensive farm complex, are preserved over thirty-two acres. Santanoni is accessed via a 5 mile gravel driveway, but vehicles are not permitted. In summer, bicycles are welcome on the drive and occasional wagon rides are offered, as well.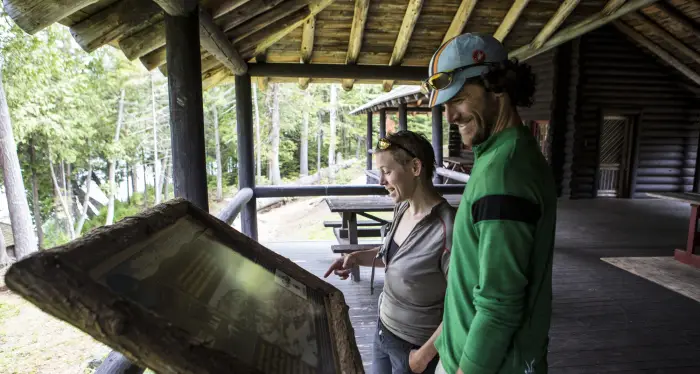 The Schroon Lake Region is a great jumping off point for Adirondack adventures that are just a short drive from your home away from home, with options for all ages and interests. The scenery is great, the locals are welcoming, and the possibilities for adventure are grand. Visit soon and find out.
This week in ADK news: