Submitted by CycleADK and Dave Kraus. Photos courtesy of Cycle Adirondacks/Pure ADK. 
For a cyclist, finding the perfect route for a great day trip is an evergreen quest. Here's my take: It would be on unfamiliar roads, but not too far away, and convenient to reach. It would be scenic, with a variety of great views and plenty of possible stopping places with mid-ride snacks and treats. The start/finish location would have plenty of parking and ready access to cycling supplies, post-ride refreshments, and a variety of lodging options if I felt like making it more than a day trip.
That perfect ride or in this case – a number of ride options — are closer than you think. The southern end of Essex County and southwestern Hamilton County feature some of the most incredibly rewarding routes, all of which are easily accessible from beautiful Schroon Lake. 
Local note: Say "Skroon" like school. You might hear Shroon, like mushroom, but you also might hear a few chuckles from in-the-know locals. 
OK, ride options. Here are a few goodies: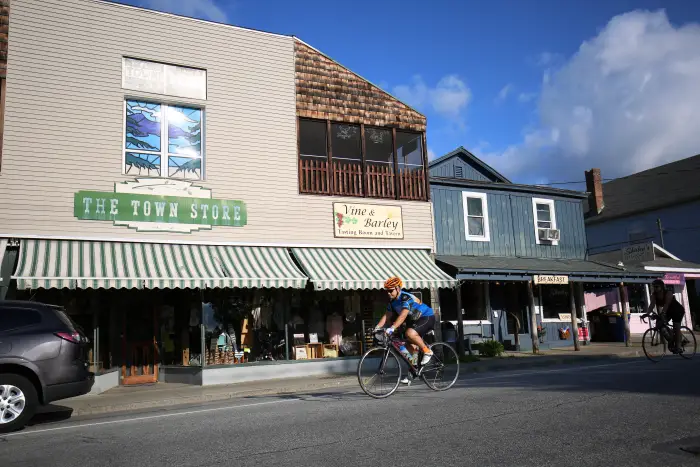 This 27-mile road cycling option, with just over 2,000 feet of climbing, may put your training regimen to the test. But starting and finishing in the village of Schroon Lake is hard to beat. Reason being, all of the reasons listed above (see paragraph 1) exist there. Plus, you'll get the major climbing out of the way in the first 9 miles, leaving you with a 9-mile downhill (wheeeeee) back into Schroon Lake at the end of the ride. You could also start in Olmstedville, which shortens the route to about 15 miles and removes the major climb out of Schroon Lake. Either way, you'll explore the low traffic rural beauty of the Irishtown-Trout Brook area. Win-Win.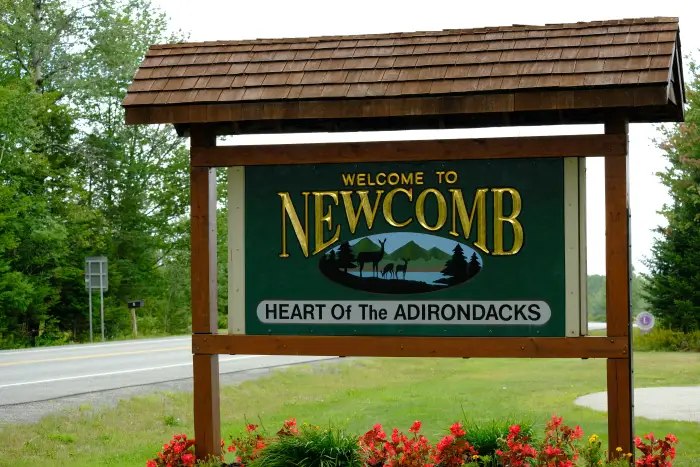 At about 25 miles, this out-and-back is scenic, historic and 100% low-traffic backroad. It starts and finishes at Newcomb Overlook Park, which not only offers a stunning 180-degree view of the High Peaks, but also has a brand new covered pavilion and excellent restroom facilities. 
In terms of riding, this route is pretty flat for Adirondack road cycling; you'll pedal along the Hudson River and have a chance to explore the ruins of the MacIntyre Iron Works' defunct furnace near the turnaround point. This relic of the American industrial revolution operated for only two years in the 19th century before shutting down, though subsequent mining on surrounding lands yielded 40 million tons of titanium before operations ceased in 1989.

If unpaved is your thing, this 20-mile route is suited to gravel or mountain bikes only, and is fully stocked with beautiful lake and forest views throughout. It's also the back end of nowhere: About half the ride is in the verdant Hudson Gorge Wilderness. Think high potential for wildlife sightings and fresh moose tracks everywhere.
Finding the parking lot, accessible from Goodnow Flow Road in Newcomb, is half the battle. However, the 6-mile drive to the parking lot on Gooley Club Road is well worth the adventure. And if you're feeling at all nervous, pop into Cloud-Splitter Outfitters before charging off the pavement to get the local intel.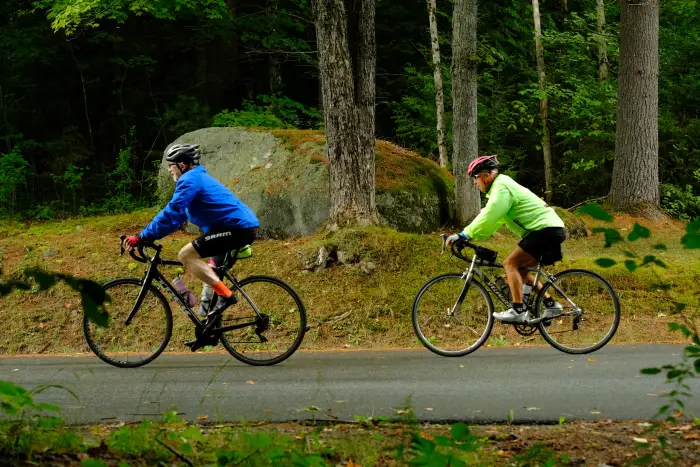 If you're up for a BIG day, here's a loop from Schroon Lake that you can toast with something frosty upon your finish. This 57-mile round-tripper with 4,000 feet of climbing features all the best sections of the Schroon-Olmsteadville loop, adds a leg through Minerva and wraps with an unbeatable finish following the Boreas River along the Blue Ridge Road into North Hudson. 
Yes, this route features more highway miles than any of the others listed here. But it's still absolutely stunning with plenty of mountain views, river crossings, and a unique look at life before the Northway existed and Route 9 was the main artery into the Adirondacks. Plus, you'll pass the brand new Paradox Brewery in North Hudson, located just north of the state's newest campground at the former Frontier Town theme park, on your way back into the village of Schroon Lake.