Whether you are pulling your own water gear or arrive with only your kayak shoes and a dream, Schroon Lake welcomes you to their namesake lake. It's over four-thousand acres of fun.
This charming resort town has been famous for summer hospitality since the late 19th century. And when it comes to the lake, nothing has changed.
Historic summer getaway
The Leland House was a resort hotel built in 1871 on the shore of Schroon Lake. It had six acres of gardens, three stories, and room for 125, which was soon expanded to accommodate 50 more. The Victorian-style hotel boasted a front veranda, a two-story porch, and an observatory. It quickly became popular and grew to the point where the main dining room (there was also a children's dining room) could hold 300 people.
As they say in real estate: location, location, location. As seen in this postcard from the 1900s.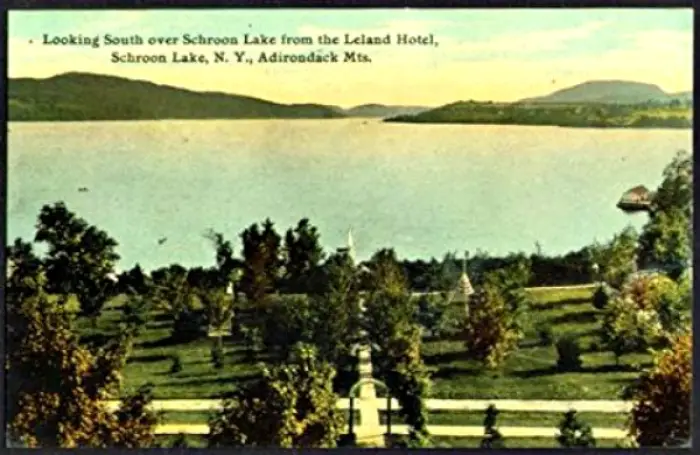 Schroon Lake offered plenty of gorgeous recreation with its nine miles of glacier-dug lake backed by the mountains of the Pharaoh Lake Wilderness Area. As its reputation grew, more and more people built resort hotels in this lovely area.
Eventually, "vacating the city" to escape the summer heat turned into the word "vacation." Yes, the Adirondacks didn't just invent the word, we perfected it.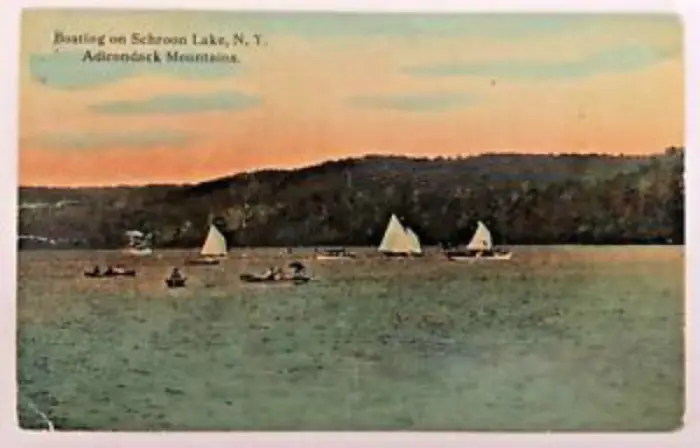 This postcard was from 1907, when wind or strong arms was the way to get around on the water. In fact, this was a favorite way of courting among young people; just the two alone on a lake, yet visibly not doing anything that would shock turn-of-the-century sensibilities.
The "summer romances" of the resort hotels of upstate New York was such a well-known phenomenon it led to popular Broadway musicals like "Wish You Were Here." The bestselling novel "Marjorie Morningstar" took place at the world-famous Scaroon Manor. Later, it would be a film musical starring Natalie Wood and Gene Kelly, filmed right in Schroon Lake.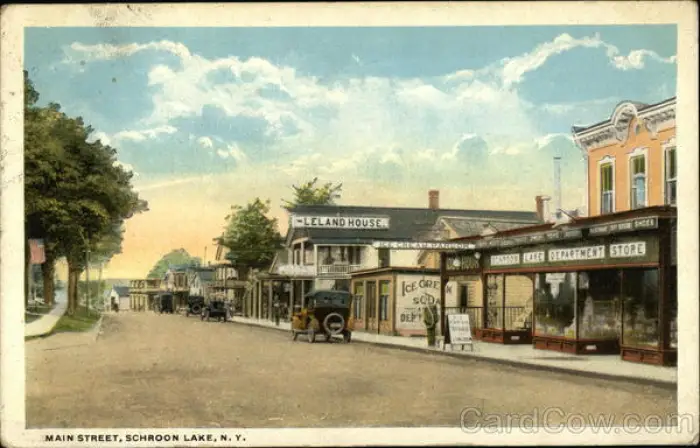 This vintage postcard, with a postmark of July 30th, 1920, gives an indication of how this resort town was known for the easy pace and scenic beauty of the Lake Resort culture. In the center is the sign for The Leland House.
Boating has always been a popular way to get out on the lake and view the lovely scenery. Now there are even more ways to enjoy the lake, with kayaks, Stand Up Paddleboards, and inflatables joining the traditional sailboats, fishing boats, and canoes.
Choose your favorite
Whatever you want to do on the water, the Town Dock is a great place to get going.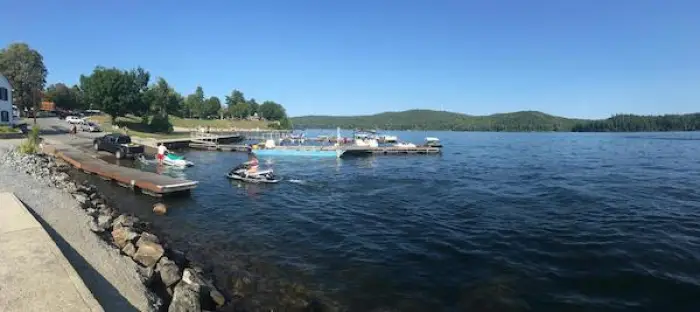 There's parking and accessibility about a minute from downtown, and plenty of days full of that Adirondack blue water and blue sky. Plenty of room for all, whether you are racing along pulling someone on water skis, or paddling a quiet shoreline looking for scenic photography opportunities.
If you have brought your boat, you might want to explore other local water bodies, like Paradox Lake, a long 896-acre lake with incredible mountain scenery. It is also known for its tranquility, as it is sheltered among hills and forests; one of the most untouched places in the whole of the Adirondacks. Water access is via the campground entrance, and has a hard surface ramp and parking. Further east, Eagle Lake is a prime paddling spot, located right at the edge of the Pharaoh Lake Wildnerness Area.
For those who aren't bringing their own watercraft, Schroon Lake Marina has the variety, and flexibility, you might be looking for.
They include water skis and tubes free of charge with all multi­-day boat rentals, so every skill level can have fun on the water. And for those who like it slow, there are kayaks and canoes. Browse their pro shop for anything you might be missing.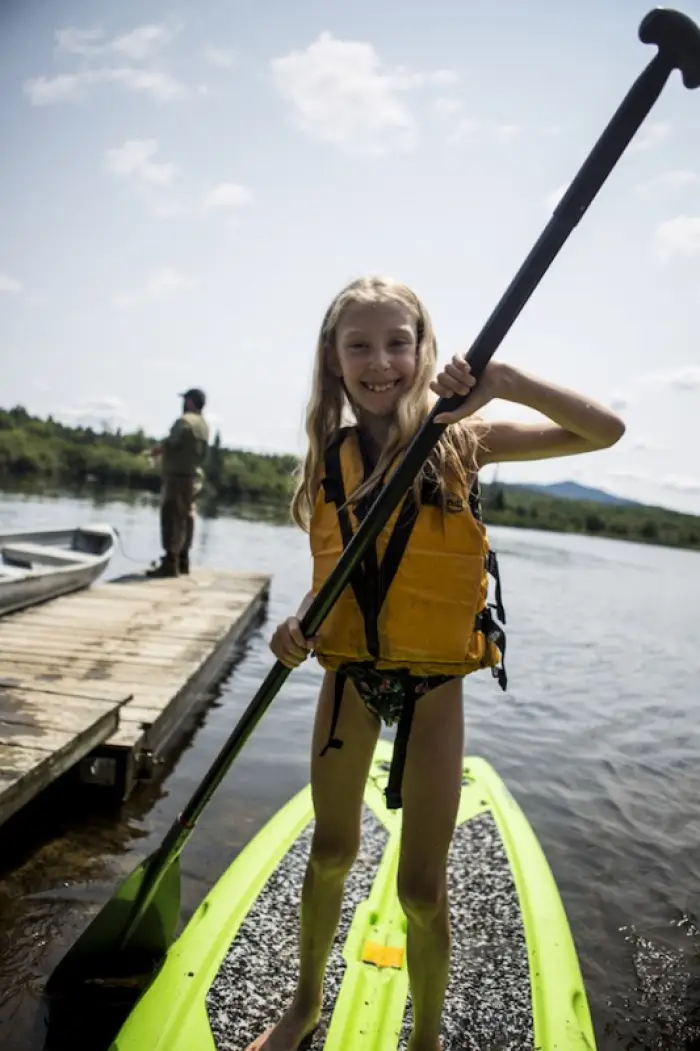 And, they even have Stand Up Paddleboards for their many fans.
Do you just want to start with your "toes in the water"? Then take a Schroon Lake Boat Tour for a one-hour cruise filled with scenic places and local legends.
Town beach
Best beach in the Adirondacks? That just might be so.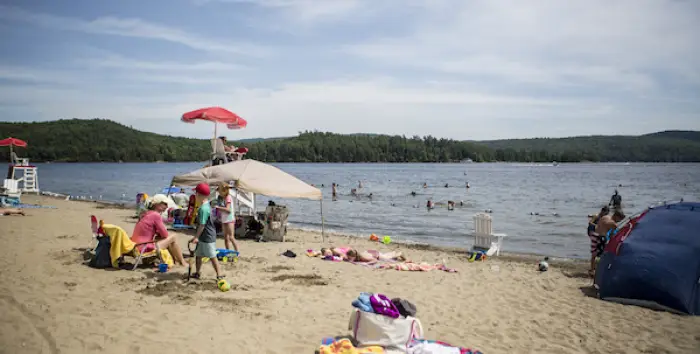 If you prefer the water closer to shore, Schroon Lake's Town Beach has fantastic swimming and sunbathing in their lakeshore park. Walk to downtown to find everything you need for a day at the beach, from a picnic lunch to whatever you like to fill that cooler with. There's plenty of ice cream nearby too, perfect for completing any summer day!
However you wish to enjoy the lake, the variety will please anyone in the family. From getting involved with that big beach read to testing those water skis, you can find your favorite kind of lake love at Schroon Lake.