Schroon Lake is a popular fishing destination year round. With 9 miles of length and over 4000 surface acres in an incredibly picturesque setting, it is naturally attractive. But there are other factors that make it so appealing to fishermen. Principally, of course, it's the plentiful presence of so many sport fish — landlocked salmon, pike, pickerel, lake trout, small and large mouth bass, among others. There are also three NYS DEC boat launch access points for the public to easily get on the water. One of these access points is very conveniently located right on Dock Street in the Town of Schroon Lake, steps from the main street and all its amenities.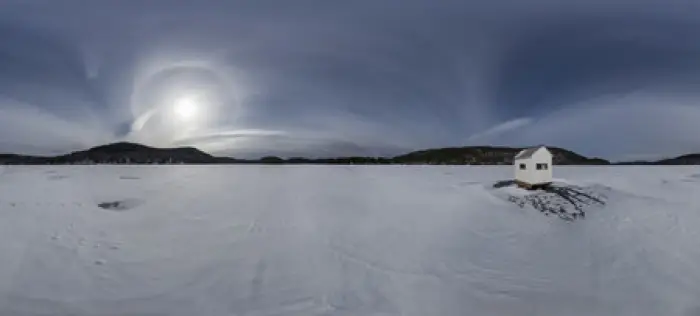 Winter Fishing
Ice fishermen are particularly attracted to Schroon Lake because of the excellent opportunities to land lake trout and landlocked salmon which are stocked annually to keep an abundant supply. Pickerel, northern pike, and perch are also highly sought after. If you don't have a boat to get out on open water during the warmer seasons, ice fishing provides that opportunity to try fishing other parts of the lake; provided the ice is safe.
Schroon Lake generally freezes solid enough to support this winter sport — though caution is urged whenever venturing out on frozen water. At least 4 inches of solid ice is recommended to support anglers going out on foot. No body of water has consistent ice thickness however. Areas around the mouths of tributaries, or where bubblers are in use to protect docks, are considered extremely hazardous. It's always wise to check with experienced locals or make use of a guide.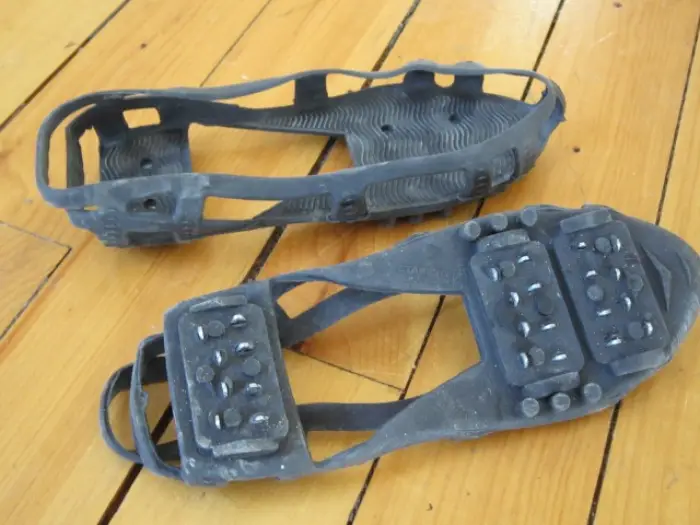 Guide Service Recommendations
Adirondack Mountain and Stream Guide Service has been providing all aspects of Adirondack outdoor adventures for 30 years. I recently spoke with Jamie Frazier, owner of the family-operated business; "All one really needs is the appropriate clothing and a license," he explained. Their guide service is prepared to supply all equipment and gear needed for an ice fishing adventure whether on Schroon Lake or on one of a gazillion other lakes and ponds throughout the Adirondacks.
He invited those that want to give the sport a try to contact him for insight and information. He recommended that appropriate clothing include footwear with waterproof bottoms and superior traction as well as some form of ice creepers or cleats. Slips and falls on the ice are not fun!
NYS Free Fishing Weekend
Yes, normally one does need a fishing license, but on February 18 and 19 that requirement is waived. As part of the NY Open for Fishing and Hunting initiative, no license will be required to give ice fishing a try that weekend. This is a great opportunity for first timers who may want to try the sport, or for regulars to introduce a friend.
Schroon Lake Fish and Game Club's 25th Annual Ice Fishing Derby
Another great opportunity for first timers, or seasoned anglers looking for a challenge, would be Schroon Lake's Annual Ice Fishing Derby. Previous derbies have seen as many as 600 participants, so a novice would have plenty of company and could even pick up some tips from those with plenty of experience. The Schroon Lake Fish and Game Club will be hosting their 26th annual ice fishing derby on Saturday, March 3 and Sunday, March 4 this year. This derby is always held the first weekend in March. It starts at daylight on that Saturday and runs until 4:00 p.m. on Sunday at which time all competing fish must be weighed. .
Registration is $15 per person and can be completed at the Schroon Lake Fish and Game Club itself, just off Hoffman Road. Registration opens up and tickets go on sale beginning Friday, January 20. Other sites where one can register are: Flanagan's Pub and Grill, and Timberwolf Pub, both on Main Street in Schroon Lake, or at Crossroads, located at 40 Dixon Road in nearby Chestertown. Note: Crossroads is also a great place to grab any needed gear or bait.
Cash prizes will be awarded for 1st, 2nd, and 3rd place, based on weight, for lake trout, northern pike, and salmon. Prizes are also to be awarded for the heaviest perch and pickerel. To further entice you, take a look at this winning northern pike pulled up by Jared Fuess during last year's derby. It weighed over 21 pounds! I can only imagine what it was like to pull up something that huge through a hole in the ice!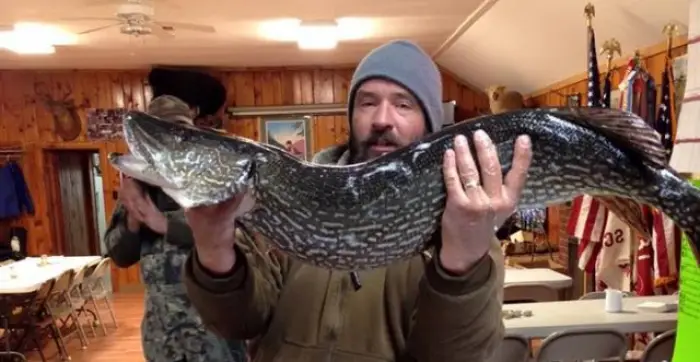 After being on the ice all day, plan to head to the Schroon Lake Fish and Game Club for dinner on Saturday evening. Beginning at 5:00 pm they will be serving a homemade pasta entrée, with salad, and homemade bread for $10. For more information contact them at 518-532-7953