I recently found myself reflecting on the last year, which lead me to decide to share with our readers my Top 5 Favorite Memories of 2015. Now this may sound a bit hokey, but I believe that when you are done reading, you will understand why Schroon Lake is such a special place to live and I hope you will come to visit, or even better yet, move here and raise your family...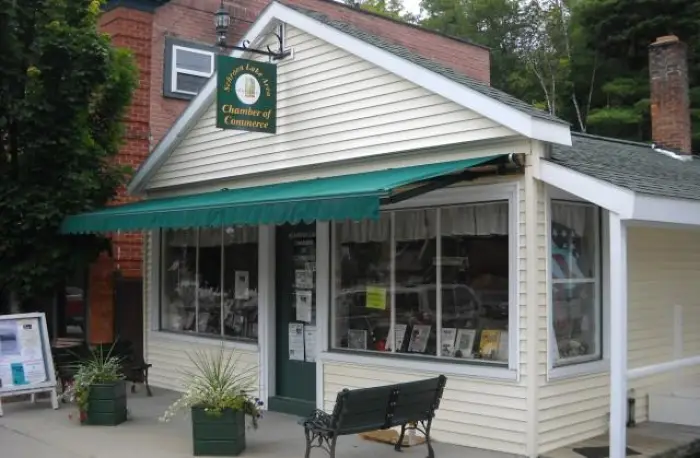 Favorite Memory #5: Welcome Home!
In December 2014, I was informed that the Schroon Lake Chamber of Commerce was doing a search for a new Chamber Director. At the time I was working full-time as a Sales Manager and going through the process of opening of my own business in Plattsburgh, NY. However, when I heard that my hometown was in need of support, I decided, without hesitation, to apply. A few weeks later I was offered the position, and I could barely contain my excitement.
Over the next few weeks I was blessed to have so many old and new friends in Schroon Lake reach out to my family to help with our transition. My first goal was to get moved in to my new office. I had multiple people volunteer to come remove old office furniture, set up new furniture, clean, organize, guide me and etc. One of the most helpful lending hands I recieved was from Roger Friedman, owner of Friedman Realty and Town Councilman. He came almost every day to check in and see if I needed any assistance. He even began to develop the community calender for the year so that I could focus on getting the office and visitors' center organized. I would never have gotten so much done in such a short time without all the volunteers that helped me, and I will forever be grateful for that support.
Our next goal was to find a home for my husband, stepson, and myself. One evening while searching online, I found two or three homes listed in the North Hudson area that I was interested in. One stood out more than the rest, as it was located on Palmer Pond, a pond named after my Palmer family. My great-great-grandfather was an employee at Roths Forge Village in the mid 1800s, and my great-grandfather grew up at the pond his entire life, passing away in 1968. His daughter, my grandmother, grew up there too. After reviewing the three properties on-line I contacted the realtor that was listed for one. Her name was Brooke Van Riper-Clark and it said she was located in Albany. But I would quickly find that the world is a small place, after speaking wth her I learned that Brooke had grown up living on Schroon Lake every summer just one street over from my parents, and she married into a family I have known my whole life. So it was nice to have someone that understood how special it is to live in the Schroon Lake Region guiding us through our process.
Brooke was an exceptional realtor, helping my husband and I through the entire process step by step. She is so dedicated that she even drove to North Hudson in a snow storm and showed us the three houses we wanted to see. We quickly picked the home on Palmer Pond. From the moment our offer was accepted till the closing, she was constantly in contact with us and keeping us grounded when we were worried, or stressed. We will forever be grateful for her help and the tools she used to make our house purchasing experience a great one.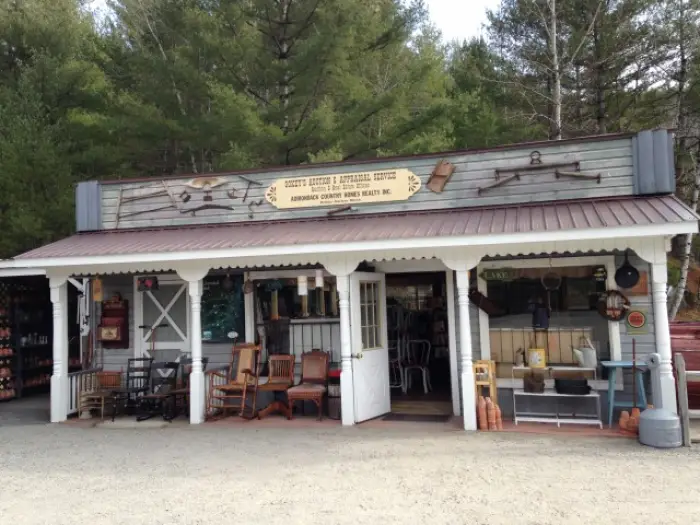 Once our closing was complete, we traveled to our new home to evaluate the work that needed to be done before we began moving in. Lucikly, it was a fairly new home so the work was mostly cosmetic. An hour into our visit, we heard a knock on the door and Jean Gokey (the listing realtor) arrived to remove the lock box. Not only is Jean a realtor, but she and her husband are the the owners of Gokey's Trading Post and Auction Service in North Hudson, NY. As she entered our home, I noticed that she carried something under her arm, which she announced was a gift from her and John. As she stood there, she turned the gift around and I was viewing a huge colored 1960s photo of an aerial view of Palmer Pond. The photo included the original Palmer farm house and barns. She explained that the item came through the auction 20 years ago and they had been saving it, hoping that the right person would come along that they could give it to. When she heard that I was the great-granddaughter of Frank Palmer and moving to the pond she knew that the photo had to go to us. That photo is now framed in a beautiful oak frame and hangs above our stone fireplace. And I will admit I got very choked up and will forever be grateful for this kindness showed by the Gokey's.
As we made our transition in to our new home, we corrected the few cosmetic issues we had with the help of Shawn at ATD Painting, Mountain Petroleum Services, Coop's Plumbing and Heating, and Jimmy & Debbie Duntley who removed two large trees from our yard.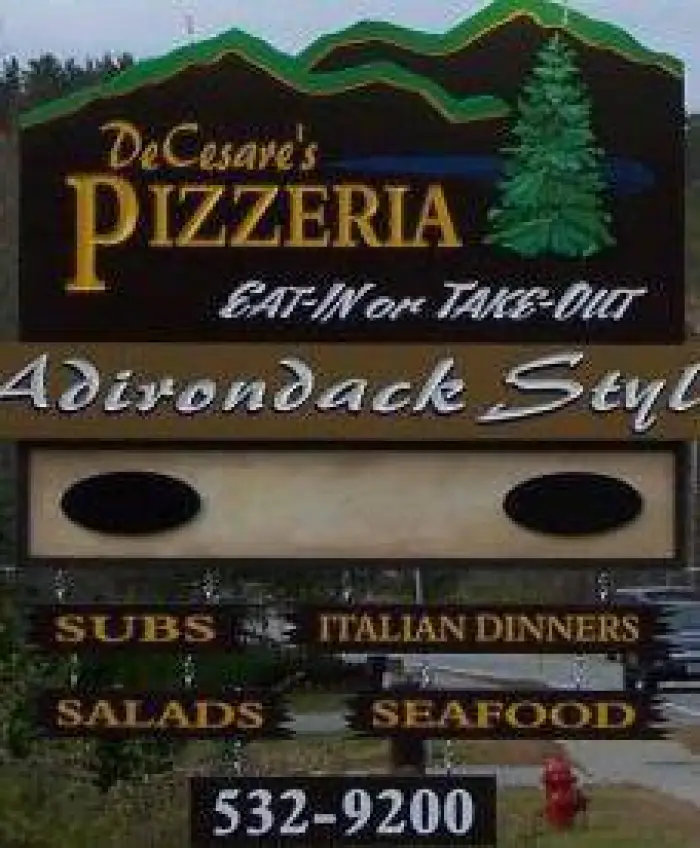 Favorite Memory #4: Dining Out!
One of the privilages of having a semi-empty nest is the ability to dine out more. Since moving here, we have been pleasantly surprised with the choices. We've had fun dining at or doing take-out with all the restaurants in the Schroon Lake Region. One of the first places we had to visit was DeCesare's Pizzeria so that my husband and son could try some of the best pizza in the North Country. I do not know who is the biggest fan now, myself or the seventeen-year-old. He gets very excited when he finds out that I am bringing home a DeCesare's pizza for supper. Just the other night he stated, "This is unique pizza... Most pizza is better the next day, not this one, it's best right out of the pizza oven, and it tastes so good it makes you want to eat it all the first night!"... Yep. I think he is addicted...lol.
Our next adventure was a Sunday drive around the back side of Schroon Lake to visit the Adirondack General Store. I have to tell you, this is a memory that will keep me smiling for years. I learned to drive on the back side of the lake as a teen, and when we first started out on our adventure I forewarned my husband that he needed to take the road gently. Well he chose not to take my advice and we went around the first two corners up on two wheels ... he quickly understood my suggestion and settled down to a nice leisurely speed. After a few minutes of enjoying the scenery he asked me how he will know when he is close to Adirondack. I just chuckled and said, "When you head down a long hill and see the only operating red-paneled glass phone booth along the side of the road!" He looked at me like I had four heads. I just laughed. Almost on cue, 5 minutes later, he stated, "You weren't kidding, there is a phone booth on the side of the road!" I laughed again and said "Yep, and it works...The general store is across the road."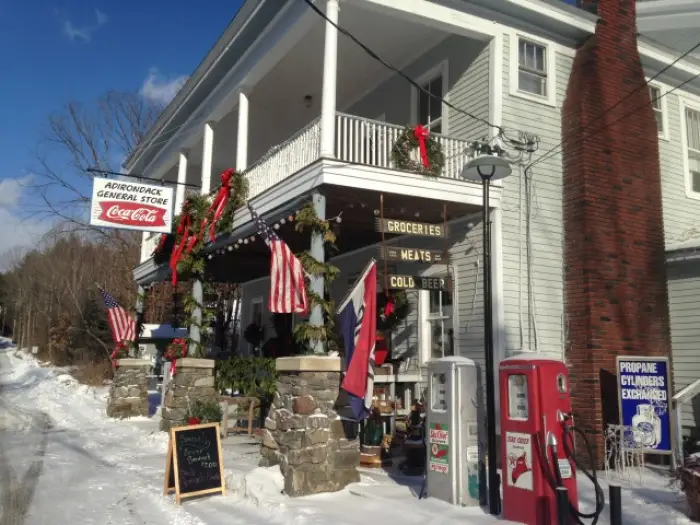 As we pulled up to the Adirondack General Store, he was a bit skeptical - but I told him to trust me. We entered the double doors and were greeted with a smile from Maureen, the owner. After visiting briefly, we made our way to the deli where we ordered some of the best subs we have ever had. On top of that we were able to purchase some delicious jams and sauces, and get our Oscars Smokehouse fix, purchasing smoked sausage, cheese spreads and more. Since our first visit this spring, my family and I love to visit this great little hidden gem on the back side of Schroon Lake.
Besides these two visits, we have also learned that we love the burgers and appertizers at Flanagans Pub & Grill, chicken wings at Timerbwolf Pub, homemade soup and pies at Pitkin's Restaurant, salads & desserts at Sticks & Stones, the best calamari and bread w/garlic olive dipping oil at Drakes', melt-in-your-mouth prime rib at Witherbee's Carriage House Restaurant, great baked pies at the Adirondack Buffalo Company... So many choices...
Favorite Memory #3: Enjoying the Outdoors!
One of the things I had missed most about living in the Schroon Lake Region is being outdoors. There is always something to do throughout the four seasons: skiing, snowshoeing, ice fishing, snowmobiling, hiking, kayaking, swimming, boating, water skiing, fishing, hunting, and so much more. It was nice to move back home and be able to go out on a boat and enjoy the lake after so many years. There is nothing better than loading up the towels, sunscreen, drinks, snacks, and taking a cruise down the lake; the mountains towering on either side of the lake, children out swimming on the shore giggling and having fun, the sun warming you to the bone, and the rocking of the waves putting you to sleep. However, I also love to take my fishing pole and wet a worm. The quiet and solitude first thing in the morning is amazing on Schroon Lake, where the water is like a mirror. You can often see the fish coming up to the surface to feed. A few of my favorite fishing spots are at the northern end of the Word of LIfe Island, the rock beds in front of Grove Point, and the northern bay near the mouth of the lake.
Fishing on the Schroon Lake was not my only fishing memory this summer. I also took my chance on Palmer Pond in front of my house. Unfortunately, this is not an easy pond to fish, as it originally was a river, and only became a pond after the dam was built many years ago. The north side of the pond is very shallow, so unless you have a canoe, kayak, or rowboat it is hard to get to where the fish are feeding from the shore. If you do have a kayak or canoe, you can spend a wonderful day out on the pond among the loons and wildlife. Without a kayak, it is easier to fish at the bottom of the dam in the river pools. There is a legend that my great-grandfather would take buckets of fish out of the pond, but no one else could catch fish. (Once asked how he caught so many, he replied that it was a secret. It has been said that he used an old-fashioned Adirondack technique that involved something "explosive" to catch the fish, not something I would suggest today as you will be going to spend time in the big hotel with orange clothing!)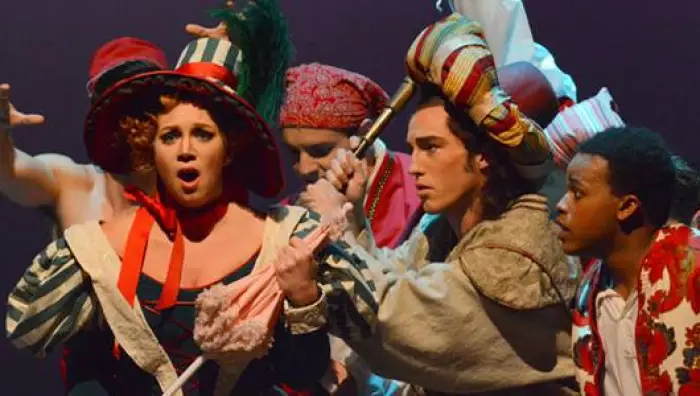 Favorite Memory #2: Cultural Experiences!
If you have never been to Schroon Lake you may not realize that we are full of cultural experiences. We have live music every week, art galleries, square dancing, opera, musicals, and so much more. As a young adult growing up in Schroon Lake one of my favorite activities was going to the square dancing/contra dancing in the park on the lake. And it was refreshing to return to a tradition thirty years later that was so much a part of my life as a young adult.
Wednesday evenings through out the summer I attended the square dancing and it brought back so many memories. My foot would begin to tap to familiar tunes I had not heard in years, and a smile would spread across my face as I watched locals and visitors twist, turn, and dance till they were out of breath. There is something about dance that makes everyone feel alive.
I also enjoyed visiting our two art galleries in Schroon Lake this year. Giant Mountain Studio Art Gallery is wonderful and inspiring to take a stroll through as it features work of over 25 local artistans. There is everything from rustic Adirondack furniture to breathtaking Adirondack oil paintings and they are open all year. But that is not the only art gallery in town - I also enjoyed visiting the "Art in the Attic" gallery located at the Towne Store. It is open to the public throughout the summer months.
Besides square dancing and art, there many local organizations that provide opportunities to enjoy the arts. Schroon Lake Arts Council provides open mic on Mondays and live concerts on Thursday in the summer. Witherbee's Carriage House Restaurant also offers an open mic session on Thursday nights throughout the year. Schroon Lake is proud to boast they are the home of Seagle Music Colony, one of the country's premier opera and musical training schools. They produce amazing shows in the summer season.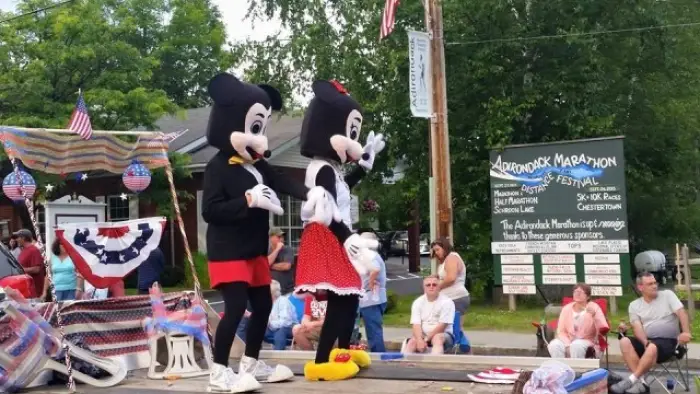 Favorite Memory #1: 4th of July!
One of the events that I have returned home for every year is Schroon Lake's 4th of July! There is something magical about the 4th in Schroon Lake. The excitement begins to build days before. American flags and patriotic decorations begin popping up all over town. The town park workers begin checking off their to-do list preparing for the crowds. The chamber signs contracts and goes over last minute details, the concert stage is brought in and put on the beach. The school prepares housing out-of-town bands and planning their new annual 5k run. Our local restaurants, motels, and beds and breakfasts begin to stock up on food and supplies as they know they will be full to capacity. The Community Church begins prepping for the biggest meal they will serve for the year.
When I started my new role as Chamber Director, I was informed that I would be in charge of bringing the 4th of July Celebration together for 2015. It was a bit daunting knowing that the outcome of the the day would lay completely on my shoulders, however I took on the challenge with zest because I knew that this holiday means so much to everyone in our community and to the visitors that travel here to spend their holiday weekend with us.
With the help of so many members and volunteers in the community, our 2015 event was amazing! We had concerts on the beach all day long, with people hanging out having picnics and swimming, the top of the park was full of fun things for children to do - from bounce houses to face painting. The chicken bbq at the Schroon Lake Community Church was hopping and making the entire town smell yummy. The lake was laced with boaters, the restaurants were full to capacity, and people were browsing and shopping the stores. The chamber had moved the Adirondack Basket Raffle outside on to the street and the employees were having a wonderful time chatting with our visitors and locals that stopped by. And finally it was time for our parade that had 4 divisions this year. With the guidance of great volunteers, the parade ran very smoothly and was a great success. I will never forget the feeling I had as I saw the parade flowing past the chamber, and the crowds whooping, hollering, and applauding. It was at this moment that I realized that I had made the right choice to move back to the town I grew up loving!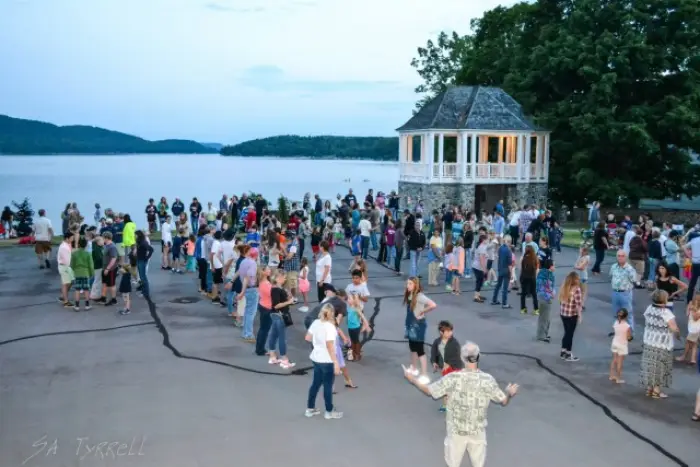 Blessed and grateful...
So as you can see, there are many things I am feeling grateful for this holiday season, and feeling very blessed. Looking back on my Top 5 list, there is one common denominator that flows through each memory, and that is the welcoming year-round and summer residents that you will encounter when visiting our Schroon Lake Region communities. The people that make up this region are amazing; they are hard-working, generous, loving, supportive folks, and I will forever be grateful for my first year back in my hometown. I now understand how amazing the quote is: "It takes a community to raise a child."
Ready to come play in our region? We're ready to welcome you! Join us this winter for ice fishing, snow sports, and a warm meal.