The Adirondack Hub region is a cyclist's dream, with scenic byways, gravel forest roads, and breathtaking vistas. The Hub region includes the towns of Newcomb, North Hudson, Minerva, and Schroon Lake, and there are several reasons why someone should consider visiting this area for a biking trip:
Diverse Terrain: The Hub region offers a wide range of biking terrain suitable for cyclists of all skill levels. Whether you're a beginner looking for leisurely rides on flat, paved paths or an experienced rider seeking challenging mountain trails, you'll find options to suit your preferences.
 
Abundant Trails: The Hub region is home to an extensive network of biking trails, both on-road and off-road. You can explore the scenic byways and backcountry roads that wind through the area, ensuring variety in your biking experiences.
 
Scenic Beauty: Schroon Lake is located in the heart of the Adirondack Mountains, known for its stunning natural beauty. Biking in this region offers breathtaking views of pristine lakes, lush forests, and majestic mountain ranges. The picturesque landscapes provide a serene and tranquil backdrop for your biking adventures.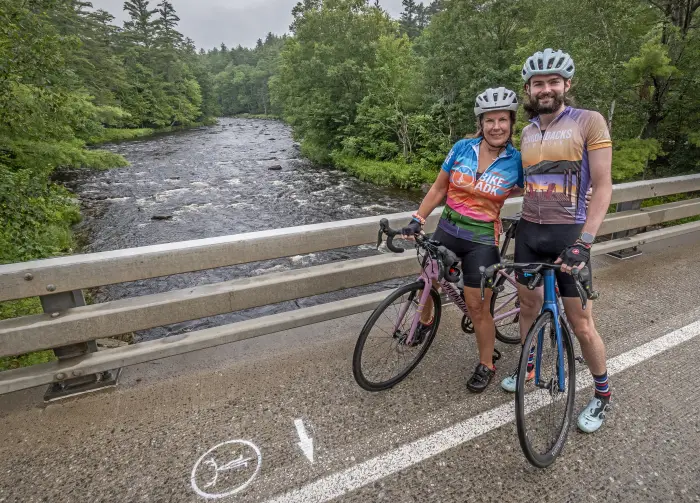 A valuable resource to use to find a curated route in the region is the "
Find A Ride
" section on the Bike Adirondacks website. Bike Adirondacks (BikeADK) is an Adirondack-owned and operated bicycle-powered company that hosts charity-driven events and sells apparel and merchandise. The next event on the BikeADK calendar is the highly sought-after gravel event called
The Handlebarley
.  
The Handlebarley

The Handlebarley cycling event is taking place on September 16-17, 2023. This two-day extravaganza is one of the highlights of the Adirondack cycling calendar, and BikeADK is at the helm of this fantastic event. The Handlebarley is in its third year and will feature two incredible fall days of gravel riding in the southern Adirondacks. You can sign up to ride just Saturday, just Sunday, or make it a full weekend. Either way, you're in for some incredible gravel riding, and riders will enjoy some of the most stunning scenery in the Adirondacks. The event officially kicks off late Saturday afternoon with a 20-mile out-and-back route from Paradox Brewery to stunning Elk Lake Lodge. Once there, you will take a tour of the property before cruising back to the brewery for a well-earned pint of delicious Paradox craft beer. Sunday's route is the main event and will be just as inspired. In addition to the thrill of the ride, Handlebarley offers a festival atmosphere with food, music, and camaraderie. It's an opportunity to connect with fellow cyclists, share stories, and be part of a community dedicated to making the world a better place through cycling. This year's Handlebarley event benefits the Penfield Homestead Museum, which includes the 1827 home of Allen Penfield, barns, a church, a parsonage, and ruins of the Crown Point Iron Co., where electricity in the form of an electromagnet was first used in industry.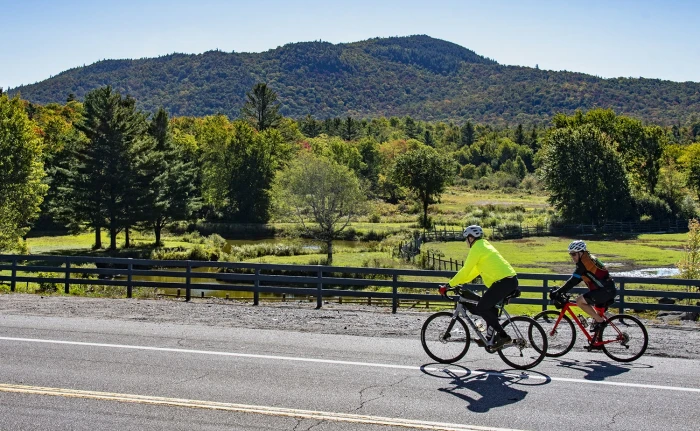 At the heart of BikeADK's ethos is the belief that cycling can be a force for good. Beyond the Handlebarley, BikeADK hosts a full calendar of charity-driven events that combine the thrill of cycling with the joy of contributing to meaningful causes. These events unite the cycling community and raise funds for various charitable organizations, making every pedal stroke count. Owner Doug Haney says, "As a bicycle tourism company, it's important that every BikeADK event supports a charitable organization or nonprofit. So much of what we can showcase on our rides is because they care for our communities and the landscape." 
ADK Apparel and Merchandise
BikeADK has a wide range of merchandise to show off your love for cycling and the Adirondacks. The company releases a limited edition cycling jersey that is only available the year it is released. The current design is a beautiful pastel sunset with Adirondack chairs on a dock and a loon gliding on the lake, an iconic Adirondack scene. Their t-shirts and sweatshirts also change frequently, so it's worth checking their website to see what they have available. This year, BikeADK's iconic logo - a bike with moose antlers in place of handlebars - morphs into tree roots for a fun, grounded design. BikeADK also sells merchandise from the Barkeater Trails Alliance (BETA), a non-profit organization that builds and maintains trails for ski touring and mountain biking in the greater Adirondack High Peaks region. Proceeds from the sale of Barkeater Trails Alliance (BETA) gear supports their mission to build, maintain, and advocate for backcountry trails for ski touring and mountain biking in the greater High Peaks region of the Adirondacks.