While winter means it's nap time for all sorts of Adirondack fauna, Paradox Brewery doesn't sleep during the cold months. 
Paradox Brewery, which opened in 2013, and in 2018 underwent an extensive upgrade, has become a basecamp for Adirondack recreation. What started as founder and army veteran Paul Mrocka's low-key lakeside home-brew operation, has now turned into the driving force behind this slice of the Adirondacks' revival as a gateway to pristine waters and scenic summits within the Blue Line. During the winter, craft beer enthusiasts make the transition from enjoying their food and beverage at Paradox's outdoor pavilion or deck, to their cozy indoor tasting room heated by the wood stove. From indoors you'll still be treated to a panoramic view of the Hoffman Notch and High Peaks Wilderness Areas.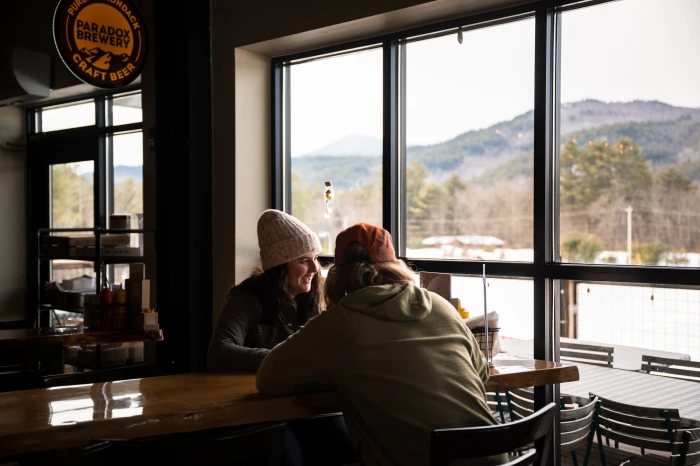 A lively indoor scene for cold winter days
While you're sipping on your Sonder Bräu lager, listen to the live music that fills the tasting room every other Friday night! You can sign up once you arrive, and enjoy their flagship Beaver Bite IPA before you belt out your favorite tune.
Paradox often boasts new craft beverages, and winter is no exception. They recently released a Belgian Style Tripel called Tipple Tripel! If you happened to miss the release party, stop by Wednesday-Sunday each week to give the Tripel a try! I recommend pairing their craft brews with the pizza, it's some of the best in the region. A personal favorite is their Buffalo Outlook pizza! Paradox is also situated along a popular snowmobiling trail that heads through North Hudson, and welcomes all riders to come grab some food and warm up inside.
Skiing and snowshoeing around the area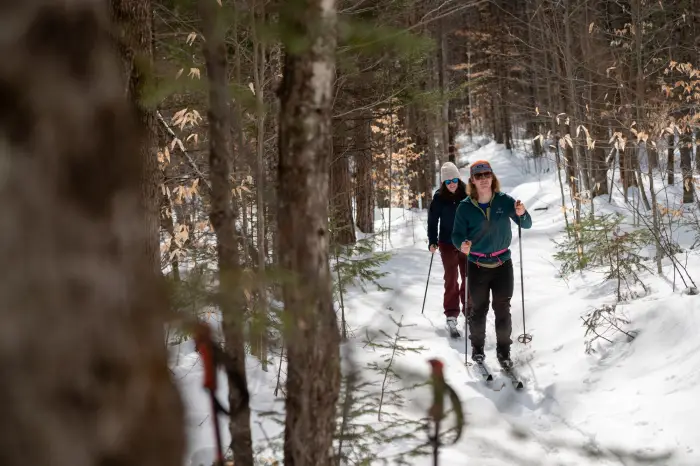 Like I said, Paradox Brewery is the perfect basecamp for Adirondack adventurers, and it would be a shame if you didn't combine a trip to the Brewery with some trail time. Whether you're looking to strap on snowshoes or glide on your nordic skis, Pharaoh Lake, one of the largest lakes in the Adirondacks surrounded by wilderness area, makes for a perfect day-trip for both of these activities. Go from the southern direction and it'll be 3.3 miles one-way to the lake. If the ice conditions allow, wander about and catch a glimpse of the spectacular views of Pharaoh Mountain, Treadway Mountain, and the several quant islands that dot the lake. A classic backcountry ski in the area traverses Hoffman Notch for a scenic 7.4 miles, where you can either ski car to car, or turn around once you reach the notch!
Transitioning to spring
The Brewery has plans to continue open mic nights past the winter months, and will have live bands in the tasting room for the spring and summer. Stay tuned for more information on when these will be!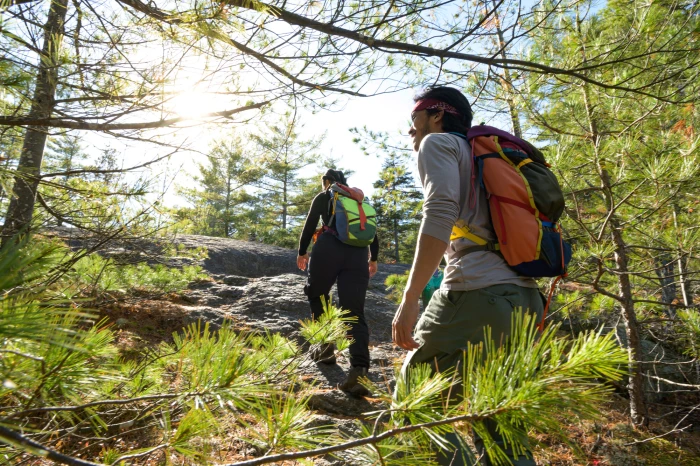 When the ice starts clearing, and the roads needn't be plowed, head to Putnam Pond campground for a paddle across Putnam Pond and a hike up Treadway Mountain! This long winter hike turns into a fun paddle/hike in the spring season. Follow the trail that heads along the south side of the lake, or go straight across on your SUP, canoe, or kayak!