We're getting to that point in the summer season where the heat seems inescapable. If that familiar blanket of humidity has got you down, it's time to get out on the water! If you're not a fan of getting tipped over by jet ski and speed boat wakes on the busiest lakes around the Adirondacks, allow us to introduce you to Balfour Lake, your new, secluded, best friend. Hugged by the nearby High Peaks, you'll be completely immersed in your own private Adirondack escape. We've got an entire day planned around the lake, so come take a peek.

Paddling 
Balfour Lake is a paddler's paradise. Calm waters and a quiet atmosphere make for prime relaxation all day long, with only the local birds chirping in nearby trees breaking the silence. Being miles from the nearest highway can have its benefits, including a perfect day out on the water. Kayaking, canoeing, and paddle boarding are the best fit for this lake. If you're bringing a buddy up to the Adirondacks who's in need of an SUP (stand-up paddle board) lesson, bring them to Balfour! The easiest way to learn how to stand on water, is on calm waters of course.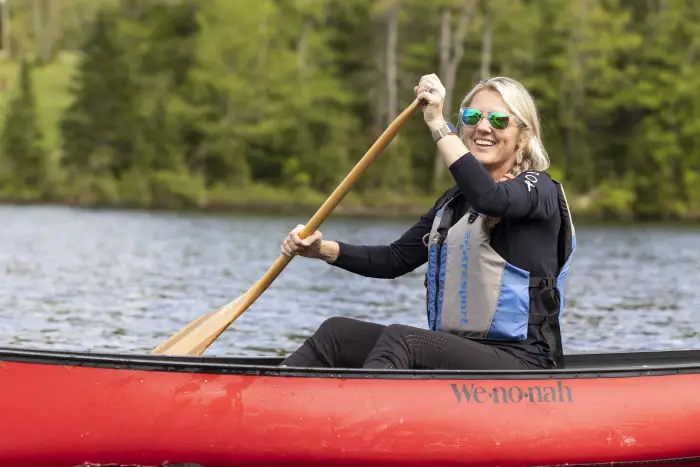 Fishing 
While you might not find too much luck casting from land, Balfour saves its prime fishing for the middle of the lake, so keep those boats handy! If you happen to leave your paddles behind, there are some smaller trout and bullhead that can be caught from land. Out on the lake, trout are about! From small to larger trout, you'll find the lake is stocked with plenty of fish perfect for all-day casting. A friendly reminder, while this lake is perfectly private, portions of the land around the lake are private property, so keep watch for property signs and know where to fish. For additional information, pick up a NYS Freshwater Fishing Guide at your local outfitters or regional NYSDEC office. Before your trip, visit the NYSDEC website to be fully informed about fishing in the Adirondacks.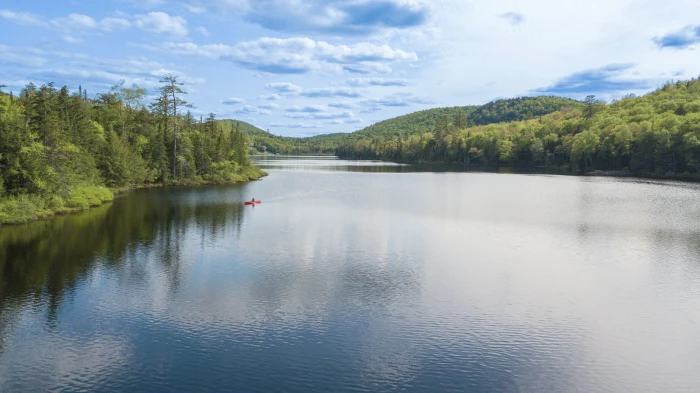 Pick your adventure 
After you've dried yourself off and packed away your gear, there are a few options around you to keep the fun going. Balfour Lake is conveniently located in between the towns of Minerva and Newcomb.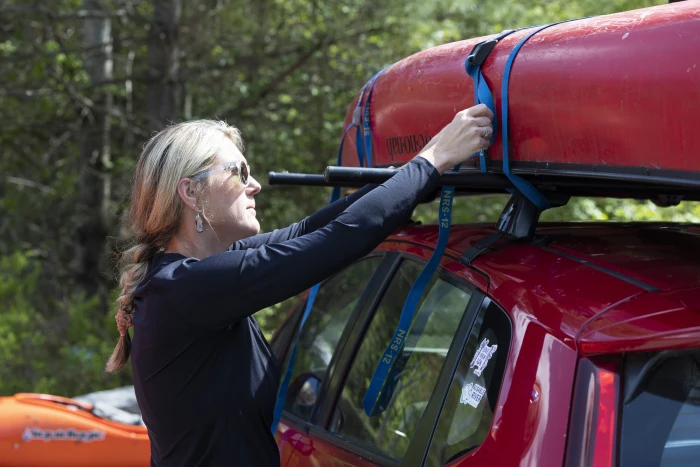 Minerva 
Head into Minerva for a well-deserved meal at Sporty's Iron Duke Saloon. Known for its lovable motorcyclist charm, you'll be too busy wandering about the restaurant to see all the collectible motorcycle-themed trinkets and decorations before you know what to order! When you're ready, Sporty's will serve you up with a perfect ice-cold beer and a delicious barside meal.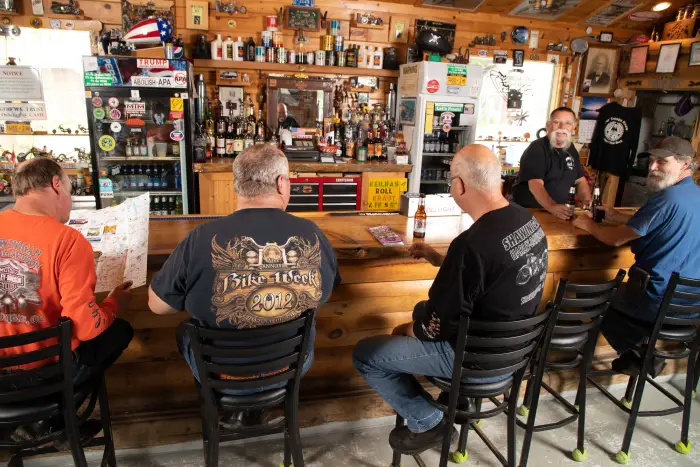 Newcomb
If you're heading in the direction of Newcomb, you have two more options for food. 
Lake Harris Lodge
The Lake Harris Lodge offers stellar views, a classic Adirondack dining experience, and lodge architecture, all wrapped up in one incredible restaurant. Enjoy appetizers like Frutti Di Mare, Italian Stuffed Artichokes, or French Onion Au Gratin. For your meal, choose from an extensive list of burgers and sandwiches, or try entrees like Lobster Tail or Classic NY Strip. After you fill your belly, venture out to the two-story deck and bask in the view of the lake, or walk down the hill to get an up-close view of the crystal waters. 

Newcomb Café and Campground
Nestled at the entrance of its sister campground, the Newcomb Café is home to cheery staff, hot coffee, and delicious comfort food that will have you asking for seconds. Try any of their confections, or their wide range of breakfast and lunch options, all prepared in the kitchen behind the main counter. The perfect setting to discuss your adventures, you'll find that the Newcomb Cafe can bring out the conversationalist in everyone, (based on personal experience, the owners love to chat and hear your stories!) Learn some local lore, dine on some dang good pancakes, and end the day on a high note. 
Enjoy the day
A day that includes Balfour Lake, Minerva, and Newcomb, is a day well spent. While you're in these towns, stay a while! You never know what stories you might hear, businesses you'll run into, or the memories you'll make along the way. Happy paddling!