I bet you came to the Adirondacks to spend your precious vacation days sitting around in a motel room, watching reruns of old TV shows and scrolling through apps on your phone.
Wait, that's not true? You're here to enjoy nature and spend every second you can outdoors? That's the spirit! There's a lot to do here: from hiking to biking to swimming at the beach, you definitely won't feel like you need to stay indoors. And don't forget about canoeing and kayaking!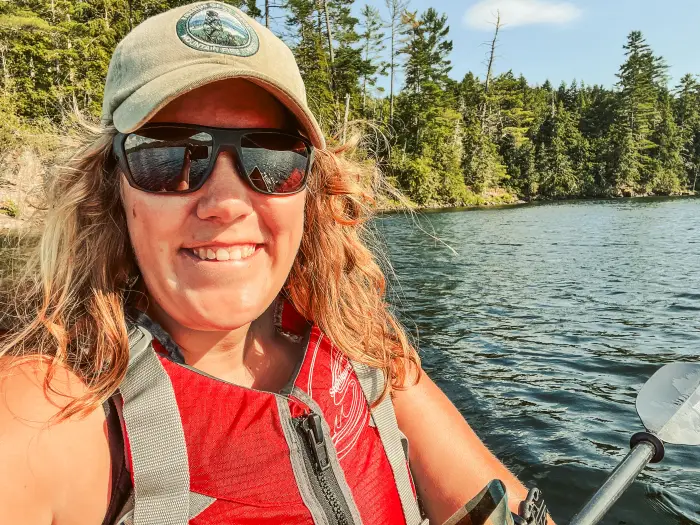 That's where the Schroon Paddle Challenge comes in. Unlike most of the other patch "challenges" in the Adirondacks, you won't be hiking anything to complete this. All you have to do is get in your canoe or kayak, or on a SUP, and paddle three awesome routes near Schroon Lake!
These routes don't need to be done in any particular order, or in any particular time frame. You can do them all in one vacation or over the course of several years. All that matters is you're out there having fun (safely). Don't forget your PFD, sun protection, bug spray, and snacks/water!
Horicon boat launch to Starbuckville Dam
Looking at this route on the map, you'll notice it's on the Schroon River sandwiched between East Schroon River Road and the Northway (I-87). This will not be the most quiet trip, but it is a simple, beautiful stretch of river. Camps and homes line some of the banks and motorboats are allowed, but they will likely be taking mellow cruises down the river, enjoying the scenery, just like you in your kayak! It's not all human-made construction, though; quiet pools of water are home to water lilies and lots of birds.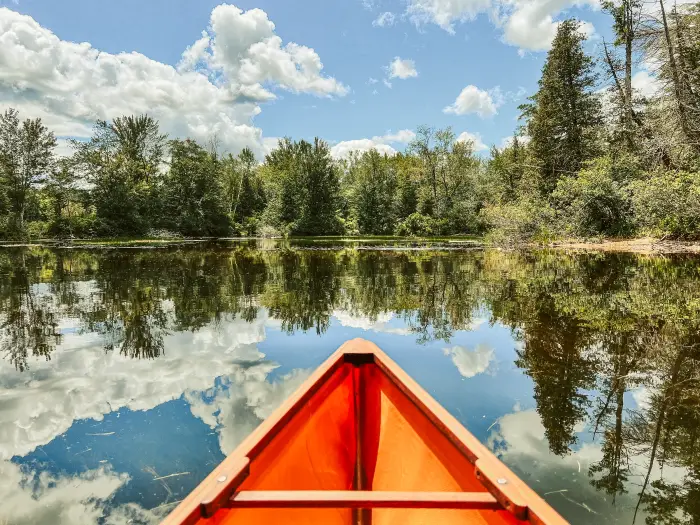 The details:
Distance: 4.25 miles one-way
How to get there: From Schroon Lake, travel south on Route 9 toward Pottersville. Just after Stone Bridge Road, take a right onto Glendale Road and the launch is in half a mile.
Put-in: Horicon DEC boat launch (link to Google Maps)
Take-out: Starbuckville Dam (link to Google Maps)
Helpful tips and tricks: If you only have one car to use, and have to paddle there and back, there will be some current to paddle into on the return, but it is definitely manageable. Right before the bridge and dam (take-out), you'll find a beach on the right. This is a private campground, but the owner is allowing paddlers to either rest briefly or take their vessels out of the water to end their trip. There is public parking at the dam. Exit your boat and walk it over to the public parking lot. Please treat this spot with respect! 
One cool fact: Around the halfway mark, a large ranch on the left sometimes allows their cattle to wade in the river. Don't worry, they don't pose a threat. Wave hello!
Alder Meadow Road to Schroon Lake boat launch
For a stretch of the Schroon River that's a little wilder, you can paddle from Alder Meadow Road to Schroon Lake. There's no development on the river between Alder Meadow Road and the north end of Schroon Lake! This section has wide shoulders; there's plenty of room for turns and casual floating. After a mile and half or so, Alder Creek enters the Schroon River from the east (left). After paddling further, you'll reach the north end of Schroon Lake. The water is shallow here, but you are entering a big lake so be prepared for windier conditions and possible waves. Stay on the west shore and you'll reach take-out in no time! 
The details:
Distance: 4.5 miles one-way
How to get there: From Exit 28 off I-87 (the Northway), turn right onto Route 9 south. Continue for half a mile and then turn left onto Alder Meadow Road. The bridge/put-in is less than a quarter mile down the road.
Put-in: Alder Meadow Road (link to Google Maps). Cross the bridge and park on the far side. It's a little steep down to the river so use caution.
Take-out: Schroon Lake DEC boat launch (link to Google Maps)
Helpful tips and tricks: With a beach at the end of this route, you might want to spot a car at the end and do a thru-paddle! Actually, a thru-paddle is recommended unless you are a strong paddler. The current in this stretch can be quick and sometimes challenging to paddle against. Go with the flow and float downstream!
One cool fact: Low water levels mean there are tons of interesting things to look at as you float down the river. The sandy and sometimes rocky bottom is lined with fallen trees, creating artful displays of crisscrossed logs. 
Paradox Lake
For a change of pace from river paddling, head over to Paradox Lake! The launch is at the DEC Paradox Lake Campground. Paddlers should be aware that motorboats are allowed on Paradox Lake, so there will likely be wakes encountered. Weekdays might present quieter opportunities. After launching, paddlers should head west and move through a section of the lakes called the Narrows. Explore Lower Paradox Lake, and make the return paddle to the launch. If you aren't ready for the day to be over, continue past the launch and head into Upper Paradox Lake and find Birch Island, which is a great place for a swim or a picnic!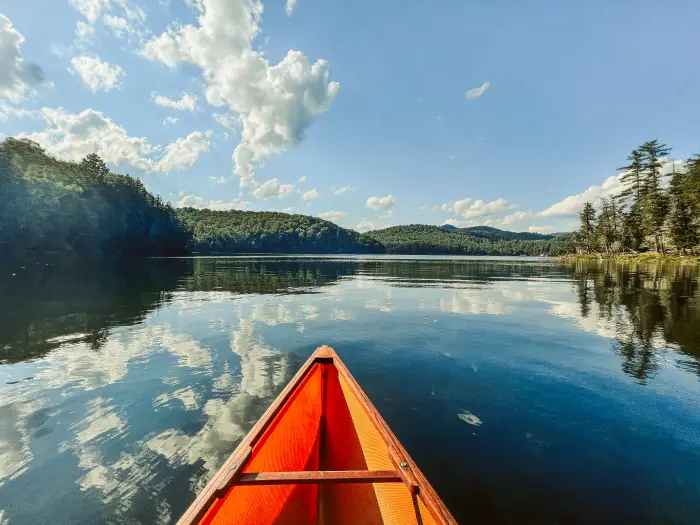 The details:
Distance: varies
How to get there: From Exit 28 off I-87 (the Northway), stay straight onto Route 74 east. Continue for just over 4-miles to the DEC campground on the left. Turn in and continue to the entrance booth. Here you'll find an attendant who can direct you to the boat launch.
Put-in and take-out coordinates: Paradox Lake DEC campground (link to Google Maps) 
Helpful tips and tricks: Keep your eyes open on Paradox Lake! As stated, there are motorboats, but there's also a lot of wildlife! Common Loons, icons of the Adirondacks, are often seen near the boat launch. Being prepared for other boat traffic and wildlife will help make your trip more enjoyable. 
One cool fact: If you're adventurous, just before you enter the Narrows (on the north shore) you will see a DEC sign for a hike up Peaked Hill. Pull up your boat, complete the 2.2 mile hike (one-way, 4.4 miles round trip), and continue paddling. The hiking trail passes near Peaked Hill Pond, and rumor has it the bass fishing is killer there.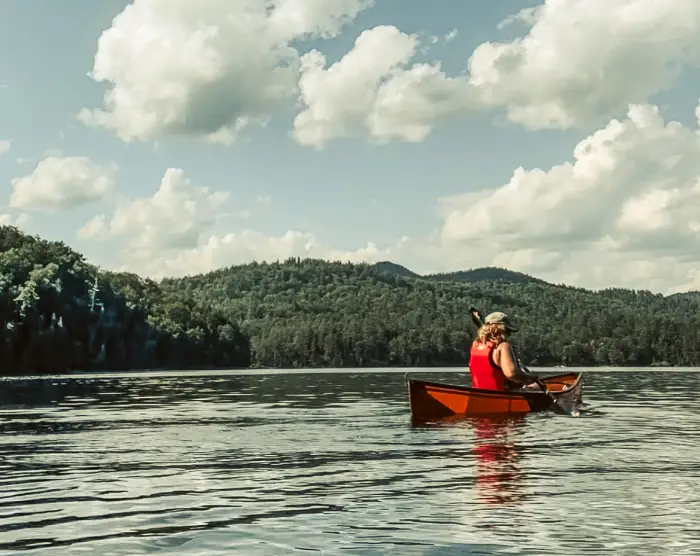 One last step
Enjoying a day on the lake is more than dipping your paddle blades in the water. It also includes being a responsible recreationist. By choosing to Love Your ADK you are ensuring that the waters (and lands and communities) of the Adirondacks remain protected for generations to come. Part of that includes making sure all canoes, kayaks, SUPs, and equipment are free and clear of non-native aquatic invasive species. In order to claim your patch and complete the Schroon Paddle Challenge, you must have your boat inspected by a boat launch steward. The stewards provide free inspections and educational materials to boaters across the Adirondacks. You can visit a steward station at Horicon or Route 74.

Looking for more adventures? There are plenty of other places to canoe or kayak around the Adirondack Hub, as well as a whole range of outdoor activities to complete your trip! After a day paddling down a river, you'll probably be hungry, so be sure to stop by a local restaurant for an Adirondack meal! You don't have to complete the Schroon Watershed Paddling Challenge in one day (but you can as part of the Ultra!); stay for awhile and relax in between trips on the water.