Before all the state paved highways and backroads, the easiest way to move around the Adirondacks was via the intricate system of rivers and lakes that flow through the six-million acre park. Loggers, guides, and hunters used these waterways to avoid dense forests and otherwise challenging terrain. Today, the rivers, streams, lakes, and ponds that make up the Adirondacks are not only used for transportation but for recreation as well.
The domed-shape of the Adirondacks lends itself to water flowing down river north, south, east, and west. What does that mean for recreational paddling the Adirondack Hub? Well, that just means you can paddle headwaters where the water's journey begins! The rivers that start here are the Hudson, Opalescent, Boreas, and Schroon. On top of those, there are tons of lakes and ponds of all shapes and sizes where every paddler can find something to enjoy.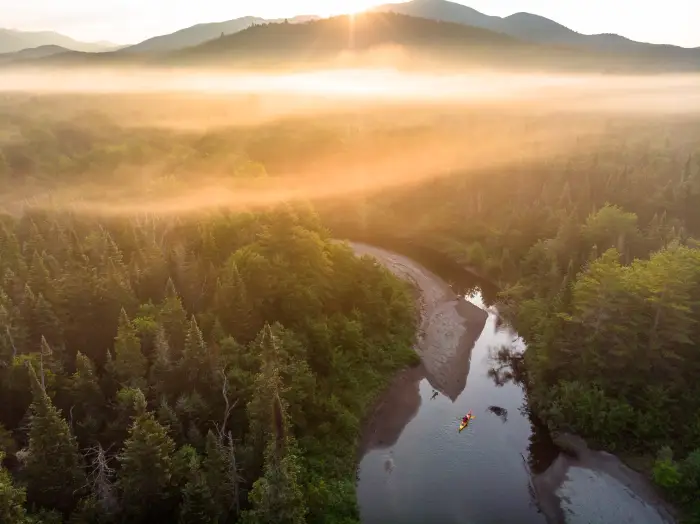 The mighty rivers
315 miles from where it empties into the Upper New York Bay, the Hudson River begins its long, diverse journey through the Adirondacks and Hudson Valley. You may know the Hudson as the wide, gentle river in New York City, but here in the Adirondacks, it's very different; near Upper Works, you can practically jump across. In Newcomb, accessing the Hudson is as simple as putting in at the Lake Harris boat launch. From the launch, paddlers can enjoy a calm lake before heading into the Hudson. The river can move swiftly, and within a mile of leaving Newcomb, you'll reach a set of rapids known as Long Falls. There are other rapids along this route, but all can be carried around. For that first mile after the boat launch, paddling on Lake Harris (which is a beautiful lake to paddle by itself) and the Hudson are wild and placid.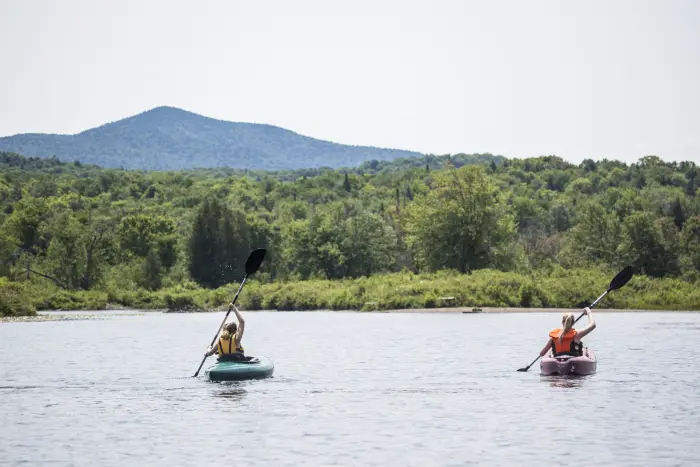 The Opalescent River is a truly wild river. If you want to get away from developed shorelines to find peace and solitude, this is the place. It is a wonderful pairing with a paddle on the Hudson. The water of the Opalescent can be quite shallow, but it is a delightful paddle nonetheless. As it winds and meanders through the forest, you'll find sandy beaches on the bends and magnificent views of some High Peaks and surrounding mountains. You may only be able to travel 1 mile up the Opalescent from its confluence with the Hudson, but in high waters, further travel may be possible.
For a more accessible route closer to town, the Schroon River is the perfect choice for a day trip. Its slow current and abundant wildlife make for a great outing. For the most adventurous paddler, the Boreas River is great whitewater.
New paddles in town
The best part about paddling in the Adirondack Hub is that there's always something new to explore. Within the last few years, two new paddling destinations have been opened to the public. The Essex Chain Lakes Complex has eighteen bodies of water to paddle, ranging from the small Chub Pond to the 216-acre Third Lake. Conveniently, the Hudson River actually flows from Lake Harris to here! The Boreas Ponds also offer paddlers something "new," as this tract was officially opened to the public within the last five years. Both locations have stunning views, serene paddles, and great opportunities to view wildlife. Moose and river otters are frequent visitors here.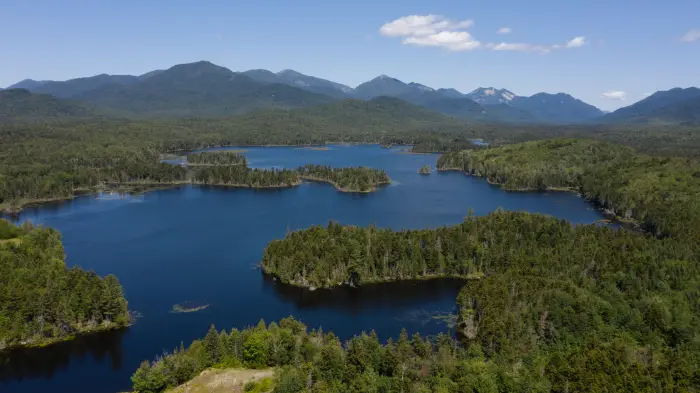 Quiet lakes and ponds
There are lots of other lakes and ponds ready for you to dip your paddles in the water. Some are wild and remote, and some are located closer to town. Henderson Lake is a picturesque option that sits in the shadows of the High Peaks. Oliver Pond is small, and while nearby Balfour Lake is larger, both see little visitation. You might spend more time paddling with the loons! 
In North Hudson, Courtney Pond sits right by Route 9 and is only about six acres in size, making it a great spot for families testing the waters to see if they like paddling or just want to get out on a pond that doesn't have motorboats.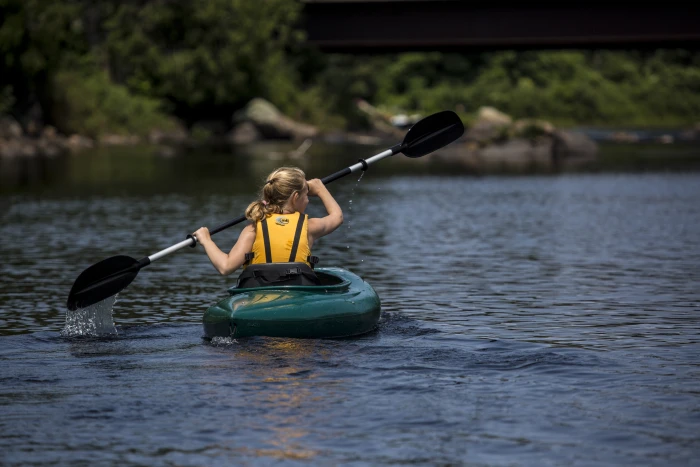 Eagle Lake is developed and has motorboat access, but it's a wonderful place to paddle. Paddlers can put in at a DEC launch in a quieter corner of the lake and then venture under Route 74 (seriously, it's fun!) out into the main lake.  At the far end, there's a sandy beach and a lean-to for picnicking or camping.
Love your lakes and ADK
The magic of the Adirondacks is the result of previous generations taking a long view and protecting the mountains, lakes, and rivers within the Blue Line. That tradition continues today as we support and encourage everyone to practice Leave No Trace ethics which help protect the lands and waters of the Adirondacks. By pledging to Love Your ADK, you're committing to protect, among other things, lakes, rivers, streams, and ponds. For paddlers, that means being mindful of the spread of aquatic invasive species by cleaning and drying all boats and equipment. Many of the lakes in the Adirondack Hub are pristine, and we know you'd like to help keep them that way!
Another thing to keep in mind if paddling in spring: don't forget your PFD! Air temperatures may be warm, but waters can remain cold for a lot longer. Life preservers are required to be worn from November 1 to May 1, and must be in your craft during all other times. Children under 12 must wear a PFD all times when paddling.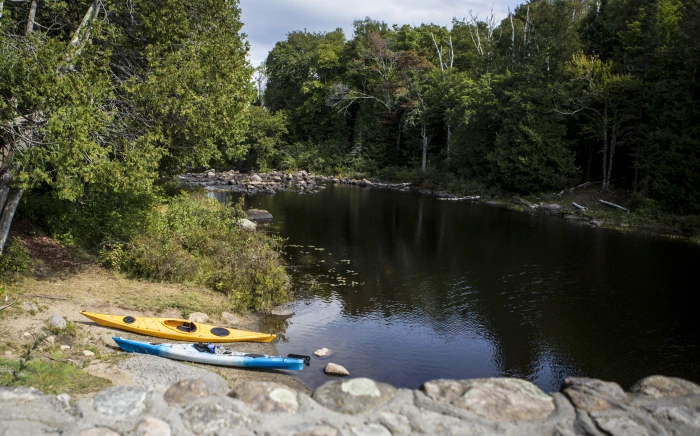 Of course, this isn't a totally comprehensive list of all paddling destinations in the Adirondack Hub. If you'd like more suggestions, talk to local guides or outfitters for recommendations, or even get rentals if you don't have your own gear. 
Above all else, enjoy your time on the water this summer!