"At sunrise everything is luminous." - Norman Maclean
Adirondack resident Beth Melecci loves to experience the rising of the sun. For her, the regular arrival of the sun over the horizon isn't just another day, it's a new day. It has promise, both for the world around and for herself, with everything coming alive and starting fresh. Happiest and most at home in the woods, Melecci is a state-certified hunting and fishing guide, singer/songwriter, and yoga and meditation instructor. She's a great example of someone who is in tune with herself and with the magical, visually stunning wilderness that is the Adirondacks, a place she loves to call home and encourages others to explore and enjoy.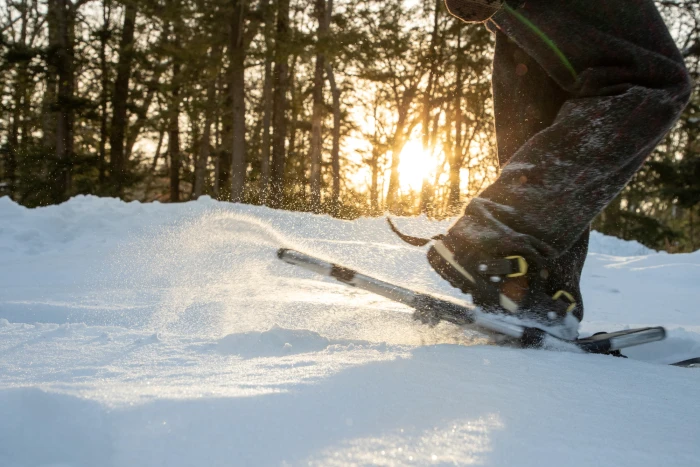 Melecci lives near Schroon Lake, although she's had the pleasure to live in some remarkable places known for wildness and natural beauty, including Alaska and Idaho. "I love wild places. I always come back to the Adirondacks and there's something about the Adirondacks that I feel like I'm at home here." For Melecci, home is more than a building or a community. It's a feeling of comfort, connection, and euphoria. It's hearing owls in the trees and the sound of the wind in fragrant, otherwise silent woods. A frequent hiker, snowshoer, and paddler, Melecci adores being out in the woods for the sunrise. "It keeps me feeling humble to be here in the Adirondacks and be able to see a beautiful sunrise and have mountains behind me and beautiful tall trees that have been there for a hundred years."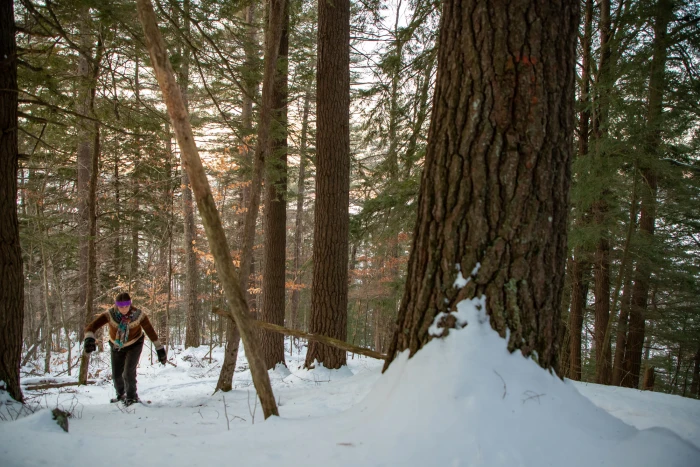 The Schroon Lake region offers many spots perfect for the sort of early morning hikes Melecci loves. Crane Pond, in the Pharaoh Lake Wilderness, is a favorite for both the scenery and it's proximity to Melecci's home. Spots like Crane Pond allow her to get up early — but not too early! — and explore the woods at sunrise before heading to work in Schroon Lake. "I am lucky," she says, "that I have these hiking trails close to me. There's so many places to go to, that are so close to me, here in the Adirondacks. That's how it is for most of us [who live here]." One of the things she likes best about living in the Adirondacks is that, unlike Alaska or Idaho, anyone can get out into the woods without having to go too far for creature comforts like yoga or cultural activities. You can get the culture along with the wild-ness.
While Melecci enjoys time spent with people in the woods or on a lake, particularly when guiding, she also savors solo time. As long as you take the correct precautions, the Adirondacks is a place where you can travel in the woods alone and do so safely. Spending solo time in the wild areas of the Adirondacks, with the sounds of birds and the wind for company, is a remarkable experience everyone should try at least once. Melecci explains, "I love to be around people, but I also like to be on my own in the woods, in a wild place with the animals. And the Adirondacks has a lot of places that you can do that, you can go by yourself and connect with nature that way, in the wild."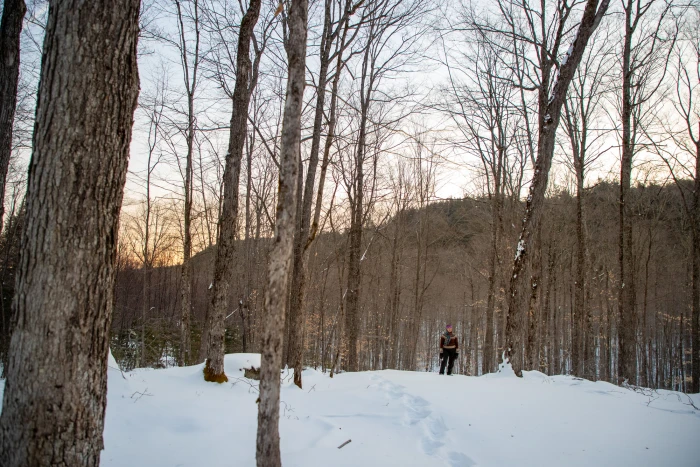 "I like to choose places that are harder to get to, because of the wild-ness. Where there's not people. Where there's more animals." As a licensed guide, Melecci spends a lot of time thinking about animals. Tracking engages her, particularly in winter, when tracks are clear in fresh snow. A grounded person, Melecci reminds us that "...being outdoors, we're in their home. When we're outside, we're in the animals' and birds' home. So, to stay mindful of that as well, and try to be quiet, and go inward, and just settle into that connection of the animal's journey, I love that. When I see a track, I go someplace with the track. It's like answering a mystery."
Being outside, seeing the colors of a sunrise or the sparkle of a night sky, Melecci finds inspiration for her songs and a sense of peacefulness. "You become quiet," she says, "and then you become very present and aware of where you're at, with each step along the way." Melecci encourages others to spend time in the wild, noting that "after you do a whole beautiful snowshoe or a ski or a hike, you're just uplifted. I'm uplifted. We're just blessed to be able to do that in the Adirondacks."
Melecci encourages anyone looking to spend some time outside to "treat yourself to an experience of the wildness of the Adirondacks. If you don't live here and you're coming to visit the Adirondacks, allow yourself to be enlightened by the wilderness here in the mountains."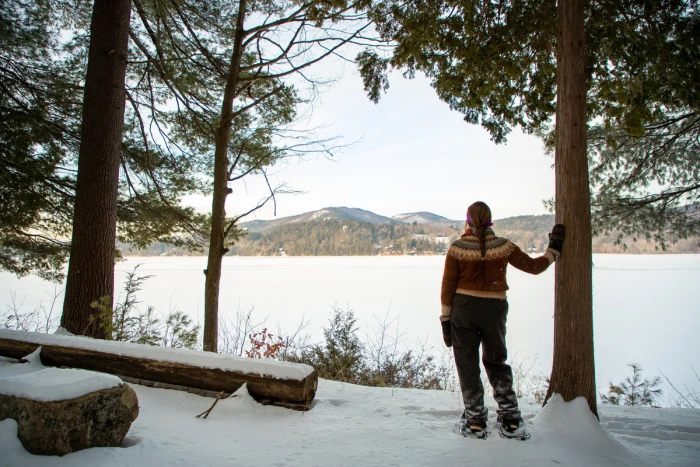 The Adirondack Hub has plenty of opportunities for you to treat yourself to your own experiences in the wilderness. Plan your own adventure by exploring where to stay, eat, and explore. As an outdoor enthusiasts' playground, there are always fun special events, too.
---
The Dawn Patrol series:
Episode 4: Mitchell and Bethany