"It is not important whether you make the summit; it is important how you make the climb."
For many hikers, climbing the 46 Adirondack High Peaks is the pinnacle of achievement. After summiting your 46th Peak, you've crossed bogs, battled black flies, navigated unmarked trails, and witnessed incredible nature in its purest form. Not to mention, put a few miles on your hiking boots. Becoming a 46er might signal the end of the journey, but for Grace Hudowalski, this was only the beginning. 
The Adirondack High Peaks have as much cultural history as they do natural. Grace's dedication to the peaks and valleys and everything in between (including the people) was, simply, unmatched.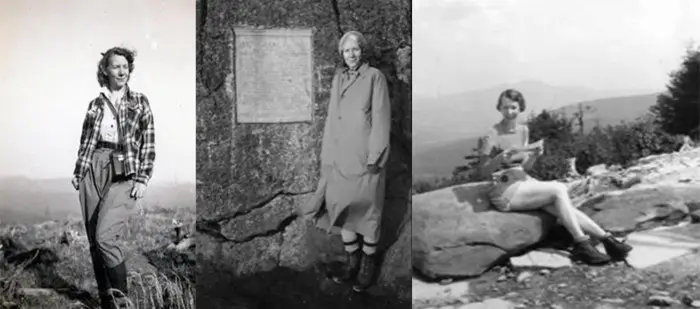 Who was Grace?
Grace was born February 25, 1906 and grew up in Ticonderoga with her parents and five siblings. She spent her early years in the foothills of the Adirondacks, growing an appreciation and love for the mountains. She later married Ed Hudowalski and the two settled near Troy, New York. In 1954, the couple bought a second home on the eastern side of Schroon Lake. This helped forge an even stronger connection to the region which they both already felt a strong connection to.
"The call of the wild" is something that many of us who live or visit the Adirondacks have felt. For Grace, August 2, 1922 was a pivotal date. This was her first ascent of Mount Marcy, the tallest Peak in the state, and from that day on, she was hooked. The rivers and streams in the valley are great, but there was something captivating about the highest mountains that spoke to Grace.
It wasn't all about the High Peaks, though. Aside from her direct connections to the mountains, Grace had a career in promoting New York State through the Commerce Department. She would weave together stories from the region, history of the state, and folklore in her publicity writing. As a "super saleswoman" of New York, Grace was a leader in developing tourism in New York after World War II. Even after her retirement she remained a well known public figure. She truly believed that the people who lived and worked in an area were as much a part of tourism as the travelers themselves. This human-interest based approach to marketing proved compelling and Grace was able to connect with locals and visitors alike in her love for the Adirondack region and New York state. Story-telling was a favorite activity of Grace's. In fact, she and her husband sponsored an annual folklore writing contest for 11th graders in the Schroon Lake Central School district from 1957 until the mid 1980s. Grace's love for story-telling and sharing experiences would become a common theme in her life.
As an outdoorsy woman in the early and mid-1900s, Grace was a role model and pioneer. Not many women were hiking during that time; it was seen as masculine activity. Grace was always encouraging women to get out and explore. In an interview with the Buffalo Courier Express Grace said, "Too many women stay indoors. It is good to get out of doors, to get lots of fresh air to bring color to your cheeks and zest to your step." That zeal never died in Grace; at age 70, she decided to re-climb the mountains that so profoundly influenced her life.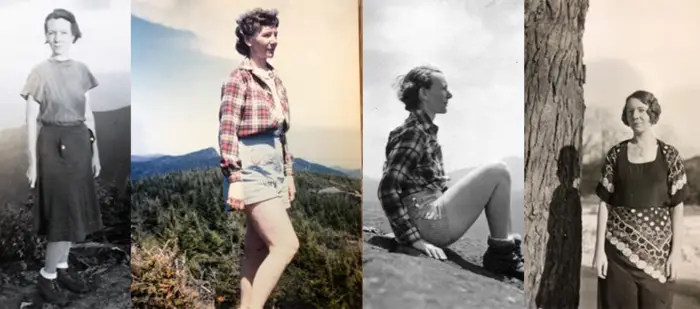 The Adirondack Forty-Sixers
Even years after her ascent of Mount Marcy, Grace was still enamored. Her love for the mountains convinced her husband to hit the trails in 1932. Ed, along with members of a local church, also fell in love with the High Peaks, and led many trips to the region over the following years. Less than six months after completing his 46, Ed helped organize a hiking club which was known as the Forty-Sixers of Troy. Their goal? To climb the 46 Adirondack High Peaks.
After the formation of this group, Grace began keeping track of each member's climbs, encouraging them to write summaries of their trips. This blossomed into a lifelong commitment to tracking the movements and stories of those who climb the High Peaks.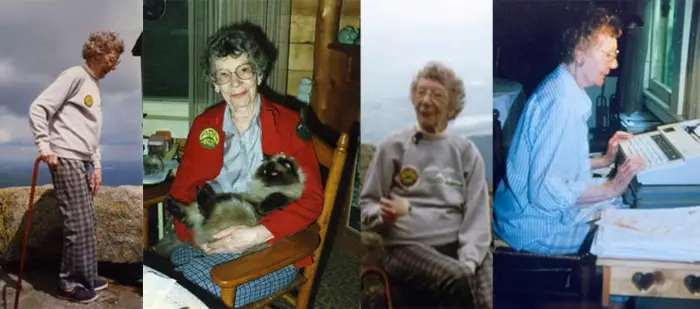 The Forty-Sixers of Troy quickly grew as more and more people became interested in climbing the High Peaks. Grace was a founding member of the Adirondack Forty-Sixers, Inc. and served as the club's first president from 1948-1951 and later as the historian. Her record keeping and enthusiasm never waned; for over 60 years Grace was a keystone element of the 46er experience. Hikers who wrote to Grace received personal responses. (For those who struggle to keep up with a few emails, here is a sobering statistic: for several years, Grace wrote up to 2,000 letters to High Peaks hikers. Talk about impressive!) As Grace said, "any mountain worth climbing is worth talking about." She wanted hikers to share their thoughts, feelings, and physical experiences. It was all part of the journey that didn't have to end when you got back to the car. Even though it takes a small army to keep up with the volume of letters Grace handled, the Forty-Sixers maintain a correspondence program today.
Grace Peak and Grace's Legacy
In an interview with the Albany Times Union, Grace spoke of what it means to become a 46er: "There is something spiritual in it. The mountains mean something different and special to each person. They are what connect us as a group. But the journey is an inward one, learning about yourself."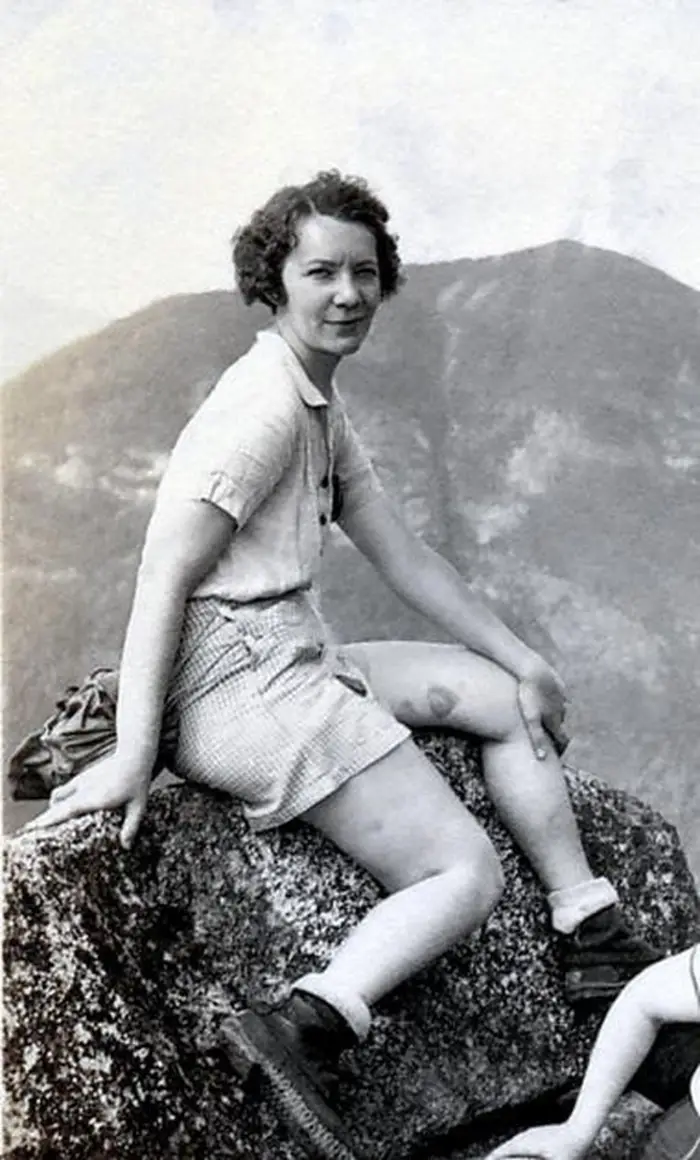 Grace herself became a 46er on August 26, 1937. At the time, she was only the ninth finisher, and the only woman to date. To celebrate her accomplishment and all she did for New York state and its people, the Adirondack Forty-Sixers petitioned to rename a peak in the Dix Range "Grace Peak." In 2014, ten years after her death, the United States Board of Geographic Names approved the petition.
Grace's work touched the lives of thousands, and continues to do so. Today, the number of 46ers exceeds 10,000. Whether you spend two days or 365 days hiking in the Adirondacks, it's become increasingly important to acknowledge the necessity of good stewardship. Grace's legacy lives on thanks to the The Grace Hudowalski Charitable Trust, which funds initiatives that engage communities, advance public understanding, and safeguard wilderness. She is an inspiration for us all. To love the mountains and care for the people as she did is, without a doubt, amazing.
All photos are courtesy of the The Grace Hudowalski Charitable Trust.
--
Read more about other inspirational Adirondack women...
Inez Milholland: Forward out of Darkness
Cheri Cross: Crafted by hand, with love
Andrea Kilbourne-Hill: From the Adirondacks to Olympics and back