As soon as the snow starts to fall, eager beaver Adirondack residents and visitors start thinking about a very important question: how soon can we ski? For some, this means alpine skiing. For others, it's cross-country, the origin of all skiing, a winter activity that has been a source of fun and transportation for more than a thousand years. Cross-country skiing is a great way to get outside and explore Adirondack scenery, for a few hours or a full day, and is ideal for families of all ages. It's a fun, often gentle form of exercise. The Adirondack Hub, with its many trails and protected forests, is a beautiful, serene place to cross-country ski, whether you're a longtime skier or beginner. Below, find our tips on where to ski, get gear, and even where to enjoy a hot meal after your cool adventure!
Where to ski
Great Camp Santanoni
Formerly the private summer home of a wealthy Albany businessman and his family, the luxuriously rustic Great Camp Santanoni has a special place in both Adirondack history and the hearts of outdoor adventurers. The camp, located at the end of a five mile carriage road, is only accessible in winter by ski or snowshoe (in summer, visit on foot, bike, or by horse-drawn wagon). The trip to the camp, through rich woods, past the camp's former farm complex, and along Newcomb Lake, is a great workout and always pretty. The trail is mostly flat with a few very gentle uphill climbs, making it an enjoyable, stress-free ski over generally well-established tracks.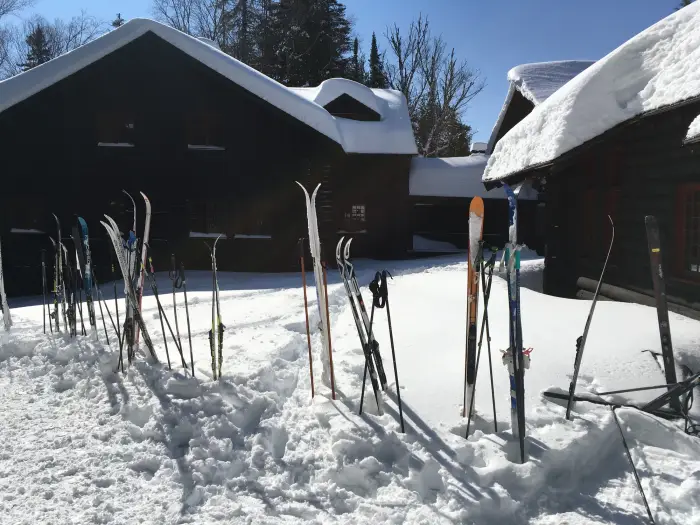 While visitors to Santanoni may ski to the camp on any day they choose, the state Department of Environmental Conservation, which owns the property, hosts three special winter weekend events each year and these are a must-visit. Skiers arriving at the camp on these days will find the main lodge, which is normally closed in winter, open for visitors, with tours offered by knowledgeable staff members from Adirondack Architectural Heritage. The camp's artist's studio will also be open as a warming hut and is a great spot to warm up, relax with friends and family, and enjoy hot cocoa, tea, or coffee before making the snowy trip back to the parking area.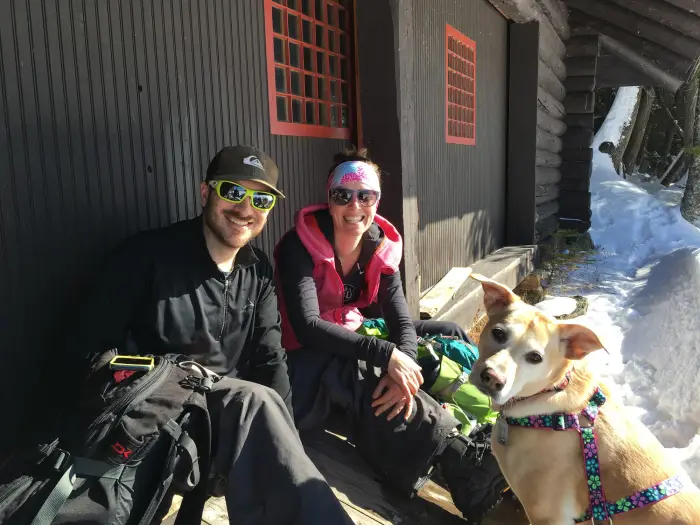 Pharaoh Lake Wilderness
If you're looking for room to ski, the Pharaoh Lake Wilderness Area, which covers more than 46,000 acres, is the perfect paradise for you. This region is known for the breadth of its many lakes, ponds, and extensive hiking trails, adding up to more than 70 miles of adventure. In winter, all trails may be used for cross-country skiing, so options abound. Skiers may access great trails from the southern and northern areas of the wilderness. Both offer excellent skiing and scenery; northern areas offer more shorter trails and segments, while the southern access offers access to Pharaoh Lake itself.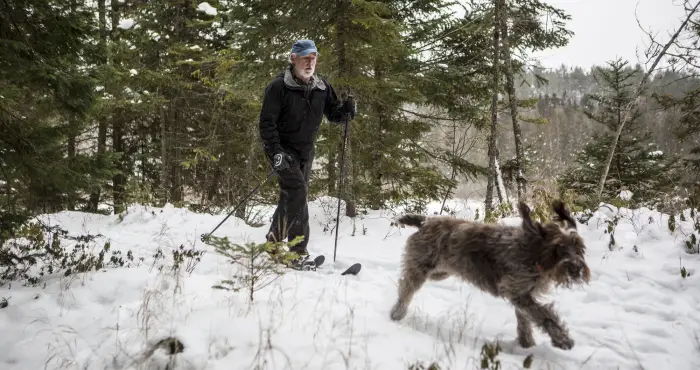 Skiers starting from the southern access, via the Pharaoh Lake Road, may choose to ski 3.3 miles to the Pharaoh Lake outlet and then return, or continue an additional 6 miles over a loop around the lake. Other trails meet the loop and, by placing a vehicle at either end, skiers may make a one-way excursion to the northern access near Putnam Pond, for a total of 11.1 miles of skiing.
The northern section of Pharaoh Lake Wilderness is accessed via Route 74 between Schroon Lake and Ticonderoga and offers a few options for ski trips. Near Eagle Lake, the Short Swing Trail offers a short but scenic ski 3.4 miles from the trailhead to a lean-to near Tubhill Marsh, past Ragged Mountain. Farther east, the Puts Pond Road, which leads to Putnam Pond, offers two options, including a quick 2.8 mile round-trip excursion past the pond itself, starting from the Berryman Pond Trail. To extend the adventure, skiers may continue on the Grizzle Ocean Trail, past Clear, Rock and Little Rock ponds, and the tip of North Pond, all in just under 5 miles, ending near the starting point.
Adirondack Interpretive Center
Located in the heart of Newcomb, on a peninsula jutting into Rich Lake, the Adirondack Interpretive Center is an endlessly pretty, relaxing spot to ski (or snowshoe!). Three of the AIC's trails are open for skiing in the winter: Rich Lake, Sage, and Sucker Brook. These trails are easy, moderate, and challenging, respectively, offering visitors of all levels of experience something to try, as they cross scenic bridges, travel through dense cedars and enjoy views of Rich and Belden lakes. Watch for winter birds, including black-capped chickadees and white-breasted nuthatches. The peeping of chickadees is a sweet accompaniment as you ski. 
Fun bonus: for the truly adventurous, Sage Trail links to a connector to Great Camp Santanoni.

Where to gear up
Cloud-Splitter Outfitters
Want to take a snowy Adirondack vacation and try out some fun winter sports like cross-country skiing but don't know where to start? Stop by Cloud-Splitter Outfitters in Newcomb for all your gear needs, plus great advice and friendly service. At Cloud-Splitter, you can rent snowshoes or skis, learn about the area highlights, pick up a great new pair of gloves, and even try your new gear on the trails behind the shop. For a truly specialized experience, you can even hire a guide to lead you on a fun backcountry skiing adventure.
Where to grab a hot meal
So you've spent the day traversing snowy trails through pine forest, past streams, ponds, and mountains, and you're ready for a hot meal and the opportunity to share a laugh over that moment you almost but didn't quite fall down the hill or accidentally slide into a split (it's okay, we've all been there). Gather around the table at Sticks & Stones Wood Fired Pizza & Bistro in Schroon Lake for craft beer, sizzling pizza, and all-around good times. If you're in Newcomb don't forget to stop by the Lake Harris Lodge or the Newcomb Cafe & Campground. Relax after a busy, fun-filled day and celebrate your snowy vacation. You just might be ready to get back out on the skis the next day!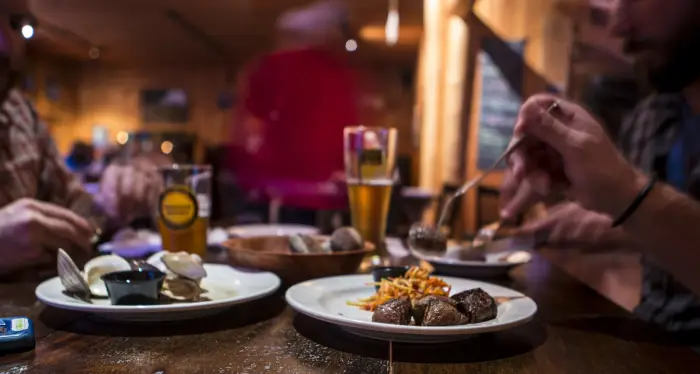 For more vacation inspiration, browse our great lodging options and outdoor activities. The Adirondack Hub awaits!