Submitted by guest blogger Zohar Gitlis
At the time of this writing I'm curled up in front of my wood stove, drinking tea and watching the frost send tendrils up my windows. The days are getting longer but winter's hold is still tight. Sugaring, or maple syrup-ing, marks the first whisper of an approaching spring every year — the sweetness isn't just a metaphor for the anticipated change of season — it's the literal energy force of our waking forests. When maple trees sense rising temperatures they send sap, or stored carbohydrates, from their roots upwards to the tree canopy — this is what maple farmers mean when they say the "sap is running." That sap provides the nutrition necessary for the tree to develop new buds; buds become leaves; leaves spend the long summer days capturing and photosynthesizing energy from the sun; that energy is then converted to sap and stored in roots for the winter and the next budding cycle. 
Maple Knoll Farm, in Minerva, is a small family-operated sugar bush nestled behind the Moxham Mountain ridge, and just a short drive from North Creek and Gore Mountain ski area. Eric Klippel bought the farm in 2005 and made his first syrup there in 2008. For Klippel, sugaring is a labor of love; the trees are tapped, firewood cut, and sap boiled by his friends and family every year. The folks that work Maple Knoll Farm with Klippel do it for a love of the process, the forest, and usually a small share of syrup for their home kitchens.
Klippel grew up in North Creek and made his first maple syrup when he was in 7th grade. He remembers tapping a couple of trees in his cousin's backyard and boiling the sap on a flat pan over a fire of slab lumber. He started sugaring in earnest in 1984 and ran a sugar house in North Creek for about 14 years before purchasing Maple Knoll Farm.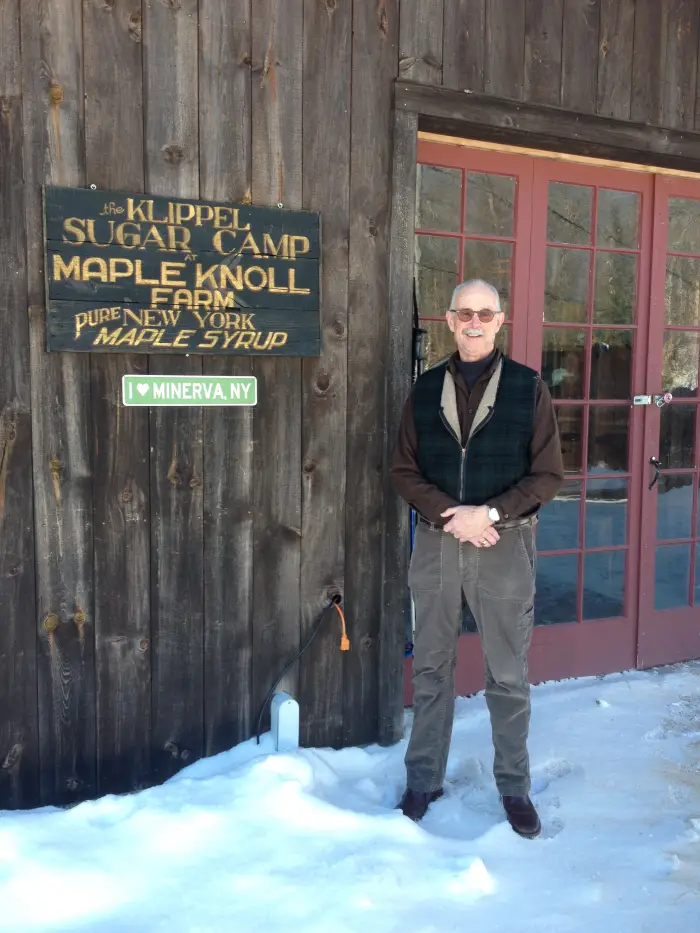 Behind the scenes
Klippel's days vary a lot during the year, but he typically starts tapping trees in early February with friends and neighbors. The vacuum lines are already hung from the 1,600 maples that he taps, but new holes are drilled and the polycarbonate spouts are replaced. Once the new spouts are in, Klippel will let the trees run on their own for a bit; waiting to turn on the vacuum assist until the weather cooperates to provide a steady stream of warm days and cold nights.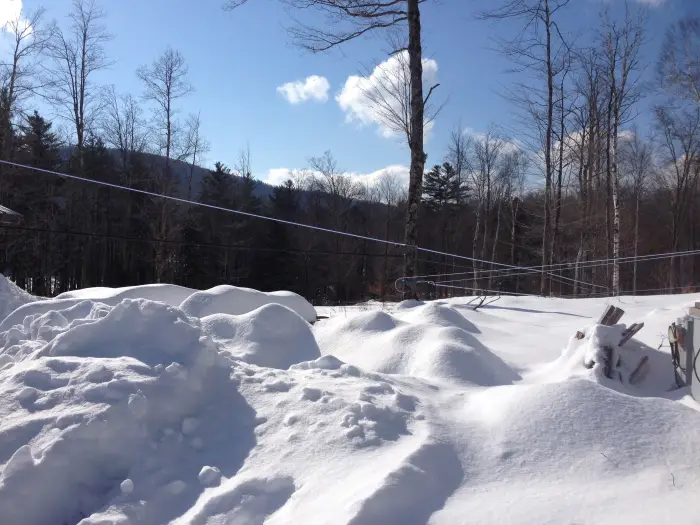 Once enough sap is harvested, Maple Knoll will fire up their sugar house. The sugar house is a majestic dark wood barn designed by Klippel with large glass windows intended to invoke Great Camp Santanoni in neighboring Newcomb. Klippel built the barn entirely with wood harvested from Maple Knoll Farm. The sugar house is home to a number of holding tanks for maple sap, a reverse osmosis machine (used to remove water from freshly harvested sap), an evaporator, finishing pan, and a commercial kitchen with equipment for making value-added products like maple cream.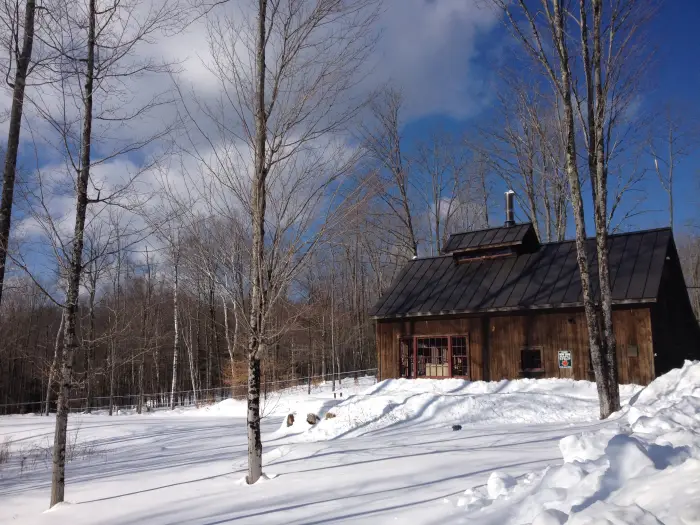 The evaporator is the heart of the sugar house; Klippel's is a 3-foot by 10-foot wood-fired vortex evaporator. After sap is run through the reverse osmosis machine, bringing it from 2% sugar closer to 10%, it goes to the evaporator pan. While running, the evaporator gets stoked with firewood about every 8 minutes; the high heat of the wood fire keeps the sap boiling to evaporate off the excess water. At finish the sugar density of the syrup will be closer to 67% (67% = that sticky amber gold that's perfect for pancakes, oats, and sneaking by the spoonful). 

Although a sugar house, warm from the evaporator's fire, air hung with sweetness and excitement, is always fun, Klippel prefers getting out into the woods. His favorite part of farming maple is developing the sugar bush itself. He enjoys finding a sturdy young maple with the potential to become a strong producer and releasing it. Releasing is the process of cutting out competing trees to give the maple room to develop a larger crown, increasing foliation and photosynthesis, both of which are important in a maple crop. The year-round work of caring for the maples, harvesting firewood, and maintaining a healthy sugar bush contributes to a bountiful sugaring season.
Keeping tradition alive
Most of all, Klippel loves the tradition of maple sugaring. "It used to be that pretty much every farmer here made syrup, they wanted sugar, they made syrup," he says. Maple Knoll's logo, "An Adirondack Tradition," emphasizes his focus on keeping that tradition alive. Klippel isn't in the sugaring business for big profits, saying "I really enjoy the tradition of it, the education of it. It is a tradition that I hope the people of the Adirondacks can sustain as a part of our heritage and our history."
Visiting
On my way out the door Klippel asks if I'll do anything else while in town. I tell him I would like to stop by Cafe Sarah in North Creek, a favorite in the area for fresh baked goods, hearty soups, and a warm cup of coffee. He responds, "Say hello to Sarah for me, and look out for my maple syrup, we have a retail display there."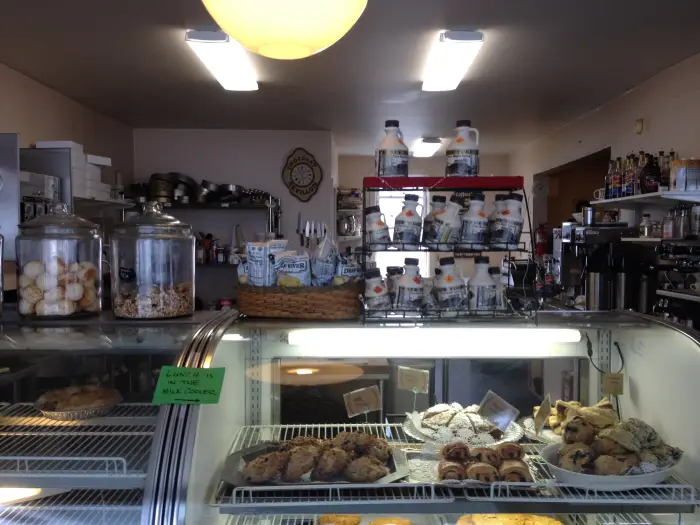 Maple Weekends this year are March 21-22, and 28-29. Klippel and his family will have cookies, homemade doughnuts, and maple products to sample at their sugar house in Minerva. If you're lucky and the weather cooperates you might even get to see the evaporator in action. While you're in the area check out Cafe Sarah in North Creek, or hike the Moxham Mountain Ridge Trail (the trailhead is just a mile further down 14th Road from Maple Knoll Farm).