Locals call it mud season, I call it lovely. There's nothing quite like spring in the Adirondacks. Everything is changing — wildflowers start appearing along trails, birds return from their southern sojourn, and the melting snowpack sends water pouring into streams, making them more dramatic to see. And of course, everything is wet, wet, wet. It is mud season, after all.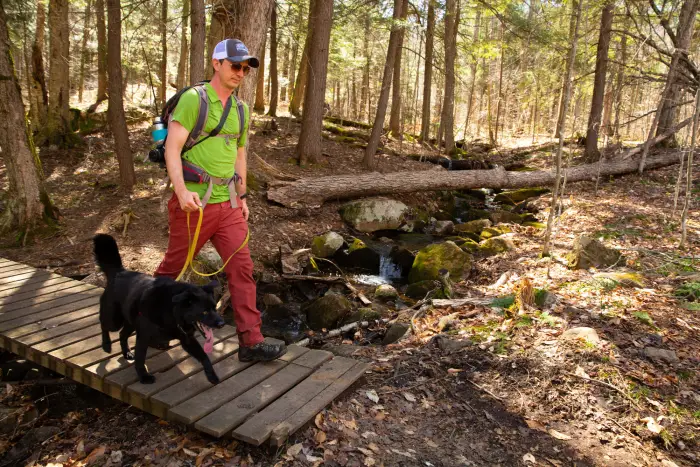 Hiking this time of year requires a bit of special consideration, but the pros outweigh the cons if you can get it down. Popular trails are less crowded, there's always a cool breeze, and the leafless, budding hardwoods make for over-the-shoulder teaser views while ascending steep slopes. I wanted to put some spring hiking considerations to the test on Goodnow Mountain, and in the process I made a handy guide for anyone interested in visiting the Adirondacks before summer kicks off.
1. Pick a trail that stays under 3,000 feet in elevation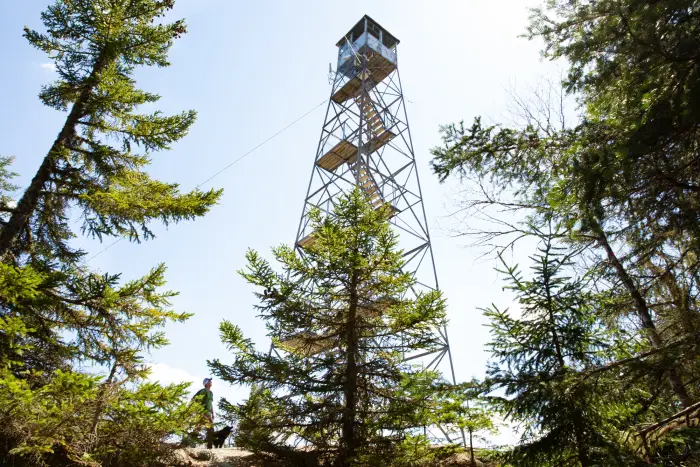 This guideline was my inspiration for hiking Goodnow Mountain. Well, that plus the fact that I'd never been there, and I'm always up for a new peak. Following the 3,000-foot rule gives trails on higher mountains a chance to dry out and harden so they can better withstand hikers' footsteps. I get it — I love the High Peaks too — but protecting our forests is more important to me than nabbing a summit. Goodnow is 2,690 feet in elevation, so that checked out. And guess what? Since there's a fire tower at the top I knew there'd be a great view, and what a view it is! More than 20 High Peaks can be counted from the tower, and smaller mountains and lakes were spread in every direction. It's not bad being under 3,000 feet!
2. Stay on the trail, walk through the mud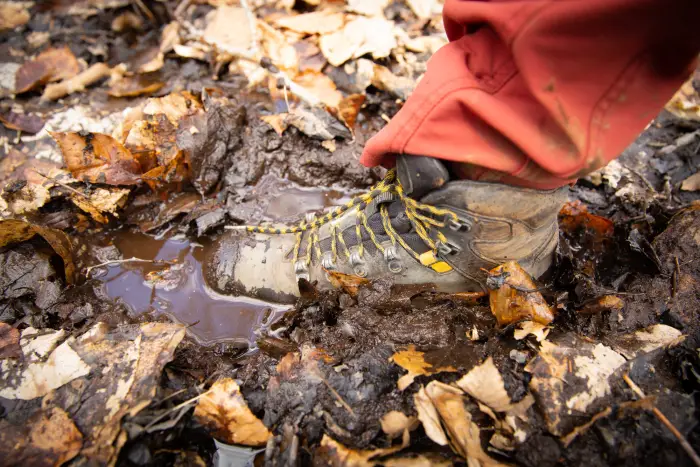 If you're an avid hiker, you know nature is full of surprises. One thing that shouldn't surprise the spring hiker is mud. Lots of it. So make sure you wear a good, sturdy pair of hiking boots, because part of hiking during mud season is getting those boots dirty. Speaking of dirt, always stay on the trail to avoid widening it, which can increase erosion and damage the forest. Even if the terrain ahead looks more like a swamp than a path, do the right thing and push through it. Your boots can handle it!
3.Don't pick the pretty flowers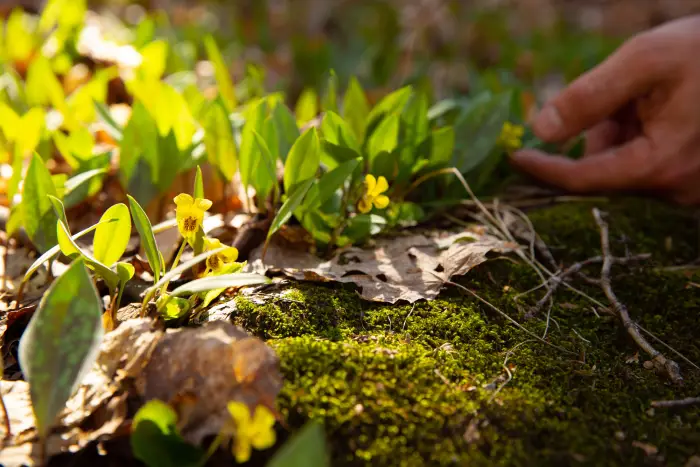 As I hiked up Goodnow, I was happy to see a bunch of spring ephemerals — wildflowers that appear right after the snow melts and before leaves appear on trees — along the trail. There were trout lilies, spring beauties, red trillium, and violets. It might be tempting to make a spring bouquet, but resist the urge. The best way to take flowers home is to take pictures of them.
4.Don't carve your name into trees, lean-tos, or anything else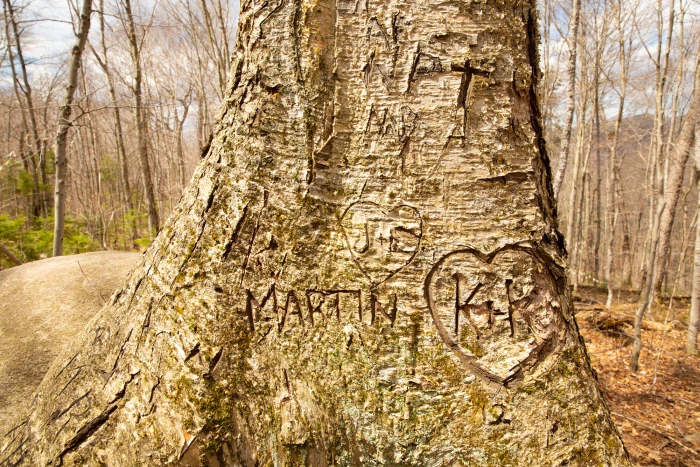 The 2-mile path up Goodnow is about as gentle as a trail up a mountain can be. There are a few bridges and catwalks for getting over wet areas and streams; it was shortly after one of those that I discovered a large yellow birch bearing a number of deep, human-inflicted scars on its trunk. I don't know who Martin is, but I'd like to have a word with him. This type of forest graffiti is unsightly to say the least, but it also compromises the tree's armor, making it more susceptible to diseases and parasites. No one wants to see your initials while they're hiking, so please resist the temptation to carve.
5. Carry it in, carry it out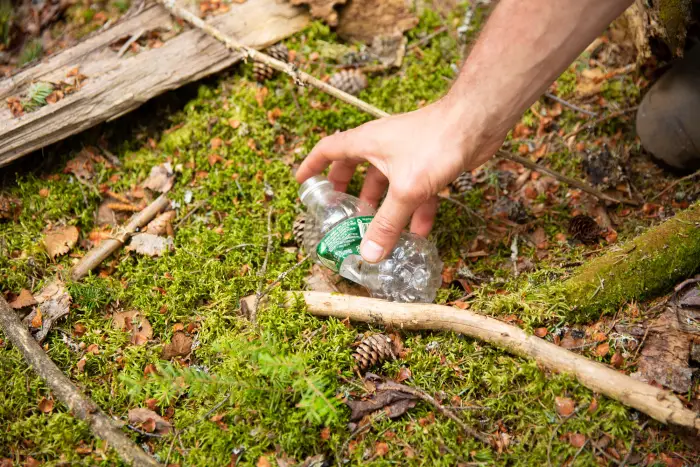 One thing that struck me when I started hiking in the Adirondacks some 20 years ago was how clean the trails here are. It's a simple concept — if you bring it into the woods, take it back out with you. Most hikers I've met are conscientious of this, so it's safe to assume two things. One, the occasional water bottle found along the trail was accidentally dropped from a pack, and two, it's good to grab those lost items as you pass them. I picked up an empty plastic bottle and a granola bar wrapper on my Goodnow Mountain hike.
6. Only build a fire in designated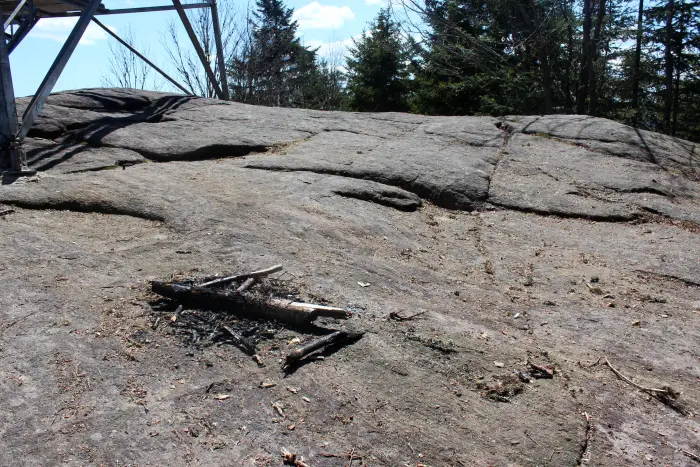 Goodnow's summit is an awesome place. Besides the view I described earlier, there's plenty of open rock to relax on. Unfortunately, the first thing I noticed as I stepped out onto the rock, besides the impressive fire tower, was the remains of a campfire. With no fire ring to contain the fire, and no source of water to pull from to make sure it's out, it's ironic, for sure, that a fire hazard was located at the base of a fire tower, a structure originally built to survey the landscape for forest fires.

If you want to check out the night sky from a mountaintop, I suggest picking a mountain with a designated campsite near the top, or hiking the peak in the late afternoon and returning via headlamp. An open, windy area is no place for a fire!
Goodnow Mountain stats
Getting there: Take exit 29 from Interstate 87 and head west on Blue Ridge Road, toward Newcomb. After about 18.5 miles, turn right on Route 28N and follow that for about 9 miles as it goes through Newcomb. The large parking area is on the left, about 1.5 miles after the Adirondack Interpretive Center.
Distance: About 1.9 miles to the summit
Elevation: 2,690 feet
Elevation gain: 1,040 feet