Submitted by Guest Blogger: Troy Thomas
---
After a blend of hazelnut/chocolate coffee and a hearty, thoughtfully prepared, ham and cheese omelette breakfast, I set out early for my outing. Not five minutes into my journey, poised on the side of the road is a doe, regal in its timid stance, waiting to cross the road.
I am grateful she saw me and I her. I remind myself that deer move from dusk until dawn, and this silvery blue autumn cloud cover has stretched the dawn hours on this crisp morning.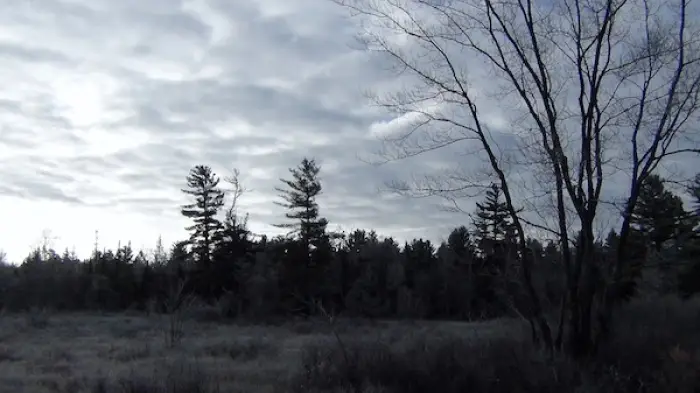 So now, with a heightened sense of things that only nature can provide, I conclude that in the Adirondacks you are constantly reminded that what you see is not a statue or a billboard — it is real, it has breath, and this is its home.
Back to nature
My alertness, fed by coffee and in no small part the suddenness of the deer sighting, I safely pull over onto a provided lookout. Everywhere I glance is a painting.
I capture a frosted tree, its branches bending to a wind that is not there, as if frozen in a more tumultuous time.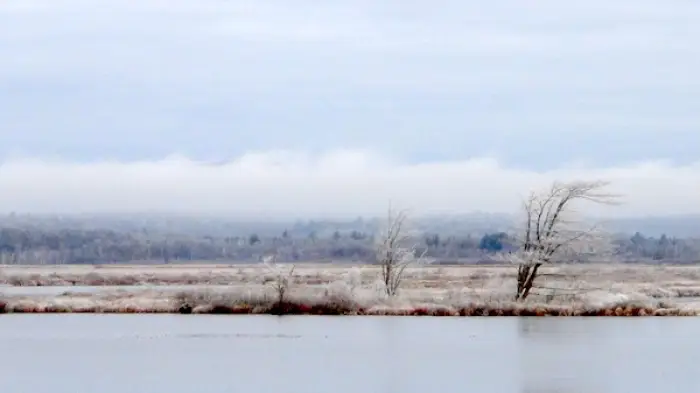 There's a picturesque drive from any direction as I travel through time. My destination, the Adirondack Interpretive Center in Newcomb, was once part of New France.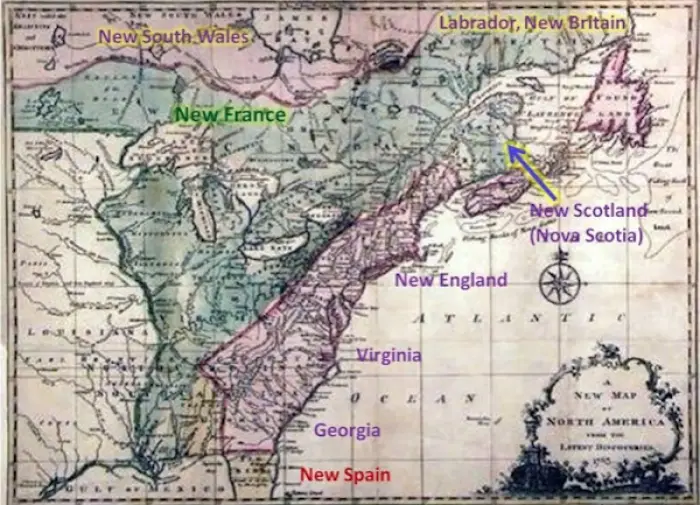 Like all border towns, a mystery, on the edge of some map, but it's that edge that keeps these places alive, the cliche trading post scene in westerns or adventure films to gather up supplies and obtain tips and knowledge of the local dialect and terrain for the trek ahead.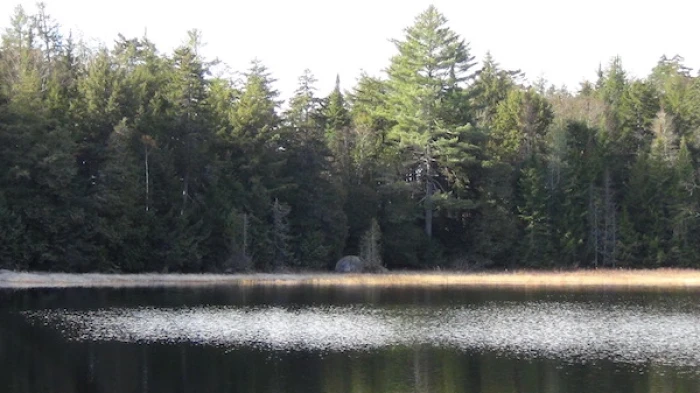 A historical intrigue is piqued in my imagination, but for now the sun breaks through, evergreen reflections dazzle and silver frosted reeds burn into a gold mist.
Choice of trails
The Adirondack Interpretive Center (AIC) is located at 5922 Route 28N in Newcomb, New York. There is ample paved parking. The trails at the AIC welcome dogs, but here in particular a sign asks that you leash your four-legged friends to protect nature's other animals, like the beaver and geese. A laminated note at the trailhead I chose tells me that beaver have built a dam under the bridge, and the east end has flooded and is now impassable without proper footwear.
After looking down at my shoes, the original plan is ditched. I sign in and turn around to set my sights on Rich Lake and the other Peninsula Trails, its moss covered entrance only a few steps away. I decide on the Rich Lake Trail, so I follow the red markers. Each trail has its own color coded markers to follow.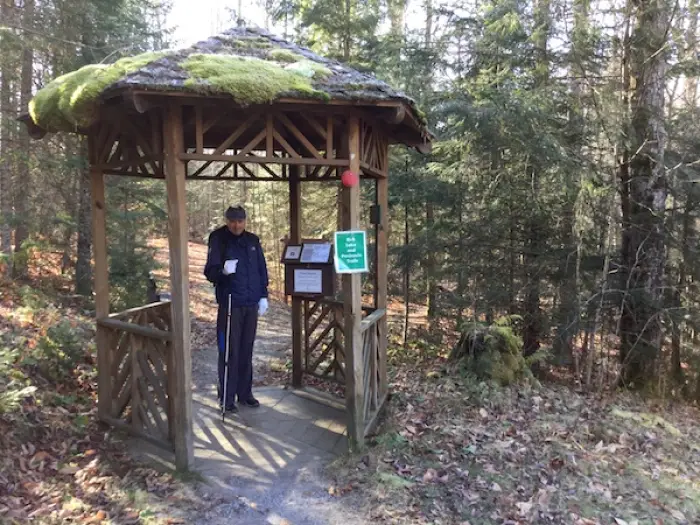 It's time to stretch your legs whether you have two or four. The trail descends into a rich-smelling wood, and upon crossing a bridge I catch myself smiling for no apparent reason. I'm a child again, enjoying abundant rock, fallen trees, and lacy hemlock.
Is it any wonder that a cooped-up dog leaps onto all fours at the word "walk." It just feels good, it's fun. How many times as a child did I hear from a parent, "Get outside and play." Now looking back, it's not bad advice.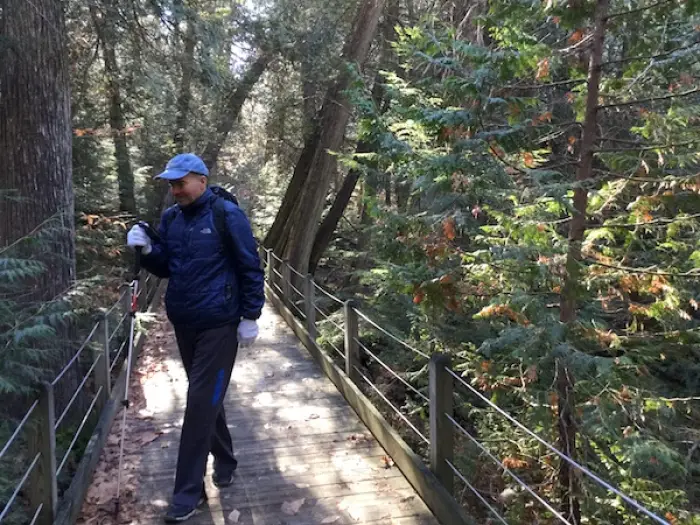 The Rich Lake Trail is only a mere 0.6 mile warm-up trek, but with payoffs around every corner as time slows. I gaze onto Rich Lake, with Goodnow Mountain in the distance.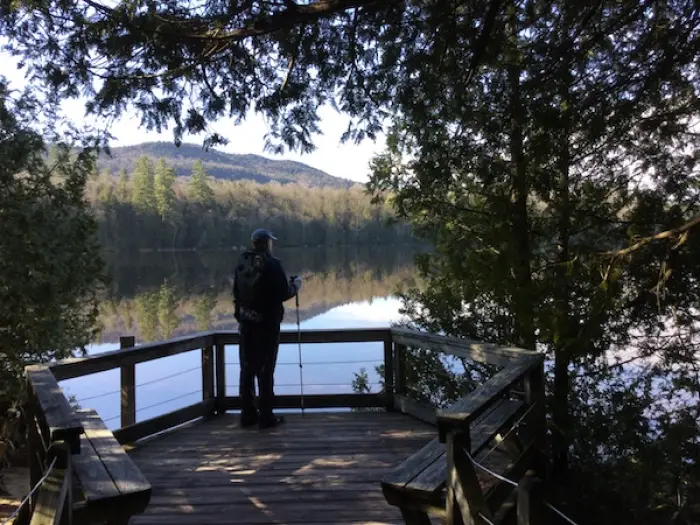 Clubmoss, hollyhock, goldthread, partridge berries, and hemlock present nature's deconstructed Christmas tree. The frost creates a holiday mood.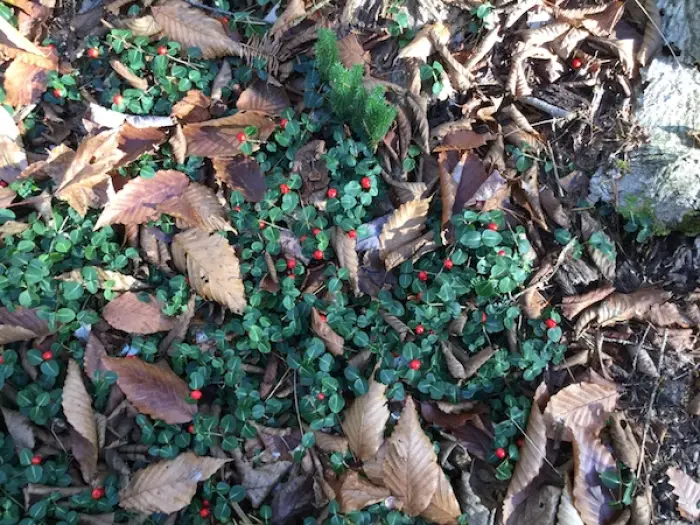 Partridge berries.
My lungs take in and exchange the fresh, clean air that feels measured out and dialed in specifically for me. I find myself actually taking time to breathe, a natural instinct I catch myself forgetting to do at the gym or indoor home workout. I spend a lot of time in my life sitting, but here my gait corrects and quickens, and my endorphins surge into noticeable positivity as I move on through my sun-speckled path.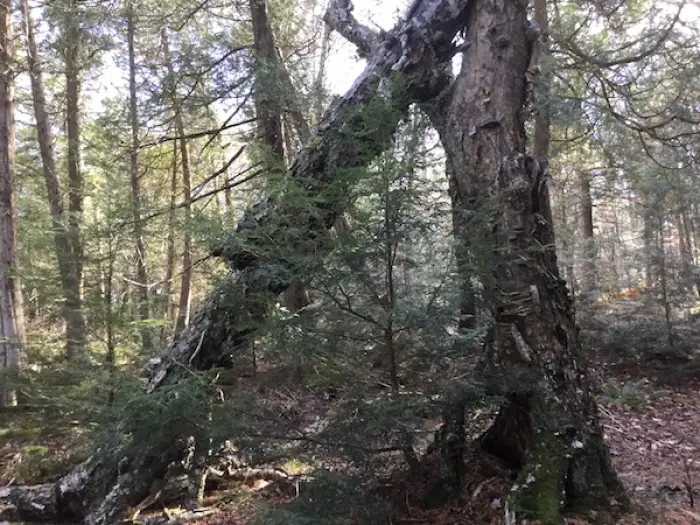 Hemlock held in nature's A-frame.
I try not to deprive myself of this. I adjust my footwear from hiking sandals in summer, hiking shoe or boot in fall and spring, to snowshoes in winter. I round the path, and what appears to be an ancient monolith or maybe a giant dinosaur tooth towers into view.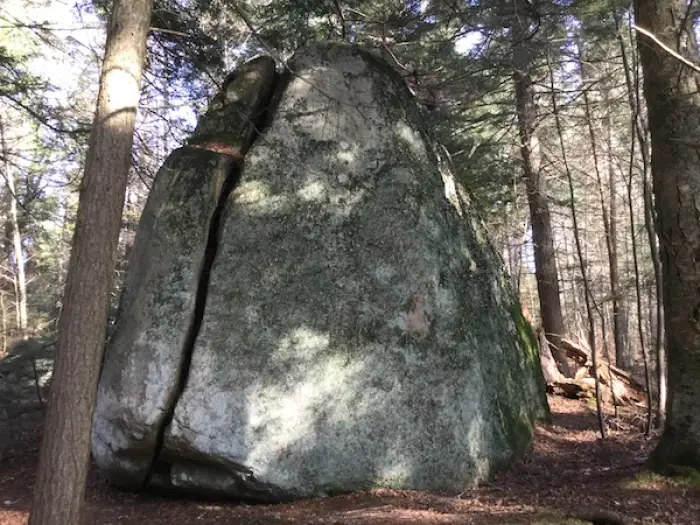 Laminated information cards along the way quell my romance with archeology and prehistoric dentistry. That is how I know this rock was placed here by a glacier only 13,000 years ago.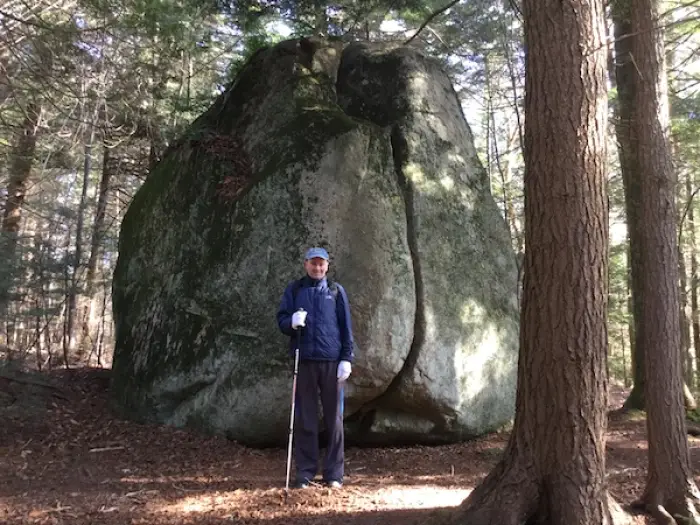 I'm 6-foot-2, you do the math.
Choice of stops
Park benches are along the way to sit and experience the view in slow, deep fashion. Always vibrant greens and blues and their reflections are to be discovered long after the autumn peaks.

Launch into nature, engage your body and mind, set your imagination and your spirit free. Just off the path, stop and explore the banks to see new sights at every turn, like the mirrored clouds seen here, or a fallen birch tree's glowing white bark in the sunlight just below the surface of the water.
The Rich Lake Trail and Peninsula Trails and all others here are 1 mile and under. This makes it easy to tie them all together for an extended hike, which will warrant that beautifully put together picnic basket I now have in my mind.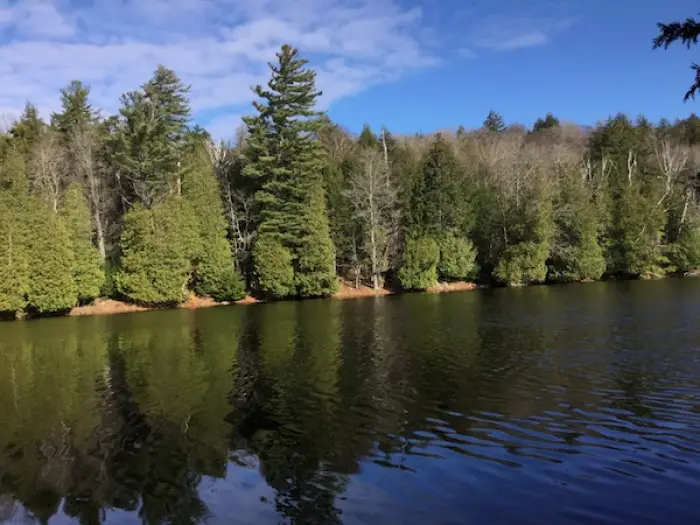 I stop and look ahead and see more lake views and plenty of sunlight ahead for this day. Invigorated, I decide rather than make my return trip a backtrack I will continue on and complete the loop instead, thus extending my hike. I pause to soak up some sun and drink my favorite bottled water. I feel different, on a molecular level. My lungs are not the same pair I brought with me, something about this mountain air regenerates me.
I can return to my life, significant other, family, friends, job, hobbies, passions, all with a renewed sense, see everyone in a new light, the light I bring to the table now shines brighter on them as I bring my new light into the totality of all the light in my life. I can look with better eyes now.
I trek on.
Start your rewewal with a lovely stay. Stoke up for another hike with a fine meal. There is so much great hiking.
---
This week in other ADK related news: