An amazing sculptor once called Newcomb both her home and her inspiration.
Anna (Vaughn) Hyatt Huntington was known, both then and now, as an artist whose specialty was animal and garden figures.
Immersed in nature
Anna arrived in New York City in 1902, having established herself in the Boston area with small animal sculptures. She soon established herself as an artistic force to be reckoned with, gaining international attention with her 1915 Joan of Arc monument, showing Joan astride a horse, standing in the stirrups. This was New York City's first monument dedicated to a historical woman.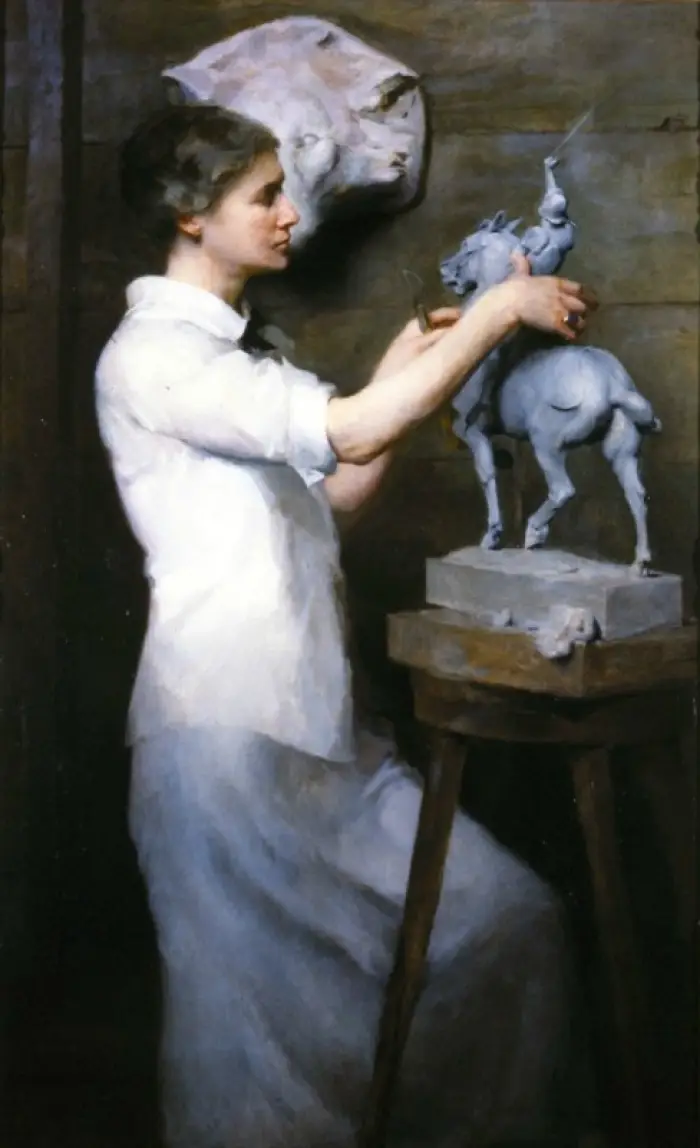 She met railroad magnate Archer Huntington at a Beaux Arts ball sometime after the above portrait was painted. She attended dressed in costume as Joan of Arc. They married in 1923 on what was both their birthdays, March 10. Archer had been married, and divorced, before, but this match was to prove a close and loving union. Anna stated: "My greatest good fortune comes in having a husband whose encouragement and guidance is in absolute sympathy and gives me a freedom to work that is the lot of very few artists."
Archer bought the camp on Arbutus Pond in 1899, but the property continued to be developed by famous Adirondack architect William West Durant. This was then split into Huntington and Arbutus Lodges, which became their summer retreat.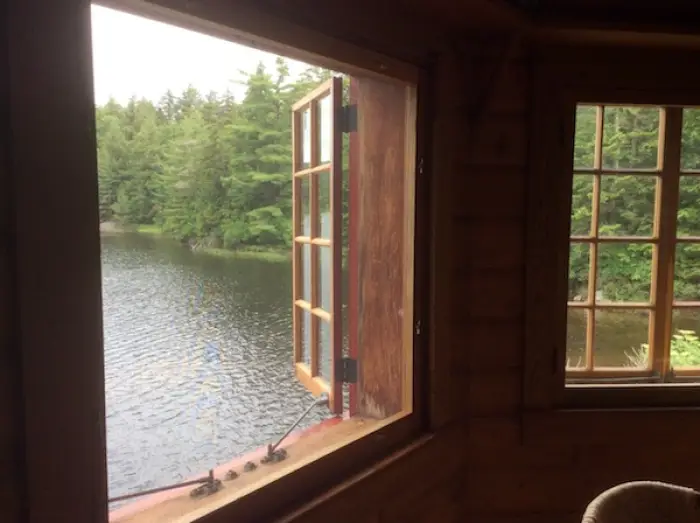 Archer liked to fish and Anna found it a perfect place for her to prepare field studies of the natural forms she used in her art. The forms of living creatures, be they animal, vegetable, or human, was a lifelong interest of Anna's.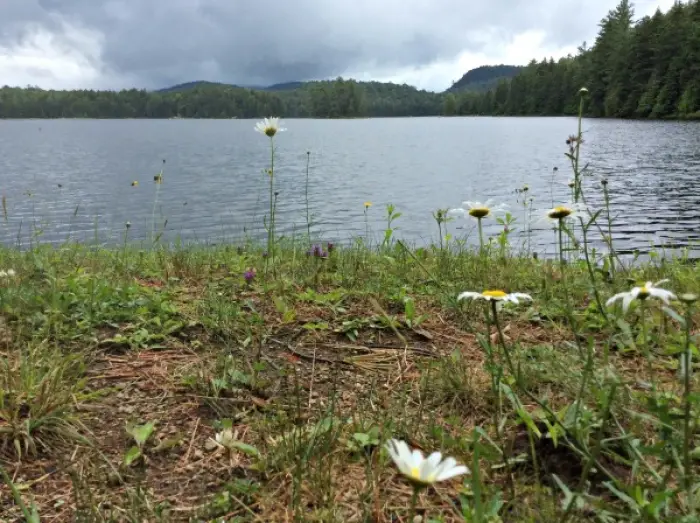 The shores of Arbutus Pond, just behind Huntington Lodge, show off the natural beauty of the area. Here Anna had a studio where deer, goats, and donkeys wandered in and out. They were used as models.
Art and philanthropy
Archer Huntington had been adopted by Collis Huntington, a founder of the Southern Pacific railway, when his mother married. As the only heir, he received a massive fortune, which he was to invest in artistic ventures, grants for parks and gardens, and, as he put it, "Wherever I planted my foot, a museum grew up." This was to total 15 museums by the time of his death in 1955.
Both Archer and Anna were passionately fond of animals, especially in the wild. They were to donate their Adirondack property to the New York College of Forestry (to become part of the State University of New York) in 1939. The 15,000 acres would create the Anna and Archer Huntington Wildlife Forest. They requested it be used "for investigation, experiment and research in relation to the habits, life histories, methods of propagation and management of fish, birds, game, food and fur-bearing animals and as a forest of wild life."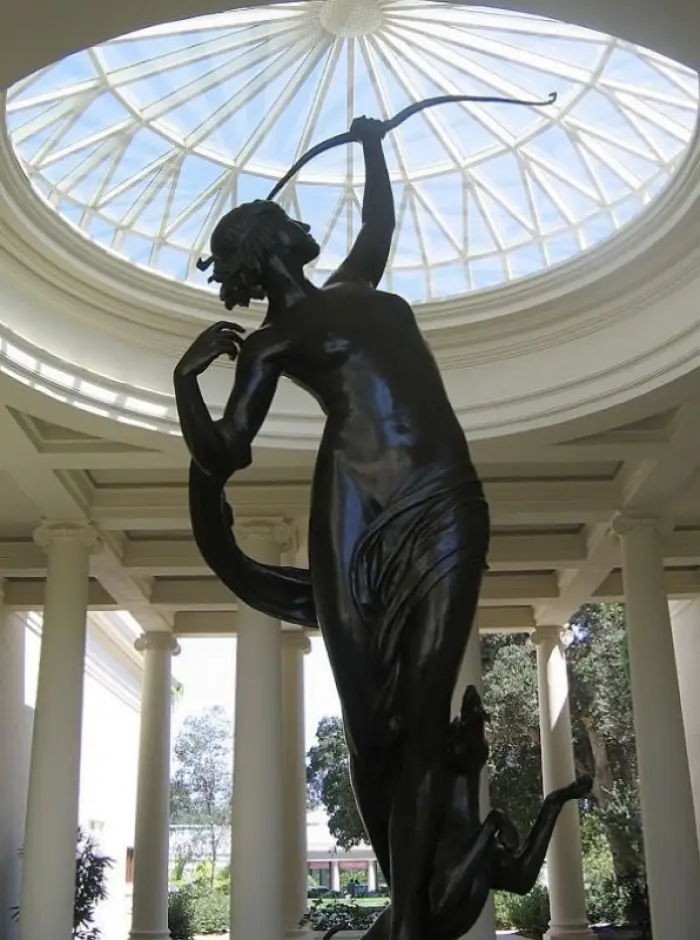 Anna's famous statue of Diana, the huntress, was a celebration of triumphant female energy. The goddess of wild animals and of the hunt was so beautifully realized it became internationally famous. Until 1928 there was a miniature version of it as the hood ornament of a car, the Diana Moon, produced by the Moon Motor Car Company.
Challenges and triumph
Anna was in a period of great creative inspiration in 1927 when she contracted tuberculosis. For the next decade, she would chafe at her doctor's orders for bed rest and inactivity. In 1930, seeking a mild climate for her in the winters, she and Archer purchased Brookgreen Gardens in South Carolina. This former rice plantation had gone back to nature, giving Anna something of a blank canvas for her to create the nation's first outdoor sculpture museum.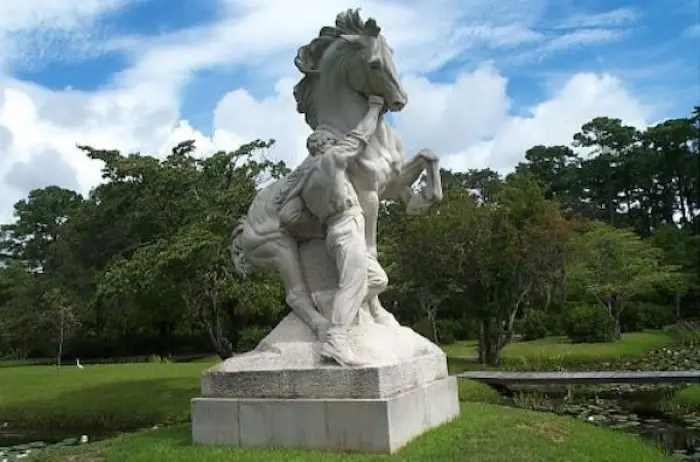 While the Adirondack period of her life was over, the influences were never to leave her, any more than her passionate interest in nature ever left her.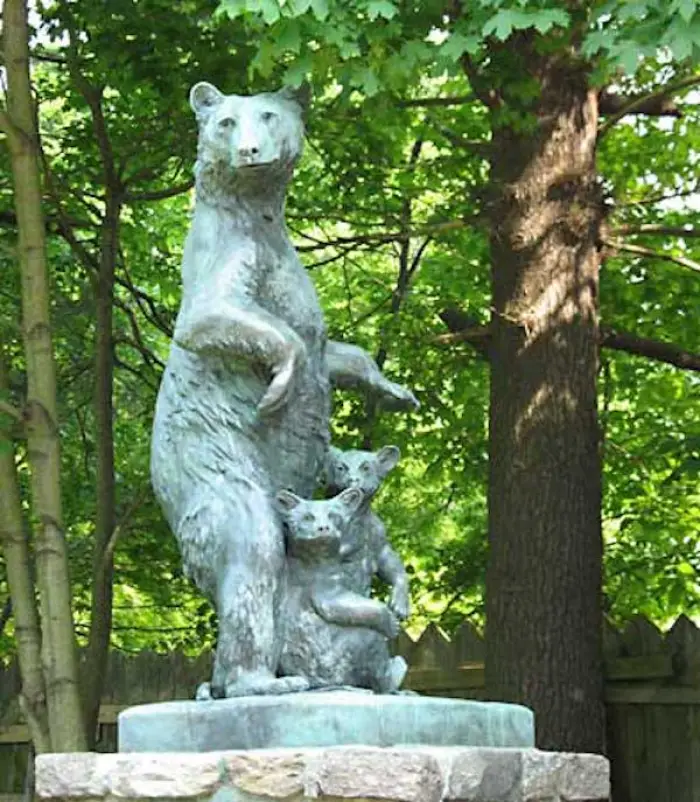 Huntington Lodge is now the property of the Newcomb campus of the State University of New York, College of Environmental Science and Forestry. But Anna's sculpture still belongs to the world.
You, too, can be inspired by the lovely nature in the Adirondack Hub! Pick your own lodging. Enjoy a range of dining. Explore art and nature.
 
---
References
Header photo: cast of the hand of Anna Hyatt Huntington, 1935, Aluminum. Lent by the Hispanic Society of America, New York, NY.
Insights into the Huntington marriage from "Energy and Individuality in the Art of Anna Huntington, Sculptor and Amy Beach, Composer," by Myrna G. Eden.