It's All in Your Perspective
I'm not sure if others do this, but I'm pretty good at fooling myself into doing stuff by changing my perspective about that particular stuff.
For instance, I can convince myself to fall asleep after I've been awakened in the middle of the night by pretending that the morning alarm is about to go off. Convinced that I have to get up in a few minutes, it's back to deep slumber for me.
So as I began my bike ride along the famously-hilly Adirondack Marathon Distance Festival Route that circumnavigates Schroon Lake, I felt extremely fortunate that I would get to do it on my road bike rather than running the whole 26.2 miles on foot as the racers do every fall. Comparatively, I was really lucky. Runners can't just coast down the hills, after all.
I hopped on my Surly near the Schroon Lake Town Beach, set my bike computer to zero, and headed north along Main Street. I noticed some other bikes parked in front of the Chamber of Commerce, so I stopped in to make sure that I had the correct route planned. After chatting with Tammy at the Chamber, and the other bikers about the great road routes throughout the Adirondacks, I got back on my bike and headed north to begin my 26.2 mile Marathon.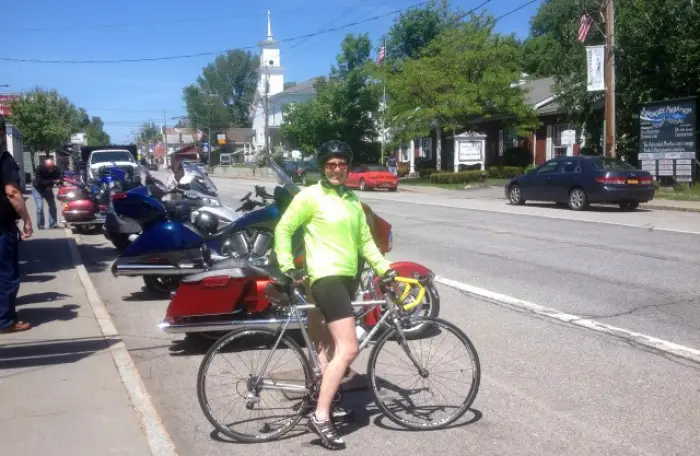 The beginning of the route is nice, rolling terrain that traverses through town and continues after a right turn onto Alder Meadow Road. When my bike computer said I was at mile 4 near the junction of Alder Meadow, Crane Pond and Adirondack Roads, the famous hills began.
Now, I know there are hills on this course. I was prepared to encounter hills. Everyone talks about the hills. One of the founders of the marathon recently told me that when he rides the course, he gets off his mountain bike and WALKS up a couple of the hills. And although I have driven this route in a car, and on a motorcycle, I think it is far more apparent how many, and how steep the hills are when you're pedaling a bike over them.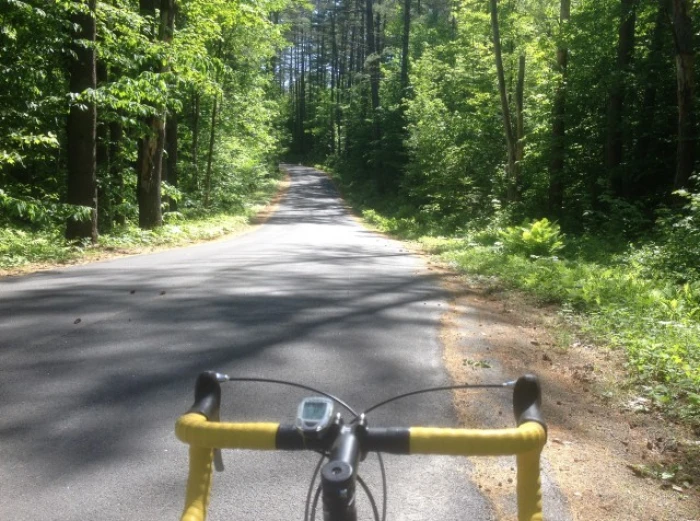 For the first few miles on those hills I was fine - the pleasant, tree-lined road is so very quiet; with very little traffic. However, I hadn't fooled myself properly. I had neglected to note before embarking how many miles of hills I'd encounter. My perspective was that there were only about 4 miles of the hilliest terrain. In reality, there are more like 8 or 9 miles of the steep inclines and declines.
Safety note: This entire section of road is a mix of new pavement and old pavement. I'm guessing that they recently prioritized paving some of the REALLY bad sections. This doesn't really matter too much for the inclines, but cyclists should note that the downhills are as steep as the uphills, and according to my little bike computer, I exceeded the 30 mph speed limit a couple of times. The tree-lined, shaded roads can make it difficult to see any anomalies (both bumps and holes) in the pavement on those older sections. For the downhills, I had to employ a method of both standing up on my pedals rather than sitting on the seat, and locking my thumb and middle fingers around the hood that covers the brake/shifter mechanism on my handlebars. Still, I almost lost contact with my bike four times.
At about mile 8 or so, I found myself wondering when the uphill climbs would stop appearing in front of me - a negative approach to an otherwise beautiful day. So I decided I'd better change my perspective.
The Half Marathon
Perspective adjustment: I knew that once I arrived at the Town of Adirondack, which is, incidentally, the start of the Half Marathon race, the roads would be almost flat for a while. And, I also knew that by the time I arrived on Route 9 to turn back north toward Schroon Lake, the Paradox Brewery would be open for tastings.
So, although I apparently had some more hills ahead of me, I also had the benefit of knowing about the brewery and its convenient location along my route. My attitude changed from "defeated" to "optimistic" as I climbed what seemed to be THE steepest hill so far.

Shortly thereafter, I cruised down into the hamlet of Adirondack. This point on the map includes two notable landmarks: the Adirondack General Store, and a telephone booth.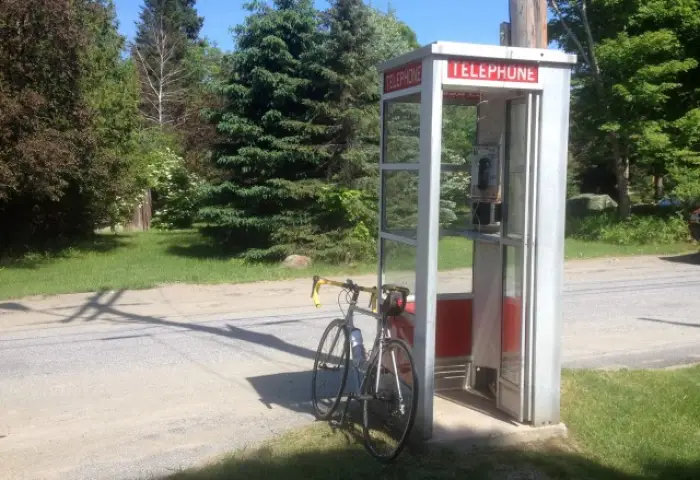 For you kids out there, a telephone booth is an old fashioned coin-operated communications device that one utilized in the olden days to call your mother and tell her that your soccer practice was over so she could come pick you up. It's a welcome blast from the past, but hardly necessary, as I had good cell coverage during my entire loop!
Mid-Marathon Carbo-Loading
From Adirondack, the road meanders along the southeastern shore of Schroon Lake to Horizon, and over a bridge to Chester near the southernmost tip of the lake. It's a lovely section of road that gets a little more road traffic due to increased vacation homes and rentals and as it's the location of the Word of Life Bible Institute.
The road eventually meets Route 9 at mile 18 of my marathon near Pottersville, and I took a right onto this somewhat busier road that is a great surface with HUGE wide shoulders. I didn't really know what the distance was from the Route 9 junction to the brewery, but it seemed farther than I wanted it to be. This section is truly comprised of nice, rolling hills, and before long, I saw the sign. At about 22 miles into my marathon, I arrived at the Paradox Brewery.
There were some motorcyclists relaxing at a picnic table outside, and once I unclipped from my pedals, I clomped over to the outside bar (the tasting room upstairs moves outside on nice days in summer months). I skipped the tastings and ordered a pint of Beaver Bite IPA, a beer of which I had approved in a previous visit to the tasting room. (On that particular previous visit, I did try one of their current Off Trail Series of beers, each available for a limited time, and found the Amber Wheat to be a great option - a hoppy but light beer.)
I sat in the sun with my beer and my new motorized two-wheeled friends, discussing - as I had with the other folks I had met earlier in the day - the terrific roads we have for touring in the Adirondacks. They had just discovered the Paradox Brewery and added it to their future tour itineraries as well.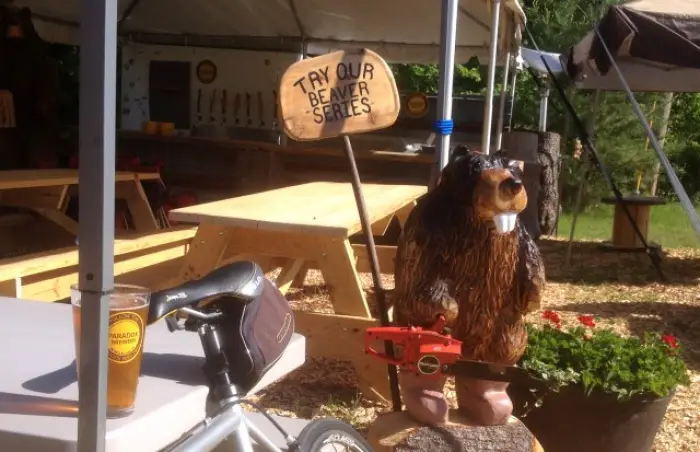 I completed the carbo-loading portion of my Marathon, returned my glass and headed to the finish. With only about 5 miles to go, I pedaled easily back into town, and to my car at the beautiful but not-yet-open Town Beach.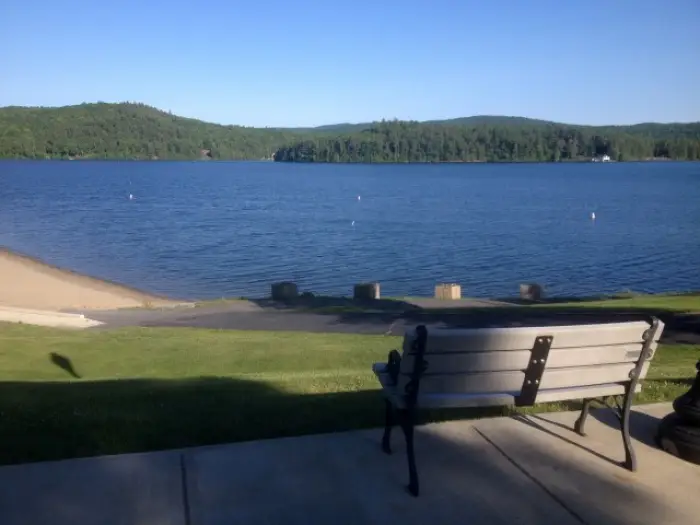 The most beautiful 26. 2 miles you'll ever Bike
The Adirondack Distance Festival will celebrate its 19th year in September. With its original tagline "the Most Beautiful 26.2 miles you'll ever run," the event includes a Marathon, Half Marathon, Relays, 10k, 5k and Kids Fun Run.
The race starts on Main Street (Route 9) in the town of Schroon and heads clockwise on paved roads around the entire Lake.
The Lake Champlain Bikeways describes the route for cycling as follows:
Adirondack Marathon Trail - 26.2 miles - Schroon Lake
As the name implies, the loop follows the Adirondack Marathon course established in 1997. It's all-paved and generally flat-to-gently rolling. You will, however encounter a hilly section between mile four (4) and mile twelve (12). Traffic is generally minimal. When you arrive in the hamlet of Adirondack, don't forget to stop at the General Store for refreshments. A good start/end point is in downtown Schroon Lake, where food, parking, and visitor information is available.
According to our own website, the loop is described as:
"...mostly flat with short rolling hills."
I have some significant edits to suggest. "Rolling" is subjective, even if you're on a wheeled contraption. So I think that "hilly section" should be emphasized more. Maybe it can be presented in boldfaced type or along with a alert/warning sound of some sort.
And of course, I'd suggest the addition of another refreshment stop near mile 22.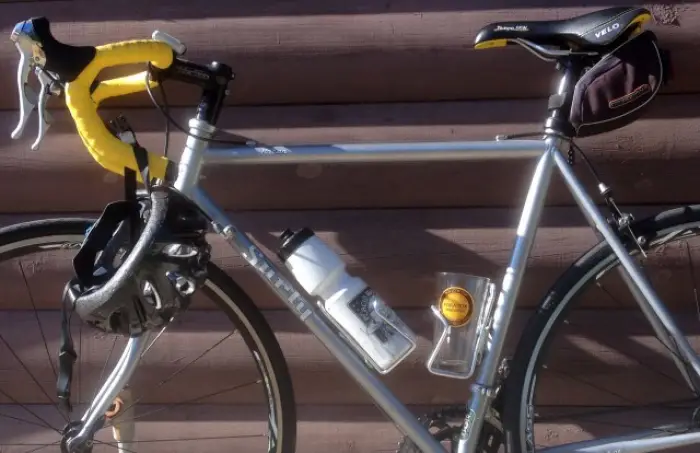 - Kim Rielly is the director of communications for the Regional Office of Sustainable Tourism and self-described as being as surly as her bike's brand.