Well, we've achieved official Adirondack winter temperatures. That means crisp air, gorgeous snowy landscapes, and….. ice.
And given the amount of lakes and ponds in the Schroon Lake region, there is potential for a tremendous amount of frozen water. I'm sure many have favorites, but here are MY top picks for places & ways to play on the ice!
1. Ice skating
Ok, so this was a no-brainer. A safely frozen lake or pond just beckons you to put on your skates and glide. Hockey skates, figure skates, they all work. But have you tried nordic skating?
Last winter, I got to explore Paradox Lake when it had frozen to perfection for an outing on nordic skates. I ventured out there with my husband and a couple of friends and we enjoyed hours of exploration - it is a perspective one can only get from the frozen surface.
Paradox Lake is a great destination for skating as it is easily accessible via the boat launch site off Route 74.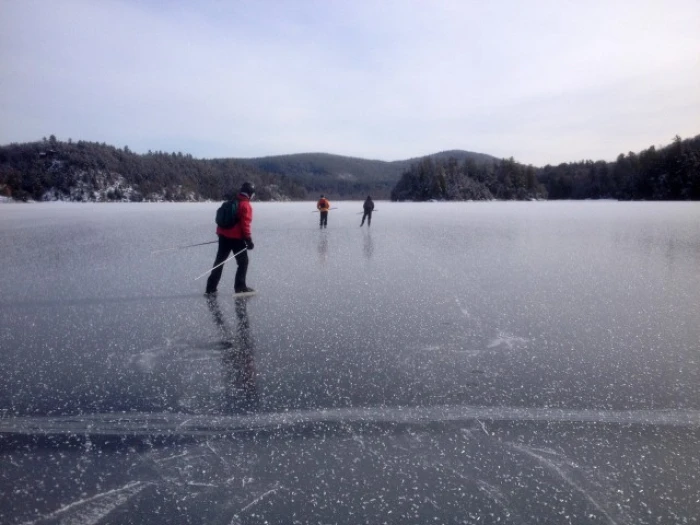 Nordic skate blades are fitted with bindings that match your cross-country ski boot bindings, typically either NNN, NNN BC or traditional 3-pins. The blades have a free heel, just like cross-country skis, and come in a few different lengths; the longer the blade, the longer the stride. For these Adirondack lakes and ponds, there's no better way to get around!
Though I haven't yet skated them, I have a couple of ponds in the region on my to-do list for skating in the future, too.
One is Oxshoe Pond in the Pharaoh Lake Wilderness (home to 39 bodies of water in itself!), I have hiked here in the past during winter, finding a perfect surface for skating when I arrived - without skates. I'd like to travel the 4 or so miles back to that pond again and remedy that situation.
The other is Moose Mountain Pond in North Hudson, an easy 3-mile hike in to a beautiful pond with a lean-to. If the conditions are right, I bet it would be a tremendous place to set out on skates!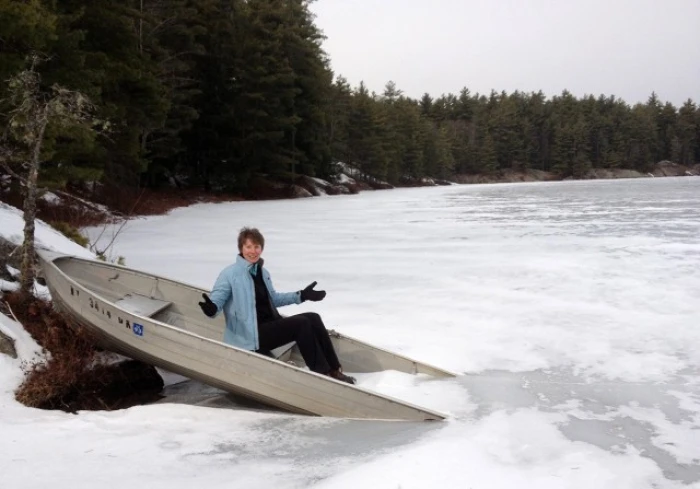 2. Ice Climbing
Ice climbing is a bit more extreme than skating, and requires experience and/or a guide. I've done quite a bit of both rock and ice climbing, but not in the Schroon Lake Region.
When I have a question about outdoor adventure, I go to the experts. For an ice climbing question, I headed straight to The Mountaineer in Keene Valley, and got my answers just minutes after walking in the door.
Some of the waterfalls in the Adirondacks become popular challenges for ice climbing in winter. The ice routes are climbed using specialized ice axes and crampons on your boots to "stick" to the ice and ascend. The gear continues to be improved, and the Mountaineer always has a huge selection of the latest technology in both ice axes, crampons, ice screws and belay devices and ropes.
They also have a huge book section, and that's where I found Nick, checking inventory. He pointed out the latest rock climbing guide book, "Blue Lines, An Adirondack Ice Climber's Guide" by Don Mellor. Apparently, Mellor has an update coming soon, but the book, in combination with some insider information from Nick, provided me with the most important ice climbing destinations in the Schroon Lake Region.
The first is a classic. Before I ever headed over to The Mountaineer, I asked my husband, an experienced climber, about ice climbs in the region, and he confirmed that Pharaoh Mountain is simply the best moderate route in the entire Adirondacks. It's a 500' long route up a waterfall that one can see from far away, but it's a 10-mile round trip, made easier if there's enough snow to ski.
The second might be lesser-known until the next edition of "Blue Lines" is published. There are a series of walls in the Hoffman Notch Wilderness that are accessed from the Blue Ridge Route (County Route 84) from Exit 29 on Interstate 87. Once at the trailhead, the hike into the Hoffman Notch is about 45 minutes on snowshoes. But you didn't hear that from me.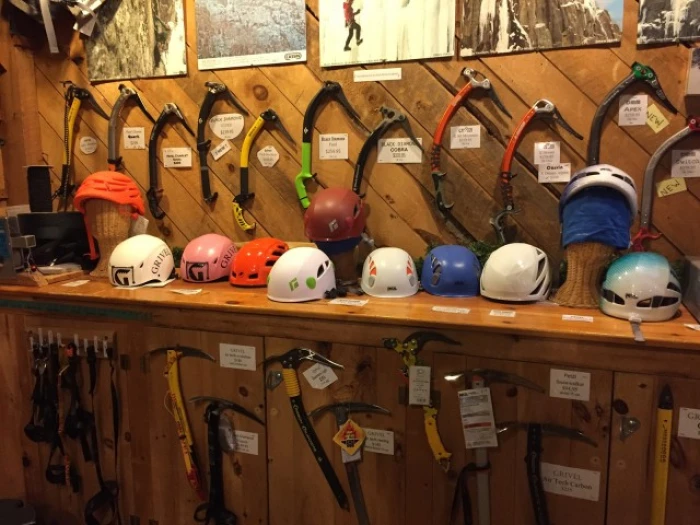 3. Ice Fishing
If you've ever been to Schroon Lake itself during winter you've noticed the groups of little houses that dot the surface of the lake once it's frozen. The big lake is a super fishery in both warm and cold weather, and a favorite for locals and visitors fishing for perch and a long list of other types of fish.

and 1/2: Ice Cold Beer
Ok, this isn't really exclusive to winter, but it doesn't hurt to stop in to the tasting room at the Paradox Brewery after a long day of ice skating, climbing or fishing, does it? Or, check out the warm atmosphere at Flanagans Pub & Grill, Witherbee's Carriage House, or the great food and drink at Sticks & Stones Bistro and Bar. Trust me, these are ALL good choices for an apres ice adventure!