The lovely Essex Chain Lakes Tract opened to the public in the summer of 2014. This remote area is comprised of twelve lakes and ponds. Paddlers can spend the day exploring the lakes, or stay longer by camping at one of the designated sites.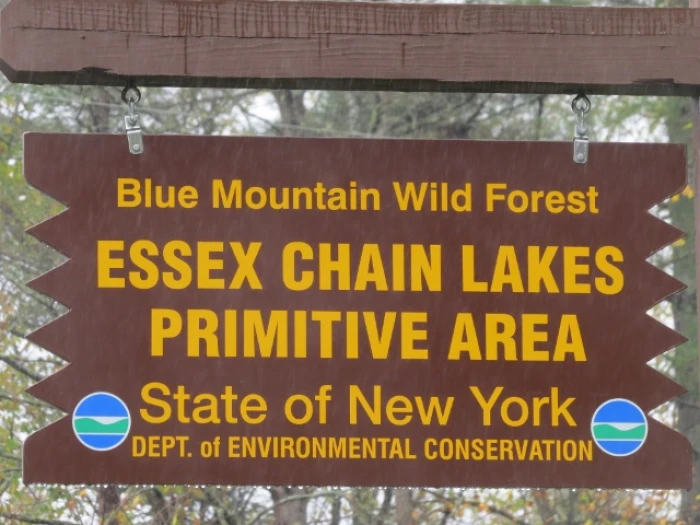 At the end of last summer, I chose to do a camping trip. I explored Third Lake to Seventh Lake, and reserved the most remote camp site, number 2 on Sixth Lake.
The Carries
After the long scenic drive on backroads in Newcomb, a visitor reaches the large parking area for the Essex Chain Lakes. There are two carries to reach Third Lake. The first carry is a quarter mile and begins on a dirt road. Pay attention! You need to take a right turn off this road on a foot trail to Deer Pond. I walked right on by this trail by hiking with my canoe over my head. The trail drops down to Deer Pond. When I visited, there were ongoing improvements to the carries, including steps on the trail to Deer Pond.
Canoe straight across Deer Pond to access the second carry. This half-mile carry begins on a foot trail that leads uphill to an old dirt road. Turn right on the dirt road and watch for a left turn on a short foot trail that leads downhill to Third Lake.
The carries to Third Lake total three-quarters of a mile. I hiked the carries twice – once with my canoe and paddle, and once with all my camping equipment, so my hike was two and a quarter miles!
The Lakes
Third Lake is the largest in the chain and has four designated camp sites. It also has many Common Loons and Common Mergansers.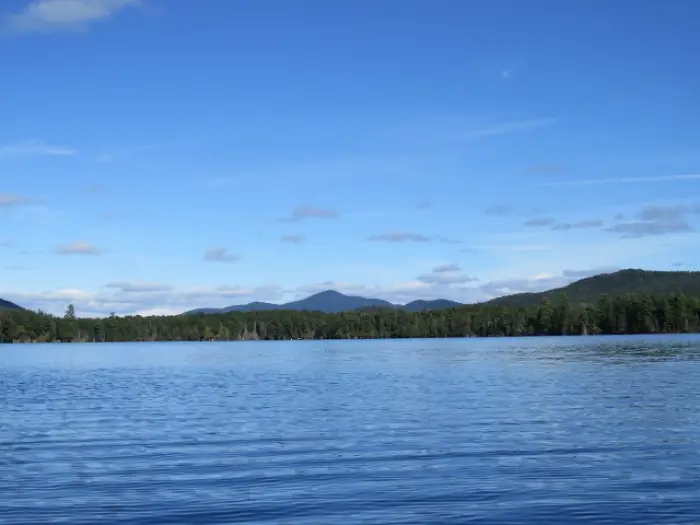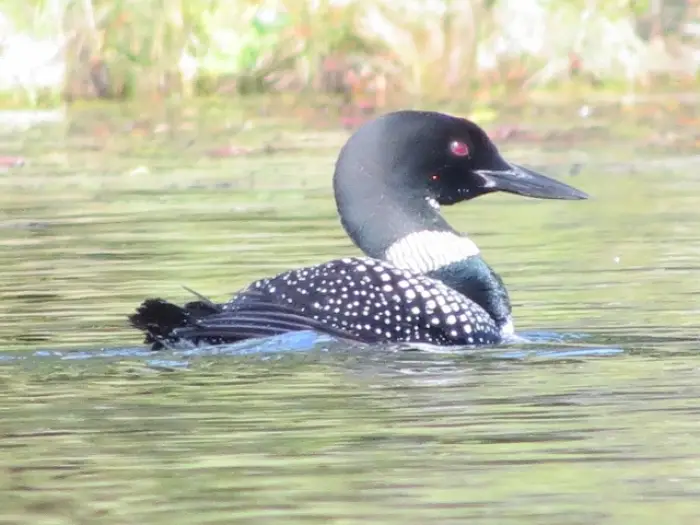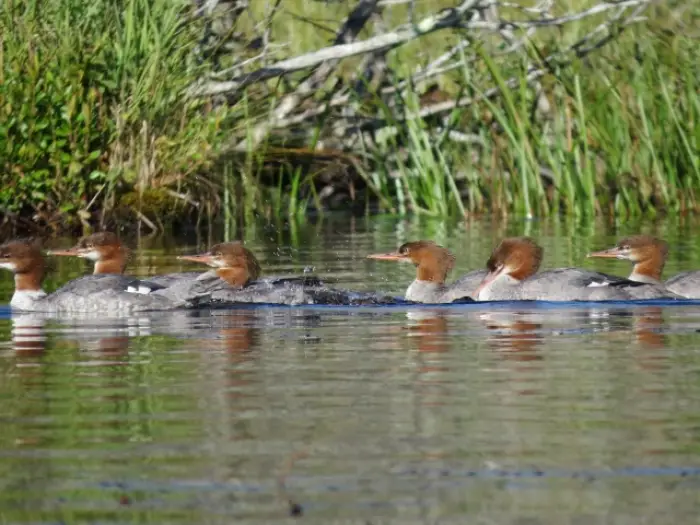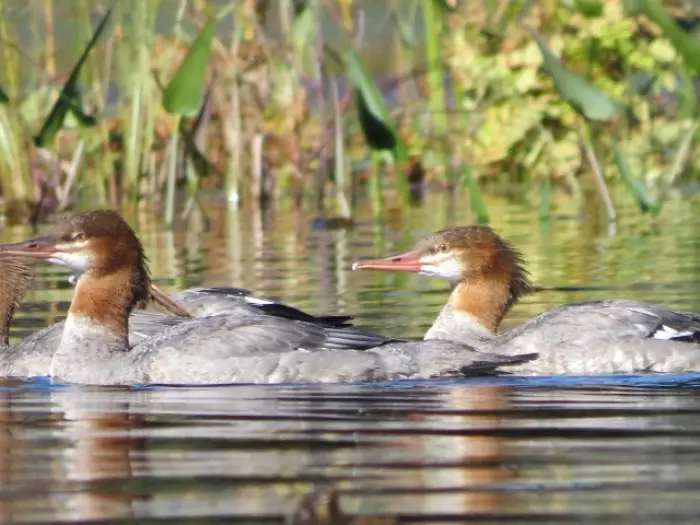 From the put-in on Third Lake, a paddler can choose to head west-southwest to Second and First Lakes, and then a carry of four-tenths of a mile to Grassy Pond, or head east-northeast to Fourth through Seventh Lakes (no more carries in this direction).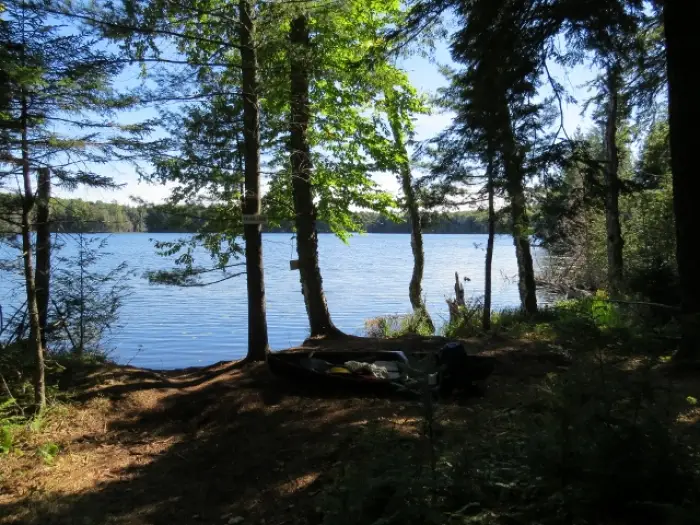 All of the lakes have signs indicating which numbered lake you are entering.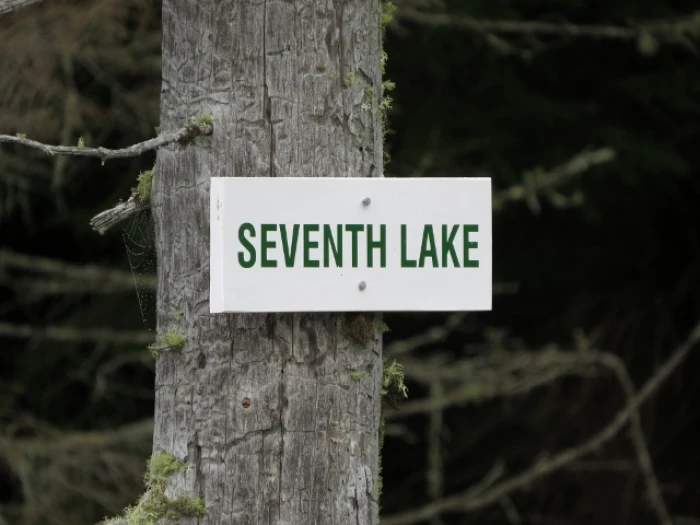 The transitions between lakes had Beaver houses and many lily pads.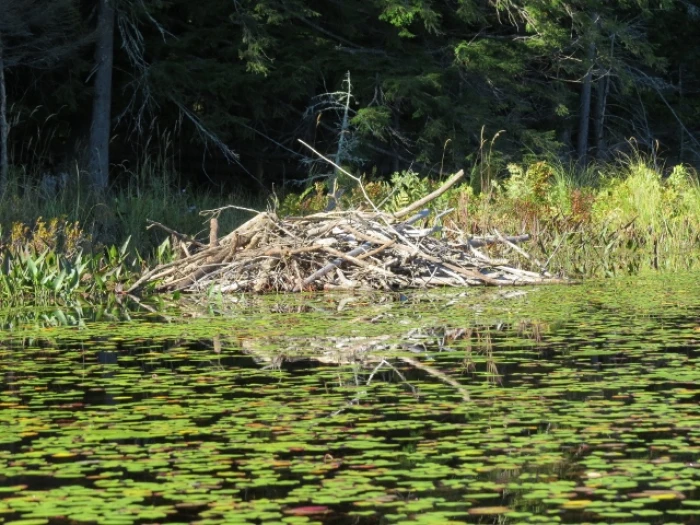 Fourth Lake is small and intimate with only one camp site.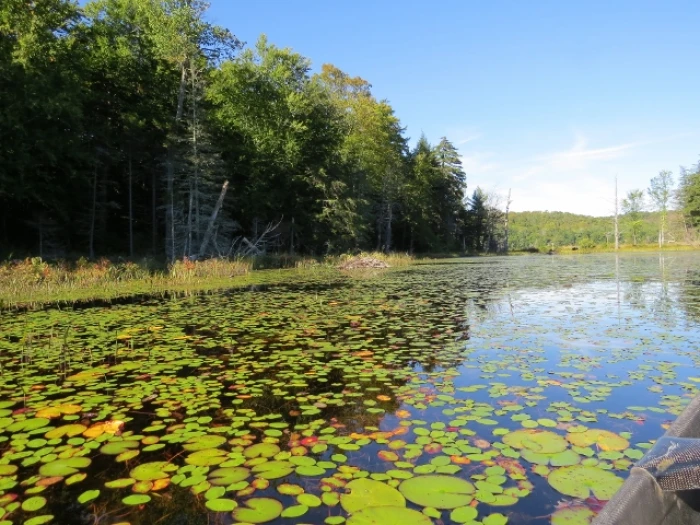 The transition from Fourth Lake to Fifth Lake is through a large culvert under a dirt road. There is a rope with knots and you pull yourself through.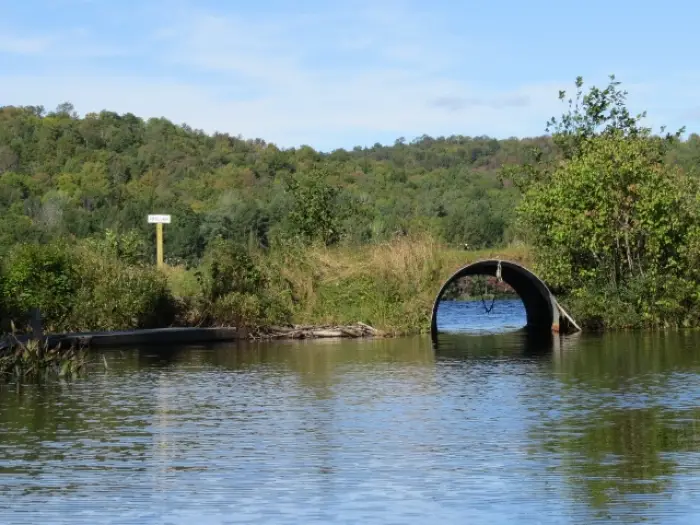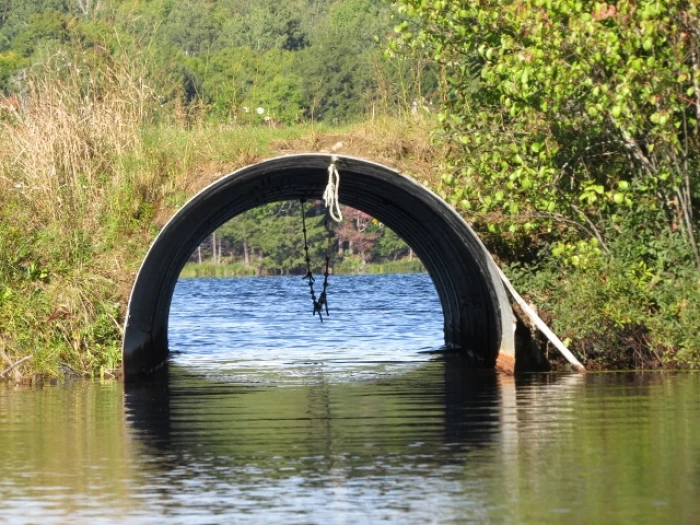 In high water conditions, it might be necessary to take your canoe or kayak out and walk over the road.
Fifth Lake is larger and also has many Common Loons. There is one camp site on this lake. This site can also be reached by hiking the road that leads from the parking area. I met a group of five men coming out as I headed in last September. They said they used a wheeled cart to get all of their camping equipment, which included a lot of refreshments (!), to the Fifth Lake camp site. It is nearly a 2 mile hike, so 4 miles round trip. After they got their camping equipment to the site, they hiked the carries with their canoes and paddled to the camp site from Third Lake.
The transition from Fifth Lake to Sixth Lake was lovely. It has dead snags that likely attract Olive-sided Flycatchers in breeding season. There were Belted Kingfishers rattling as they fished and many lily pads and floating dirt mats. It was fall migration during my trip, and migrant shorebirds were attracted to the floating mats.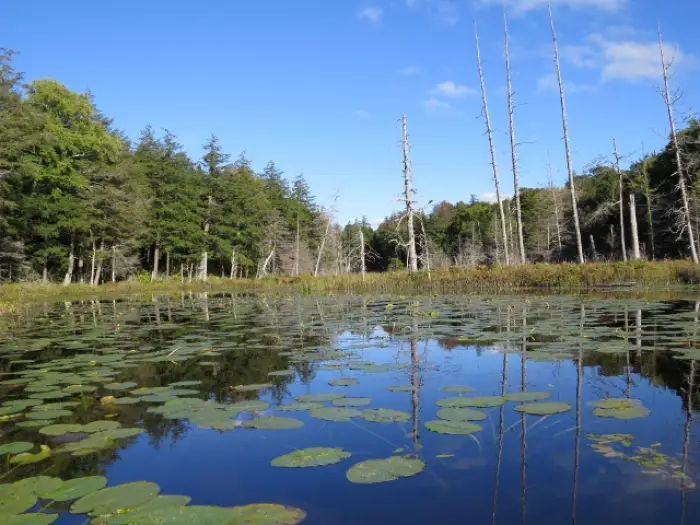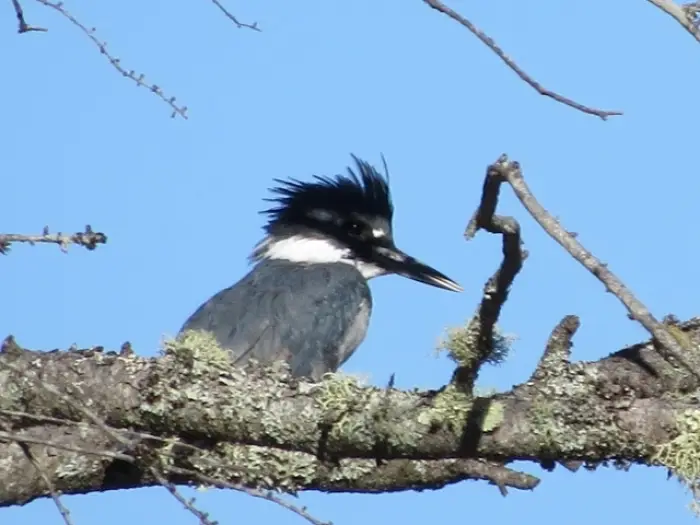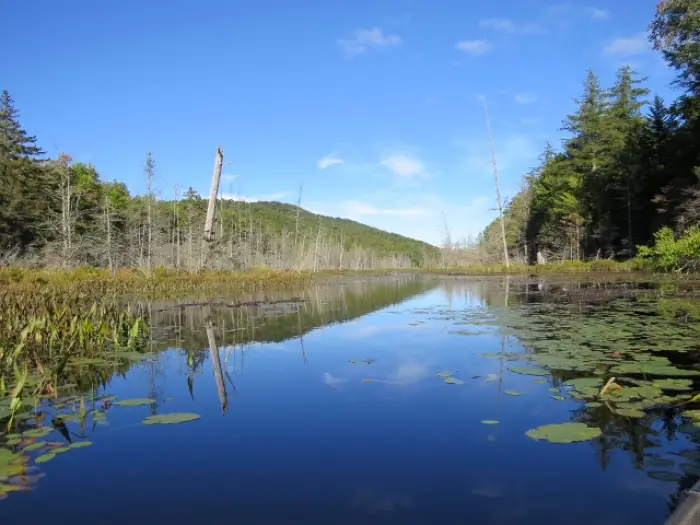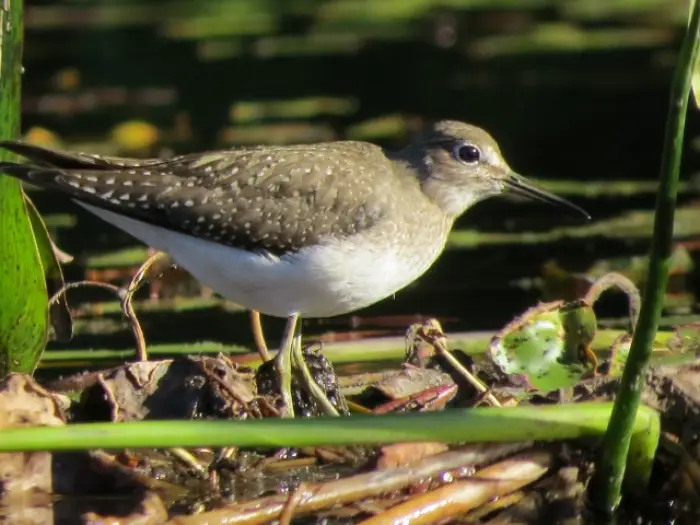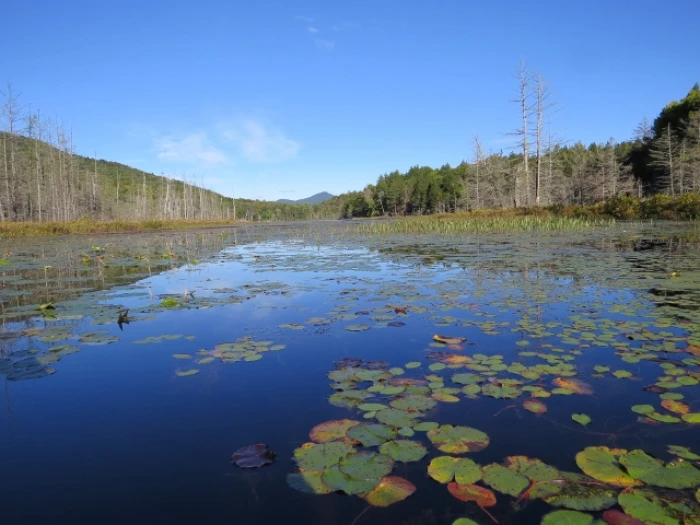 Sixth Lake is also small and intimate. There are two camp sites and I spent the night at the site farthest east, so there were gorgeous sunset views over the water from my camp. It was mesmerizing with ever-changing color.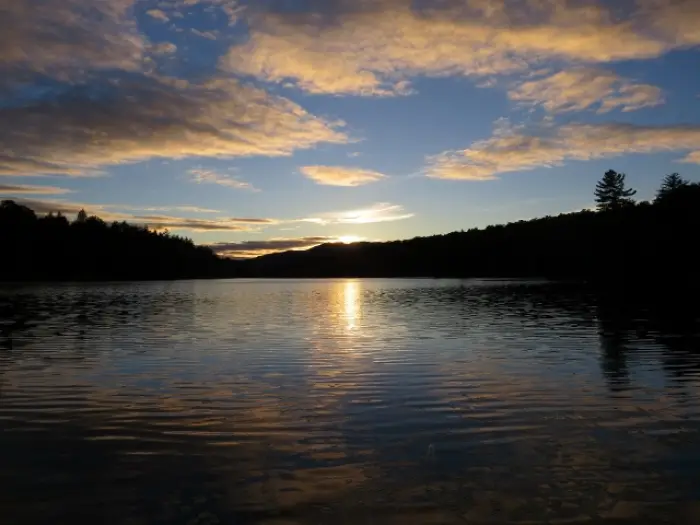 The camp sites are primitive and the privies are the new open-air, wall-less models. With a restriction of no fires, there is more vegetation in the camp sites than at sites where fires are allowed, and campers burn up all the brush and sticks.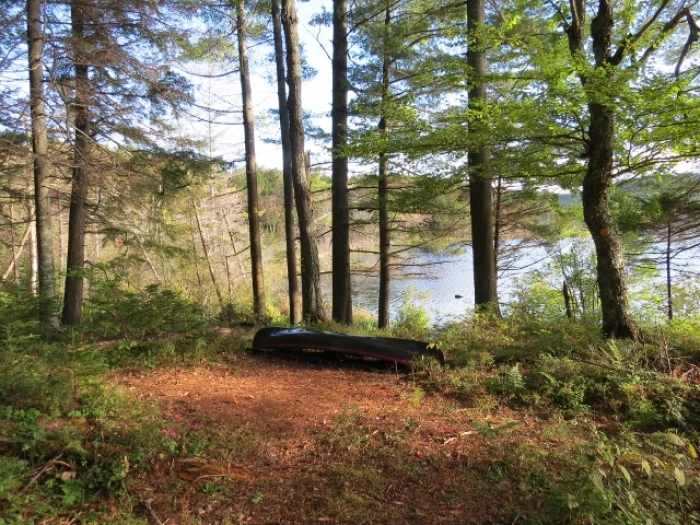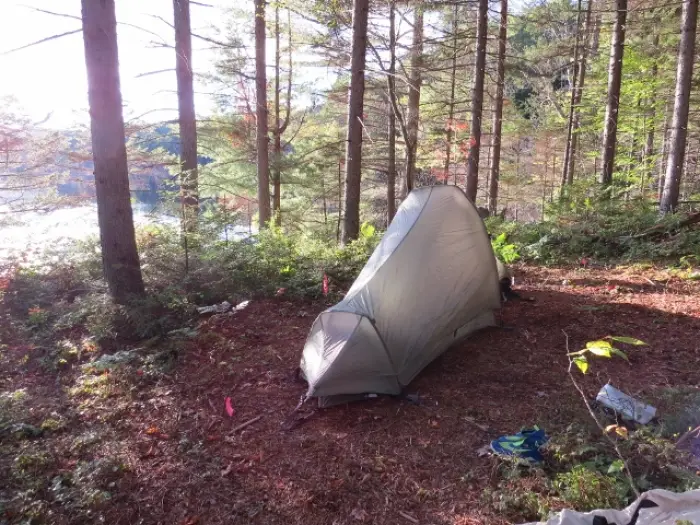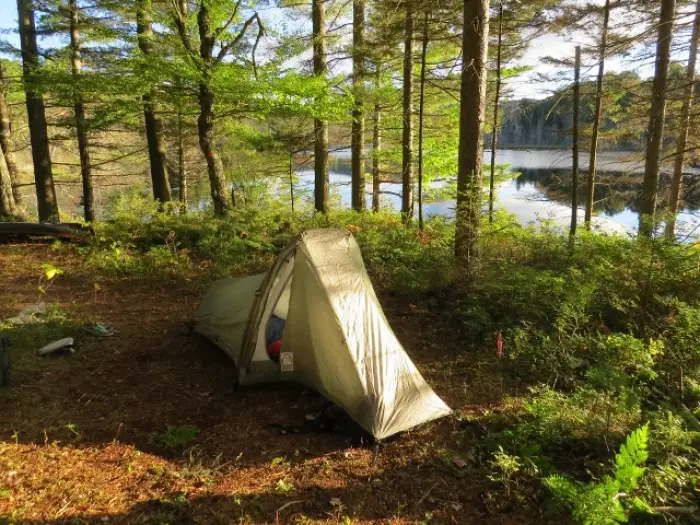 The Nightlife
The night was filled with the wild sounds of Barred Owls hooting and "monkey-calling" to one another.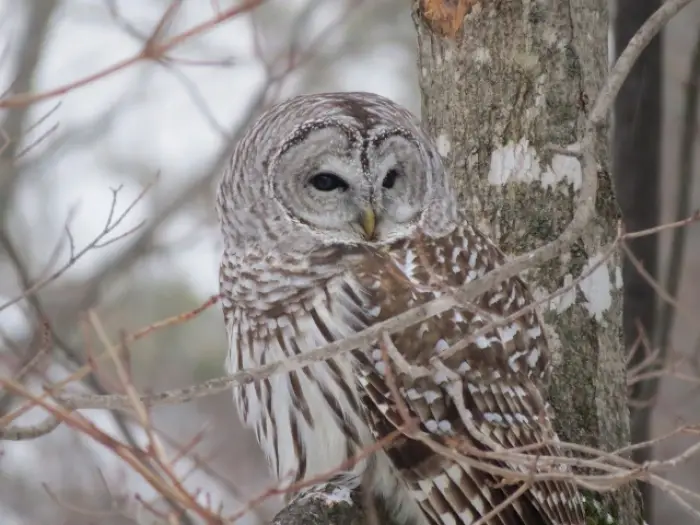 All night, I heard the call notes of migrating Swainson's Thrushes that flowed over me like a river.
There was splashing in the water and I wondered if it was a Beaver or Moose.
Dawn
In the morning, I heard singing Blue-headed Vireos and Common Yellowthroats, and a calling Pileated Woodpecker. A curious Black-throated Blue Warbler flew close to me as I ate breakfast. A Belted Kingfisher rattled. A Red Squirrel dropped large White Pine cones with a loud thump wherever I happened to be standing.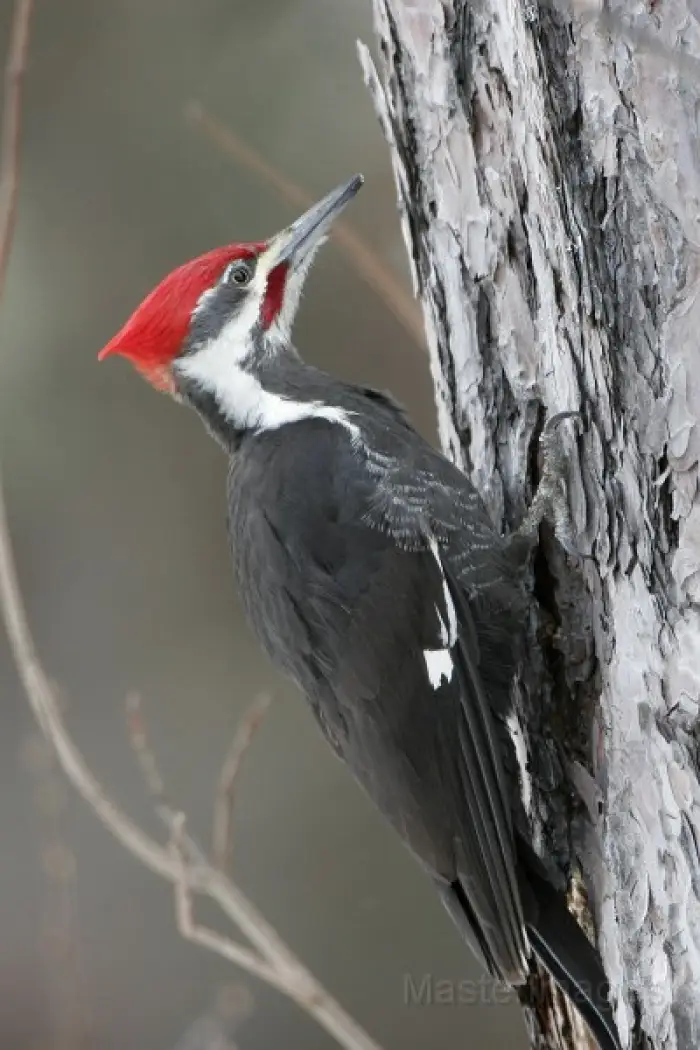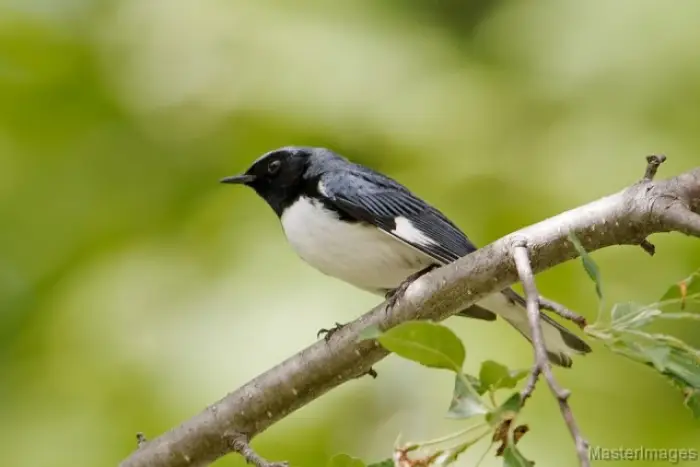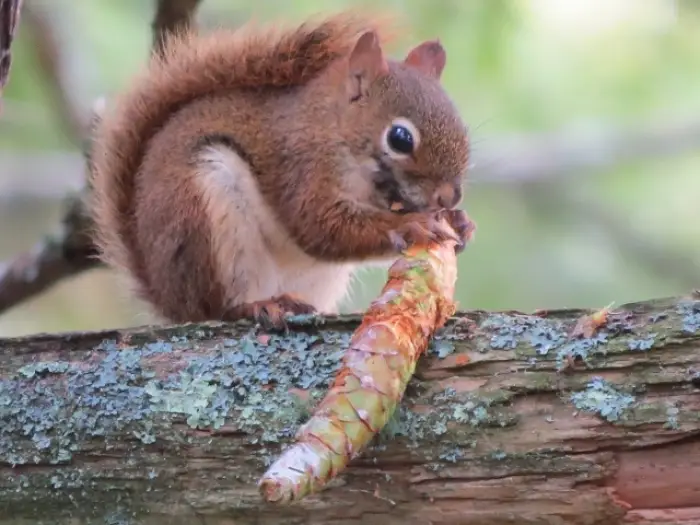 I explored Seventh Lake. At dawn, the lakes appeared as mirrors of the world above without a ripple. It was blissfully peaceful and I lingered in the wilderness.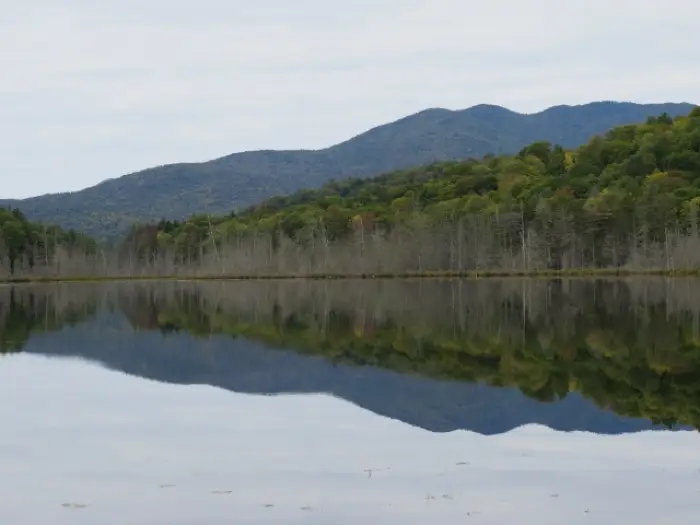 Heading West
I finally returned to my Sixth Lake camp site and reluctantly broke it down. I headed west back through the chain. I once again saw the Common Loon families, a Deer drinking at the edge of the water, Beaver lodges, and many wildflowers. It was a lovely paddle back to Third Lake in calm winds. And then I hiked the carry trails twice again with my canoe and camping gear.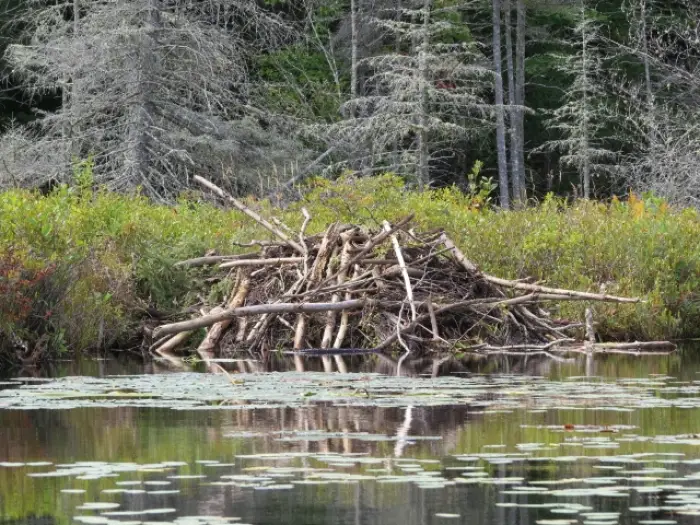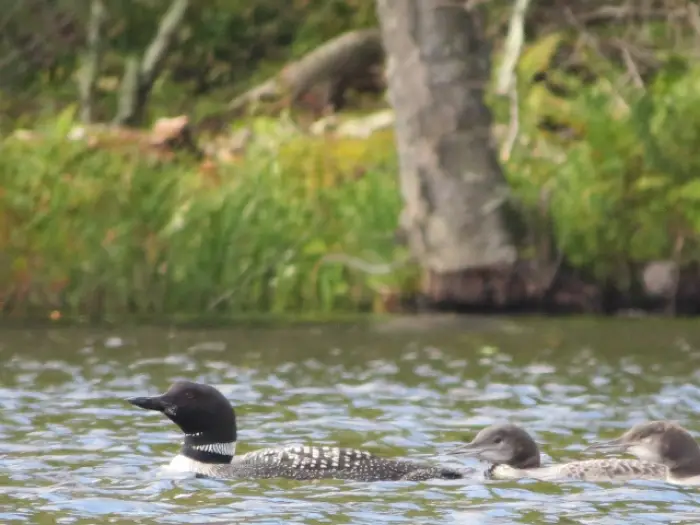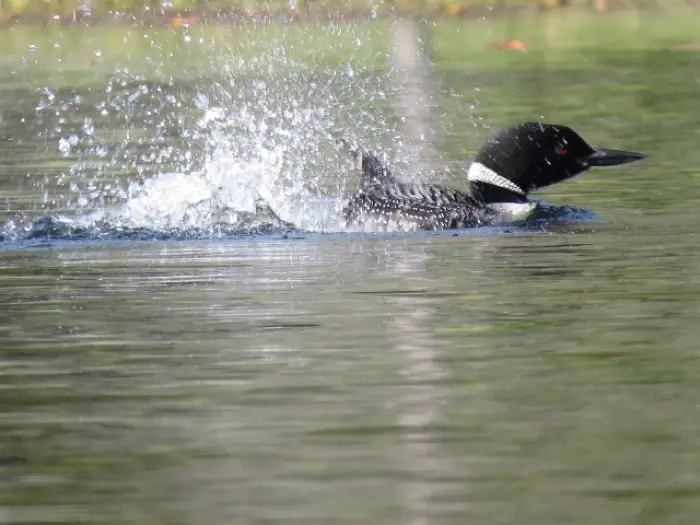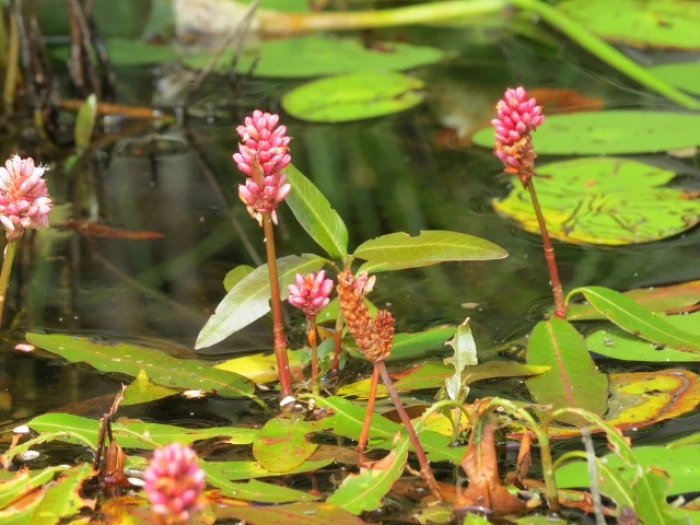 If you plan to paddle the Essex Chain Lakes, and you want to camp overnight, a (free) permit is required. The Adirondack Interpretive Center (AIC) in Newcomb issues the permits from May 15 to October 15. If you camp before May 15 or after October 15, you do not need a permit. A map of the campsites can be found on the AIC website, and they can also assist in describing the various sites since you need to choose a campsite ahead. There is no permit needed for day use.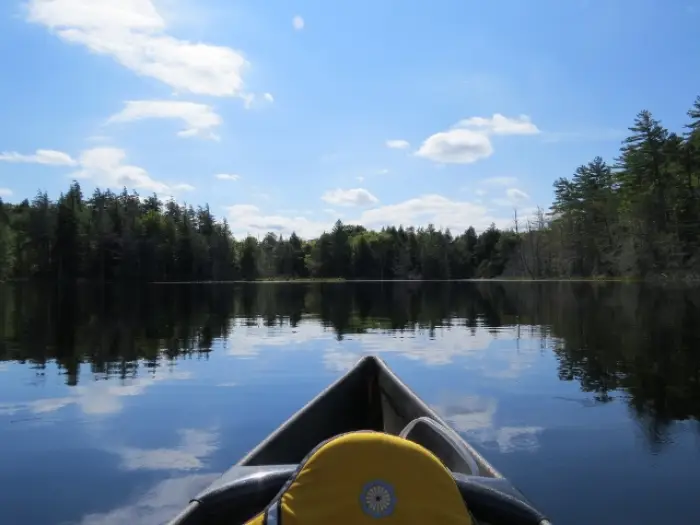 I plan another trip this summer to explore Second and First Lakes, and Grassy Pond. Plus, I want to experience the lakes in bird breeding season! If you plan to visit, there are wonderful lodging and restaurant options available in the area.