Update 2/12/15: It's time! I just read this blog recalling Kelly's first ski trip to Gore, and now I'm chomping at the bit to try it out for myself. I mean, c'mon how cool does this local ski mountain sound? I'm sure it will be just as great an experience as my recent snowshoe trip to the Natural Stone Bridge & Caves! Have you skied Gore lately? Feel free to share your insider tips with this beginner, I need all the help I can get!~ Kim
Getting excited for ski season
Last year was my first time taking runs at Gore Mountain, I went with a friend and co-worker, Nicole (she skied and I boarded). It was an ideal first experience, the kind where you feel instantly welcome, a home away from home of sorts, and I can't wait for a return trip. Along with my day at Gore, I had to stop for work in the nearby town of Schroon Lake. It was fun to spend a bit of time in a town I usually just pass by when driving down the northway to Saratoga Springs, Albany, or NYC. From the highway you don't even get a glimpse of what you're missing. The little taste I got of Schroon Lake during my winter adventures brought me back to explore the lake in the summer on my boat and now I'm looking forward to planning a more extensive ski trip.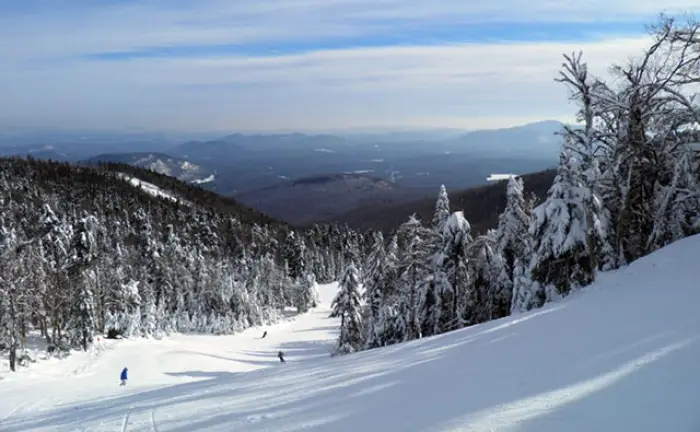 Choosing a Base Camp
Gore is a popular New York ski destination because it's easy to get to, and nearby Schroon Lake in the Adirondack Park makes a great base camp for a winter getaway. During my ski trip last winter we spoke with a few different Gore pass holders who lived in Albany and down near NYC, and they highly recommended staying in Schroon Lake when they ski at Gore. For these guys it had become an annual tradition as their weekend winter and holiday retreat. This is what really inspired making this trip happen.
I searched adirondackhub.com's lodging pages to find some options as to where to stay on my trip. I found a number of cabins & cottages, motels, private rentals and B & Bs. Looking at the list of several cool inns, my eye caught the Silver Spruce Inn B&B - a historic speakeasy I toured years ago and have always wanted to stay at - however after a quick visit to their site, I learned I will need to save that one for a summer trip (May-October to be exact). There is however the Schroon Lake B & B - a well-appointed classic bed and breakfast, the Paradox House Gallery - a great retreat for artists, and the whimsically named Tumble Inn - just beckoning you to well, tumble in. There is also talk of a new place that's about to open just in time for the winter season - I'm excited to find out a bit more about what they'll offer. Luckily, I'm just reaching out to friends now with this information and once I have a head count of who's in, I will decide if we go the route of an inn or B&B, a rental or cottage, or a cozy motel.
Skiing and Snowboarding - Sometimes it's the little things…
First Impressions
So as I was saying last year was my first time taking runs at Gore. Right from the moment we pulled into the parking lot, I was pleased by the proximity of the parking to the slopes, the short walk to the lodge, and especially, for me, the small town feel. Even though it's known for attracting skiers and riders from the city, I felt like a welcomed guest among a mountain of locals. We had a great time as we met a variety of people, I don't know if it was the day we were there but it was a very social experience, from walking to the lodge, gearing up for the first run, and riding the gondola, to lunch, and après-ski at the base lodge bar.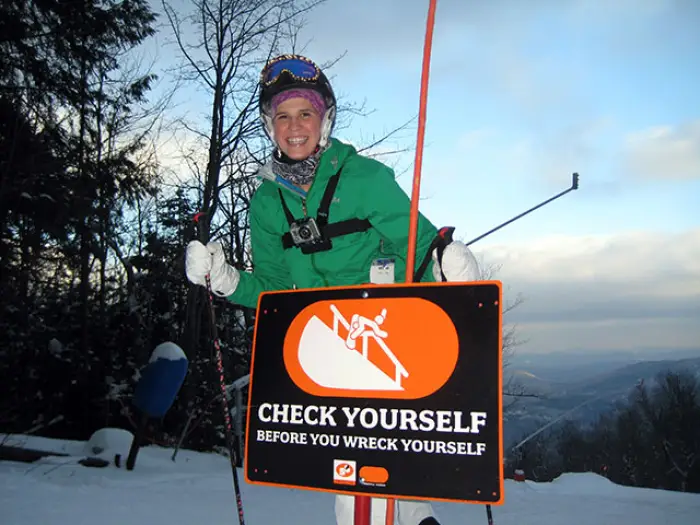 Nicole making sure I adhere to the rules of the park
On the snow
Hitting the slopes, the quality of the snow is what I really noticed first. We hadn't had any recent snow, yet there was great coverage, quality grooming, and nice soft snow that you could really get an edge in. There was a variety of runs to enjoy and explore… in fact I'd say I only got to see about a 1/4 of what the mountain has to offer, I'm excited to see the rest. I like jumps and the occasional rail, and found the terrain park had a nice variety and progression… I realize I haven't mentioned it yet, it was also my first time on snow that season, so I enjoyed starting small and progressing up to the larger jumps, and just plain skipping a few I wasn't ready to hit yet.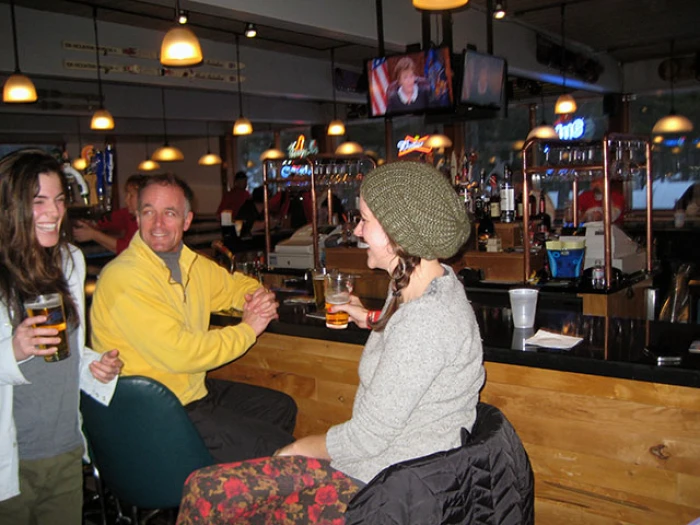 Some friendly locals we enjoyed meeting
Après-ski
One thing that can really make a ski area great is a good après-scene. The bar at Gore was friendly, warm, and had an inviting layout and nostalgic ski/snowboard decor (on the wall was a Burton snowboard that brought me back to when I first fell in love with snowboarding). This is definitely a great place to be after a day of skiing or riding… but maybe just for a hot cocoa or two - après-ski is another great reason to head back to Schroon Lake. Two places I'm looking forward to checking out for dinner and drinks are Witherbee's Carriage House, known for its old-school gondola mounted outside, and the Sticks & Stones Bistro & Bar, a newer establishment with warm, friendly service, great food and Adirondack charm.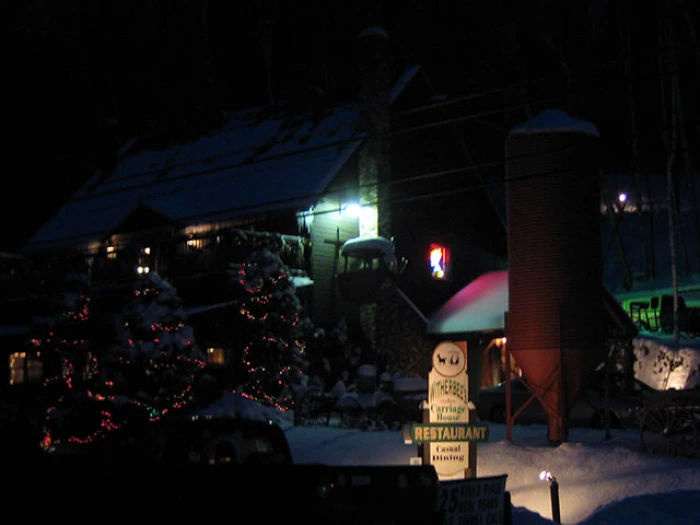 Witherbee's and the Gondola (photo above and below)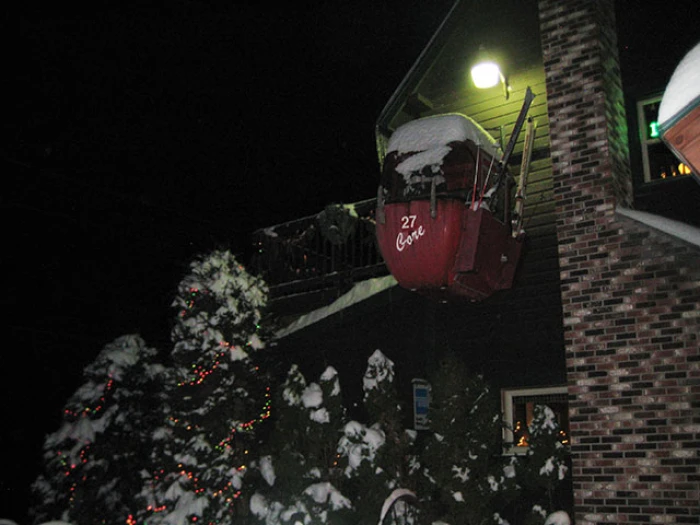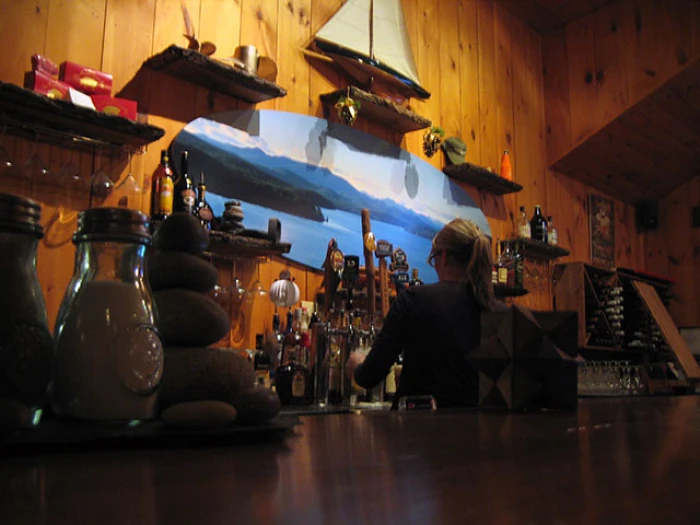 Bar at Sticks & Stones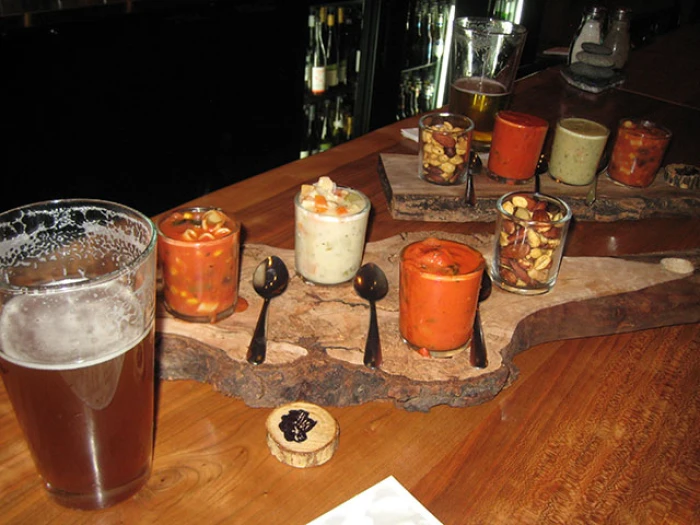 Soup Sampler at Sticks & Stones (from last season's visit)
What else to check out in Schroon Lake
Ski & Tube for Free
In Schroon Lake at the Municipal Golf Course you will find the Schroon Lake Ski Center - where you can ski and tube for free! This awesome family friendly hill offers a tow rope and a concession stand at an unbeatable price. Schroon Lake also has an outdoor ice skating rink, and is a great spot for ice fishing, cross-country skiing, snowshoeing and snowmobiling. It's a great place to get away from it all, relax and enjoy the Adirondack winter, and it's just a short drive to so many Adirondack attractions. The next time you're heading this way, plan on jumping off the Northway between exits 27 & 28, you'll find friendly-folks and great places to stay in the Schroon Lake Region!