Schroon Lake Base Camp Gore Mountain Ski Trip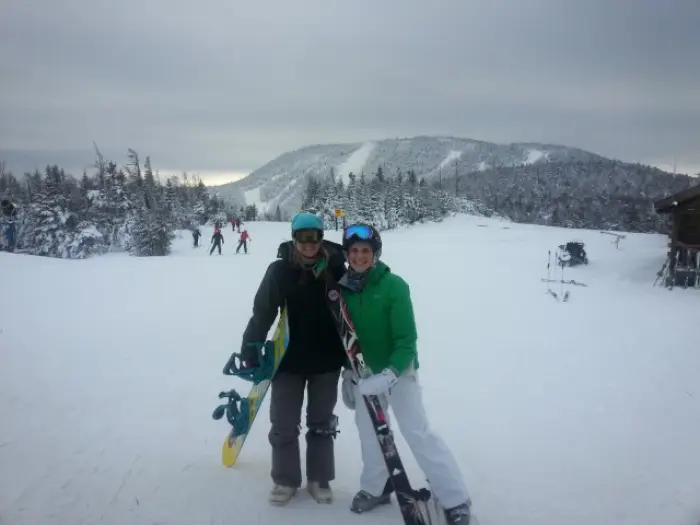 As a working mom of three, including toddler twins, it's a rare occasion to enjoy time with my girlfriends. More often than not this time is much needed, and helps me refresh to really be a better mom and on top of my game. Traveling is important to my husband and I and we make time for quick jaunts here and there, however the girls trips are few and far between. Let's face it- my idea of a girls trip is the polar opposite of The Hangover Movies. There are no tigers, mokeys or tattoos and the iPhone photo stream may be silly but we always recall what happened. Most often we find ourselves in constant communication with the kids, slow easy cocktails with water and lemon on the side, and always in bed very early. One of the best parts of traveling for me is the uninterrupted sleep; no bottles or diaper changes, even if for only one night- the little things.
Ski Trip
When my cohort Kelly and I decided to take a trip to Schroon Lake for a Gore Mountain ski trip the timing couldn't have been better. I have traveled to Gore from multiple directions, and chose Schroon as our base camp, only 20 minutes from all the ski action and a lot to do in town. From Lake Placid we took Exit 26 off the NYS Northway per our Google Map and this proved to be about an hour and a half drive to the base lodge- the same distance from Albany. Proximity is very important to me when I plan a quick trip, both for child care and maximizing fun time!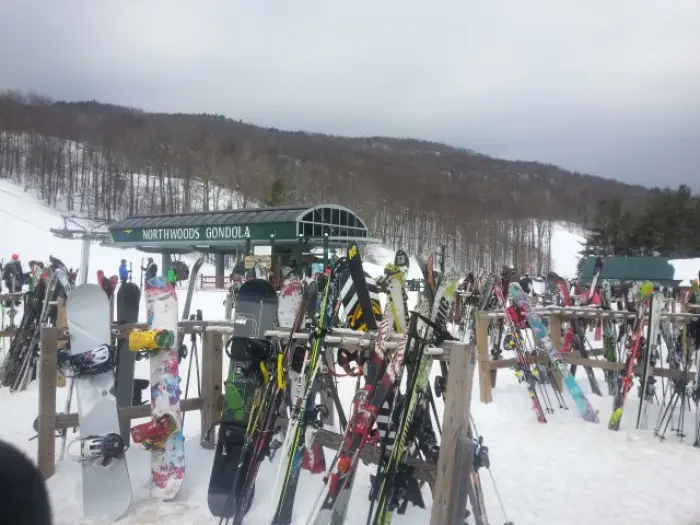 Mid week is always better- Why I love Thursdays
We picked a Thursday for our ski day, completely unaware it was a $12 Thursday- seriously- $12 to ski for the FULL DAY. This is less than my Starbucks order, and will be taken advantage of again. We parked in row 3 and were in the base lodge within minutes getting geared up and ready to go. We shared a table with with a couple up from Saratoga for the day. This was a bi-weekly trip for them and the $12 tickets were a bonus.
Kelly and I were lined up at the Northwoods Gondola in about 20 minutes after unloading from the car. Using the words "lined up" maybe is off target- let's say "walked up" because there was no line we just walked into our chariot. As you can tell this day has been going rather well, quick drive, cheap tickets, front lot parking with no charge, and no lines; I love Thursdays.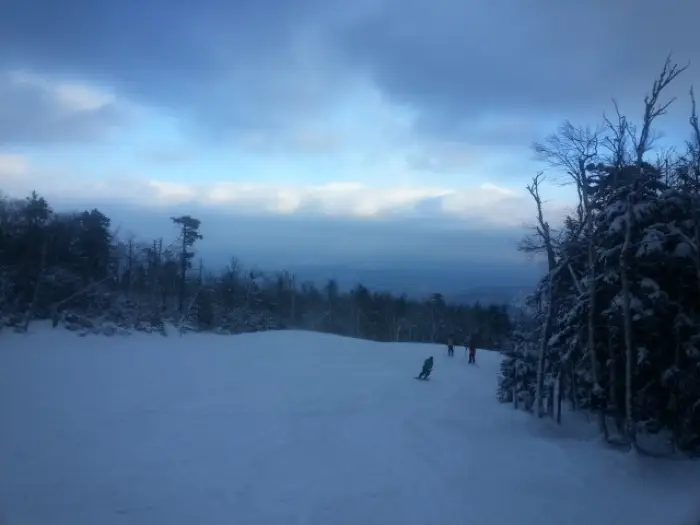 Skiing how it should be- Great!
The trails at Gore Mountain were groomed to perfection with corduroy from top to bottom. If I had a quarter I would have rolled it down the line and picked it up at the bottom, but there was no time for this- only time to ski. The views are spectacular, high peaks and glimpses of both Lake George and Schroon Lake. Run after run Kelly noted how it was like we had our own mountain, there were no crowds just your own line figure eight style. The majority of terrain was open including trails for all abilities, this mountain really does a great job from top to bottom. We were excited to have old school favorite trails like Rumors and Hullabaloo open- these are really solid runs.
Each trip up the Gondola we met cool people, most of whom had traveled up and a few who were staying in Schroon. It was recommended to us by one gondola buddy to head to Sticks & Stones Restaurant in Schroon Lake for our apres fun. This restaurant was on our line up and it was great to get a referral. He said to be sure and ask for Gary, they grew up together back in Albany... to be continued.
We skied for the majority of the day until the light grew dark and it was time to call it a day. It was a tough call for such a fun day- but it was also closing time. We snuck in one last run for good measure and headed on to our next adventure.
Apres in Schroon Lake
Schroon Lake is only about 20 minutes from Gore Mountain and stop one on our list was Witherbees Carriage House Restaurant. Upon pulling up we knew we were in the right spot for some Apres fun, the key indicator being the giant red Gore Gondola hanging above the entry next to the silo and music booming from the outdoor speakers... The entry way was decked out in Gore ski signs, the kind only the patrol can get their hands on. The owners, who have been there for the last seven years have the don't ask don't tell rule- they came with the place, true ski dining decor.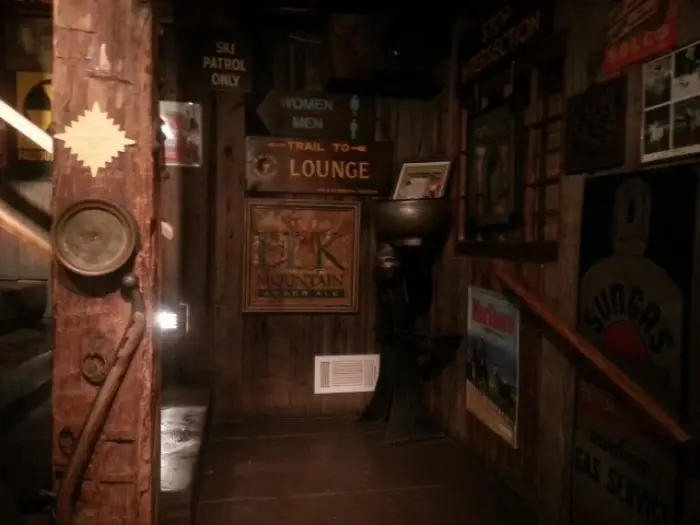 Kelly and I were hoping to grab a drink and a bite at Witherbees although it happened to be the Town of Schroon's annual dinner. Normally I would have been game to crash any annual dinner, however still in our ski pants and helmet hair we decided it may be frowned upon if we tried to shimmy in and maybe best to move onto destination number two. We did sneak a photo of the upstairs to give you an idea of how cool this place really is. Witherbees, we shall return almost certainly on a Thursday- because we love Thursdays.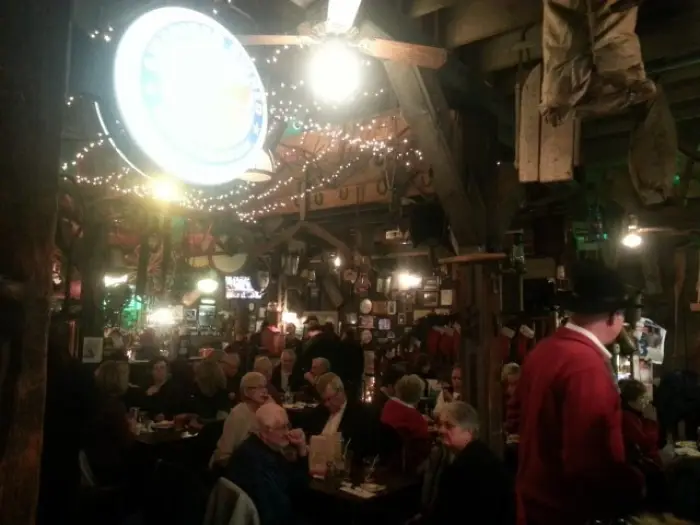 Another round please
After leaving Witherbees we headed to Sticks & Stones Bistro and Bar. By this point I had worked up quite an appetite and my lite fair was now going to be an all out dinner. Greeted by a roaring fire outside Kelly and I entered an awesome Adirondack Style restaurant with a modern feel. Newly opened in June of 2013, Sticks & Stones really has their niche defined. From wooden bar games, decorative accents everywhere, a huge stone fireplace, to a purple wood stove for pizzas and creating toasty eats. They also serve a nice selection of draft beers including 2 from the Paradox Brewery, the local brewery in Schroon Lake.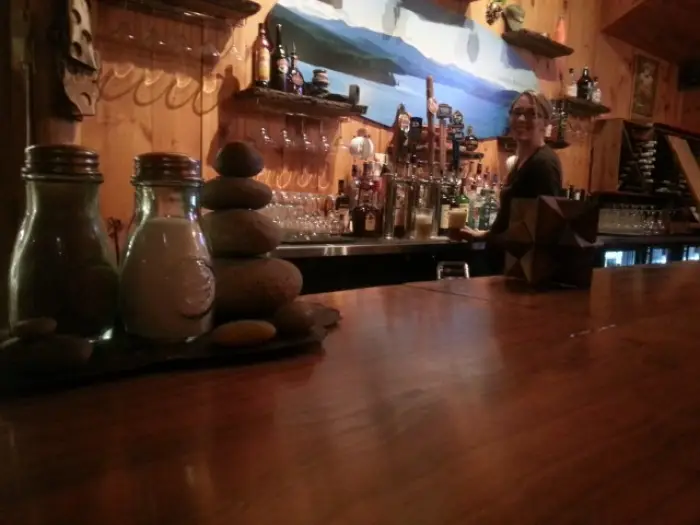 Where's Gary?
Yes, we walked in and immediately asked for Gary. Both Gary and Steve the super friendly owners came out slightly confused and ended up having a good laugh from our gondola story. Gary and Steve gave us the run down of the menu including their Apres specialty Soup to Nuts! They make a variety of homemade soups daily and offer a platter with samplings of three soups of your choice and warm wood fired nuts. This is a treat to be had- not listed on the menu, but ask and you shall receive.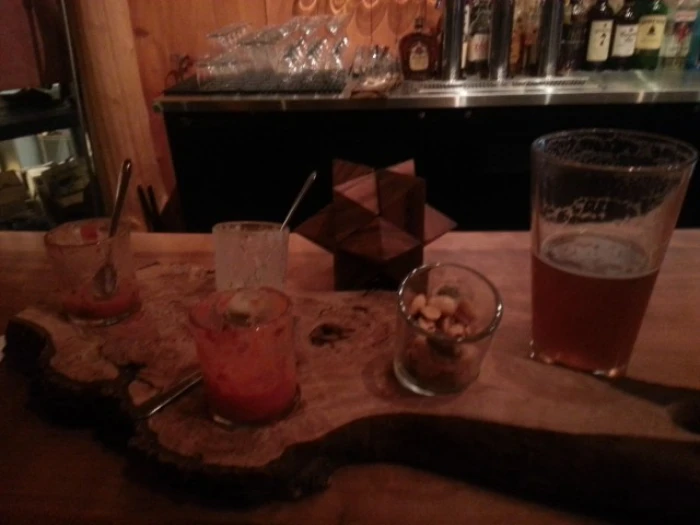 A Great Day and Night
The Food was all delicious and the company was great too. I really felt like this was a great place to visit and I could see myself dining here another night. One of the fun parts- my phone was almost dead from so many photos all day and the bar comes equipped with outlets to plug in and re-charge- very cool unexpected amenity.
After dinner and great conversation it was time to retire for the evening and of course call home to check in on the family. My legs were tired from an awesome ski day and another day was just around the corner. Check back in a couple weeks to see Day 2 of our Schroon Lake trip, including the powder day to follow. Here's a sneak peak of whats next to come from my Schroon Lake visit- you're going to be surprised with all of this powder what we decided to do...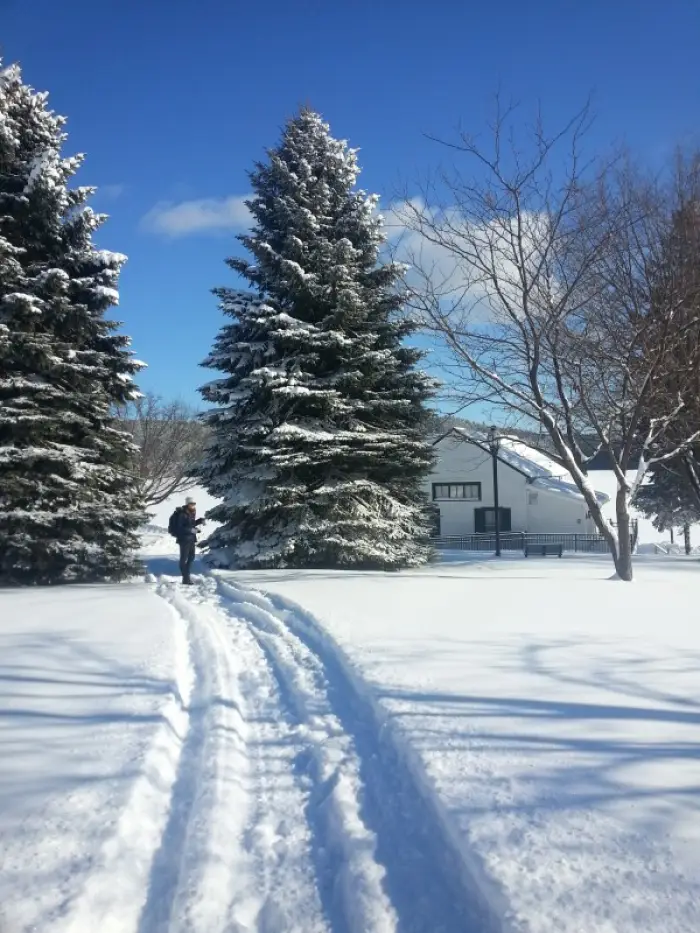 PS. Since our trip I have travelled the Northway a few times and have stopped in to see Steve and Gary, of course to also get a chuckle about the masked man who sent us there- one day we are sure he will be identified!